-----------------------------------------------------------------------------------------------------------------------------------------------------------------------------------------------------------------------------------------------
Brookside Baptist Church
Rev. Mike Nixon - Pastor - Rev. Fred Potter - Founder
Fall Camp Meeting Dates
October 27th - Oct. 31st, 2014
Services: Monday 2:00 p.m. & 7:00 p.m. Tuesday - Friday 10:00 a.m. 2:00 p.m. and 7:00 p.m.
CAMP MEETING DATES: March - Last Monday & week following, July - Last Monday & week following October - Last Monday & week following
Please join us for "Homecoming" the weekend prior to Octobers Camp Meeting
For more information call: Tel. 423-878-2771 or 423-878-8131 or write to: Tri-State Baptist Children's Home 1528 Vance Tank Rd. Bristol, TN 37620
-------------------------------------------------------------------------------
2014 Bulgarian flour & oil
-------------------------------------------------------------------------------
We've just finished the flour distribution in Bulgaria this year. Through your generous giving, we were able to provide each family of believers with over one hundred pounds of flour and over a gallon of oil. Everyone is happy and thankful for this display of your care for them.
Please click on the following links: 2014 flour thank you letter and from one of our national pastors Brother Mitko.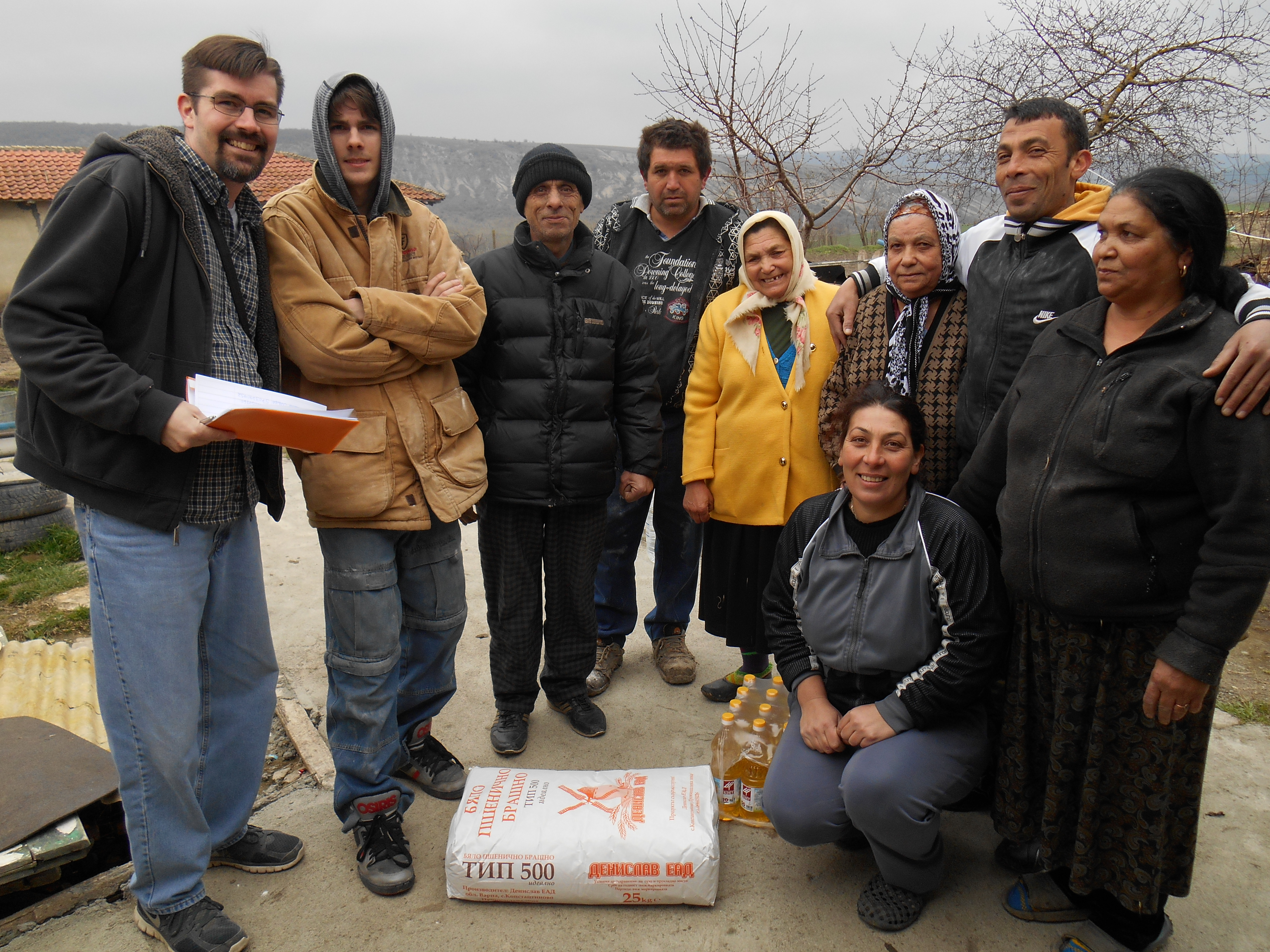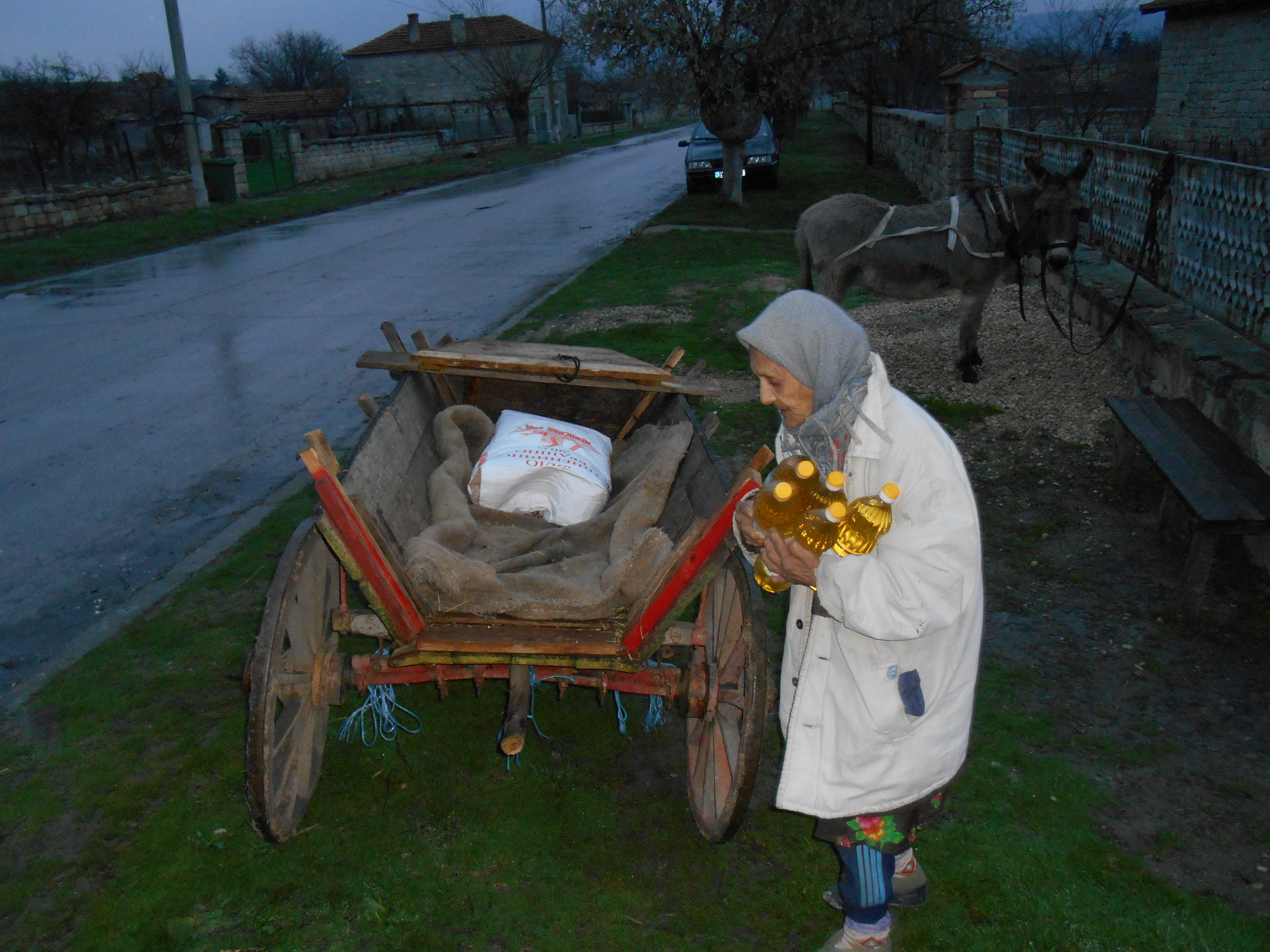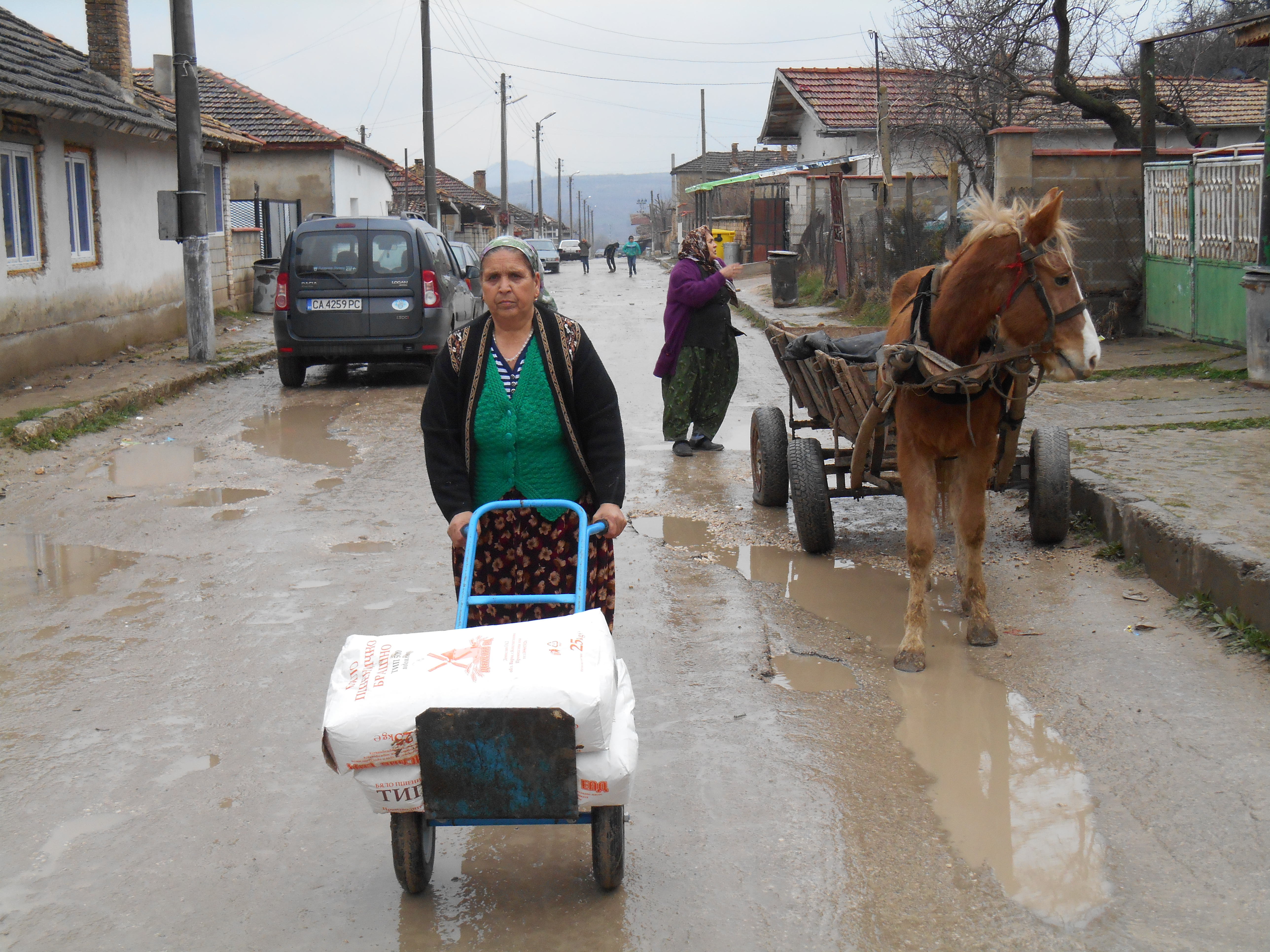 This year the mill produced a very good quality of flour. One woman from the church in Trastikovo said that she had not seen such good flour in her whole life. She said that she will be baking bread every single day until it runs out.
In the village of Grozdevo one of the believers said that her family was out of flour. Her husband would be working, but they might only be able to afford to buy a small bag of flour with his pay. Then, our flour truck came the next day and she received one hundred pounds of flour. So, they are rejoicing at how the Lord has provided for them.
Another believer, in Vezenkovo, told us that she was down to the bottom of the barrel. She made her last bread in the evening, and prayed, "Lord, what are we going to do tomorrow"? Well, the next day when the flour truck arrived at the church, she was amazed at how the Lord answered her prayer and provided for them.
Zachary LeFevre
-------------------------------------------------------------------------------
Greetings in the name of our Lord and Saviour Jesus Christ.
As always we are bound to give God thanks through our Lord and Saviour Jesus Christ for what He has done through Brookside Baptist Church in the mission field in Bulgaria and everywhere else where the Lord let you have a part in His work. We thank you all for caring for the poor and feeding the children over here. It has been a great help for the churches over here to see someone like you all each winter provide 5 liters of oil and 50 kg of flour.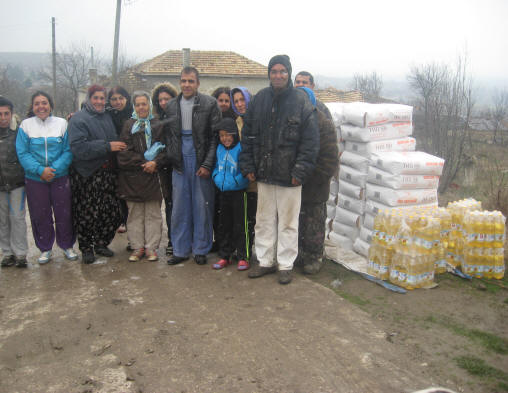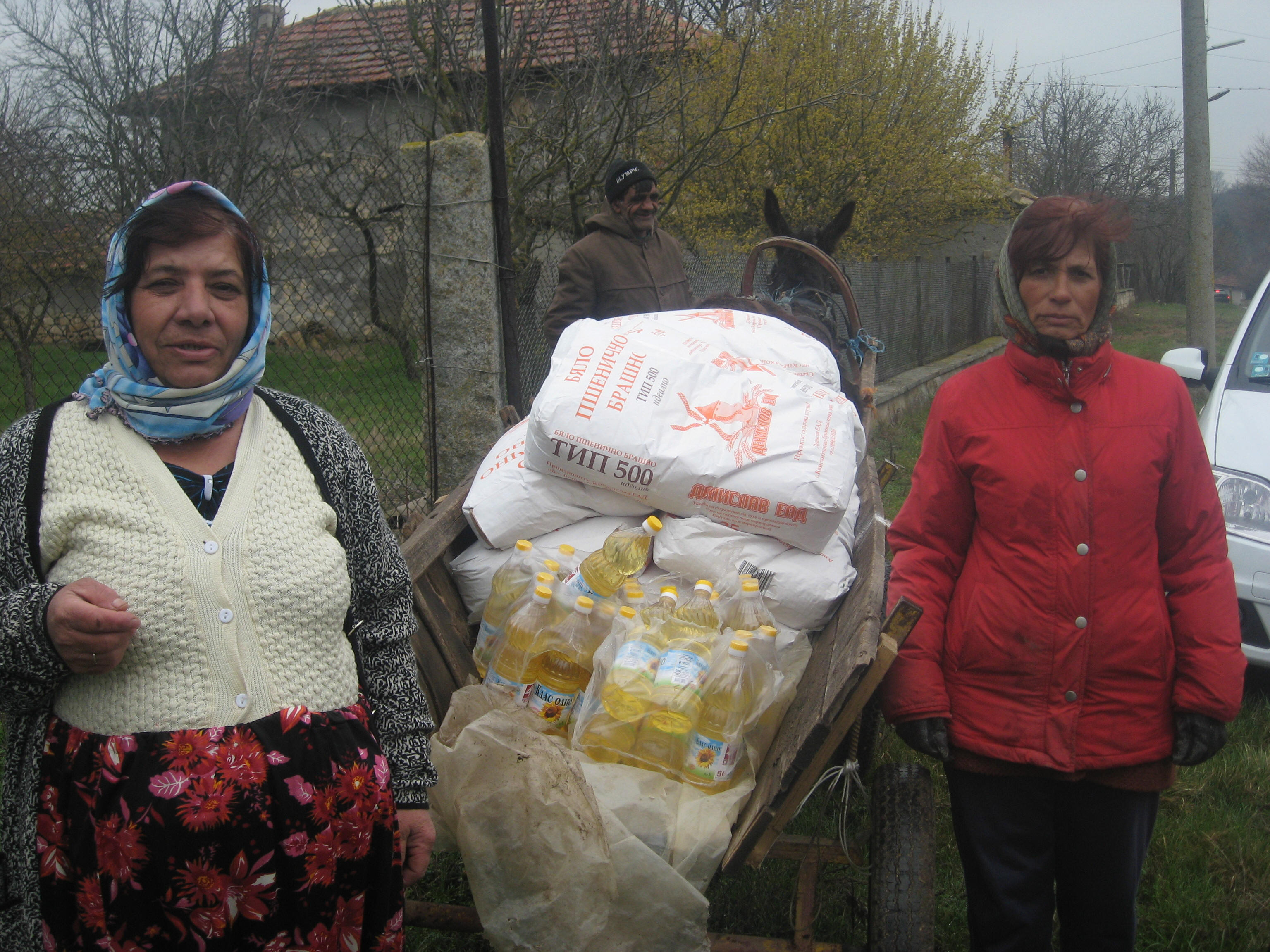 This food has fed a lot of people that are destitute of their daily food. A lot of the believers have fed a lot of the hungry neighbours around and it turns to be a good testimony. Also some of the believers testified that the oil fails not and the flour is not diminished.
Some testified that when they saw people more destitute than them they gave away their own oil and flour.
May the Lord bless you all in everything that you are doing. In Christ, Bro. Mitko.
| | | |
| --- | --- | --- |
| This is a picture of the church in the village of Brestak, getting blessed with flour and oil. All these believers are extremely poor in this world but rich with God and thank you all for blessing them with their daily bread and oil. | | This is a picture of two of our sisters that got blessed by the Lord and what Brookside provided for them. They have large families and are more than happy and thankful that the Lord and Brookside care for them. |
Update from
U
kraine
-------------------------------------------------------------------------------
Dear Praying Friends and Family,
February – March 2014
The situation in Ukraine changes daily and the tension with Russia is only escalating making it very difficult to plan our departure date. A few days ago I spoke with Brother Sasha who said that some type of military engagement with Russia is inevitable. I was planning to return to Ukraine late March or early April but felt that the Lord wanted us to postpone a little longer. The decision was made easy because Naomi fell and broke her arm while trying to step over a safety gate of all things! We went to the emergency room and they found that she had a break right below her elbow. It wasn't until two weeks later that they discovered that she had also broken a bone in her wrist. She now has a cast and a brace and we are told that the break in the elbow takes 4 to 6 weeks to heal and that the bone in her wrist is a bad break and will take anywhere from 8 to 10 weeks to heal if surgery can be avoided.
We are in a very difficult situation at the moment and really need prayer for the Lord to show us His will when we should return. On the one hand the US Embassy has issued a statement warning all Americans not to travel to Ukraine except for emergencies and the people in our church have said that it would be better to wait until after the upcoming election on May 24 to plan our return trip. Until the election we expect Putin to continue his attempts to destabilize Ukraine by trying to incite civil war in Donetsk, Lugansk, Kharkov, and maybe Odessa. In view of so many that have expressed their concern for our safety I want to say that I do not intend put my family in harm's way.
On the other hand we are ready to go. The Lord has graciously helped us to report to all our supporting churches with the exception of three or four. Our support is back up to where it needs to be and hopefully will stay strong for a long time so that there will be no need to return to the States till Jesus comes! The Lord has also provided the funds for our return tickets.
The only thing on our prayer list that was not answered was funds for a vehicle when we return to Ukraine. In fact I had already accepted the idea that we were going to return to the field without a vehicle. These delays caused me to book several meetings that I was not planning to make and what a blessing it has all turned out to be. We scheduled a meeting with Pastor Ron Ralph in Carthage, TN and they took up an offering which covered half the cost of a van! I am somewhat ashamed that I was surprised by God showing up and providing for our needs unexpectedly! Then, two weeks later, Pastor Mike Veach in Staten Island also helped tremendously with a love offering for a van. It was such an encouragement to us and further testifies that "where God guides, God provides!"
We finally received the "Letter of Invitation" from the Ukrainian Religious Affairs Office and can now proceed with filing the paperwork with the Ukrainian Embassy for a religious visa. After we receive our visas we will be free to purchase our return tickets once we get the green light from the Lord.
In spite of the delayed departure the Lord has kept my calendar pretty full with last minute meetings for which we are very grateful. The last few months have taken us to Ohio, Tennessee, Florida, Louisiana, and Alabama. We look forward to our future meetings in North Carolina, Tennessee, New York, and Ohio. Please pray that the Lord will use us to edify the saints and we look forward to some opportunities to preach on the street now that the weather is good.
Many have asked questions about what is going on in Ukraine along with my opinion on the situation.
Sixteen years ago, while studying at the Odessa State University, I listened to a lecture on war and Ukraine. It was fascinating and was a relief from the grueling lectures on verb aspects, participles, gerunds, the nominative, accusative, dative, instrumental, and prepositional cases; along with orthography, syntax, and rules of translation. It was one of the top ten lectures that stuck with me till this day because I made a mental note of how much time we had to serve the Lord before war would break out again on Ukrainian territory. One of the facts brought out was that there has never been 100 years of peace in the territory of Ukraine. So, the clock started ticking in 1945. The lecture went on to list every item that is now in play on the world stage with Russia. First, there was the fact that Ukrainians have always been proud that before there was ever a Moscow there was Kiev, the first capital of the old Kiev-Russ Empire; a fact that Stalin resented and decided to break Ukraine by killing 10 million of them in the 1930's. The populations of their cities were replaced with Russians. Secondly, there was the Crimean Peninsula which was originally taken from the Muslim Ottomans by Russia and was given to Ukraine as a gesture of peace by Khrushchev in 1954. This became a problem when the breakup of the Soviet Union occurred. In the mind of Russians it would be like our Pearl Harbor being given to the Japanese. The Russian Black Sea fleet is there at the historic port of Sevastopol. Then there was the issue of the gas from Russia. Russia wants Ukraine to pay the same prices that it charges Italy even though it is much more costly to supply Italy and has only 1/3 the clients. In addition, Russia does not want to pay Ukraine the same as it does Germany for the pipeline going across its territory. All those elements: the old grudge against Russia, the Crimea, the gas and its pipelines, not to mention the Muslims that also want the Crimean Peninsula back, NATO and Russia's efforts to use Ukraine as a buffer, together create a tinderbox with the potential to ignite World War III. It is Russian natural resources that will play a big role in this "brave new world" to come. Putin knows that he has the EU right where he wants them because their economies are dependent on Russia's natural gas.
It is further interesting that the Scythians of Colossians 3:11 are mentioned in the same book of the Bible which also makes mention of the church in Laodicea 5 times! The word Scythian comes from scythe, as in the farming instrument used to reap wheat. The Scythians were located right in modern day Ukraine and are mentioned in connection with the Laodicean church period. It is the "Bread basket of the former Soviet Union" because of its fertile soil. Scythia was ruled by the descendants from modern Iran which connects them historically with Islam though they are presently considered Eastern Orthodox.
Thank you all for your friendship, prayers, support, and all that you do for the Lord that gives us the privilege and opportunity to serve our Lord and Savior Jesus Christ. In the meantime we plan, by God's grace, to fulfill the ministry given us in Ukraine and pray, "Even so, come, Lord Jesus."
That Ukraine May Know Him, Christopher Rue Phil. 3:10
-------------------------------------------------------------------------------
Coats for kids
Please click on the following link to see the full story of the first Coats for Kids 2013-14 (12-21-13) distribution. (a printable pdf is available here)
The weather was absolutely perfect for a coat distribution, with temperatures around forty, clear roads, sunny skies, and a cool breeze. A little after nine this morning, Larry and I loaded up the car and headed up the road to the LeFevre house, where the elder daughters, Katy and Polly, were waiting for us. ...Together we headed to Novi Pazar where we were to begin this year's coat season. We barely had time to greet the Pastor and his wife before the first group of kids arrived. They were a lively, rowdy bunch. I was thrilled to see them again—and they were thrilled to see us. ...that distribution went smoothly.... We gave coats, socks, and DVDs to around 70 kids there.
We brought more bags of coats and socks down from upstairs and filled the cars. Then we drove on to Kaspichan....Kaspichan is wild. I could describe it for you, but really, in order to fully understand it, you'd have to experience it for yourself. It's just wild. ...We ended up giving out around sixty coats and socks there. The demand for DVDs was so great today, we ran out.
And one final picture, a few of the 48 kids who got coats, socks, and pants in Eforie:
<![if !vml]>
<![endif]> <![if !vml]>
<![endif]> <![if !vml]>
<![endif]>
The fella at front left came in without a pair of pants, but he left with pants, socks, and a coat. This one makes me cry buckets. With a pair of pants, he can have a chance to go to school.
Thank you all for your prayers! Stay tuned for the next update. On Behalf of the Leach Family, Carrie Leach - Bulgaria
-------------------------------------------------------------------------------
From Romania
Please click on the link below to see some pictures from the Romanian village of Eforie.
Mugur Varzariu, is a Romanian documentary photographer who created a web page depicting the living conditions of the Roma in the village of Eforie.
Follow the link below to get more information from the authors website.
http://www.mugurvarzariu.com/the-forced-evictions-of-around-one-hundred-roma-people-in-eforie-sud/
"rain of tears"
www.mugurvarzariu.com
----------------------------------------------------------------------------------------------------------------------------
Bro. Mike and beloved saints at Brookside,
We are thrilled to hear good reports of what the Lord is already doing at campmeeting. It seems when Satan is getting the best of us, that is when the Lord is able to show Himself most powerfully. I am grateful He is close by when we need Him.
I have a prayer request to ask your help with. For a few years, we have had a meeting and feeding center in Eforie, a town not far from Constanta. Many have been saved and baptized from this meeting and some of the poorest children in this area have been fed each day. This is also the place where we got Kelebek, our youngest girl in the Children's Home. The meeting was held in a 'shanty town' of houses thrown together around a garbage dump. Most of the families, including their children, dig around for plastic bottles, cardboard, and metal to sell for a few cents each day. A few weeks ago, the city came in and bulldozed everything down to make way for an apartment development. The families were left outside huddled under sheets of plastic during a week of rain. Several TV stations showed the families sitting under their shelters, their children covered in mud. The mayor was asked what they were going do about these people. He said "If the butcher throws the stray dog scraps, they will stay in front of his shop. If the butcher locks the door, they will go away" He was comparing our Turks to dogs. These are the people to whom we have given our lives to show God's love. The city, under the pressure of the media, was forced to let these families move into a very old, abandoned school building. The woman of the church, along with her children, have their few possessions gathered in a corner of a large room. They cannot leave for fear their few belongings will be stolen.
I went out on Tuesday and looked at the situation. We can build a wall with a door across the end of the room she is in and she would have her own 12 x 25 ft. "house". If we get her a stove and a gas bottle and utensils, she can continue to feed the many children which are now living in the school.
This seems to be an opportunity for us to show God's goodness, as many of these families have lost hope.
I think for $1,200 we can get her room built and secured and buy what is needed for her to begin feeding even more children than before. We may also be able to have our church meeting in one of the larger 'common' rooms where all these families who are gathered in one place can attend.
This woman has been faithful through much adversity. Please pray we will be able to take care of her and this church.
We are all praying for the Lord to do even greater things for you this week.
In Christ, Bro. Dave Turner
----------------------------------------------------------------------------------------------------------------------------
Bulgaria Feeding
Dear Fellow Labourers,
Last year the Lord graciously allowed supporters of the work to help feed 2,000 poor Milet Turkish church families for $80,000. Each family received a 110 lb sack of flour and 5 liters of oil. We would like to help feed the people again this year. Please pray with us about this and see if the Lord would have you help feed them.
"For he satisfieth the longing soul, and filleth the hungry soul with goodness." Ps. 107:9
----------------------------------------------------------------------------------------------------------------------------
The Cheatwoods, July 2013
Greetings in the wonderful name of our Lord and Savior Jesus Christ. Everything is going well in Him. This prayer letter is a normal prayer letter. We will start out by praising God, then go to asking for money. Like one pastor told his congregation, "I have some good news and some bad news. The good news is that we have all the money we need to do everything we need to do. The bad news is that it is still in your pockets!"
I recently had the opportunity to buy a piece of property in Avren, Bulgaria where we have a very good house church established. The property has a house and a cheese factory. Because I did not want to miss this opportunity, I borrowed 25 thousand dollars and bought the property. One large room will be for the church which now has about 20 members meeting in a small house nearby. We are going to produce Bibles and hymn books there as well. Between the house and the factory, there are many rooms we can utilize. I feel sure you will want to help and have a part in this project.
I am writing this letter from Romania where we are just finishing our campmeeting. When I arrived here from Bulgaria, I learned one of our old cars that has over 300,000 kilometers on it (200,000 miles) had just died and is not worth repairing again. So I asked Brother Dave what it would cost to replace it. In short, the price is about 9,000 dollars. This is my other request. We use this car for the Children's Home and for going to village church meetings. In September, two of our children will be going to a special school for children with physical and mental challenges. This car will also be used to transport them each day.
We would very much appreciate your help!
In His Service. Bro. Ralph Cheatwood
----------------------------------------------------------------------------------------------------------------------------
Bulgaria Feeding update
Bulgarian Flour and Oil Distribution Update April 2013 (click on link for PDF)
"For he satisfieth the longing soul, and filleth the hungry soul with goodness." Ps. 107:9
Dear Fellow Labourers,

With much thankfulness we would like to give you an update on the work:

Last year in 2012 the Lord graciously allowed you to be a part with us in feeding 1,750 poor Milet Turkish church families. Each family received a 110 lb sack of flour and 5 liters of oil. This year we wanted to feed around 2,000 church families and the Lord has supplied that need.

Thanks be to God, and the charity of His people, most of these families have now received a sufficient supply of flour and oil for the year. This was a large undertaking, but not too big for the Lord to handle.
----------------------------------------------------------------------------------------------------------------------------