----------------------------------------------------------------------------------------------------------------------------
---------------------------------------------------------
-------------------------------------------------------------------------------------------------
Brookside Baptist Church
Rev. Mike Nixon - Pastor - Rev. Fred Potter - Founder
Fall Camp Meeting Dates
October 27th - Oct. 31st, 2014
Services: Monday 2:00 p.m. & 7:00 p.m. Tuesday - Friday 10:00 a.m. 2:00 p.m. and 7:00 p.m.
CAMP MEETING DATES: March - Last Monday & week following, July - Last Monday & week following October - Last Monday & week following
Please join us for "Homecoming" the weekend prior to Octobers Camp Meeting
For more information call: Tel. 423-878-2771 or 423-878-8131 or write to: Tri-State Baptist Children's Home 1528 Vance Tank Rd. Bristol, TN 37620
-------------------------------------------------------------------------------------
Romanian Missionary Update
-------------------------------------------------------------------------------------
Dear Friends in Christ, August 2014

Greetings in the name of our Lord and Savior Jesus Christ. We thank the Lord for the wonderful summer we have had thus far. Two weeks ago, we held a baptism in the river near one of our churches in Dobraveno, Bulgaria. The baptism was part of a weekend of meetings. Two carloads of the believers from here in Constanta made the trip down to share in the joy of the 32 new believers who were baptised. Aslan, one of the boys in the Children's Home, got saved recently and is waiting to be baptized with the new believers here in Romania. Lord willing, we will be having more baptisms over the next few weeks.

Three times a year we have a campmeeting here at the Children's Home in Romania. All our missionary families from both Romania and Bulgaria bring their families and spend five days of meetings and fellowship. Our most recent meeting in July was different this time. We had services twice a day from Saturday the 12th until Sunday the 20th – nine days! In many of the services, we were joined by American military personnel from the nearby base who often attend our regular Sunday morning service. Since this was our first ever 9-day meeting, we expected to be exhausted by the end, but the Lord really helped us. It seemed we were more refreshed, both physically and spiritually, at the end than we are after our normal five-day meeting.

Thanks to all of you who prayed for our little church in the village of Eforie. A few weeks ago, the mayor's office gave the family who held the meeting in their house a "container" to live in. This is a converted 8 ft. x 20 ft. shipping container which has 1 door, 1 window, 1 light fixture, 1 electrical outlet and an electric heating unit. Several of the other families who either came to the church or sent their children to eat at the feeding center were also able to move into the little 'container village' on the outskirts of town. Praise the Lord, we should be able to continue to meet with them weekly and hopefully continue to feed these poor families as well.

All of our kids will soon start school. We really dread the 3 hours of homework every day! Dara helps the Home kids with their work in addition to homeschooling our boys. Pray the Lord will help all of us.

We know that many of you, both churches and individuals, have felt the pressure of the difficult economic times we are living in today. For us on the field in Romania, it has been felt even more so. Even with the faithful supporters who have sustained us over these 22 years, as the work has grown; it has been increasingly harder to keep up with the rising costs each month. We understand that many may be stretched to their limit trying to take care of their own obligations as well as helping others like us. We do, however, want to make a plea to anyone who might be able to begin supporting the work monthly or increase their support. Please read the enclosed update of the Home here in Romania and pray about helping us meet the needs of the children in the Home as well as the churches and feeding centers we are involved in here in Romania.

In Christ, The Turners
-------------------------------------------------------------------------------
Bulgaria Update
-------------------------------------------------------------------------------
August 1, 2014
In Bulgaria today there are five missionaries working together with Charity Baptist Missions. Some of these missionaries have been on the field for over twenty years. In this time, over one hundred churches have been established.

These are house churches where saved, baptized believers meet at least once a week for a worship service. The churches are pastored by eight national pastors trained by the missionaries. Some of those national pastors have been preaching nearly twenty years, now.
There are ten of these established churches where poor children are fed a hot meal every day, normally prepared by the pastor's wife. This feeding ministry has been going on now for over fifteen years. In this time, we've seen some of the children that we fed grow up, marry, and continue in church with their young families.
The harvest truly is plenteous, but the laborers are few.
From Bulgaria Zach LeFevre
-----------------------------------------------------------------------------
2014 Bulgarian flour & oil
-------------------------------------------------------------------------------
We've just finished the flour distribution in Bulgaria this year. Through your generous giving, we were able to provide each family of believers with over one hundred pounds of flour and over a gallon of oil. Everyone is happy and thankful for this display of your care for them.
Please click on the following links: 2014 flour thank you letter and from one of our national pastors Brother Mitko.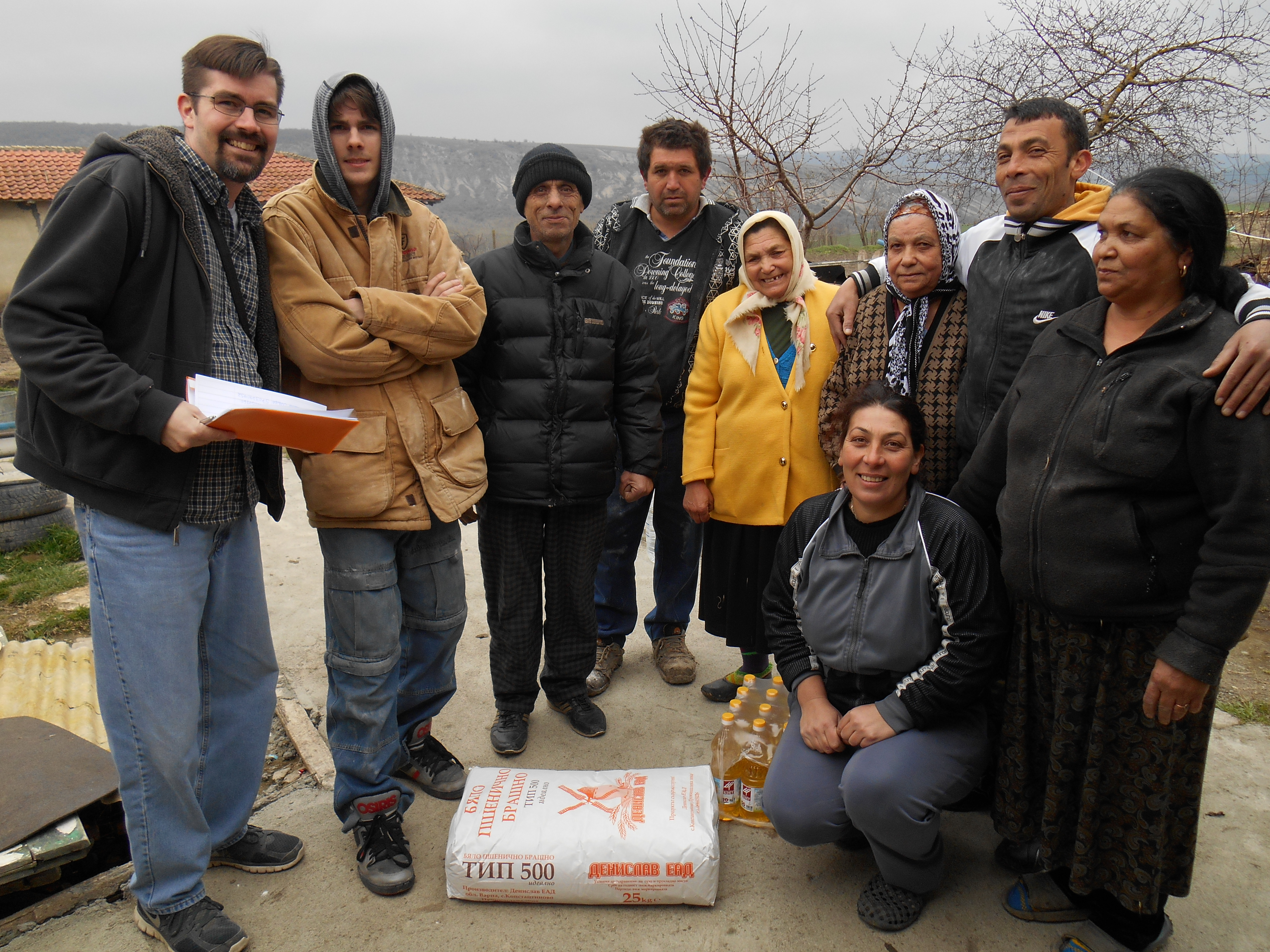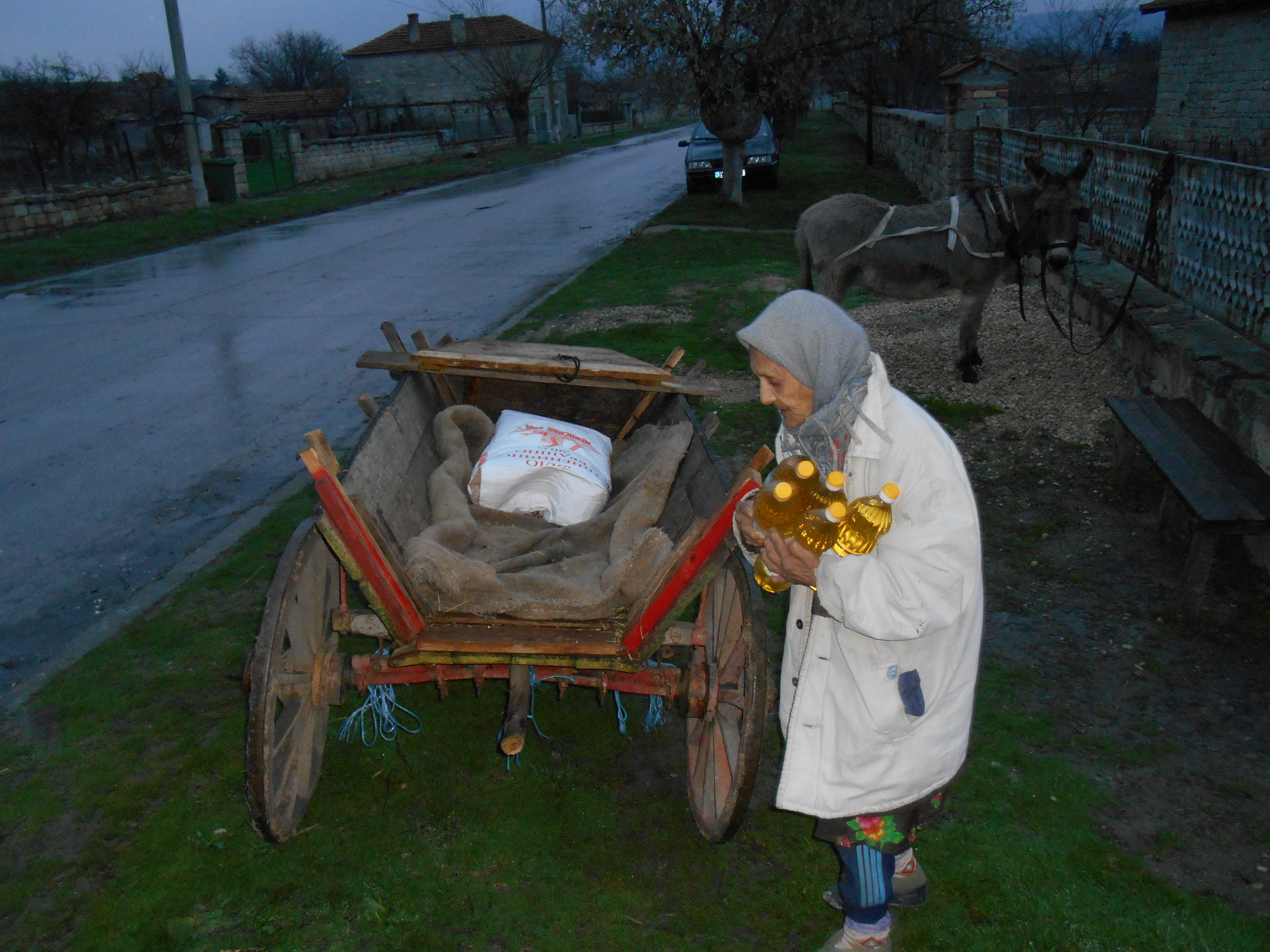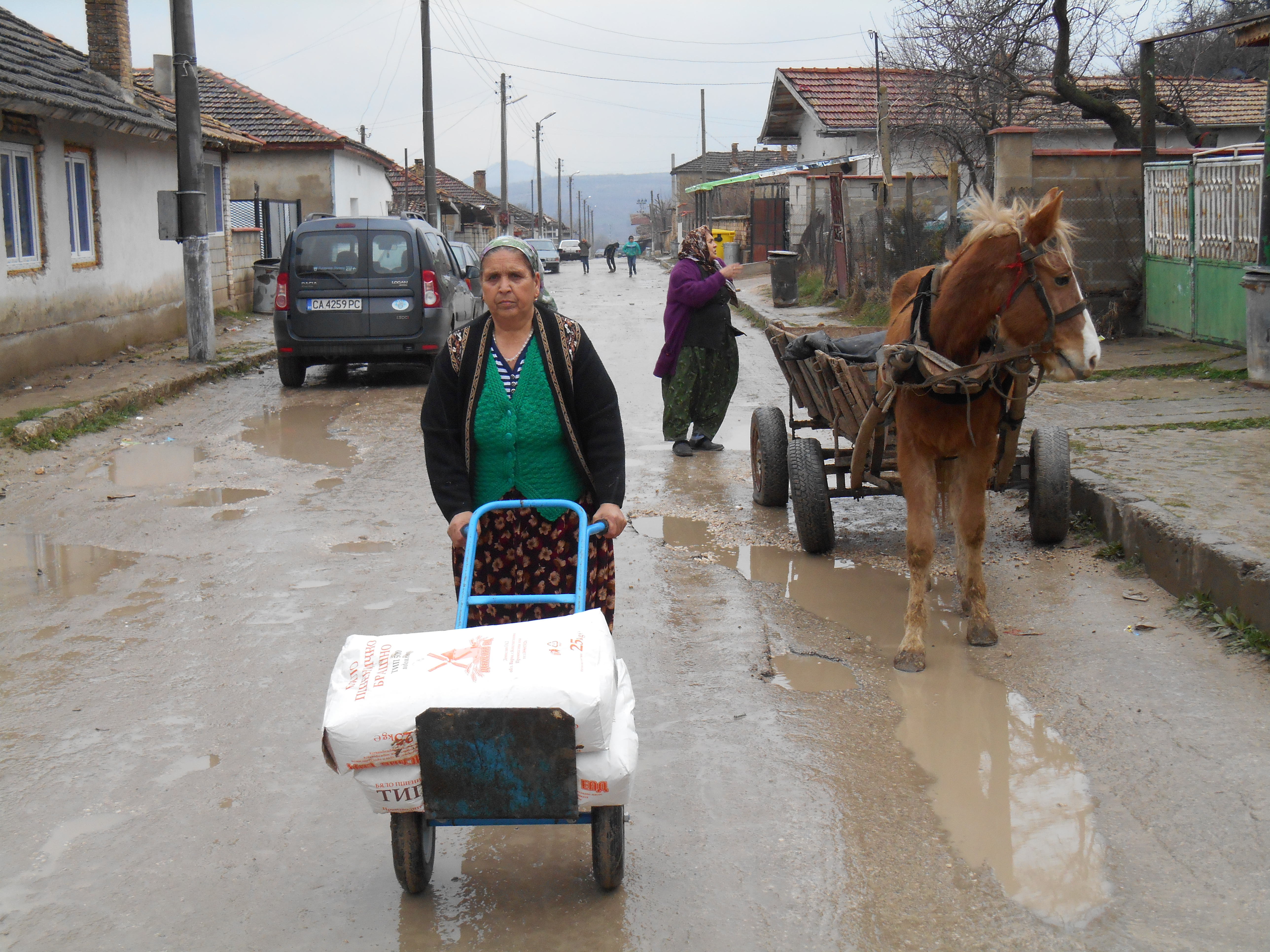 This year the mill produced a very good quality of flour. One woman from the church in Trastikovo said that she had not seen such good flour in her whole life. She said that she will be baking bread every single day until it runs out.
In the village of Grozdevo one of the believers said that her family was out of flour. Her husband would be working, but they might only be able to afford to buy a small bag of flour with his pay. Then, our flour truck came the next day and she received one hundred pounds of flour. So, they are rejoicing at how the Lord has provided for them.
Another believer, in Vezenkovo, told us that she was down to the bottom of the barrel. She made her last bread in the evening, and prayed, "Lord, what are we going to do tomorrow"? Well, the next day when the flour truck arrived at the church, she was amazed at how the Lord answered her prayer and provided for them.
Zachary LeFevre
-------------------------------------------------------------------------------
Greetings in the name of our Lord and Saviour Jesus Christ.
As always we are bound to give God thanks through our Lord and Saviour Jesus Christ for what He has done through Brookside Baptist Church in the mission field in Bulgaria and everywhere else where the Lord let you have a part in His work. We thank you all for caring for the poor and feeding the children over here. It has been a great help for the churches over here to see someone like you all each winter provide 5 liters of oil and 50 kg of flour.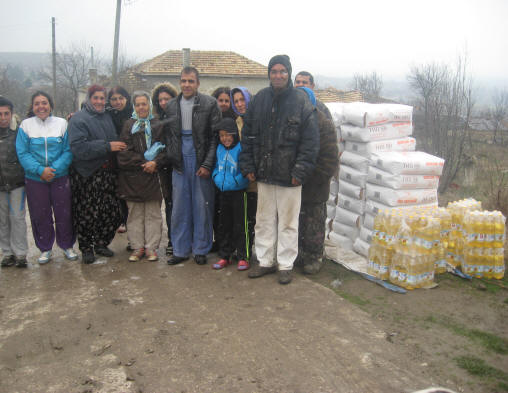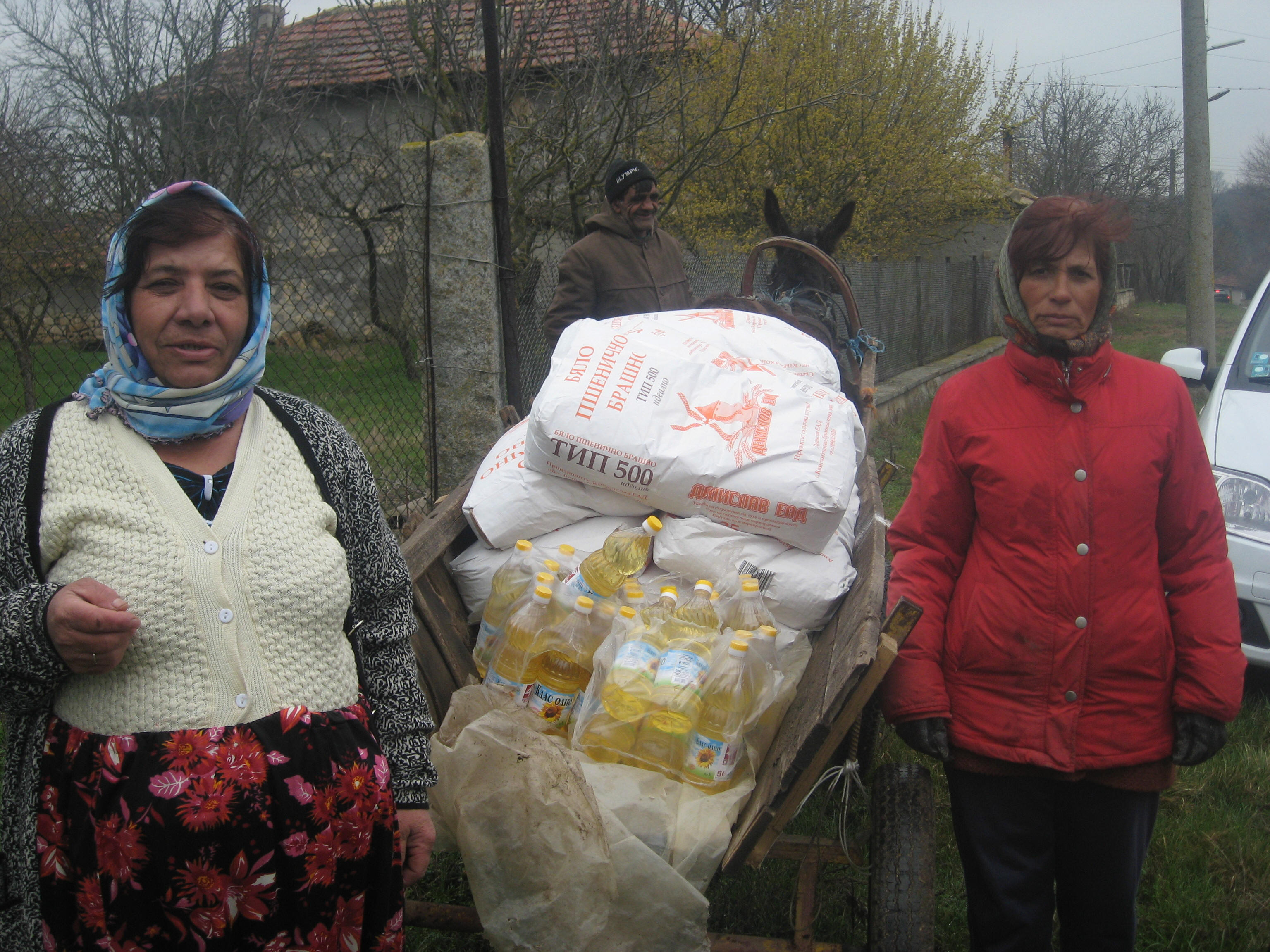 This food has fed a lot of people that are destitute of their daily food. A lot of the believers have fed a lot of the hungry neighbours around and it turns to be a good testimony. Also some of the believers testified that the oil fails not and the flour is not diminished.
Some testified that when they saw people more destitute than them they gave away their own oil and flour.
May the Lord bless you all in everything that you are doing. In Christ, Bro. Mitko.
| | | |
| --- | --- | --- |
| This is a picture of the church in the village of Brestak, getting blessed with flour and oil. All these believers are extremely poor in this world but rich with God and thank you all for blessing them with their daily bread and oil. | | This is a picture of two of our sisters that got blessed by the Lord and what Brookside provided for them. They have large families and are more than happy and thankful that the Lord and Brookside care for them. |
-------------------------------------------------------------------------------
Coats for kids
Please click on the following link to see the full story of the first Coats for Kids 2013-14 (12-21-13) distribution. (a printable pdf is available here)
The weather was absolutely perfect for a coat distribution, with temperatures around forty, clear roads, sunny skies, and a cool breeze. A little after nine this morning, Larry and I loaded up the car and headed up the road to the LeFevre house, where the elder daughters, Katy and Polly, were waiting for us. ...Together we headed to Novi Pazar where we were to begin this year's coat season. We barely had time to greet the Pastor and his wife before the first group of kids arrived. They were a lively, rowdy bunch. I was thrilled to see them again—and they were thrilled to see us. ...that distribution went smoothly.... We gave coats, socks, and DVDs to around 70 kids there.
We brought more bags of coats and socks down from upstairs and filled the cars. Then we drove on to Kaspichan....Kaspichan is wild. I could describe it for you, but really, in order to fully understand it, you'd have to experience it for yourself. It's just wild. ...We ended up giving out around sixty coats and socks there. The demand for DVDs was so great today, we ran out.
And one final picture, a few of the 48 kids who got coats, socks, and pants in Eforie:
<![if !vml]>
<![endif]> <![if !vml]>
<![endif]> <![if !vml]>
<![endif]>
The fella at front left came in without a pair of pants, but he left with pants, socks, and a coat. This one makes me cry buckets. With a pair of pants, he can have a chance to go to school.
Thank you all for your prayers! Stay tuned for the next update. On Behalf of the Leach Family, Carrie Leach - Bulgaria
-------------------------------------------------------------------------------
From Romania
Please click on the link below to see some pictures from the Romanian village of Eforie.
Mugur Varzariu, is a Romanian documentary photographer who created a web page depicting the living conditions of the Roma in the village of Eforie.
Follow the link below to get more information from the authors website.
http://www.mugurvarzariu.com/the-forced-evictions-of-around-one-hundred-roma-people-in-eforie-sud/
"rain of tears"
www.mugurvarzariu.com
----------------------------------------------------------------------------------------------------------------------------
Bro. Mike and beloved saints at Brookside,
We are thrilled to hear good reports of what the Lord is already doing at campmeeting. It seems when Satan is getting the best of us, that is when the Lord is able to show Himself most powerfully. I am grateful He is close by when we need Him.
I have a prayer request to ask your help with. For a few years, we have had a meeting and feeding center in Eforie, a town not far from Constanta. Many have been saved and baptized from this meeting and some of the poorest children in this area have been fed each day. This is also the place where we got Kelebek, our youngest girl in the Children's Home. The meeting was held in a 'shanty town' of houses thrown together around a garbage dump. Most of the families, including their children, dig around for plastic bottles, cardboard, and metal to sell for a few cents each day. A few weeks ago, the city came in and bulldozed everything down to make way for an apartment development. The families were left outside huddled under sheets of plastic during a week of rain. Several TV stations showed the families sitting under their shelters, their children covered in mud. The mayor was asked what they were going do about these people. He said "If the butcher throws the stray dog scraps, they will stay in front of his shop. If the butcher locks the door, they will go away" He was comparing our Turks to dogs. These are the people to whom we have given our lives to show God's love. The city, under the pressure of the media, was forced to let these families move into a very old, abandoned school building. The woman of the church, along with her children, have their few possessions gathered in a corner of a large room. They cannot leave for fear their few belongings will be stolen.
I went out on Tuesday and looked at the situation. We can build a wall with a door across the end of the room she is in and she would have her own 12 x 25 ft. "house". If we get her a stove and a gas bottle and utensils, she can continue to feed the many children which are now living in the school.
This seems to be an opportunity for us to show God's goodness, as many of these families have lost hope.
I think for $1,200 we can get her room built and secured and buy what is needed for her to begin feeding even more children than before. We may also be able to have our church meeting in one of the larger 'common' rooms where all these families who are gathered in one place can attend.
This woman has been faithful through much adversity. Please pray we will be able to take care of her and this church.
We are all praying for the Lord to do even greater things for you this week.
In Christ, Bro. Dave Turner
----------------------------------------------------------------------------------------------------------------------------
Bulgaria Feeding
Dear Fellow Labourers,
Last year the Lord graciously allowed supporters of the work to help feed 2,000 poor Milet Turkish church families for $80,000. Each family received a 110 lb sack of flour and 5 liters of oil. We would like to help feed the people again this year. Please pray with us about this and see if the Lord would have you help feed them.
"For he satisfieth the longing soul, and filleth the hungry soul with goodness." Ps. 107:9
----------------------------------------------------------------------------------------------------------------------------
The Cheatwoods, July 2013
Greetings in the wonderful name of our Lord and Savior Jesus Christ. Everything is going well in Him. This prayer letter is a normal prayer letter. We will start out by praising God, then go to asking for money. Like one pastor told his congregation, "I have some good news and some bad news. The good news is that we have all the money we need to do everything we need to do. The bad news is that it is still in your pockets!"
I recently had the opportunity to buy a piece of property in Avren, Bulgaria where we have a very good house church established. The property has a house and a cheese factory. Because I did not want to miss this opportunity, I borrowed 25 thousand dollars and bought the property. One large room will be for the church which now has about 20 members meeting in a small house nearby. We are going to produce Bibles and hymn books there as well. Between the house and the factory, there are many rooms we can utilize. I feel sure you will want to help and have a part in this project.
I am writing this letter from Romania where we are just finishing our campmeeting. When I arrived here from Bulgaria, I learned one of our old cars that has over 300,000 kilometers on it (200,000 miles) had just died and is not worth repairing again. So I asked Brother Dave what it would cost to replace it. In short, the price is about 9,000 dollars. This is my other request. We use this car for the Children's Home and for going to village church meetings. In September, two of our children will be going to a special school for children with physical and mental challenges. This car will also be used to transport them each day.
We would very much appreciate your help!
In His Service. Bro. Ralph Cheatwood
----------------------------------------------------------------------------------------------------------------------------
Bulgaria Feeding update
Bulgarian Flour and Oil Distribution Update April 2013 (click on link for PDF)
"For he satisfieth the longing soul, and filleth the hungry soul with goodness." Ps. 107:9
Dear Fellow Labourers,

With much thankfulness we would like to give you an update on the work:

Last year in 2012 the Lord graciously allowed you to be a part with us in feeding 1,750 poor Milet Turkish church families. Each family received a 110 lb sack of flour and 5 liters of oil. This year we wanted to feed around 2,000 church families and the Lord has supplied that need.

Thanks be to God, and the charity of His people, most of these families have now received a sufficient supply of flour and oil for the year. This was a large undertaking, but not too big for the Lord to handle.
----------------------------------------------------------------------------------------------------------------------------
With great joy we would like to give you a brief update of the work in Bulgaria and Romania:
• Brother Ralph Cheatwood is completing the Turkish Bible translation and Mitko (one of our national pastors), the Bulgarian Bible,
while 8 Missionary families minister in three languages: Turkish, Romanian, and Bulgarian.
• 16 National pastors help us oversee this work. About $1,000 a month extra is needed to support these men. We try to help each pastor offset the costs of their food and fuel (presently $7+ a gallon).
Our men oversee 5-10 churches each, while driving hundreds of miles every week to get to all of the meetings!
• During the winter we also assist our church members with food and those in need with firewood. A cord of firewood costs about $180.
• Over 105 churches have been established in Bulgaria and Romania since 1991. During the past few years the churches have grown from around 1,500 families to about 2,000.
• In 2012 around 100 adults professed faith in Christ and were baptized.
• Many have been saved and encouraged through our preaching and singing DVD's and CD's, one of our main evangelistic tools. Wherever our Turks travel they take the DVD's and CD's with them.
• 20 church feeding centers have been established in Romania and 18 in Bulgaria, where children and adults get one good meal per day.
• "Coats for Kids" was started in 2008 by the Leach family. One year they distributed 1,000 winter coats, 1,000 pairs of socks and 25 pairs of shoes to the neediest children in his village churches.
• In 2002 Casa Julia Children's home was established in Romania. They are raising 11 abandoned children, giving them a safe, loving, Christian home.

The Lord has consistently met our needs. We praise Him for His loving provision, and for your obedience to His moving in your hearts.

In Christ, Rev. Mike Nixon
To God be the Glory!
----------------------------------------------------------------------------------------------------------------------------
Since 1991 the Lord has kept the doors open for Charity Baptist Mission to help feed the poor in Bulgaria and Romania.
As of September 2011 the following are the basic costs for carrying on this work.

Bulgaria
• We are supplying food for 18 churches daily. Monthly it costs about $175 per church.
• About 353 children are fed each month through theses churches.
• Some of these churches feed between 20 and 30 children daily.
• It costs roughly $8.50 to feed a child for the month or 29 cents per day.
• We need at least $3,150 each month to continue this work.
It's been a long time since we've gotten in this amount for the feeding. Currently, we receive less than $2,000 per month, so many of the missionaries give out of their monthly support to help with this endeavor. Even with their help, we had to cut the feeding down due to lack of funds.
We can't afford to buy beans every month. Sometimes we have to buy fewer potatoes, rice, and/or oil. This month cabbage will be cheap, so we'd like to get each church a couple barrels of cabbage: they pickle it and use it the rest of the winter. If we had the funds, we could also buy more potatoes this month while they're cheap and then store and use them in the coming months.
Romania
• We supply food for 20 feeding centers which feed 15-20 people at each location.
• Each month we buy 7,500 loaves of bread for around $2,200 dollars (at 29 cents per loaf)
• These are distributed throughout the Romanian feeding centers.
• Roughly 280 people are being fed each day at a cost of $2,550 each month.
• That comes to about $8.90 per month for a child/person.
• Our Missionaries oversee 15 churches with the help of 7 national pastors.
In addition to the bread we are spending about $2,000 a month for food plus about $500 - $600 a month all together on rents and water for the 16 places that prepare food for children. This includes some food for the National pastors and their families. We also have churches in some very poor villages where not only the children, but all those that come to the church can be fed.
----------------------------------------------------------------------------------------------------------------------------
- Please click on the following link for -

A SUMMARY OF OUR 35 YEARS ON THE MISSION FIELD 1975 - 2010
(An overview of what the Lord has done through Sr. Missionary Ralph Cheatwood, who is over the work in Bulgaria and Romania)
----------------------------------------------------------------------------------------------------------------------------
Camp Meetings at Brookside Baptist Church
Rev. Mike Nixon - Pastor - Rev. Fred Potter - Founder
Services:
Monday 2:00 p.m. & 7:00 p.m. Tuesday - Friday 10:00 a.m. 2:00 p.m. and 7:00 p.m. Saturday 10:00 a.m.
CAMP MEETING DATES
March - Last Monday & week following, July - Last Monday & week following October - Last Monday & week following
For more information call: Tel. 423-878-2771 or 423-878-8131 Tri-State Baptist Children's Home 1528 Vance Tank Rd. Bristol, TN. 37620
----------------------------------------------------------------------------------------------------------------------------
"And now abideth faith, hope, charity, these three; but the greatest of these is charity." 1 Cor 13:13