Dear Pastors, Churches, and Fellow Saints, May/June 2019

"...ye know in all your hearts and in all your souls, that not one thing hath failed of all the good things which the LORD your God spake concerning you..." Joshua 23:14
We send you greetings from all the brethren that are among us in Bulgaria and Romania. We returned to Bulgaria in late May to a joyous reunion with our friends and family here.
I can't begin to tell you about the wonderful year we spent in America. We visited over 60 churches in 15 states, and traveled over 40,000 miles presenting our ministry. Everyone was blessed to hear about what the Lord has been doing, and how people are still getting saved. It was a great blessing to see so many friends and family that we haven't seen in many years. We were also able to visit some churches that we hadn't been to in a very long time. Everyone was so kind and generous to us. We thank all of you for making it a prosperous furlough in so many ways.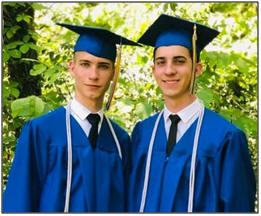 We also want to say that it was a blessing while stateside to have our twin boys, James and John, attend and graduate from Tri-Cities Christian School in Blountville, Tennessee.
On May 3rd, a dear preacher friend, Rev. Luther Carver, went home to be with the Lord. He was a great preacher and faithfully supported the mission work in Bulgaria and Romania since it first started many years ago. We were privileged to know him and he will be sorely missed.
The month of June marked the one year anniversary of Brother Ralph Cheatwood's passing. It's hard to believe a year has already gone by. Before his death he was very concerned that the work on the building in Avren be completed. We rejoice and are encouraged to see the work coming together on the church building and the Bible/songbook printing facility through the efforts of the American missionaries and the national pastors. Avren is about halfway done. We thank the Lord for all that He has supplied through the generosity of individuals and churches who are concerned about seeing this project completed.
Last of all, I want to inform you that, unfortunately, I must have a total shoulder replacement surgery in the near future. I had hoped to put it off, but the discomfort and pain I am experiencing have deemed it necessary that I have the surgery done sooner than later. I sincerely would appreciate your prayers and any financial help concerning this matter.
All because of Calvary, Matthew Welch and Family
----------------------------------------------------
Dear Praying Friends and Family, February – March 2019

I hope this letter finds you all well in the Lord and rejoicing in His blessings, fellowship, and service.

Yakovlevka is the name of a town about a half an hour's drive away where my deacon lives with several other members of our church. We've held evangelic meetings there in the past and even had the nucleus of a church started. However, the town's mayor blocked us from renting any of the local facilities for holding services. On one occasion the mayor stirred up a riot against me while I was preaching at a funeral. Instead of holding services there, Sasha brings as many people as he can to church in his station wagon.

Brother Sasha's wife, Oksana, is a teacher in the local elementary school in Yakovlevka and takes a lot of liberty to tell her students about the Bible. She has been trained in our Sunday School with the curriculum I wrote several years ago and she practically knows the material by heart. With great joy she told us of a small revival that took place right in the public school classroom. She said that the kids had a lot of questions about the Bible which led to her explaining the gospel of Jesus Christ. She actually gave an invitation in the classroom where over ten of them received Christ. Try that in America, the land of the free…! Sasha and Oksana asked for prayer and help to get at least one of the rooms in an old house they inherited from his father ready. The men in our church helped them make the necessary repairs and now she has several children coming to the house for Bible studies!

Brother Sasha's sister, Marina, asked if I would come and visit her ex-mother-in-law who is in bad health. Her son, sadly, is a drunk and will not take care of her. Pretty amazing to see God's grace work in Marina's heart to the point where she rearranged her home, life, finances, and schedule to care for her ex's mother! She did so in order to witness to her before it was too late.

I spent four hours on a Saturday dealing with her about her soul. Her name is Nina Sergeiovna and she was a typical self-righteous sinner. She tried everything to impress me with how good she was, going down the list of how she prays the "Our Father" and other good deeds she's done. I dealt with her using Acts 10 and the story of Cornelius. She was such a contradiction and yet so typical. My usual American approach to soul-winning only works about half of the time here. My favorite icebreaker question, "If you were to die today do you know for sure where you'd go?" is often met with. "Wherever God decides. That's His business!" Fatalism is alive and well here! My next attempt, "If you were to die and appear before God, and He were to ask you why He should let you into Heaven, what would you answer?" Same answer, "I'll go where He decides." I say, "The Bible says you will go to one of two places: heaven or hell. Do you want to go to hell?" They answer, "No!" I usually reply, "Well, then what would you say if your eternal soul was resting on your answer?" They will repeat again, "It's up to God." This is a typical conversation. I asked her, "Are you a sinner?" She gave the typical Ukrainian, "WE (collective) are all sinners." Later in the conversation after I explained the Gospel to her and told her what it meant to "call upon the name of the Lord," I mentioned that she should confess that she was a sinner. She replied, "What sins?!" I said, "You just told me you were a sinner. You need to admit the fact that you are a sinner and that you've been neglecting what Jesus Christ did for your salvation all your life!" She replied, "I can't think of any sins!" After four hours of that I left her lost and bed ridden, with a pile of drugs at her side.

Marina asked the church to pray for her salvation because her health is failing and she can only get up to use a bucket in the corner of the room as her bathroom. She dealt with her all week and warned her over and over of hell. The next Saturday I went back again…..for another four hours! This time she was completely different. She opened up and out came all the bad stuff. She was actually the daughter of a prostitute who'd been moved around from city to city during the Soviet regime because they were trying to stop her from conducting business. She started to confess all sorts of things. She eventually called on the Lord Jesus Christ and asked Him to save her soul! The Holy Spirit's presence was felt! I asked her why she did not admit that she was a sinner during my last visit. Her reply was very insightful to the inner condition of the unregenerate here. She was hoping that I could pray for her to be physically healed and thought that I wouldn't pray for her healing if I did not deem her worthy! This is nothing more that the rotten fruit of priestcraft. The local Russian Orthodox priests have led people into all kinds of superstition. Praise the Lord she was saved! Please pray for her health and for the Lord to use us to make her comfortable and comfort her and edify her with what little time we all have left.

We have a very important request that needs prayer right now. My son Benjamin turns eighteen on May 7th. This means that he is going to have to leave the country and re-enter on his own religious visa. This requires an application for a letter of invitation from our church to the local religious affairs office. It takes a few weeks to receive this letter and they refuse to be pro-active by giving us a post-dated letter before his birthday. It forces us to break the law and pay a fine in addition to the risk to even more penalties - like Ben being forbidden re-entry. Another option is that he will have to leave Ukraine before his birthday and we have no way of knowing how long it will take to get the letter of invitation, which means an expensive open ended ticket and living expenses for an undetermined period of time. Going to the USA means expensive tickets but cheap living expenses because we can stay with family, or Europe which means a cheaper ticket but living expenses are high. We've talked to a couple border agents and they said just break the law and pay the fine. So, I am planning to take Ben out of the country after his eighteenth birthday with the letter in hand. My ministry and Bible Institute will have to be put on hold but we believe this will be the quickest and cheapest way. Please pray for us that Ben will get his own religious visa with no problems from the powers that be.

Our building project was been put on hold due to some needed changes to the architectural drawings. We discovered some mistakes and oversights in the plans and had to pay for a revision. There are some technical challenges ahead that deal with some potential complications from building so close to an already existing building. There are also some other decisions that need to be made because we are going to have to mix and pour our own foundation by hand. There are no cement trucks nearby, nor are there any businesses that mix large amounts of concrete at a one time. The task is beginning to look daunting! Please pray for strength and for God's provision for this project.

The other aspects of the ministry are going well. Our services are full; the saints are witnessing to the lost; the Bible Institute is going well; and the men in the church are making good progress on the new hymnal for use in churches here. After a few other minor repairs we are very thankful that our vehicle is working again. Gena, the mechanic whose brother is an SDA (Seventh Day Adventist), has been a big help and is opening up more. Please pray for his salvation.

We want to thank you all for your friendship, prayers, support, and all that you do for the Lord that gives us the privilege and opportunity to serve our Lord and Savior Jesus Christ. May the Lord bless you as you serve Him! Until our next prayer letter or our meeting in the air!

That Ukraine May Know Him, Christopher Rue Phil. 3:10 Email: ruemissions@yahoo.com www.ruemissions.com
----------------------------------------------
"For the LORD is good; his mercy is everlasting; and his truth endureth to all generations." Psalm 100:5
Our praying friends and family in the Lord, June 2019

It sure is good to know that "the LORD is good; his mercy is everlasting; and his truth endureth to all generations." Those three things: His unfailing goodness, His everlasting mercy, and His enduring truth are the bedrock of our Christian experience, the foundation upon which all are hopes are built. He is good, has always been good, and will always be good. Moreover, He is good to all. In trials and tribulations, He is good. In correction, He is good. On the day of judgment, He will be good. Because He is good and goodness personified, we can trust that He always has our best in mind. He is merciful, infinitely merciful. Mercy is for the guilty, and the guilty soul need never fear His mercies will fail or expire. Because He is merciful, we can draw nigh to Him, trusting that by His mercy alone we are accepted, comforted and helped. His truth endures. It has endured, preserved, inspired, perfect and powerful, from when He first spoke it, to when I heard it and believed. And we glory that the same truth that convicted, convinced, converted and comforted us will still avail for our children's children and beyond. Because His truth is everlasting, we can be confident that what He has promised He will always perform.

Hannah and our little unborn baby are still faring well; the pregnancy is progressing normally, and everyone appears strong and healthy. Hannah is a little more fatigued with this baby than she was with the others, but she's put this down to her advanced age. She's 33. Still, after much prayer and consideration, given all we've been through to this point, I feel it's in the best interest of mother and baby to return to America for the birth. Lord willing, we'll return at the end of June, in just four short weeks. There, we'll get Hannah settled and set up with regular doctor visits. I'd also like to get into as many meetings as I can while there. If you're interested, and I pray you are, let me know any way you can. All our contact information is always at the bottom of every prayer letter.

We were overjoyed to welcome the Welches, my in-laws, back to the field after their recent furlough. Bro. Matt is beloved by all our believers. Wherever I went during his absence, people would greet me and then ask when Matt was returning. When meeting Turks or Bulgarians for the first time, I would introduce myself as Bro. William, a missionary from America. Noticing their pleasant indifference, I would follow it up with, "I'm Bro. Matt's son-in-law," whereupon their demeanor would change, and I was welcomed as a friend and plied with questions as to Bro. Matt and his family's health and well-being. It's good being Bro. Matt's son-in-law, chiefly because I'm married to his prettiest daughter.

Meetings continue to go well. We have open houses in which to preach and open hearts willing to listen to preaching. We continue to have "fellowship" meetings every month, where we bring as many of our believers together as practical. We have two services, with a meal in between. Every service is directed by the leadership of the Spirit of God, yet, typically, we allow the first service for singing and preaching. The second service is open for testimonies. It's refreshing to hear so many "salvation stories" but also to hear how the Lord is actively working in their day-to-day lives. Our next one will be in a few days. Word has gone out, and people are already excited, anticipating seeing fellow saints and worshipping the Savior together.

Bro. Demir's health is stable. He'll never recover complete strength in those areas of his body that were affected by stroke a few years back, but that doesn't stop him. He battles a number of health issues daily that require constant regulation: his blood sugar and blood pressure. Many mornings his head is "swimming" while he tries to get regulated.

Still, he has it in his heart to preach, to do what he can to "feed the flock of God." Keep him in your prayers. Also, his daughter-in-law, Gülcan (pronounced Gewl-john), is expecting. She is in her eighth month. During her last doctor's visit they informed her the baby was breach, and scheduled her for a C-section. That's their answer for everything, C-section or abortion. Please pray for her and the baby. It'll be Demir and Asiye's second grandchild, the first to actually live with them. They are both excited to finally be hands-on grandparents.

We trust the Lord that you all are blessed, well looked after, and leaning on the same everlasting arms that comfort and sustain us. We thank each and every one of you for all your help. We love you in the Lord Jesus, and trust Him to meet and utterly exceed the desire of your hearts. We are upheld by His power manifested through your prayers. Continue, please, to pray for Hannah and the baby. Pray for our upcoming trip. Pray for the work here and its workmen, that our God would bless. Love y'all and see you soon.

Because of a living Savior, The William LeFevre Family wdlefevre09@gmail.com www.facebook.com/bulgarianlefevres

-------------------------------------------------------
Dear Brothers and Sisters in Christ, May 2019
It's with great joy and excitement for the future that I write this letter. We are currently in North Carolina after spending the first three months of the year in Bulgaria. It has truly been amazing to see what God is doing among the Turks in Bulgaria and Romania. The Lord is still doing great things and for this we are grateful. I've been working daily with a national pastor, Nasuf Kadirov, and I thank God for him and his heart for his people, and the desire he has to help me learn Turkish. It's a true blessing to have him talk to me constantly, from one meeting to the next regardless of whether I understand or not. This is a much-needed blessing. Please keep Nasuf in your prayers.
We settled into Bulgarian living quite nicely and are very thankful. God has given us a nice place to live and we feel very fortunate. Our next step is obtaining visas for our continued residency in Bulgaria. This is a complicated process which led us back to the states to complete the necessary paperwork at the Bulgarian Embassy in Washington D.C. We ask that you pray for God's hand in each step of the process as we face each obstacle and expense.
While stateside, we have quite a lot going on. The Visa requirements will have us going to Raleigh, NC and to Washington, DC. Please pray for God's protection as we travel. We will also be going around to churches as we look to raise our last seven - eight percent of support. It has been and will be a busy schedule with our family. Just this past week we saw Riley graduate high school, and for this we are so thankful and proud. Next month on June 22nd we will have the long-anticipated wedding of Zack and Haylie. We are so happy to be here for these events and ask that you pray for Riley and Zack and Haylie.
God is truly blessing our family, and we ask for your continued prayers as we prepare to return to Bulgaria. We are more certain than ever of God's desire for our lives there, and have seen how God has blessed the churches. We have also seen new villages crying out for the believers to come. There is much to do, and we are excited about getting back.
Will you consider helping us with a couple needs? Please pray that we find reasonable airfare for our return and that God provides for this need. We are also continuing to work on the church and print shop in Avren. Please pray that God meets the needs there and what you may do to help with this vital part of the ministry.
In Closing, I would like to thank each of you for your prayers and continued support. Upon returning to the states in April we came home to the passing of my father-in-law, Ronnie Garrison. During this loss in our family we knew for sure that people were praying. Thank each one of you for your faithfulness and love. May God bless you!
For Him, Keith Blalock www.blalockstobulgaria.com blalockstobulgaria@gmail.com
----------------------------------------------------