-------------------------------------------------------------------------------
From Romania
-------------------------------------------------------------------------------
Dear Friends in Christ, January 2018

Greetings in the name of our Lord and Savior Jesus Christ. I hope all of you enjoyed the holiday season. Dara and I have been saying that it seems like this has been one of the best holidays ever for us. After our Sunday service on New Year's Eve, I think we can say for sure it is the best. I'll tell you more about that in a minute.

First of all, I want to thank everyone who sent money and gifts for all of our kids for Christmas. It could not have worked out more perfectly. We were able to get the children all we had hoped for and even more. More importantly, we had several family prayer meetings during the time the kids have been out of school and it felt like we really drew together around Christ. It's hard to explain-- you want your children to enjoy the presents and yet you want there to be a spirit of thankfulness and worship toward Jesus Christ and the salvation we have through Him – the most important gift! This year, more than any I can remember, we have had that spirit here in our Home. I want to thank the Lord for that…it really has been wonderful!

Our fellow missionaries working in Bulgaria, Larry and Carrie Leach, once again raised money and bought winter coats for the children in one of our poorest villages. Not long before Christmas they brought the coats; and we took most of our kids with us out to this village to fit every child (over 30 in total) with a beautiful warm coat, each with a pair of socks in the pocket. Our kids took turns fitting a coat to a village child, many of whom came with no coat at all, even though the weather was quite cold. The village children were beaming proudly when we left and our kids were warmed with that feeling that comes from being able to show Christ's love to someone else.

We were able to pray for two families we know who each lost a newborn child right around Christmas. Of course, learning of these terrible losses brought back many of the emotions we felt losing our own Noah Cross. We missed having him here with us for Christmas. But, thank the Lord, we were also reminded of that wonderful flood of grace that God poured out on us during that time, now 5 ½ years ago. All of our children here at the Home went through that loss with us and we were all able to pray together for these families in a way that many will never know. Paul said to the Romans "For I reckon that the sufferings of this present time are not worthy to be compared with the glory which shall be revealed in us." I think our short separation from Noah Cross will not compare to the glory we will share together with him for an eternity in Heaven.

Over the last several weeks we have had some really good church services, and it seemed the Lord had been stirring our hearts. On several occasions over these weeks we had young military men and women visit for the first time. We heard that 6 or 7 would be coming to church on Sunday the 31st, the last day of the year. Everyone was feeling the Lord might do something great. My mother-in-law, Sandy, said she prayed the night before that someone would be saved. One of the military men who is a Christian and has been coming regularly told me when he got here on Sunday morning that he believed someone would be saved. We had a very good service. The Lord really blessed as Dara and the kids sang during the service and then afterward when Dara gave a beautiful testimony of God's goodness to all of us.
After the service, a few of us were able to sit down with two of the young men who came and discuss salvation. One of the men, who had been saved years before, was afraid he had drifted so far that he had lost his salvation. We were able to show him from the Bible that it is God, not he himself, who is the keeper of his soul. He now has the Lord's full assurance of his salvation and he made a commitment to get back to that walk with the Lord that had been missing in his life for so long.

The other young man had not been saved; but as we talked with him and prayed with him, he asked the Lord to save him and to come into his heart and life. Praise the Lord!! This was the answer for which we had been praying. Afterward, we sat around singing hymns and testifying until late in the evening. Someone said to this young soldier, "Aren't you excited the Lord did this for you today?", it being New Year's Eve. He said "I am more excited for every day in the next year!" We thank the Lord for saving this young man and for everything He let us have a part in – not just on that day but every day. We are certainly going into the New Year with a renewed excitement for serving our wonderful Savior Jesus Christ.

We pray a blessed new year for each of you. Thank you again for all your prayers and support.

In Christ, The Turners
--------------------------------------------------------------------------------
Dear Pastors, Churches and fellow Saints, Greetings once again from Romania! January 1, 2018
The Lord blessed Jacob and my visit to America. I only had two weeks and needed more time, but we are thankful for the depth of love we found as we traveled to all the places we could. I'm convinced that God wanted to do more, but we are busy, and the work must be watched over.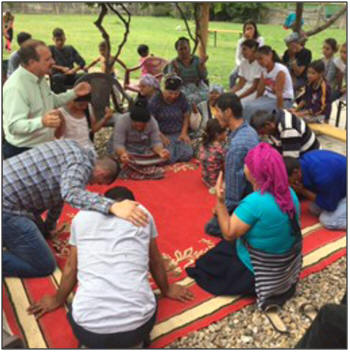 I enjoyed hearing Jacob stand up and share the way God had worked in his heart and led him to see the ministry. Jacob spoke of when he was around 14 years old and how I had taken him to a meeting in town. He had not wanted to go, but knew he had to. I was forced to leave him alone with the lady of the house as I drove some older people to their homes. During this time the lady of the house was concerned because it was growing colder as sun began to set. She had no wood and took one of her pillows and ripped it up and burnt it in her little stove to keep him warm. He said, that one act of kindness and the thought of her having to sleep that night without a pillow somehow opened his heart to see what God is doing in these people's lives. As I listened, I was so blessed to watch pastors and church members transfixed as Jacob spoke of how God had burdened him and wanted him to give his life to this Turkish work.
It is wonderful to see how faith is a beautiful and miraculous gift from God. I was able to experience the joy of seeing it unfold in his life after years of worry and fear. What a beautiful picture of the grace and power of God. It is hard to hold the emotions in when God's pure love is being revealed like that. I wish all young people could understand what a beautiful thing it is to seek God's ways. Not because of talent or ability, not because of prestige or financial gain, but because of the gospel and power it has too set men and women free.
We are joyful as we end another prosperous year. We were blessed to baptized seven believers and honored to participate in an ordination service this year. We also buried two of our oldest believers. We buried their bodies, but their works do follow them. We are committed to guarding their testimonies of Jesus Christ while awaiting the joyous day of our reunion in heaven. What a blessing to give out over 350 Christmas packets to the poor children. The joy and hugs always help seal and cap off the year with hope. Time and space would fail me to tell all Jesus has done in the lives and families of these believers, but God's grace has carried us through and our faith is once again unshaken because of his faithfulness. Please continue to pray for the churches and centers and us as we enter another year for his name's sake!
Thank You and May God Richly Bless You Is Our Prayer! From Romania, Nathan, Teresa, Rachel, Nate, Jacob, Elmas, Rebecca and little Uriah