-----------------------------------------------------------------------------------
Dear Friends in Christ, November 2018

Greetings in the name of our Lord and Savior Jesus Christ. We hope you are all doing well. We thank the Lord for the prayers that go up on our behalf of which I am sure there are many.
When I last wrote, I told you about the dedication service that we held in Avren, Bulgaria, which was the realization of Brother Ralph's dream to have a church and a printing facility in that village. All the missionary families gathered to honor Brother Ralph and to dedicate the new building to the Lord by having a service to praise and worship Him. It was a very good service – some tears, some laughs – as we remembered Brother Ralph's many years following God and then leading us in the way we should go. Again, we want to thank everyone who either prayed or sent in the support that was needed to complete the church.
On the 2nd of October, we held the first Turkish meeting in the new facility. One of Brother Ralph's oldest friends, Brother Gary Armstrong, a pastor from Massachusetts with his wife, came to celebrate with us the birth of this new church. Brother Gary told the Turks about working with Brother Ralph more than 40 years ago and reminded us all of how our faithfulness is rewarded with much fruit. God has surely been faithful to us and has blessed us beyond measure. One of our Turkish national pastors, Brother Alish, who was saved under Brother Ralph's preaching many years ago, also preached. We had a great meeting and are excited about what the Lord will do in Avren.
Several weeks ago, a young mother who comes occasionally to the Romanian church I lead, came to the meeting and asked us to pray for her child. I had known this woman as a beggar who only came to the church when she wanted to ask me for money. I rarely gave her anything, not believing the stories she would tell about why she needed money. This time something was different. She didn't ask for money, she asked for prayer. Seems her 1 year-old son, David, had been born with a place in his spine that leaked spinal fluid. There was an open place on his back where this fluid seeped out constantly and never healed. She had been told by a doctor that if the child did not have an operation to close up the place on his spine, he would likely soon be paralyzed from that point down. We prayed for her child in the service. She told me after the service she had been getting money together to have the operation done but was afraid it would be too late. I had a little money with me and I gave her what would be about enough for the train trip to Bucharest where there operation would be done.
Last week at the Romanian meeting she was there again…this time testifying about how the Lord had saved her child. Apparently, when she got to the hospital in Bucharest and checked in, she was told that the operation would cost her twice what she had understood. She said she broke down crying in the room knowing she must return to Constanta with her child not having the operation. She said a woman staying with her own child in the same room had overheard her conversation with the doctor and told her that they needed to pray. She said this woman prayed with her in the hospital room. As she was on her way out of the hospital a nurse stopped her and told her the doctor would do the operation for the amount of money she had. The operation was very successful and her little boy was with her at our meeting. She was beaming as she testified about how the Lord had helped her. I was reminded how the lame beggar went into the temple leaping and praising God. I am glad this woman saw the Lord has something much better than silver and gold! I thank Him for answering our prayers, strengthening the church and putting faith in the heart of this woman. As always, we thank you for remembering us in your prayers.
In Christ, The Turners

-------------------------------------------------------------------
The Reed Family, Serving with Charity Baptist Missions to Eastern Europe since 1992
"Bear ye one another's burdens, and so fulfil the law of Christ." Gal. 6:2
Dear Brothers and Sisters in Christ, October 1, 2018

Greetings from Romania. We are honored to bring you a good report from Romania. In our last letter we spoke to you of a man named Elie. We asked you to pray for God to give him a good testimony as he drew near to death. We were truly blessed to have him leave word to his wife and relatives that he only wanted the believers to bury him. We have never been able to do this before and I was concerned. We were able to have a funeral service without any interference from the Greek Orthodox or Muslim priests. We were able to sing, testify, preach, and pray in four languages. Then we proceeded to carry his body through the village into the cemetery singing Turkish hymns and a short grave side service. The Lord gave exceeding above anything we could ask or think!

Teresa and I have an urgent prayer request about little Ricardo. He is in the town of Calarasi. He has leukemia and we have taken him and his mother for treatment several times in the last few months. The doctors aren't giving him a very good chance to live. They also aren't as concerned as they should be, because of the lack of plasma in his blood type and the fact that he is Turkish. His mother comes to the morning prayer meeting and cries out to God to heal her boy. Please ask your church and other believers to pray for this little boy. He and Nate have a special relationship and are good friends.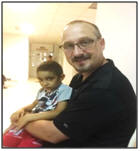 We're so grateful the meetings are going better than ever. We have three building projects going on in three separate towns. Jacob and I are very busy as we prepare to suffer the unforgiving winter. We have been able to stock our churches with wood. We have also been able to repair our three cars and put snow tires on them for the winter roads. We have been able to replace and repair a lot of things while painting our church in Calarasi. We have been able to put flooring down in the two meetings in Calarasi and this month, by God's grace and continued prayer, to obtain electricity for our main church building. After we obtain electricity, we will have power to do some spot welding and we hope to put a fence around the church property before winter. Please help us pray for these things as the devil is always trying to hinder. We are so thankful for everyone and the churches that have given to make this possible. We have a lot more to do and will try to keep you updated as our Lord provides strength and time to accomplish them.

We had a wonderful camp meeting in July. It was sad to be there without brother Ralph, but somehow, I feel he was present in each one of our hearts. We were able to travel to Bulgaria for the dedication of the church and printing house he had worked all his life to leave us. It has been over twenty years since we were able to be in an English meeting down there and what a blessing to dedicate this place as a perfect legacy to bro. Ralph. They hope to have the first Turkish meeting there next week. We just want to continue to carry on with the same spirt and desire he left for us and to get the gospel out through the Bibles and Hymn books he tirelessly labored on his whole ministry.

May God richly bless you the faithful! From Constanta and Calarasi, Romania
Nathan, Teresa, Nate, Jacob, Elmas, Rebecca, and Uriah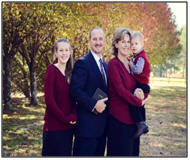 "Finally, brethren, pray for us, that the word of the Lord may have free course and be glorified, even as it is with you." 2 Thessalonians 3:1

---------------------------------------------------------

"Wherefore remember, that ye being in time past Gentiles in the flesh… were without Christ … having no hope, and without God in the world: But now in Christ Jesus ye who sometimes were far off are made nigh by the blood of Christ." Ephesians 2:11-13

The Jacob Reed Family Serving with Charity Baptist Missions to Eastern Europe since 2012 "And there they preached the gospel." Acts 14:7

Dear Brothers and Sisters in Christ, October 1, 2018

Greetings in the name of our Lord and Saviour Jesus Christ. I pray this letter finds you well in the nurturing grace of our Lord. We continue to thank you for your support and prayers.

On the 8th of June this year we buried our beloved senior missionary Brother Ralph Cheetwood. It was a bittersweet moment in time. But we have the hope of our precious Lord to reunite us on the streets of gold! We continue in the work that he left us to further the gospel to the Turkish believers here in Romania and Bulgaria. For over 35 years he has worked on the Turkish translation from the 1611 KJV bible and his legacy will live on throughout the ages.

In the past few months the Lord has given me the honor and privilege to watch over the meetings here in Romania for my father and family while they are on furlough in the States. It has been a blessing to serve these past few months and help further the gospel of Christ. I have had a burden to start a Turkish meeting in a small village called Pecineagra. This is the village where my wife grew up and we have started a prayer meeting in my father-in-law's house where we feed and minster to them daily from both physical food and the translation and Turkish hymns Brother Ralph left us.

We have a great burden for a little boy in the Town of Calarasi. His name is Riccardo and he is five years old but has leukemia. My Father and mother have taken him to Bucuresti to have random checkups and treatments. They are very mean to the mother and haven't given him much hope to live. Amelia is a strong believer and comes to the morning prayer meetings and cries out to the Lord for her son's life. Just the other day she stood up to testify and said she had asked Jesus to give Riccardo plasma from his blood. They don't have any in his blood type, so I ask you to give it to him from your clean blood. It really touched my heart when I heard her say this. This the second time this mother has had to go through this. Amelia's little girl Alexandra had leukemia for years and was able to obtain plasma from her older sister, but Riccardo isn't a match with his older sister. Alexandra is now cancer free, but it will take a miracle for Riccardo. We ask you to help us pray for this little boy and his family.

We also have a national pastor by the name of Bayhan. He is a great blessing to us and has a wonderful testimony. He has type one diabetes. We give him some money to try and help him every week with his family, but with the prices of insurance going up, he doesn't have the money to pay it every month. He is raising two children that aren't his just out of the goodness of his heart. If you would like to help a real national pastor, please let us know and I'm sure the Lord would bless you. Thank you again for all you do for our family and God bless you!

From Constanta, Romania, Jacob and Elmas Reed jakereedfamily1994@yahoo.com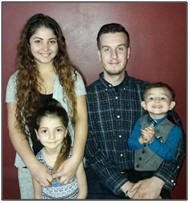 -------------------------------------------------------------------------------------
Dear Pastors, Churches, and Fellow Saints, July - August 2018

"And when they were come, and had gathered the church together, they rehearsed all that God had done with them, and how he had opened the door of faith unto the gentiles. And there they abode long time with the disciples." Acts 14:27, 28

In July and August we visited and presented our mission work at churches in Tennessee, North Carolina, and Virginia. We had not been to some of those churches in years. It was a blessing to gather together and rehearse once again what God has done on the mission field in Bulgaria and Romania. It was a blessing to also hear from them what the Lord has been doing in their churches and ministries in America.

It is good to be back on furlough and not only to visit with the churches but also with family and friends. I am especially thankful for another opportunity to speak to our lost loved ones about their soul's need of salvation. God is dealing with them and our prayer is that they will open their heart's door and receive the Lord Jesus Christ as their Savior. It has been encouraging to see some who were so hard and cold to God and the gospel to give ear and listen with open heart and mind. I believe they are in the place of Isaiah 1:18 where the Lord says "come" and "reason".

I love dealing and talking with people about their souls, but how much better it is when the Lord Himself starts to deal with them. We have seen this verse, "And I, if I be lifted up from the earth, will draw all men unto me." John 12:32, work over and over again in the lives of so many in Bulgaria and Romania and also here in America. If we lift up the Lord Jesus Christ in song and sermon and tell of His great salvation then God will draw them unto Him. "Draw" means: to cause to move in a particular direction". May the Lord help us all to be like the Maniac of Gadara and take to heart the command that Jesus told him, "Go home to thy friends, and tell them how great things the Lord hath done for thee, and hath had compassion on thee." Mark 5:19

If you are interested in seeing the work presented or having us come and preach please call me at (828) 592-1498. If you should not be able to reach me at that number I can also be reached at (423) 878-5800. We're looking forward to seeing all of you and fellowshipping and praising God together.

All Because of Calvary, Matthew Welch and Family

-----------------------------------------------