-------------------------------------------------------------------------------------------------------------------------------------------------------------
Brookside Baptist Church 2016 Camp Meeting dates:
(March 28th - April 1st) (July 25th - July 29th) (October 31st - November 4th)
Services: Monday 2:00 p.m. & 7:00 p.m. Tuesday - Friday 10:00 a.m. 2:00 p.m. and 7:00 p.m.
Please join us for "Homecoming - October 30th the Sunday prior to Octobers Camp Meeting
For more information call: Tel. 423.354.0342 or 423.878.8131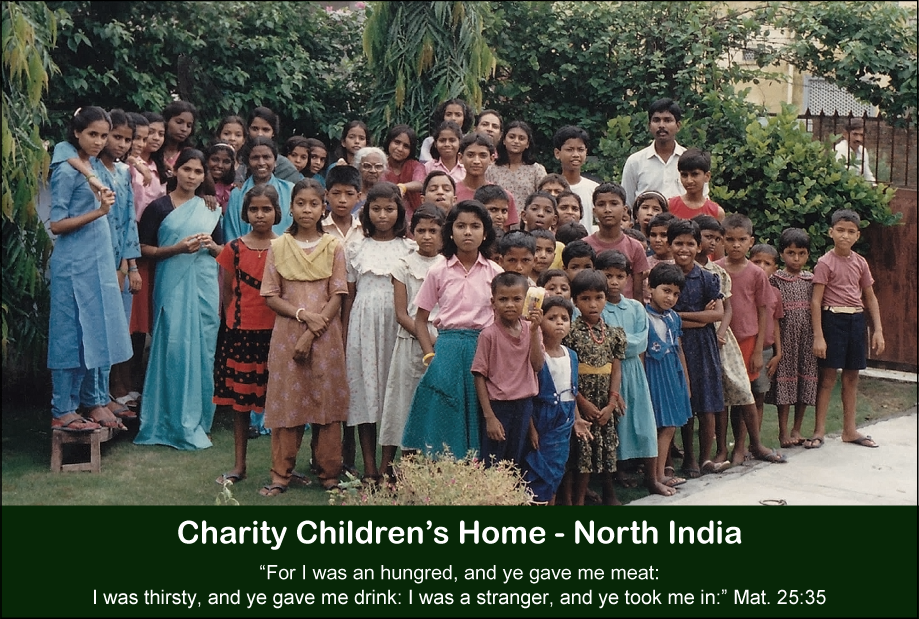 - Missions Updates -
-------------------------------------------------------------------------------
From
B

u

lgaria
-------------------------------------------------------------------------------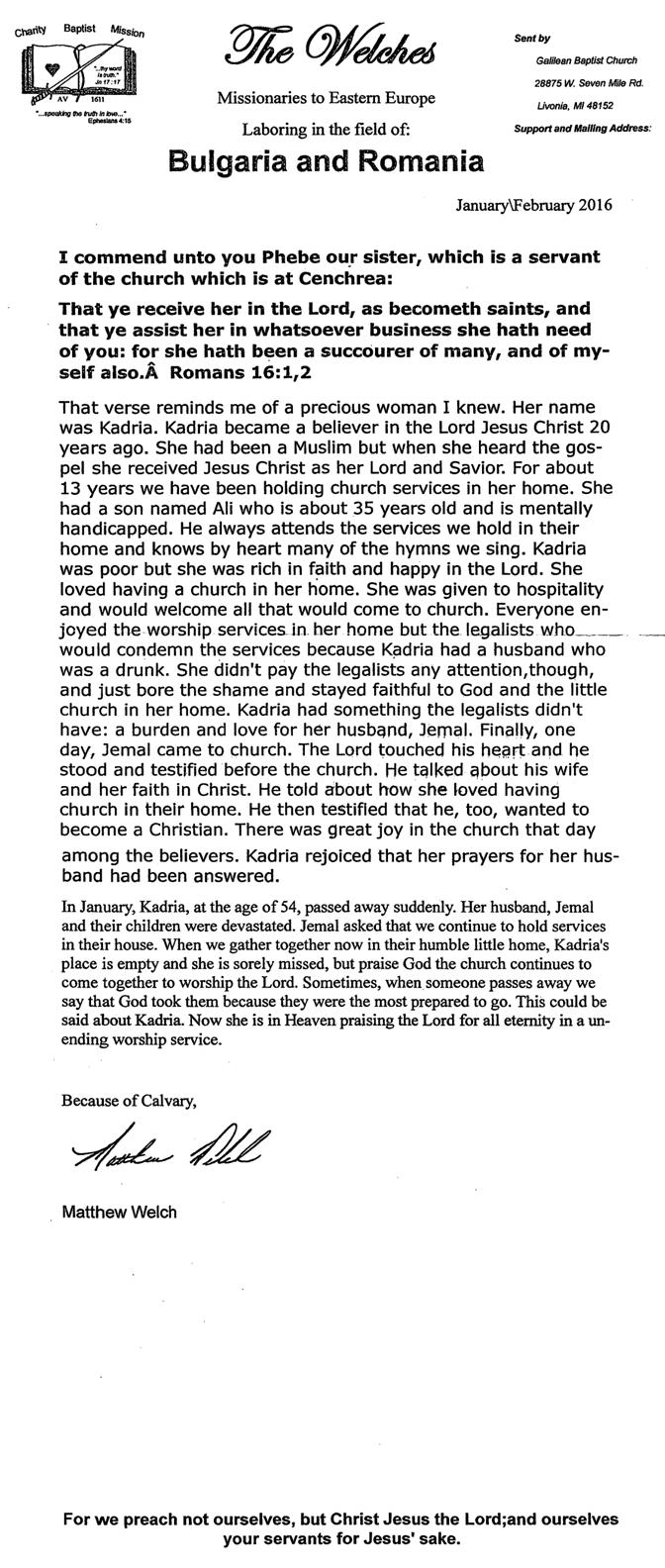 -------------------------------------------------------------------------------
From Ukraine
-------------------------------------------------------------------------------
Dear Praying Friends and Family, January - February 2015

I hope this letter finds you all well in the Lord, rejoicing in His blessings, enjoying His Book, and faithfully serving in His vineyard. We are slowly digging out of a freezing, snowy winter and getting ready for spring. Looking back over the last two months reminds me of how much we have to be thankful for in this New Year, which got off to a good start with Scripture calendar distribution at the local marketplace. It reminded me of 1990s when crowds would gather to hear the preaching of God's word and even throng you to get literature.

The Bible Institute is going well and takes up the majority of our time. Classes are four hours a day, five days a week. There are currently seven men and two ladies studying. Two men are from the Lakeside Baptist Church in Limonski. We've had others who would like to attend via internet but we are not set up for that yet. We are considering offering classes to others in the country who would like Bible Institute training in Russian next year.

We are also busy making repairs and improvements on the church building. Our Sunday morning services are full with only a couple of empty seats. We are in the planning stages of adding a larger hall onto the building so the church will have room to grow. We also plan to add an outside covered picnic area for use in warmer weather. We are thankful for a new gypsy family that has been attending lately. The man of the house is saved, while his wife's testimony is still unclear. Their marriage is a little shaky and we are praying that the Lord will allow us to help them with healing their family issues.

We are very thankful to the Lord for those who sent special love offerings last month. The funds helped us cover many extra expenses, including the overhead for the Bible Institute and the higher gas bills since the new tariffs went into effect. We were able to purchase a washing machine for a national pastor, Brother Korol, who is currently serving as Captain in the military. There were over one hundred Ukrainian soldiers doing their wash by hand in winter! Thank you for allowing us to help. He made sure that the men he serves with understood that American Baptist churches made it possible for Jesus' sake, thus giving him an opening to witness to his men.

We are thankful for our Great Physician's care over the past few months. Naomi was ill for several weeks and was bedridden as a result. Miriam picked up the load and kept our home and school running as smoothly as possible. We made it through a plethora of flus and bugs that struck the area, including swine flu, that left several people dead and the local schools quarantined. My son, Benjamin, tore a ligament in his hip one night after church. It was Valentine's Day so the hospital staff was a little "merry" as a result. The ambulance was just sad. It had no life-saving equipment whatsoever and I've seen work trucks that were cleaner. The splint the EMT's used to stabilize his leg was homemade out of clothes hanger wire, cardboard, and packing tape! The X-ray technician had to scour the place for film then had me hold his leg while the 50 year old x-ray machine radiated us (6 times!) till they got it right. He was also "merry" because of the holiday. Ah, the joys of socialized medicine!

Since Benjamin is a minor the incident was reported to the local police and I had to answer a bunch of questions. The doctor was unprofessional and rude. I did not like the rough manner in which he handled my son and he was irritated that I would ask questions like, "What is the diagnosis?" He would not give any information whatsoever about Ben's condition or treatment nor would he listen to my account of what happened. As a result, he gave a conflicting report to the police. They came to my house the next day and interviewed my children while Naomi and I were out getting groceries. They required me to appear at the police station with proof that Benjamin was my son. We are very thankful that it was not worse, and Benjamin is already walking again without the aid of crutches. We are reminded of the Lord's protection over 20 plus years of life here and only having to visit the local hospitals a handful of times.

The plans for registering a new church in Odessa are still being held up at the Dept. of Religious Affairs. The government is currently overhauling everything resulting in many government workers being laid off and even closing whole departments. A new head of Religious Affairs was appointed and is still trying to learn the ropes. She wants us to make changes to our documents that we are not yet sure are legal. Please pray that the Lord will intervene and that this work will begin with His blessings and guidance.

On a personal note, Joey turned three in January along with "yours truly" turning 49! February marked my 27th anniversary of rededicating my life to Jesus Christ. He changed my life forever and my only regret is that I haven't done more for Him. I guess the song sums it up well, "Jesus passed by my way, and He made me whole that day. Just a sinner was I when Jesus passed by and Oh what a change in my life, when Jesus passed by.

I would like to ask you all personally to pray for my pastor Dr. Ruckman, whose health is not good at the moment. Few men have had the impact on my life as he has, and I thank God for his good example. When I received the news that he stepped down as pastor of Bible Baptist Church I was somewhat melancholy for days. Several men who also had a big influence on my life have gone home to be with the Lord. The old guard is going home and passing the torch to our generation. Dr. Ruckman has said that he wants to go home to be with the Lord and asks people to pray accordingly. I find it difficult to do so after praying for the Lord to keep him going for so many years. Please pray for Pastor Donovan as well, that the Lord will keep him strong for the work ahead as he leads the Bible Baptist Church and the Pensacola Bible Institute.

Thank you all for your friendship, prayers, support, and all that you do for the Lord that gives us the privilege and opportunity to serve our Lord and Savior Jesus Christ. Until our next prayer letter or our meeting in the air!

That Ukraine May Know Him, Christopher Rue Phil. 3:10
-------------------------------------------------------------------------------
From
B
u

lgaria
-------------------------------------------------------------------------------
"And when they were come, and had gathered the church together, they rehearsed all that God had done with them, and how he had opened the door of faith unto the Gentiles." (Acts 14:27)

Dear Churches and Praying Friends, February 2016

Greetings in the name of our Savior, the Lord Jesus. We trust this letter finds you rejoicing in the Lord and waiting for his appearing. Our winter months have been busy, and we're glad to report that the Lord's still working in Bulgaria. Most of our village churches are full, and there is joy and love among the believers.

In the village of Avren we were able to help finish the main part of the roof of the building that we will use for a church and a Bible printing facility. Even without this facility, we've been able to print and distribute hundreds of hymn books and gospels of John to the church members.

Pastor Nasuf recently told me about a family that visited his church one Sunday. This woman had evidently heard the gospel years ago, but never did believe. Until she got seriously ill. After the doctors told her they could do nothing more to help her, she began to seek the Lord and pray. Then through his miraculous power, the Lord healed her. For months she has been worshipping the Lord in her own home every Sunday morning, and inviting her neighbors to join her. Several of them have also come to believe in Jesus. One day, she happened to meet another believer in a different village that told her about their preacher, Pastor Nasuf. So, she traveled thirty kilometers to Targovishte to find Pastor Nasuf and his church. Last week Pastor Nasuf was able to visit her village on Sunday mornings and have church with this little group of believers. The Lord answered their prayers in sending them a pastor. Please pray for Pastor Nasuf and for these believers, who are very poor.

Lord willing, this March we should be traveling back to the states for an eight month furlough. This is a difficult time for us, because the work is going so well that we don't want to leave. But we do look forward to seeing our American friends and family, and most of all, the churches. Please pray for us. We want to see you all. For now, if you would like to contact us, please use our email: zacharylefevre@yahoo.com

In Christ, Zachary LeFevre
-------------------------------------------------------------------------------
From Ukraine
-------------------------------------------------------------------------------
Greetings Beloved,
November 14, 2015 - January 9, 2016
Thank you so much for your prayers. God continues to bless us very much and I think greatly in response to your prayers for us. As I reviewed what happened over the time since we sent you our last prayer letter I noticed that God especially sent HELP IN TIME OF NEED. I'll give you some examples. Our new evangelization card took longer to get ready than we expected and when we took it to the printers the lady told us that since we only wanted one side laminated it would be considered a special order and therefore would be ready in two days instead of the usual seven. This was a blessing since we were able to get started sooner with our winter evangelization which was already starting later than usual. With a lot of enthusiasm and help from church members we were able to finish eleven towns plus our own by December 31st. This included a lot of work put in by many getting our devotional calendars and other literature bagged up and ready to go IN TIME for those who were going door to door. In two different towns as Slava and I were walking away from two older men we had just spoken and given literature to Slava said, "Think about your eternal soul." One answered, "At my age I often think about it" while the other answered "I have been thinking about it every day for the past 62 years." Our prayer is that they will see their need as sinners to trust in Jesus Christ, the sin-bearer for them IN TIME. The evangelization card we distributed this year encourages people to read God's Word daily to find the wonderful treasures therein, the most important which is the fact that Jesus Christ is the one and only eternal Saviour of everyone who will believe Him.
Our Bibles were just about ready to run out and we asked 'Couriers For Christ' if they could help us again and they provided the money for us to buy Bibles here in Ukraine which is the most economical way. We were able to get our order in just IN TIME before the New Year and saved 25% which meant we were able to get more for a total of 477 Bibles. After this I found out a brother from Washington State sent us $1,000 to be used in the ministry. Since we had just bought most of the Bibles we needed for a while we decided to use the money to buy mostly literature we need for evangelizing. This money also came just IN TIME since we had just about run out of the books and booklets we usually give to people who show a greater interest in knowing more about salvation. We were also able to get 45 children's Bibles and 25 more small print Bibles which usually go quickly.
On January 5th our church together with Bro. Kolya's church put on a Christmas play and a short skit at the community center in our town. It had been very cold the days before the play, but the day of the play it warmed some which was a blessing just IN TIME because the community center is not heated. Considering everything we had a pretty good turnout. Zhenya, one of the missionaries from our church here to Altai, Russia called me on December 30th and said he really liked one of the illustrations I had used in my message Sunday and it had come IN TIME so he could use it in his message that Wednesday. I did not even know he had seen the message which the church posted on You-tube, but I was glad it had been a blessing to him and that he could use something from it 4 time zones away from here. On my way to preach in a nearby town the radiator light came on in my van. I called a couple of brothers who I saw driving ahead of me and asked them to stop and help me. We had stopped just IN TIME since I had lost all of my coolant, because somehow the hose had broken loose. With the help of the brothers we got more anti-freeze, water and reconnected the hose and I was only 40 minutes late for the service which went fine. Please pray for Alek, a man in his 50s who attends services regularly, but who can't seem to come to a knowledge of the truth. He seems to certainly be oppressed by the devil if not possessed. We are going to try a second time of praying with fasting for him. Thank you very much for co-laboring with us here in Ukraine in this time.
God bless, Paul, Angela, Olga, Andrew, Nik, John & Grace (Hebrews 4:16)
-------------------------------------------------------------------------------
From Romania
-------------------------------------------------------------------------------
Dear Friends in Christ,
January 2016

Greetings in the name of our Lord and Savior Jesus Christ. It is hard to believe we are already starting a new year. It seems 2015 really flew by! We did, however, have plenty of occasions to see the Lord work to take care of us, all of the children, and the work He has let us have a part in for over 20 years.

Bro. Ralph Cheatwood started the Children's Home over 14 years ago. He felt the Lord would have us do this as an outreach of the church work we had been doing for some years already. Several of the Home kids have been saved in the last few years and we praise the Lord for entrusting these souls into our hands to raise. Although we only had one more of the Home kids saved during the past year, we have seen the Lord begin to use these children to share the Gospel in ways we never expected.

Those of you who follow my wife's Facebook page (Dara Shae Turner) have seen how the Lord has blessed our children with incredible musical and singing talent. They play and sing every Sunday in our English service and also any other chance they get. They love the hymns, good gospel music and even some bluegrass and Irish music. Last year, a teacher invited them to bring their instruments and play and sing for their class. Everyone was so impressed that they were asked to perform in each of the classes in the school and also for the director of their school. One of their songs is 'The Value of One' which sings about the rejoicing in Heaven for one sinner saved. The school English teacher was crying when they finished and asked them for a copy of the words so she could translate it into Romanian and give it to all the students and teachers. They have since played and sung many times in the school and were even asked to represent the 7th grade in the Christmas show put on for the administrators and teachers of their school district. Several of their schoolmates and even the English teacher have attended our church. We are so thankful the Lord has given them these talents and that they are so willing, even eager, to use them for His glory.

We have also had the opportunity to share the Gospel with many American military personnel stationed at the nearby base. Groups of 4 or 5 to as many as 16 or 18 have come out to spend time with the kids. We had a crowd for both Thanksgiving and Christmas dinners. We are very happy to be a blessing to these fine men and women who are away from their homes and families to protect our country and our liberties. The base commander, Colonel Ellis, who has been out to the Home, invited Bro. Ralph to preach and the kids and Dara to sing at the Veteran's Day program put on at the base for the soldiers. I was so proud to watch our kids up there singing about how good God has been to them and how blessed they are. They will probably never really know just how blessed they have been. It was wonderful to be able so share this with so many of these servicemen and women, many of whom rarely, if ever, attend church.

The regular church meetings are going very well. Bro. Nathan Reed and his son Jacob work tirelessly with the national pastors to take care of the believers the Lord has given us here in Romania. Along with our three English campmeetings each year with all of the missionary families, we hosted several 'Turkish campmeetings' here at the Home with as many as 100 Turks attending. The missionaries and the Bulgarian national pastors brought believers from Bulgaria and we had great times of worship and fellowship.

The Lord truly blessed us this past year. By God's grace, we will remain faithful to our calling and see what this New Year has in store for us. Thank you for your continued prayer and support.

In Christ, The Turners
----------------------------------------------------------------------------------------------------------------------------
Part 1a

We set out this morning with Hannah and Esther and a car so full of bags of coats and socks, they each had bags on their laps. Our plan was to distribute as many coats as we could, and we did, but God had even bigger plans for us. As we sit down near the close of the day to reflect on everything the Lord has allowed us to be a part of, we feel honored.

But let me back up… first things first… the purchasing of the coats and socks. A week and a half ago Larry and I went into the city and bought new socks. We got a good deal on them, so we really stocked up. It's always a shock for the cashier to see us coming with an overflowing cart of socks, but we've been doing this so long now, we knew how to have them already organized in sections to make her job easier. Then this past Monday we went back into the city to the second hand store to stock up on coats. It was pretty slim pickins, but we did our best. Unfortunately we only filled one of the vehicles. Two more empty vehicles were with us, so we took off in search of another location. It was much better than the first place and a new contact was made there. We filled the remaining vehicles and headed back to our house where Hannah had brownies and refreshments waiting. Here are two pictures—one of the cart of socks and one of our entryway so full of bags of coats, we could hardly get up the stairs. At last count there were well over 40 bags in the entry and halls.

We then organized coats and socks each afternoon for the past week, as our schedule permitted, and felt we were ready to begin distribution in nearby villages.

First stop this morning: Novi Pazar. Pastor Ismael was already gathering the local children and organizing them in lines. We carried the bags inside and Esther and I organized them to make distribution easier, while Hannah got set up to take pictures and Larry controlled the crowd. Working together, we were able to give out around 50 coats in under an hour. In between influxes of children, we were able to encourage Sister Naziye, who is having a hard time with her blood sugar. Here are a few pictures from that distribution: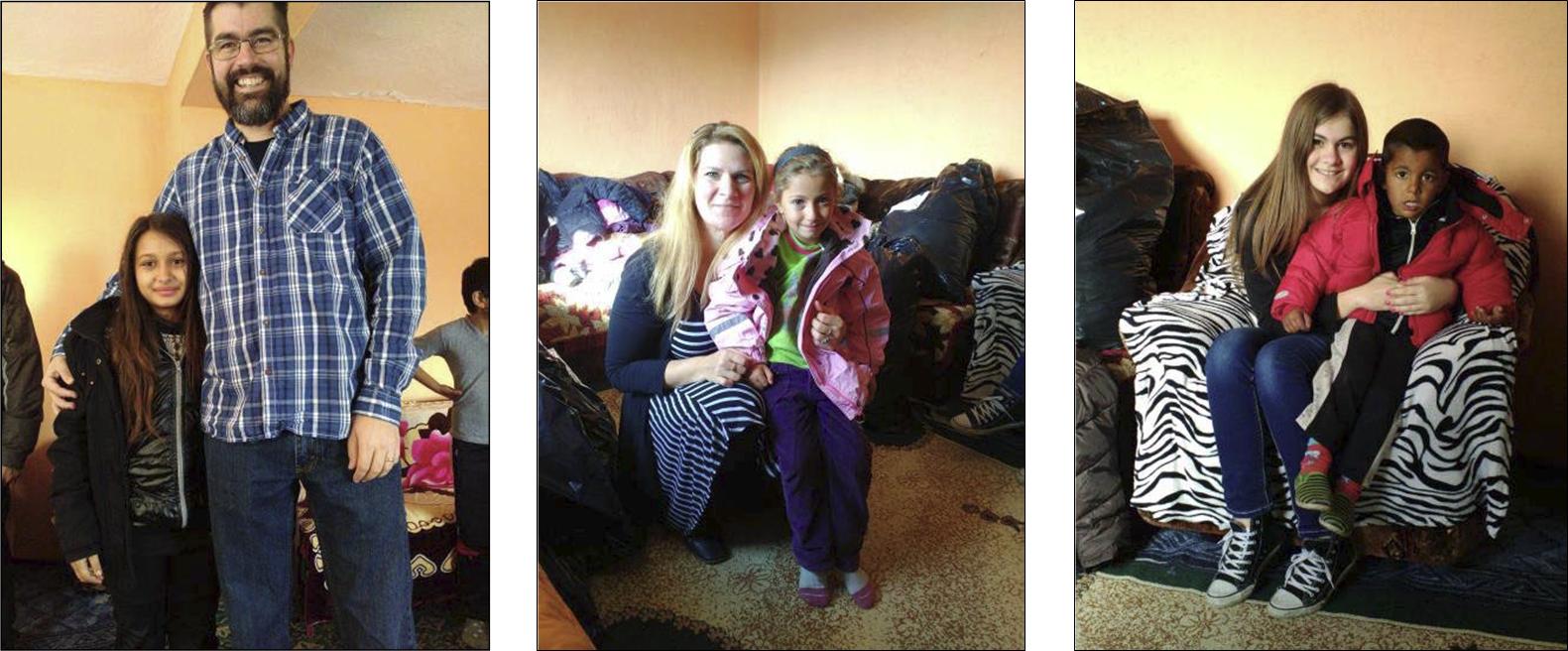 The girl standing next to Larry above is Sinem, Pastor Ismael's granddaughter. Every time I see her, I am reminded of God's hand in her young life. When she was four, she was diagnosed with a tumor in her lung and required surgery, which cost a lot of money and the family simply did not have it to pay. We asked you all to pray and one friend forwarded the email on to other friends and shortly a man we had never met wrote and told us he wanted to help. He paid for her surgery and the trip to the capital for the family to be with her. The surgery was a success and today she is in good health. We praise the Lord for His faithful lovingkindness.

lease click on this link to view the four part story.
-----------------------------------------------------------------------------------------------------------------------------------------------------------------------------------------------------------------------------------------------------------
-----------------------------------------------------------------------------------------------------------------------------------------------------------------------------------------------------------------------------------------------------------
From the Streets of Boston Massachusetts
Greetings from Boston
December 2015
Thank you for your patience; love, prayers, and support for us. It has been quite a while since my last letter, but it's worth waiting to tell you of the great things the Lord hath done and we are so thankful to be part of it.
I want to let you know, I'm still on the streets with the word of God. Where else would I rather be unless it's in heaven! One of my favorite places to go hand out tracts is the train station where so many people pass through every day.
One day while passing out some tracts a Muslim woman was in a line of people flying by me to catch the bus. I gave her a tract and she took it. Two days later I saw her again. I gave her another tract called "Second Coming". I stopped her knowing that I had a tract called "True Christianity vs. Islam". After looking at it with a smile she took that tract as well. Then I met two guys which I knew from my youth. As we talked I witnessed to them. They took some tracts and I told them I would pray for them. Latter, I met a guy that grew up with my son Brian. As we talked he let me know "your Brian's dad". I said yes and gave him a tract he said "I knew by your hat and pamphlet who you were". I then met another guy and he said the same thing. He remembered the tract that I gave him years ago. I met another guy who did the electrical work on our old apartment and of course we talked. I gave him one of every tract that I had on me. I told him I still have his father's bible that he entrusted to me. One day I was going to get on the bus and it passed me because I was too far away from the stop. Then I heard a horn beep. And another bus pulled up, opened the door and put down the ramp for me. So you see there are many things (to the Glory of the Lord) that he does. I can see how the scripture says "And there are also many other things which Jesus did, the which, if they should be written every one, I suppose that even the world itself could not contain the books that should be written. Amen. John 21:25
Please pray for my sister in law. She got saved through a tract that I've gave to her quite some time ago and now she has a burden to give them out. There are some tracts that I can't afford to buy, but maybe someone can help me out. I would like to get 10,000 Chick tracts called "The Only Hope" or "This was your Life" and some books explaining the facts about Islam, I meet these people all the time.
These can be bought through www.chick.com and you can send them to my house. I will be so grateful.
Please keep this matter in Prayer. This is a special need and for free they will print my contact number on the back. This will help people realize I am not a Mormon, J. W., Catholic or any other cult.
My new address is: Jim Costigan 52 Harvard St. Dedham, Ma. 02026 Baptist Street Preachers of Boston 1-508-212-4625 I've changed the name of this ministry to the information above.
Thank You again in the name of Jesus our Lord Jim and Jo Ann Costigan Luke 1:37 For with God nothing shall be impossible.
--------------------------------------------------------------------------------------------------------------------------------------------------------------------------------------------------------------------------------------------------------------