- Missions Updates -
-------------------------------------------------------------------------------
From Ukraine
-------------------------------------------------------------------------------
Greetings Beloved,
November 14, 2015 - January 9, 2016
Thank you so much for your prayers. God continues to bless us very much and I think greatly in response to your prayers for us. As I reviewed what happened over the time since we sent you our last prayer letter I noticed that God especially sent HELP IN TIME OF NEED. I'll give you some examples. Our new evangelization card took longer to get ready than we expected and when we took it to the printers the lady told us that since we only wanted one side laminated it would be considered a special order and therefore would be ready in two days instead of the usual seven. This was a blessing since we were able to get started sooner with our winter evangelization which was already starting later than usual. With a lot of enthusiasm and help from church members we were able to finish eleven towns plus our own by December 31st. This included a lot of work put in by many getting our devotional calendars and other literature bagged up and ready to go IN TIME for those who were going door to door. In two different towns as Slava and I were walking away from two older men we had just spoken and given literature to Slava said, "Think about your eternal soul." One answered, "At my age I often think about it" while the other answered "I have been thinking about it every day for the past 62 years." Our prayer is that they will see their need as sinners to trust in Jesus Christ, the sin-bearer for them IN TIME. The evangelization card we distributed this year encourages people to read God's Word daily to find the wonderful treasures therein, the most important which is the fact that Jesus Christ is the one and only eternal Saviour of everyone who will believe Him.
Our Bibles were just about ready to run out and we asked 'Couriers For Christ' if they could help us again and they provided the money for us to buy Bibles here in Ukraine which is the most economical way. We were able to get our order in just IN TIME before the New Year and saved 25% which meant we were able to get more for a total of 477 Bibles. After this I found out a brother from Washington State sent us $1,000 to be used in the ministry. Since we had just bought most of the Bibles we needed for a while we decided to use the money to buy mostly literature we need for evangelizing. This money also came just IN TIME since we had just about run out of the books and booklets we usually give to people who show a greater interest in knowing more about salvation. We were also able to get 45 children's Bibles and 25 more small print Bibles which usually go quickly.
On January 5th our church together with Bro. Kolya's church put on a Christmas play and a short skit at the community center in our town. It had been very cold the days before the play, but the day of the play it warmed some which was a blessing just IN TIME because the community center is not heated. Considering everything we had a pretty good turnout. Zhenya, one of the missionaries from our church here to Altai, Russia called me on December 30th and said he really liked one of the illustrations I had used in my message Sunday and it had come IN TIME so he could use it in his message that Wednesday. I did not even know he had seen the message which the church posted on You-tube, but I was glad it had been a blessing to him and that he could use something from it 4 time zones away from here. On my way to preach in a nearby town the radiator light came on in my van. I called a couple of brothers who I saw driving ahead of me and asked them to stop and help me. We had stopped just IN TIME since I had lost all of my coolant, because somehow the hose had broken loose. With the help of the brothers we got more anti-freeze, water and reconnected the hose and I was only 40 minutes late for the service which went fine. Please pray for Alek, a man in his 50s who attends services regularly, but who can't seem to come to a knowledge of the truth. He seems to certainly be oppressed by the devil if not possessed. We are going to try a second time of praying with fasting for him. Thank you very much for co-laboring with us here in Ukraine in this time.
God bless, Paul, Angela, Olga, Andrew, Nik, John & Grace (Hebrews 4:16)
-------------------------------------------------------------------------------
From Romania
-------------------------------------------------------------------------------
Dear Friends in Christ,
January 2016

Greetings in the name of our Lord and Savior Jesus Christ. It is hard to believe we are already starting a new year. It seems 2015 really flew by! We did, however, have plenty of occasions to see the Lord work to take care of us, all of the children, and the work He has let us have a part in for over 20 years.

Bro. Ralph Cheatwood started the Children's Home over 14 years ago. He felt the Lord would have us do this as an outreach of the church work we had been doing for some years already. Several of the Home kids have been saved in the last few years and we praise the Lord for entrusting these souls into our hands to raise. Although we only had one more of the Home kids saved during the past year, we have seen the Lord begin to use these children to share the Gospel in ways we never expected.

Those of you who follow my wife's Facebook page (Dara Shae Turner) have seen how the Lord has blessed our children with incredible musical and singing talent. They play and sing every Sunday in our English service and also any other chance they get. They love the hymns, good gospel music and even some bluegrass and Irish music. Last year, a teacher invited them to bring their instruments and play and sing for their class. Everyone was so impressed that they were asked to perform in each of the classes in the school and also for the director of their school. One of their songs is 'The Value of One' which sings about the rejoicing in Heaven for one sinner saved. The school English teacher was crying when they finished and asked them for a copy of the words so she could translate it into Romanian and give it to all the students and teachers. They have since played and sung many times in the school and were even asked to represent the 7th grade in the Christmas show put on for the administrators and teachers of their school district. Several of their schoolmates and even the English teacher have attended our church. We are so thankful the Lord has given them these talents and that they are so willing, even eager, to use them for His glory.

We have also had the opportunity to share the Gospel with many American military personnel stationed at the nearby base. Groups of 4 or 5 to as many as 16 or 18 have come out to spend time with the kids. We had a crowd for both Thanksgiving and Christmas dinners. We are very happy to be a blessing to these fine men and women who are away from their homes and families to protect our country and our liberties. The base commander, Colonel Ellis, who has been out to the Home, invited Bro. Ralph to preach and the kids and Dara to sing at the Veteran's Day program put on at the base for the soldiers. I was so proud to watch our kids up there singing about how good God has been to them and how blessed they are. They will probably never really know just how blessed they have been. It was wonderful to be able so share this with so many of these servicemen and women, many of whom rarely, if ever, attend church.

The regular church meetings are going very well. Bro. Nathan Reed and his son Jacob work tirelessly with the national pastors to take care of the believers the Lord has given us here in Romania. Along with our three English campmeetings each year with all of the missionary families, we hosted several 'Turkish campmeetings' here at the Home with as many as 100 Turks attending. The missionaries and the Bulgarian national pastors brought believers from Bulgaria and we had great times of worship and fellowship.

The Lord truly blessed us this past year. By God's grace, we will remain faithful to our calling and see what this New Year has in store for us. Thank you for your continued prayer and support.

In Christ, The Turners
-------------------------------------------------------------------------------
From Ukraine
-------------------------------------------------------------------------------
Dear Praying Brothers and Sisters in Christ, Winter of 2016
The War situation in Eastern Ukraine is like a smoking volcano – eruption is feared at any moment, since no one denies there are tanks & troops amassed with stockpiled weapons. The fighting still continues, but mainly small skirmishes with smaller villages changing hands back and forth. The Government is still drafting people and holding its position. Most truly are unsure what is going on or what to expect next, but all hope for this to end soon.
The Lord blessed as Lakeside Baptist Church prepared the 8,250 Evangelistic Calendar packets, then distributed them in 15 different villages going from house to house- witnessing as they went. Many even said that they were waiting for the new calendar to come. Two elderly ladies in different villages received Christ, then on their last distribution, the Lord gave two more souls as they witnessed in a new town. *Someone even threw a packet away, but a Moldavian man found it, took it home & reads it daily. *Please Pray these 8,250 lost souls will read the Calendars daily so the seed of God's Word will be sown in their hearts through messages about Christ & Salvation.
The Soccer Club grew this year with 9 players ages 12-13 and 9 more ages 9-10. Bro. Oleg married Juliana 2 years ago. She now does the Bible Study with one group while he trains the other and then the groups switch.
My heart rejoices to hear that Vadick (a 22 yr. old Prodigal) finally repented and returned home to the Father.
Continue to uphold Brothers Slavic, Sergey & Vasille as they continue leading the Church and feeding His Sheep in these difficult times. PRAY the Lord would direct and go before them as they Evangelize.
----------------------------------------------------------------------------------------------------------------------------------------
We are presently submitting the paperwork for Oksana to receive U.S. Citizenship which became a necessity in this unstable present evil world.* Alleluia, Christ is coming soon. Are you looking forward to His return? Titus 2:13
Furlough Blessings: As we updated our southern supporting Churches, we also participated in 9 Missions Conferences & preached in two of them. We praise the Lord and thank the 7 new supporting churches he gave us and other supporting Churches who He used to give us love offerings designated to purchase a good vehicle when we return to the field in late July. Please Pray for our meetings to be fruitful as we minister to both old and new churches stirring them up to Intercede for Missions as well as to Evangelize the lost world all around us.
My oldest brother Mark's accidental death at 57 was a very tragic time for my family, but all are glad that we were here to help and encourage. During the 3.5 days in the hospital, 350+ broken hearted friends cried over him, but he never regained consciousness & officially died on Jan. 1st. The Lord used the funeral immensely by allowing us to pass out ~1,000 Remembrance Packets* to the 2.5 hour long visitation line (* Each Contained a John & Romans, a Chick Tract, a Salvation Tract and a Remembrance card about Mark's life). Please continue to pray for the ~ 1,000 lost souls who received the Gospels & tracts (Many of whom never go to any "Church") & especially for the 500+ close friends who stayed to hear the Gospel Message (50+ relatives also heard God's Word). We truly thank all who prayed that the Lord would use His Word & me to proclaim the Message of Hope in Christ.
Open Door with Russian speakers: These are Muslims from Uzbekistan (a very closed country). Please Pray the Lord would open their hearts for us to testify of Him to these souls (Feruza, Deelya, Zokeer, & Alla from Belarus).
Our US cell # is (513) 376-0189. Please contact us if you have a Missions Conference that you would like us to attend.
To God be the Glory, Richard, Oksana, Elisabeth and David Maher - Your Missionaries to Ukraine
----------------------------------------------------------------------------------------------------------------------------
Dear Praying Friends and Family,
October – December 2015
Bible Institute Upgrade.
Back in September we started our Bible Institute Classes one night a week and added a Soul Winning class before Saturday's Visitation. It is not enough. After prayer and consultation with the men of the church we've decided to upgrade to a full-time Bible Institute for the second semester. The main reason is for training future leadership for this ministry. We ask that you please pray that the Lord will bless this important and challenging ministry.
Preparations for a New Church in Odessa.
The registration of a new church in Odessa is ever-so-slowly going forward. It has taken an unusual amount of time to make the requested changes to our documents for the first initial presentation for approval. The process will take an additional three months to complete after the documents have been approved for submission. Please continue to pray about the work there. As soon as we have our documents in hand we can search for a good location to base the work. Over the years, while living in Odessa, I looked over the terrain and have several areas of the city in mind. It is a matter of prayer and God opening the doors He wants us to go through.
Baptismal Service.
We thank the Lord for three believers who followed the Lord in baptism. We worked with Dema and his son, Vitya, for years and now rejoice to see their love for the Lord. The other was a boy named Daniel whose father is Muslim. He recently fled Syria and moved to Germany and now wants his wife and son to relocate to be with him. We are very concerned. Please pray for their family and his salvation.

Visitors.

The past several months have afforded me the special privilege of experiencing what is common place for pastors in the USA - visiting missionaries and pastors. The Lord sent four Bible believing Ukrainian men for our mutual edification. They preached and ministered to us and our church took up love offering after love offering to help them in their corner of this mission field. First, Brother Kolya Veselkov who has a small work going in a town called Oktyaber (October) stirred us to serve Christ. He has five children and heats his house with wood. He said that he had no idea how he was going to get the money to buy enough wood for the winter. The church took up a love offering and covered the entire expense! That preacher and his children will be warm this winter, a thought that often warms my heart.
Sasha Stepchenko, a single young man with a big heart for the Lord, encouraged our young men in evangelism. His ministry mostly involves feeding the poor and gives him opportunity to preach to them before every meal. The next visitor was Sasha Illchenko with his wife Alla and their three children. They are a sweet family doing a great job "holding the fort," so to speak, while their pastor Vladimir Korol serves in the Ukrainian army. Pastor Korol is stationed about an hour and a half from us and came and preached to us one Sunday morning in uniform! My sons and other young men in the church thought that was very cool! Pastor Korol is an officer (Captain) but must live with 120 men under his command sharing bunk beds and doing their laundry by hand in this cold weather! I would really like to buy him a washing machine with hopes that it would give him an avenue to witness to them. He paid our church a great compliment saying, "I've preached in churches all over Ukraine and this is the first time that I could not hear myself during the congregational signing.
In addition to these men our church has taken up love offerings to help cover the costs of several sick people with hospital bills and they continue to give to help the soldiers on the front with food. Our people's desire to give and help in spite of their own poverty is humbling.
Holiday Season Plans.
The holiday season is a great time for witnessing for Christ. For years we have taken gifts, toys, food, etc to the local orphanage and look forward to the opportunity again this year along with gifts for the local nursing home. We are thankful to the Lord for providing 4,000 Scripture Calendars for 2016 which we plan to give out in the local marketplace. We always enjoy bringing in the New Year together as a church with lots of preaching, fellowship, singing, and food. We reserve the last hour of the year for a time of testimony looking back on the last year and then we get on our knees in prayer thanking the Lord for all He has done and praying for His blessings on our church in the coming year.
Thank you all for your friendship, prayers, support, and all that you do for the Lord that gives us the privilege and opportunity to serve our Lord and Savior Jesus Christ. Until our next prayer letter or our meeting in the air!
That Ukraine May Know Him, Christopher Rue Phil. 3:10
---------------------------------------------------------------------------------------------------------------------------------------------------
Bolivia and other Hispanic countries
---------------------------------------------------------------------------------------------------------------------------------------------------
Dear Pastors, Friends, and Churches, Nov - Dec 2015 2015 year in review

As we approach the New Year, we always reflect on the past year with all of its accomplishments and disappointments. We have seen a year with many disappointments concerning our nation and decisions made against the Bible and its values. Personally, I have had three major surgeries in the last three years. However I am on the road to full recovery, and God willing, I am hoping that I have been completely overhauled and ready for another 100,000 miles!

But to be honest, as a Christian and a preacher 2015 was one of my best years in the ministry! God's presence was very real in our services here in the States and abroad. We had made several trips to Cuba and had one of our least problematic years of all our travels to that country. However there was one occasion where I was detained for a whole day! As more Americans are being allowed to travel there it takes the pressure off me as I go in and out of that country.

A project we began in April of 2014 with construction of new church houses is now complete, and many thanks to you who helped and gave sacrificially. It was a provisional door that opened in Cuba for the first time in many years. This opportunity allowed us to place some of our key national pastors in areas that we had hoped for many years. We raised the number of pastors that we support in a Hispanic country from 120 to 140 men! God is good! We have seen some amazing results through our men on the island in the last 15 years!

In May, 2015 we made a trip to Paraguay, South America to initiate a partnership with some local pastors with the hope of establishing new works in this country to work with Help Ministries. Other international preachers and I preached a meeting there which turned out to be an "old fashioned revival". We had 23 to profess Christ and many were weeping with conviction on the altar and being saved. To God be the glory!

Thanks to all of you who make all of this possible through your faithful support and prayers for our protection. Please pray that God gives us utterance as we try to further the gospel in other lands.

Joyfully Yours, Dale Cable 1 Samuel 12:24
----------------------------------------------------------------------------------------------------------------------------
Part 1a

We set out this morning with Hannah and Esther and a car so full of bags of coats and socks, they each had bags on their laps. Our plan was to distribute as many coats as we could, and we did, but God had even bigger plans for us. As we sit down near the close of the day to reflect on everything the Lord has allowed us to be a part of, we feel honored.

But let me back up… first things first… the purchasing of the coats and socks. A week and a half ago Larry and I went into the city and bought new socks. We got a good deal on them, so we really stocked up. It's always a shock for the cashier to see us coming with an overflowing cart of socks, but we've been doing this so long now, we knew how to have them already organized in sections to make her job easier. Then this past Monday we went back into the city to the second hand store to stock up on coats. It was pretty slim pickins, but we did our best. Unfortunately we only filled one of the vehicles. Two more empty vehicles were with us, so we took off in search of another location. It was much better than the first place and a new contact was made there. We filled the remaining vehicles and headed back to our house where Hannah had brownies and refreshments waiting. Here are two pictures—one of the cart of socks and one of our entryway so full of bags of coats, we could hardly get up the stairs. At last count there were well over 40 bags in the entry and halls.

We then organized coats and socks each afternoon for the past week, as our schedule permitted, and felt we were ready to begin distribution in nearby villages.

First stop this morning: Novi Pazar. Pastor Ismael was already gathering the local children and organizing them in lines. We carried the bags inside and Esther and I organized them to make distribution easier, while Hannah got set up to take pictures and Larry controlled the crowd. Working together, we were able to give out around 50 coats in under an hour. In between influxes of children, we were able to encourage Sister Naziye, who is having a hard time with her blood sugar. Here are a few pictures from that distribution: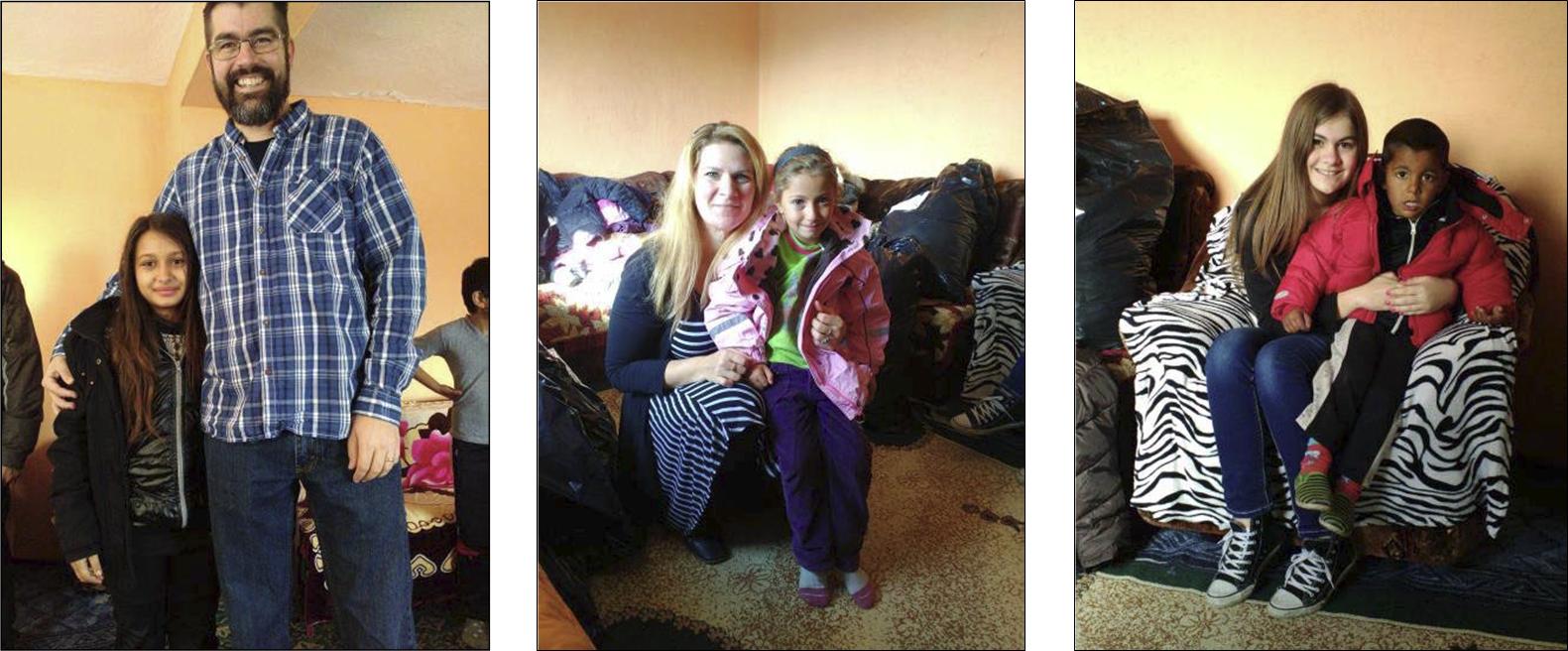 The girl standing next to Larry above is Sinem, Pastor Ismael's granddaughter. Every time I see her, I am reminded of God's hand in her young life. When she was four, she was diagnosed with a tumor in her lung and required surgery, which cost a lot of money and the family simply did not have it to pay. We asked you all to pray and one friend forwarded the email on to other friends and shortly a man we had never met wrote and told us he wanted to help. He paid for her surgery and the trip to the capital for the family to be with her. The surgery was a success and today she is in good health. We praise the Lord for His faithful lovingkindness.

lease click on this link to view the four part story.
-----------------------------------------------------------------------------------------------------------------------------------------------------------------------------------------------------------------------------------------------------------
-----------------------------------------------------------------------------------------------------------------------------------------------------------------------------------------------------------------------------------------------------------
From the Streets of Boston Massachusetts
Greetings from Boston
December 2015
Thank you for your patience; love, prayers, and support for us. It has been quite a while since my last letter, but it's worth waiting to tell you of the great things the Lord hath done and we are so thankful to be part of it.
I want to let you know, I'm still on the streets with the word of God. Where else would I rather be unless it's in heaven! One of my favorite places to go hand out tracts is the train station where so many people pass through every day.
One day while passing out some tracts a Muslim woman was in a line of people flying by me to catch the bus. I gave her a tract and she took it. Two days later I saw her again. I gave her another tract called "Second Coming". I stopped her knowing that I had a tract called "True Christianity vs. Islam". After looking at it with a smile she took that tract as well. Then I met two guys which I knew from my youth. As we talked I witnessed to them. They took some tracts and I told them I would pray for them. Latter, I met a guy that grew up with my son Brian. As we talked he let me know "your Brian's dad". I said yes and gave him a tract he said "I knew by your hat and pamphlet who you were". I then met another guy and he said the same thing. He remembered the tract that I gave him years ago. I met another guy who did the electrical work on our old apartment and of course we talked. I gave him one of every tract that I had on me. I told him I still have his father's bible that he entrusted to me. One day I was going to get on the bus and it passed me because I was too far away from the stop. Then I heard a horn beep. And another bus pulled up, opened the door and put down the ramp for me. So you see there are many things (to the Glory of the Lord) that he does. I can see how the scripture says "And there are also many other things which Jesus did, the which, if they should be written every one, I suppose that even the world itself could not contain the books that should be written. Amen. John 21:25
Please pray for my sister in law. She got saved through a tract that I've gave to her quite some time ago and now she has a burden to give them out. There are some tracts that I can't afford to buy, but maybe someone can help me out. I would like to get 10,000 Chick tracts called "The Only Hope" or "This was your Life" and some books explaining the facts about Islam, I meet these people all the time.
These can be bought through www.chick.com and you can send them to my house. I will be so grateful.
Please keep this matter in Prayer. This is a special need and for free they will print my contact number on the back. This will help people realize I am not a Mormon, J. W., Catholic or any other cult.
My new address is: Jim Costigan 52 Harvard St. Dedham, Ma. 02026 Baptist Street Preachers of Boston 1-508-212-4625 I've changed the name of this ministry to the information above.
Thank You again in the name of Jesus our Lord Jim and Jo Ann Costigan Luke 1:37 For with God nothing shall be impossible.
--------------------------------------------------------------------------------------------------------------------------------------------------------------------------------------------------------------------------------------------------------------
-------------------------------------------------