-------------------------------------------------------------------------------------------------------------------------------------------------------------
Brookside Baptist Church 2016 Camp Meeting dates:
(March 28th - April 1st) (July 25th - July 29th) (October 31st - November 4th)
Services: Monday 2:00 p.m. & 7:00 p.m. Tuesday - Friday 10:00 a.m. 2:00 p.m. and 7:00 p.m.
Please join us for "Homecoming - October 30th the Sunday prior to Octobers Camp Meeting
For more information call: Tel. 423.354.0342 or 423.878.8131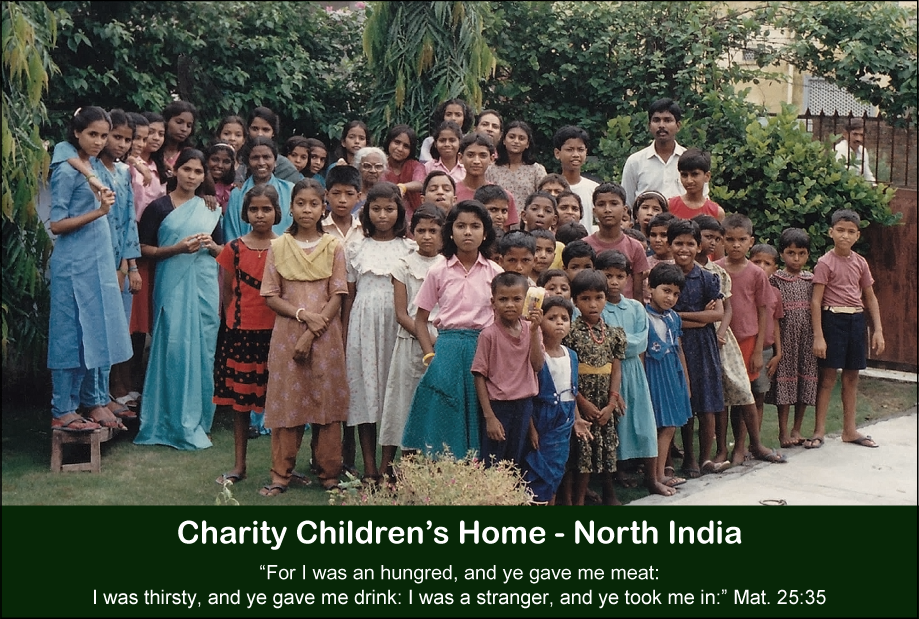 - Missions Updates -
-------------------------------------------------------------------------------
From Bulgaria
-------------------------------------------------------------------------------
"In the multitude of my thoughts within me thy comforts delight my soul." Psalm 94:19
Our praying friends and family in the Lord, May 2016
Years ago, Pastor Fred Potter preached a message from Philippians chapter four that he entitled, "Something to Think About." He related that the Lord Jesus is the source of all the true, honest, just, pure, He related that the Lord Jesus is the source of all the true, honest, just, pure, and lovely things we know, and that of all the things of good report, He is the best. To think on Him is the best preoccupation of one's mind. Such is life, however, that the cares of this world seek to crowd out the loveliness of our Lord. It is a struggle, therefore, but one well rewarded, to think on Him. Our meditations of Him are a steadying force in an uncertain world. To think on Him is to seek comfort and obtain delight. "My meditation of him shall be sweet: I will be glad in the LORD." Psalm 104:34
This past Sunday, I was again in Zlatna Niva, worshiping with fellow believers there. Before service began, two ladies entered, one a regular attendee, one a first-time visitor. The visitor was introduced to all and was welcomed heartily. We began our song service, and soon, through the singing, hearts were opened and tears flowed freely. The visitor sat stunned, wide eyed, and appeared bewildered. As she gazed upon us, she began wiping tears from her own eyes. At the conclusion of the service, while others were leaving, she remained behind, as if rooted in place. Silent through the entire meeting, now she began to sob and talk simultaneously. She testified that she didn't understand what was happening to her, her heart was full to bursting; she had never felt anything like it or heard anything so amazing. She embraced all the women, and weeping tears of new joy, departed. Thank God His presence and the sincere praises of His people are still sufficient to draw sinners to the Savior.
Özlem is a beautiful 9-year-old girl who lives in the village of Staro Oryahovo. Her mother, Ahsi, is one of our faithful church members. A few years ago, when the devil came against the meeting there, Ahsi and her sister, P'ska, were some of the few who stayed true, opening their hearts to God and the doors of their houses to what was left of the church. Özlem grew up in that meeting, loves it, and gives herself to the hymns. Last year, when everyone was readying to go to Romania to our bi-annual Turkish camp meeting, Özlem threatened that if we didn't take her, she would pray car trouble on us and storms the whole journey. She won, and went. Recently we learned one of the cults had moved into the village and was trying to recruit children with the promise of games and candy. Özlem's friend invited her, saying, "Come to our meeting, we have candy for you." Özlem responded, "Come to our meeting, we have Jesus!", "...Out of the mouth of babes and sucklings thou hast perfected praise..." Matthew 21:16
Praise God, the Lord is still working here; though the laborers are few, the labors are increasing. We have installed all the windows and doors in our printing facility in Avren. This week we've been preparing the roof to set the tiles. We'll soon be ready for rewiring and plumbing. Once the roof is tiled, Bro. Ralph will move all of the copiers and printing supplies in, and we'll begin in earnest the printing of New Testaments. Please remember this endeavor. Printing is costly, averaging $1,000 a month, but it's our desire to make the word of God available to all who want it. In addition to printing, we want to begin streaming our Turkish services in Avren, to go where we haven't been as yet, and as supplements to existing meetings, but not in place of them; there is no substitute on earth for the local church. To do this, we are in need of a technology update, a laptop and camera capable of the task. Please help us pray and believe for all of these needs to be met. One more prayer request, not as urgent, but growing so: Our car has been in and out of the shop quite a bit recently, with little problems and big. The rough village roads and long miles are taking their toll, not to mention packing it to capacity with believers bound for meetings. Please help us pray for a replacement. This isn't just our ministry vehicle; this is our only vehicle. Praise God, He knows all of our needs and is the source of all of our hopes and joys. God bless you all. We love and miss you.
Because of a living Saviour, The William LeFevre Family wdlefevre09@gmail.com www.facebook.com/bulgarianlefevres www.lefevrestoeurope.org
-------------------------------------------------------------------------------
From Ukraine
-------------------------------------------------------------------------------
Dear Praying Brothers and Sisters in Christ,
Spring of 2016
The War is beginning to heat up again. Authorities report that now more troops are amassed on the Russian/Ukrainian border than there were last year. Please Pray for this war to end soon!
-----------------------------------------------------------------------------------------------------------------------------
Praise the Lord for a lost Gypsy family who have been attending from a town 15 miles away.
Please Pray for the 8,150 lost souls in 15 different villages who received Evangelistic Calendars that they would read the Calendars so the seed can be sown through the daily messages about Christ.
In early July, the VBS Team will be holding its first Romanian Speaking VBS for a Church in Western Ukraine. Bro. Slavic also traveled to North Romania to set things up for the July 25-29 VBS in a Romanian town in conjuncture with a local Church. They also hope to hold a seminar to train the local church people how they can more effectively teach Sunday School lessons and how to carry on a VBS themselves. Over the summer they will also travel to 4 different villages to hold VBSes with Russian speaking Children.
Brother Oleg has seen the Lord continue working on hearts in the Soccer Club as they study the Bible before each training session. Pray for these 2 age groups of players- that the Lord would save their young souls. Over Summer Vacation, they are planning a 4-team tournament with a weeklong Evangelistic thrust on the Bible.
Bro. Michael and Bro. Vasille are presently studying the Bible in preparation for what doors the Lord will open up for them to go through 2 Tim. 2:21. Pray the Lord will teach them and Guide them into His will.
-----------------------------------------------------------------------------------------------------------------------------
Furlough Blessings: It has been a great blessing & privilege to encourage 13 supporting Churches & 24 new ones to Pray for lost Souls on the Mission Field through what He's done in Ukraine. Acts 14:26, 27. We Praise Him for His goodness: supplying every need, 6 new supporters & many new interceding Prayer partners.
We still have many more Churches to visit; Pray for God's unction and moving on hearts! Pray also that He would raise up the rest of our needed support. *(This Fall when we move to the capitol city of Kiev with over 4 Million lost souls to Evangelize, we'll need to print many more tracts and buy Bibles. Also renting a facility will be a large expense - unless the Lord opens up other doors or people's homes to meet in.)
The Lord gave me a great opportunity to preach and witness to my relatives at my oldest brother's funeral where 500 lost friends and 50 of our relatives heard the Gospel. Pray for open doors to water the Gospel Seed again.
We have been meeting with a group of Russian Speaking people – most of them are Muslims from Uzbekistan.
Our Plans: Praise the Lord! Everything looks on schedule for our return to Ukraine by the end of July. Oksana passed her test to receive US Citizenship- the Next step is taking the oath, then a US Passport! (We applied for her US Citizenship to guarantee that our family can always travel & stay together as we serve.) Please Pray with us about God's Direction in the most important question of where and with whom He wants us to labor. We truly want His direction and peace in this matter. (Proverbs 3:5,6)
To God be the Glory, Richard, Oksana, Elisabeth and David Maher
Your Missionaries to Ukraine *Thank you for Praying for His Work there in Ukraine!
***PLEASE CONTINUE to Pray for my Pastor Charles Davis's family on the loss of their granddaughter and especially for his son Jim & Vanessa Davis –this was their oldest daughter who died in a tragic car wreck!!! The Funeral will be held on Wednesday May 18th at 1:00 pm with many lost in attendance.
-------------------------------------------------------------------------------
From Bulgaria
-------------------------------------------------------------------------------
Dear Brethren,
May 2016

Since my last prayer letter, there is one very big praise to report: We were informed by Bulgaria's Department of Migration that we have permanent residency, instead of the five year residency visa we thought we had. The gravity of this is enormous, and though it has been a while since we found out, we still rejoice.

Because of this news, along with plans of taking a furlough in the spring of 2017 for Hannah and Joshua to graduate, I felt peace about this being the time to finish our village house here in Bulgaria. I planned a nearly three week trip back to America to bring attention to the various financial needs of the work here among the Turks and to encourage Jonathan, but primarily to raise the necessary funds to finish the house.

I took eight planes, was in three countries and five states, and went to 25 church meetings in just a little over two weeks. It was exhausting, but everywhere I went, everyone was such a blessing. Everyone was so receptive to the updates from oversees and even after telling so much, they wanted to hear more. This blesses a missionary's heart more than I can express. With the Lord's help I was able to bring encouragement in the churches, all while being encouraged myself. And, many, many thanks to the Lord, I was able to come home with 80% of the money needed to finish our house here in the village.

While I was in America, Carrie and the kids put the pedal to the metal and got their home school year done early. They also stacked wood, cleaned up the yard and gardens, and did a spring cleaning of the house. Everything was so nice to come home to, but more than the nice yard and house, I was so happy to be back home with my family.

After a short time of settling in, we were preparing to leave for English camp meeting in Romania when Carrie fell ill suddenly. After a trip to the ER to rule out heart attack, she has been in bed for the better part of a week and a half. The doctor said it was a bad virus, but we are still unsure of the cause of these episodes. Even though she is beginning to regain strength, she often has to go rest to calm the racing and thudding of her heart. We ask that you pray for her very much as she tries to recover. And pray for our family as we try to finish the work on our house, even as the summer ministry schedule of special meetings and baptisms is on the horizon and the work on the printing house in Avren continues.

Thank you for your faithful prayers!

Because He First Loved Me, Brother Larry Leach, Jr.

-------------------------------------------------------------------------------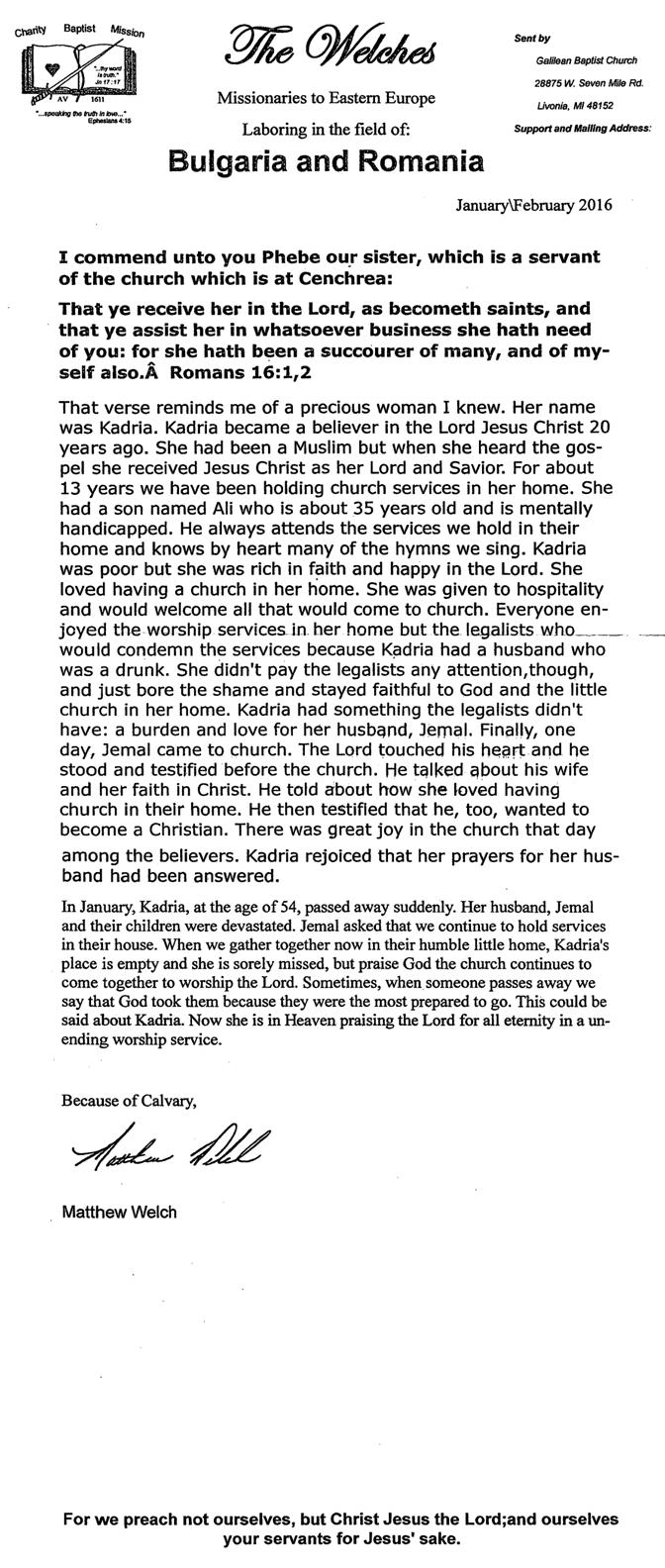 -------------------------------------------------------------------------------
From Ukraine
-------------------------------------------------------------------------------
Dear Praying Friends and Family, January - February 2015

I hope this letter finds you all well in the Lord, rejoicing in His blessings, enjoying His Book, and faithfully serving in His vineyard. We are slowly digging out of a freezing, snowy winter and getting ready for spring. Looking back over the last two months reminds me of how much we have to be thankful for in this New Year, which got off to a good start with Scripture calendar distribution at the local marketplace. It reminded me of 1990s when crowds would gather to hear the preaching of God's word and even throng you to get literature.

The Bible Institute is going well and takes up the majority of our time. Classes are four hours a day, five days a week. There are currently seven men and two ladies studying. Two men are from the Lakeside Baptist Church in Limonski. We've had others who would like to attend via internet but we are not set up for that yet. We are considering offering classes to others in the country who would like Bible Institute training in Russian next year.

We are also busy making repairs and improvements on the church building. Our Sunday morning services are full with only a couple of empty seats. We are in the planning stages of adding a larger hall onto the building so the church will have room to grow. We also plan to add an outside covered picnic area for use in warmer weather. We are thankful for a new gypsy family that has been attending lately. The man of the house is saved, while his wife's testimony is still unclear. Their marriage is a little shaky and we are praying that the Lord will allow us to help them with healing their family issues.

We are very thankful to the Lord for those who sent special love offerings last month. The funds helped us cover many extra expenses, including the overhead for the Bible Institute and the higher gas bills since the new tariffs went into effect. We were able to purchase a washing machine for a national pastor, Brother Korol, who is currently serving as Captain in the military. There were over one hundred Ukrainian soldiers doing their wash by hand in winter! Thank you for allowing us to help. He made sure that the men he serves with understood that American Baptist churches made it possible for Jesus' sake, thus giving him an opening to witness to his men.

We are thankful for our Great Physician's care over the past few months. Naomi was ill for several weeks and was bedridden as a result. Miriam picked up the load and kept our home and school running as smoothly as possible. We made it through a plethora of flus and bugs that struck the area, including swine flu, that left several people dead and the local schools quarantined. My son, Benjamin, tore a ligament in his hip one night after church. It was Valentine's Day so the hospital staff was a little "merry" as a result. The ambulance was just sad. It had no life-saving equipment whatsoever and I've seen work trucks that were cleaner. The splint the EMT's used to stabilize his leg was homemade out of clothes hanger wire, cardboard, and packing tape! The X-ray technician had to scour the place for film then had me hold his leg while the 50 year old x-ray machine radiated us (6 times!) till they got it right. He was also "merry" because of the holiday. Ah, the joys of socialized medicine!

Since Benjamin is a minor the incident was reported to the local police and I had to answer a bunch of questions. The doctor was unprofessional and rude. I did not like the rough manner in which he handled my son and he was irritated that I would ask questions like, "What is the diagnosis?" He would not give any information whatsoever about Ben's condition or treatment nor would he listen to my account of what happened. As a result, he gave a conflicting report to the police. They came to my house the next day and interviewed my children while Naomi and I were out getting groceries. They required me to appear at the police station with proof that Benjamin was my son. We are very thankful that it was not worse, and Benjamin is already walking again without the aid of crutches. We are reminded of the Lord's protection over 20 plus years of life here and only having to visit the local hospitals a handful of times.

The plans for registering a new church in Odessa are still being held up at the Dept. of Religious Affairs. The government is currently overhauling everything resulting in many government workers being laid off and even closing whole departments. A new head of Religious Affairs was appointed and is still trying to learn the ropes. She wants us to make changes to our documents that we are not yet sure are legal. Please pray that the Lord will intervene and that this work will begin with His blessings and guidance.

On a personal note, Joey turned three in January along with "yours truly" turning 49! February marked my 27th anniversary of rededicating my life to Jesus Christ. He changed my life forever and my only regret is that I haven't done more for Him. I guess the song sums it up well, "Jesus passed by my way, and He made me whole that day. Just a sinner was I when Jesus passed by and Oh what a change in my life, when Jesus passed by.

I would like to ask you all personally to pray for my pastor Dr. Ruckman, whose health is not good at the moment. Few men have had the impact on my life as he has, and I thank God for his good example. When I received the news that he stepped down as pastor of Bible Baptist Church I was somewhat melancholy for days. Several men who also had a big influence on my life have gone home to be with the Lord. The old guard is going home and passing the torch to our generation. Dr. Ruckman has said that he wants to go home to be with the Lord and asks people to pray accordingly. I find it difficult to do so after praying for the Lord to keep him going for so many years. Please pray for Pastor Donovan as well, that the Lord will keep him strong for the work ahead as he leads the Bible Baptist Church and the Pensacola Bible Institute.

Thank you all for your friendship, prayers, support, and all that you do for the Lord that gives us the privilege and opportunity to serve our Lord and Savior Jesus Christ. Until our next prayer letter or our meeting in the air!

That Ukraine May Know Him, Christopher Rue Phil. 3:10
----------------------------------------------------------------------------------------------------------------------------
Part 1a

We set out this morning with Hannah and Esther and a car so full of bags of coats and socks, they each had bags on their laps. Our plan was to distribute as many coats as we could, and we did, but God had even bigger plans for us. As we sit down near the close of the day to reflect on everything the Lord has allowed us to be a part of, we feel honored.

But let me back up… first things first… the purchasing of the coats and socks. A week and a half ago Larry and I went into the city and bought new socks. We got a good deal on them, so we really stocked up. It's always a shock for the cashier to see us coming with an overflowing cart of socks, but we've been doing this so long now, we knew how to have them already organized in sections to make her job easier. Then this past Monday we went back into the city to the second hand store to stock up on coats. It was pretty slim pickins, but we did our best. Unfortunately we only filled one of the vehicles. Two more empty vehicles were with us, so we took off in search of another location. It was much better than the first place and a new contact was made there. We filled the remaining vehicles and headed back to our house where Hannah had brownies and refreshments waiting. Here are two pictures—one of the cart of socks and one of our entryway so full of bags of coats, we could hardly get up the stairs. At last count there were well over 40 bags in the entry and halls.

We then organized coats and socks each afternoon for the past week, as our schedule permitted, and felt we were ready to begin distribution in nearby villages.

First stop this morning: Novi Pazar. Pastor Ismael was already gathering the local children and organizing them in lines. We carried the bags inside and Esther and I organized them to make distribution easier, while Hannah got set up to take pictures and Larry controlled the crowd. Working together, we were able to give out around 50 coats in under an hour. In between influxes of children, we were able to encourage Sister Naziye, who is having a hard time with her blood sugar. Here are a few pictures from that distribution: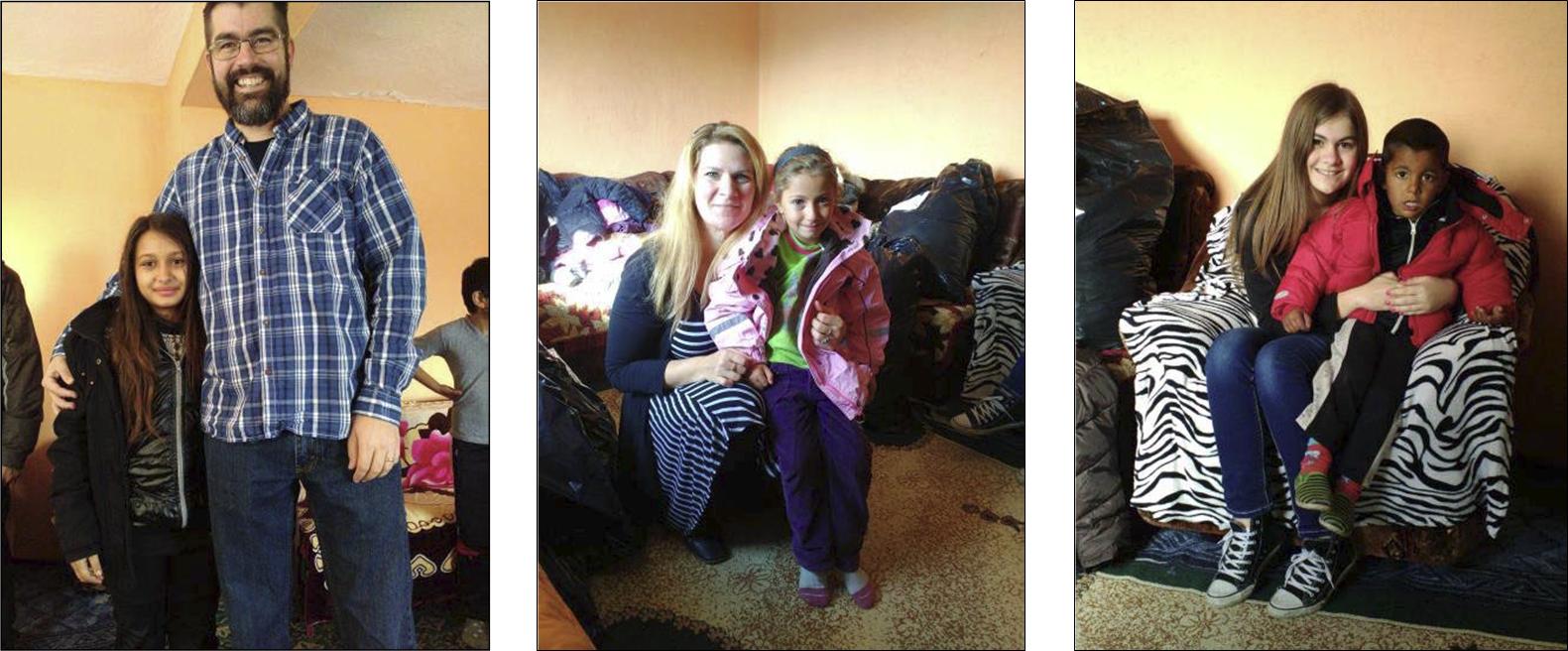 The girl standing next to Larry above is Sinem, Pastor Ismael's granddaughter. Every time I see her, I am reminded of God's hand in her young life. When she was four, she was diagnosed with a tumor in her lung and required surgery, which cost a lot of money and the family simply did not have it to pay. We asked you all to pray and one friend forwarded the email on to other friends and shortly a man we had never met wrote and told us he wanted to help. He paid for her surgery and the trip to the capital for the family to be with her. The surgery was a success and today she is in good health. We praise the Lord for His faithful lovingkindness.

lease click on this link to view the four part story.
-----------------------------------------------------------------------------------------------------------------------------------------------------------------------------------------------------------------------------------------------------------
-----------------------------------------------------------------------------------------------------------------------------------------------------------------------------------------------------------------------------------------------------------
From the Streets of Boston Massachusetts
Greetings from Boston
December 2015
Thank you for your patience; love, prayers, and support for us. It has been quite a while since my last letter, but it's worth waiting to tell you of the great things the Lord hath done and we are so thankful to be part of it.
I want to let you know, I'm still on the streets with the word of God. Where else would I rather be unless it's in heaven! One of my favorite places to go hand out tracts is the train station where so many people pass through every day.
One day while passing out some tracts a Muslim woman was in a line of people flying by me to catch the bus. I gave her a tract and she took it. Two days later I saw her again. I gave her another tract called "Second Coming". I stopped her knowing that I had a tract called "True Christianity vs. Islam". After looking at it with a smile she took that tract as well. Then I met two guys which I knew from my youth. As we talked I witnessed to them. They took some tracts and I told them I would pray for them. Latter, I met a guy that grew up with my son Brian. As we talked he let me know "your Brian's dad". I said yes and gave him a tract he said "I knew by your hat and pamphlet who you were". I then met another guy and he said the same thing. He remembered the tract that I gave him years ago. I met another guy who did the electrical work on our old apartment and of course we talked. I gave him one of every tract that I had on me. I told him I still have his father's bible that he entrusted to me. One day I was going to get on the bus and it passed me because I was too far away from the stop. Then I heard a horn beep. And another bus pulled up, opened the door and put down the ramp for me. So you see there are many things (to the Glory of the Lord) that he does. I can see how the scripture says "And there are also many other things which Jesus did, the which, if they should be written every one, I suppose that even the world itself could not contain the books that should be written. Amen. John 21:25
Please pray for my sister in law. She got saved through a tract that I've gave to her quite some time ago and now she has a burden to give them out. There are some tracts that I can't afford to buy, but maybe someone can help me out. I would like to get 10,000 Chick tracts called "The Only Hope" or "This was your Life" and some books explaining the facts about Islam, I meet these people all the time.
These can be bought through www.chick.com and you can send them to my house. I will be so grateful.
Please keep this matter in Prayer. This is a special need and for free they will print my contact number on the back. This will help people realize I am not a Mormon, J. W., Catholic or any other cult.
My new address is: Jim Costigan 52 Harvard St. Dedham, Ma. 02026 Baptist Street Preachers of Boston 1-508-212-4625 I've changed the name of this ministry to the information above.
Thank You again in the name of Jesus our Lord Jim and Jo Ann Costigan Luke 1:37 For with God nothing shall be impossible.
--------------------------------------------------------------------------------------------------------------------------------------------------------------------------------------------------------------------------------------------------------------
-------------------------------------------------
From
B
ulgaria

-------------------------------------------------
The William LeFevre Family - Missionaries in Bulgaria

"And my soul shall be joyful in the LORD: it shall rejoice in his salvation." Psalm 35:9

Our praying friends and family in the Lord,
December 2015

The holiday season is upon us. We have just celebrated our Thanksgiving here and are preparing for Christmas and the New Year. As believers, however, every day is Thanksgiving; we celebrate every day the Lord's birth, life, death, and resurrection. Still, we don't begrudge a fallen world's attempts at imitating our joy. Some complain, and with good cause, of the world's commercialization and abandonment of the sacred; but what do we expect from those in darkness and at enmity with God? Rather, I praise the Lord that at this season, above all others, whether consciously or in ignorance, the Lord is exalted. Songs and hymns of adoration can be heard in the most unlikely of places. I have heard, "Christ, by highest heav'n adored, Christ, the everlasting Lord... Veiled in flesh the Godhead see, Hail th' incarnate Deity! Pleased as man with man to dwell, Jesus our Immanuel " echo through the halls of commerce and fall on seemingly oblivious ears, but it sung, nevertheless. "What then? Notwithstanding, every way, whether in pretence, or in truth, Christ is preached; and I therein do rejoice, yea, and will rejoice." Philippians 1:18 What a privilege is ours then, to guide lost souls from imitation to sincere acceptance, from ignorance and unbelief to faith in the resurrected Christ!

This year, as you know, I've been helping national pastor Alish in his meetings. At the start of the year, Alish pastored ten churches and preached at other meetings beside. Midway through the year, he assumed the care of three more churches without forfeiting any of his regular meetings. On some days we go together to meetings, on others we go to separate meetings. It is my joy to witness these souls growing both in their understanding of the Word and their love and care one for another and those around them. The woman of the house where we meet in Shkorpilovsti has cancer. She has been through several rounds of chemotherapy already, seemingly to no avail. She suffers a great deal from the treatments and a great deal more from her condition. The other day, during our service, she was weeping inconsolably. When it came time to pray, she asked prayer for two boys she had seen at the hospital during her chemo session. She said the boys had been in a terrible accident and were writhing in pain, crying out for relief. Though she suffers pain of an increasing nature and herself often succumbs to its effects, she was moved by the plight of these boys. Her heart was broken for them. She testified, "I suffer with hope, that one day my suffering will all be over. Those boys suffer with no hope, without faith; their sufferings are only starting." That service she prayed fervently for those souls, and her zeal took hold of our hearts, as well.

Pray for Nasuf. He's one of our national pastors laboring in Targovishte. Recently I was asked to attend his meetings with him and distribute new hymnals to all of his members. I was happy to do so. I was made happier by the welcome I received from all his churches, not just in hospitality shown, but in heartfelt gratitude for our work in the LORD. Nasuf has been having heart trouble, and just this week went for a heart catherization in Sofia. Praise the LORD the procedure went well. Please pray he makes a full and speedy recovery, as we miss him in the work.

With the exception of visas, I seldom mention any of our personal needs. Some churches have chided me for this, stating that's partly the reason for prayer letters. I chafe at this and don't want to be burdensome, but on this occasion trust to your understanding and ask your prayers. Our winter wood supply, our primary heating source, is depleting rapidly. So please pray that either the LORD turns up the heat or sends in the wood. God bless you all. We love and miss you, and more so during the holidays. From our family to yours, we pray you have a Merry and Blessed Christmas and Happy New Year.

Because of a living Saviour, The William LeFevre Family

Contact Information: wdlefevre09@gmail.com - www.facebook.com/bulgarianlefevres - www.lefevrestoeurope.org
---------------------------------------------------------------------------------------------------------------------------------------------------------------------------------------------------------------------------------------------------------------