----------------------------------------------------------------------------------------------------------------------------------------------------------------------------------------
Updates from Overseas
----------------------------------------------------------------------------------------------------------------------
Bolivia and other Hispanic countries
----------------------------------------------------------------------------------------------------------------------
Dear Pastors, Friends and Churches, July, 2015

Things are going well. We have had a pretty eventful spring and early summer. It began with a trip which I told of in the last newsletter. Then two weeks later we were on our way to Paraguay. This was an effort for Help Ministries to partner with nationals in Paraguay. I had preached a revival the week leading up to this trip here in the States and it went well. But little did I dream that the week following it would get better. And it did! 23 came forward to be saved! I watched as first time visitors sat and wept during the services. It was simply amazing! God is willing that none, absolutely no one perish! Several preachers from Help Ministries preached. I closed the meeting out preaching a message in Spanish that I also preached in English. There were eight souls that came forward weeping to get saved! Seeing these people weeping so moved me that I also was weeping! Help Ministries hopes that we can bring a couple of these national pastors to the States to get help as they carry on with the work in Paraguay.

In July the Spanish church that my son-in-law pastors moved into a new building in Lenoir City, Tennessee. We spent several days helping them make the move. I wrote a letter asking for some help for furniture, as they had spent considerable money for the deposit and needed help to furnish the Sunday school rooms and a nursery. Many of you responded with different types of help and offerings. Thanks! They had a goal of 250 in attendance for the opening day. They had 265! Five were saved and two baptized! To God be the glory!

Pray for me, I will be making my next trip to a Hispanic country the first or second week of October. We will be traveling to see several new works.

Thanks for the prayers.

Joyfully Yours, Farren Caeble 1 Samuel 12:24!
-------------------------------------------------------------------------------
From
Uk

raine

-------------------------------------------------------------------------------
Dear Praying Brothers and Sisters in Christ, Summer of 2015

The War: We thank the Lord that there has been very little civil fighting going on, but we are still very alarmed by the reports that the Rebels continue stockpiling new arrivals of tanks, weapons & ammunition. Most of the people are discouraged by the constant threats of a nationwide draft and the possibility of continued fighting and or an invasion plus ~ 300% inflation. These tensions have hindered the new President's chance to make any real changes to eliminate the widespread corruption for which the people overthrew the previous President.

Souls saved: Sister. Leanna prayed hard for her sister named Faith. We had some good opportunities to witness to her over the years, but she would always harden her heart. Finally, after 19 years she put her faith in the Saviour. Now they're both over 70 with declining health, but rejoicing in their Lord together. After attending for 3 months, Sergey finally came to himself and looked up to the heavenly Father to become his son by receiving Christ.

VBS: Lakeside's went very well with over 85+ in attendance every day. Brother Slavic & the VBS team travelled to "Onok" in July and saw the Lord Bless as they presented the Gospel. They traveled to Crimea (Russia) to help Missionary Tony Hess with their VBS from July 27-31. They also helped our Missionary, Bro. Nick with VBS.

NOVOSOVITSKOE is one of five remote border towns (2.5 hours from Lakeside) where Future Missionary Sergey Beck envisions starting a circuit of Bible Studies. In 2013 Oksana and 6 others held a VBS there. In August, (Praise the Lord!) He again opened the door for another VBS. For the past two years, we've passed out Evangelistic Calendars to each house in all five towns & every few months Brother Sergey travels there to water the seed.

*Please Pray for all the 8,000 lost souls who received the Evangelistic Calendars to read them faithfully so the seed of the Word of God can be sown through the daily evangelistic messages about Salvation through Christ. Summer Soccer Camp-(June 29-July 4) went very well with good services and good training both Bible & Soccer.

Oksana did get her Green Card!!! & thus we were able to travel to Ukraine. II John 4 was our joy as Lakeside Baptist Church had not lost a single member, but even had two new visitors. *We did a lot of praying & some probing while there, but are still asking the Lord for clear direction as to exactly where & what new work He has for us to do upon return to Ukraine next year. Our next step while here in the States is to get Oksana her U.S. Citizenship so we can travel more freely and not need to purchase visas everywhere/every time & in emergencies.

Furlough Blessings: As we updated many supporting Churches, the Lord blessed us with 2 new Churches & a great offering for our VBS Ministry. This answer to prayer provided a portable amplifying system, which saves their voices as they teach outside. Please Pray as we set up new meetings. Since we will most likely be laboring in or near a large city, ministry expenses will be greater, therefore we need the Lord to raise up 20 new Churches.

*Special Prayer Request Open Door with Russian speakers: Most are Muslims from Uzbekistan & a couple from Kazakhstan (both closed former Soviet Union countries). A large group immigrated to the U.S. and (50+) moved to Cincinnati, Ohio ~ 40 minutes from us. Our third "get acquainted meeting" is on Saturday evening (8/22/15) at their apartment complex. They have some good questions, but are still very leery. Pray that the Lord would build some bridges for us to testify of Him. Please pray for these souls (Tim, Feruza, Deelya, Zokeer, Alla etc).

Our US cell is (513) 376-0189. Please contact us if you have a Missions Conference that you would like us to attend.

To God be the Glory, Richard, Oksana, Elisabeth and David Maher

Please change your e-mail address for us to: mahers4jesus@gmail.com Your Missionaries to Ukraine Thank you for Praying for His Work there in Ukraine
-------------------------------------------------------------------------------
From Paul Gray: Greetings Beloved, Summer 2015
We have had a good summer with many blessings in the ministry and in our family. In June we were invited to a supporting church to be presented money their VBS kids and church had donated to help our church in Ukraine to do VBSes. With the nearly $1,000 given plus the money they already raised our church was able to buy a strong rechargeable speaker for outdoor use to be used in this year's VBSes in five places, but also in future VBSes and for outdoor evangelizations for years to come. It also was used to buy food, prizes, gas to get to and from the VBSes and other things needed. None of the money was spent frivolously and it was a special blessing because more children attended this year than usual and this year we had one more VBS. Next year another church has asked our church to help them do a VBS.
In the beginning of August we went to southern Michigan to mail 16 boxes of stuff to help us in the ministry and for our family, but we also went to Christian Resources International in Fowlerville. They allow missionaries to get up to 400 lbs of Christian literature and other ministry helps. Most of it is used, but it has been a great help to us over the years. We were also able to get a large and small flannelgraph there to be used in Ukraine. You might want to recommend it to any of your missionaries passing through Michigan. Although they don't have much foreign language literature we did get some in Ukrainian and Russian. Their best foreign language selection is in Spanish. If anyone has Chrisian books to give away its not a bad place to donate. They send whole containers where there are a lot of English speakers like the Philippines, India and Africa.
A Christian couple we know had to have their house renovated after it got struck by lightning, but through this they met Russian speakers who worked at the hotel they stayed at and now we are able to pass some of the literature we got to help these people come to know Christ. Two of them we met told me that what has happened in their lives is their destiny. Our prayer for them is that they realize that the most important part of their destiny is up to them. God wants them and everyone to realize they are a sinner and to call on Jesus Christ to save them as one of the thieves on the cross did. (2 Peter 3:9 The Lord is not slack concerning his promise, as some men count slackness; but is longsuffering to us-ward, not willing that any should perish, but that all should come to repentance. 1 Timothy 2:4-6 Who will have all men to be saved, and to come unto the knowledge of the truth. For there is one God, and one mediator between God and men, the man Christ Jesus; Who gave himself a ransom for all, to be testified in due time.)
We praise God Angela is now a U.S. citizen with passport in hand. Although Andrew and Nik have U.S. passports we still must go through an interview on September 21st so they can be issued a certificate of citizenship and then we will fly to Ukraine. Please pray for us to get reasonable tickets and also that when we get back we can get some things printed that we need to use on the many evangelizations we have planned. We will also be needing to buy Bibles and get Bible courses printed upon our return. God has been so good to us here and we are sure He will bless us as we return to the field He has called us to in Ukraine. Thanks for making this ministry possible!!!
God bless, Paul, Angela, Olga, Andrew, Nik, John & Grace (Philippians 4:13)
-------------------------------------------------------------------------------
Dear Praying Friends and Family, June – July 2015

Still amazed at answered prayer. This may sound cliché but I'm still amazed at how the Lord answers the prayers of His people. We've lived in our current location for eight years and we have never had a decent water supply. We have gradually adapted by adding water purifiers, filters, reservoirs, and pumps. However, all of this is to no avail if you do not have a consistent water supply. After the past eight years of battling the water here I was wore down to the point where I just wanted to leave and go somewhere else. That's when I asked you all to pray.
Answered prayer came in a less recognizable form. It was not a one-time event like the crossing of the Red Sea. It was God's grace experienced every day with the fear that today would be the last day we would have water. In all our eight years in this location we've never had water like this. Please keep in mind that it is not gushing clean water with great pressure, but it is just enough to get us through each day. We haven't had to ration, nor beg and plead for a water truck to come and fill our reservoir. We have not had to drag hoses and submersion pumps around to pump the water from the reservoir to our cellar tanks. They do shut it off often but we are able to get by for a day or two and then it is turned on in just enough time to fill our reservoirs again. Praise the Lord and thank you for praying.

A Big Fish. The locals have a tongue-in-cheek joke/curse which translates, "I wish on you a building project." Maintenance, repairs, and building projects are not efficient, easy, quick, or cheap….ever. You can drive down our street and almost every house has a pile of sand outside the front gate for mixing concrete. The joke/curse is that it never ends. After neglecting our house for several years we needed to make some repairs and take down a very dangerous shoddy "greenhouse" the former owner built. By "chance" we heard about a man from a nearby town with a good name and history that "just happened" to be in Razdelnaya that day. During our meeting I found out that he had been reading the Bible for some time and wanted to talk to me more. His name is Misha (Ukrainian form of Michael) and served in the Soviet Army in recon-demolitions in the Afghan war in the 1970s. His group was actually captured by the Taliban when they wandered too close to their opium operations and were drug behind horses and left for dead in the desert. Amazingly he and one other soldier survived. He is a hard worker and has earned himself a good reputation and is respected by his men.

After watching us carefully for a few weeks Misha asked me to meet with him and answer some questions about God and prayer. I spent three hours answering his questions and explained the Gospel to him. He had been exposed to every cult and sect out there and always left them when he saw hypocrisy. He asked me to pray with him. He seemed visually impressed by prayer. He was hungry for the Bible so we had Bible Study twice a day, 7:00 a.m. and 8:00 p.m. He finally got saved! In all our twenty years of ministry I've never met a man that had such a dramatic conversion. I'm not sure what the future holds for him but he already has the "joy of the Lord" and witnesses to many of his former friends and acquaintances, some of which were local high level communists.

Every morning he would come, always on time, with a new testimony of what he'd learned or what God had done for him. It was a blessing! One tell-tale sign that he really got saved was the weird but common phenomenon that the cults came out in full force to derail him…every one of them! He said that on the night when we had our first Bible study, while walking by the local Pentecostal church, someone walked out of the church straight up to him and said, "Misha, if you don't come to our church you are going to go to Hell." He also had some Seventh Day Adventists waiting for him every evening to catch him on his way home from work to try and mess him up. He testified one morning with tears in his eyes that he went to bed the night before and contemplated what the Lord has done for him. He said, "For the last 15 years I've been in the religious jungle and could never find the truth." He said he went to bed that night and breathed a prayer, "God, thank you that I've finally found the truth." With all the excitement of a little boy he said, "Then it occurred to me….I was actually praying! It was so natural and easy!" He is devouring our Bible Study materials and loves the "Theological Studies" by Dr. Ruckman and "Rightly Dividing the Word of Truth" by Larkin. Please pray for him and his continued growth in the Lord.

Visitors. During the months of June and July the Lord blessed us with several guests. One of the national missionaries we support, Brother Ghenya in Altai, came and gave us an update on the work. Missionary Ed Keough came by and spent July Fourth with us. He brought Pastor Kyle Stephens' son, Joe, with him and dropped him off to visit with us for several days. We were very thankful for his visit. He came right in the middle of cherry picking season! He also made the piano in our church roar! The congregational singing that morning was glorious! It was also very good to have a young man in our home for our kids to "hang out" with that loved the Lord and spoke English. Our kids do have friends in church but there is always that bit of a barrier for them with the language, culture, and the influence of public school that makes close fellowship difficult at times. Joe Stephens was a great blessing to us all.

Child Training Seminar. Several members asked me to teach a seminar on child training…again. The review always does us good. I believe most got help and at least a little nudge in the right direction. Please pray for our young families. The system here is so good at turning strong Christian young people into the type who just do nothing for fear of being ridiculed, called out, and opposed publicly in school.

Soul Winning and Literature distribution. We finally received our order of custom printed plastic bags that we stuff with literature and go door to door with every Saturday. We pray for opportunities to witness and talk to people as we go and are thankful for the "handfuls of purpose" the Lord has given so far. Please pray that souls will be saved.

Thank you all for your friendship, prayers, support, and all that you do for the Lord that gives us the privilege and opportunity to serve our Lord and Savior Jesus Christ. Until our next prayer letter or our meeting in the air!

That Ukraine May Know Him, Christopher Rue Phil. 3:10
-------------------------------------------------------------------------------
From
B
ulgaria
-------------------------------------------------------------------------------
"Be careful for nothing; but in every thing by prayer and supplication with thanksgiving let your requests be made known unto God. And the peace of God, which passeth all understanding,
shall keep your hearts and minds through Christ Jesus." Philippians 4:6-7

Our praying friends and family in the Lord,

[I posted some of this on our Facebook page, but for those of you who don't Facebook, I thought I'd send it in an email as well. It's an answer to prayer, a testimony of God's goodness, His care, and provision. What a blessing to see His handiwork, and to know that He does things just for us!]

We begin our visas for another year. While the whole process takes about a month, from application to finally picking up our visas/id cards, we begin making preparations mid Spring. It's one of the more stressful things we have to deal with to live and work here.

This year we hit a bit of a snag early on. It came to my attention that Christian and my passports were due to expire, and that we would need new ones prior to applying for visas. Normally that's not a problem, new passports are fairly easy and quickly obtained. However, and unbeknownst to us, we learned from direct communication with our embassy, America is experiencing difficulty and delays in processing passport applications worldwide. We were advised to apply as early as possible, which we then did.

After a month had elapsed, with no word from the embassy, our lawyer phoned us this past Friday to ask for our updated information. When I mentioned we had not received our passports, he asked when had we applied. Mid July was my answer. He informed me, that on average it's taking at least four months from the date of application, and that's with constant communication with the embassy. We discussed various scenarios and options should our passports not arrive before our visa renewal in a couple of weeks. We decided to wait on it, and see what, if anything would develop over the weekend. We ended the conversation on a general note of anxiety and despair.

Yesterday morning, at the breakfast table, after rehashing the lawyers conversation, and fed up with worry, we committed the matter to God, trusting him for whatever the outcome. A few minutes later, national pastor Alish called me to say, our meetings had been canceled for the day, and that I was free to do whatever. A few minutes after that, Hannah came down from upstairs, having just heard from the embassy that our new passports were ready and waiting, and that if our schedule permitted, we could come that day for pick up. I grabbed my hat, wallet, and keys, and with my old passports in hand, headed to Sofia. I returned, twelve hours later, exhausted but rejoicing.

My text for today's meetings was, "Be careful for nothing; but in every thing by prayer and supplication with thanksgiving let your requests be made known unto God." Philippians 4:6 Thank God, The Lord knows what we have need of before we ask, and when we ask he can sure get it done in a hurry.

More paperwork to get done this week, and then we reapply the second of September. However, knowing the Lord is on your side makes things a lot easier. Pray for us.

On a personal note, we're doing well. Carrick will begin first grade in a few weeks. He's our top student at LeFevre Home-School Academy. For the last two years he's been our only student. However, this year he will be joined by new enrollee, Christian. I would say that Christian is excited to start school, but I think that would be an exaggeration. I think Christian is intrigued by the concept of school, it's the mandatory attendance and participation he might find difficult. We'll see.

As many of you had heard, Carrick suffered a fractured ankle mid July, an unfortunate accident on a trampoline. He has now been officially cleared to resume life as he knew it. After the doctor's pronouncement, he was so excited to show me he was better, he jumped off a high porch nearly sending us all into cardiac arrest. He landed safe and sound and all smiles, until he saw our terrified expressions. We gently urged him to reconsider jumping from heights for the immediate future, to which he responded positively.

Dixie Joy is ten days away from turning one. She can say Daddy, and that's it, but that's enough for me. She is on the verge of walking, like she is on the verge of saying Momma, almost, but not quite. She is petite for her age, still in nine month clothing. She has white blond hair, bright blue eyes, and an infectious smile. She prefers the company of anyone who will promptly put her on the floor to crawl around.

Hannah is well, and more than anyone else, ready for school to begin. The temperature has dropped into the low seventies here, the sky is gray, and portending rain, and Hannah is in her element. She loves this time of year. Very soon the house will be decked in all the glories of Fall. I haven't the heart to tell her the weatherman is giving Summer another few weeks to do its worst.

The meetings I attend to are all doing well. A couple of weeks ago, my brother Zachary attended with me. It made me very happy to be in church with him, just to lead singing and listen to him preach. All of the churches were blessed, and entreated his soon return. With the break in the weather, services will be a little easier. It's a shade difficult trying to sing and preach when it's ninety-five outside and no breeze inside. By the second meeting you look and feel like you've been to a baptism and fell in. Alish had started packing extra shirts on days with multiple meetings.

Whatever the weather, I'm thankful to be here. These Gypsy-Turks are a despised people, oft neglected of men, sometimes rightly so. Still, the Lord of Glory is a frequent guest in their hovels, and I'm blessed to be there when He is. Yesterday, at our little house church in Krivnia, fourteen souls gathered to worship God, and He came to accept it.

Moses was a man "learned in all the wisdom of the Egyptians", "mighty in words and in deeds", but one day it came to his heart to visit his brethren. I reckon after that visit, he was never the same. He refused a place in Pharaoh's home, the pleasures of sin, and Egypt's treasures to bear the burdens of the people of God. Moses chose his crowd, knowing the cost, but confident in the blessings. One day it came into my heart to visit God's people, and like Moses, things were different after that. I'm not as smart as he was, and certainly lack the education, but you don't have to have exceptional intelligence to choose right or good, just enough to know the difference. Like Moses, I made the people of God my choice, and haven't regretted it. I'd rather be in the little unknown unheralded gypsy meeting, singing the praises of our great Redeemer, and testifying of His grace, than anyplace else on earth. And I think the Lord would too.


Pray earnestly for us. We love and miss you all. May God continue to richly bless you for Jesus' sake.

Because of a living Saviour, The William LeFevre Family
----------------------------------------------------------------------------------------------------------------------------
p
lease click on the link above for a printable pdf version
Bulgarian update June, 2015
We want to thank all those who contributed to the flour and oil distribution in Bulgaria. It was a great blessing to everyone involved. This year the US dollar was very strong against the Euro and we were able to feed over 2,000 needy church families. Each family received one hundred pounds of flour and over a gallon of oil. These are saved, baptized church members who attend our church meeting in Bulgaria. They thank God for the brethren in America who gave toward helping them in their time of need. Your generosity has redounded to the glory of God.
In Christ, Rev. Mike Nixon - Director of Charity Baptist Mission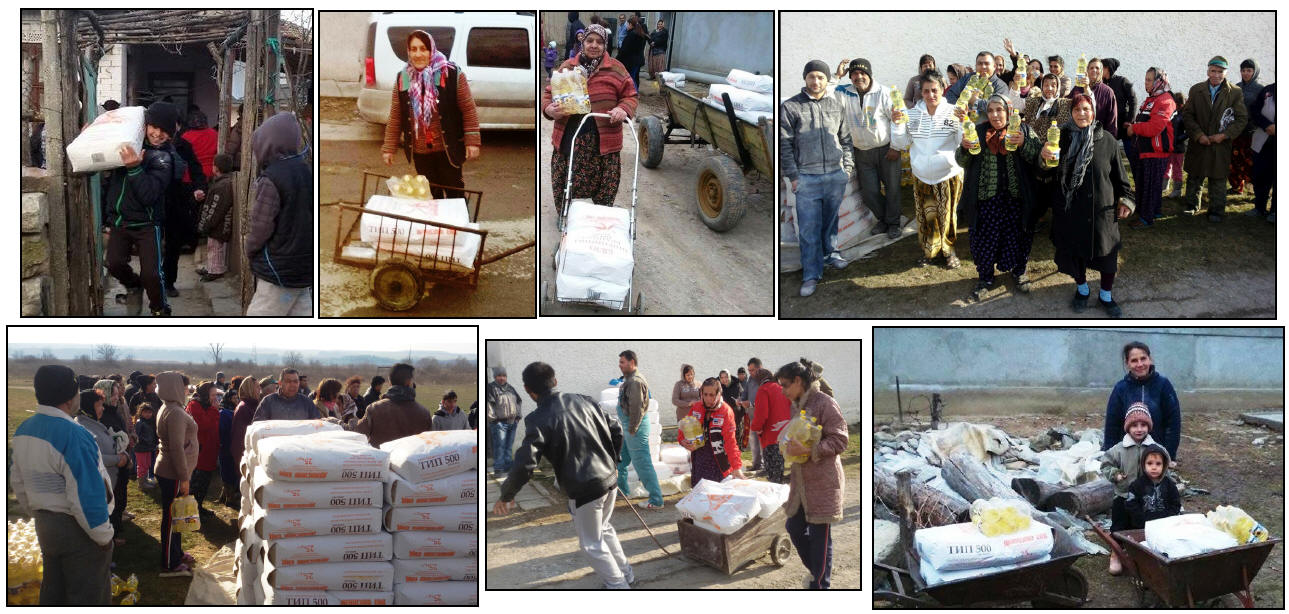 -------------------------------------------------------------------------------
From Romania
-------------------------------------------------------------------------------
American Meeting July 15, 2015

Hey, we just want to let you all know what's going on over here. As you know we are in camp meeting and we've been having a good time. Today was the fifth day, and it seems like every day and every meeting has been getting better. We are having really good preaching, some of the best I've ever heard. There is some power around here.

This evening we had a great service. William preached and God really moved. After church no one wanted to leave. We stayed in the church for a good while just crying and worshiping. Then before we had a chance to eat supper they told us that Esther Leach wanted to get saved. So we went back up to the church and prayed for her. We prayed and prayed and prayed, but she had a hard time getting in. But just like always the Lord gave the victory. After that we went downstairs and started eating. Then Missy, one of the girls in the home, came downstairs and told us that she had just got saved in her bedroom. We rejoiced with her, and then after supper started singing some songs.

My son, Isaac, left the singing to come upstairs and pray in his room. When he came out he told us that he had got saved. By the time we made it back downstairs, the singing had turned to praying. After that prayer, Bro Ralph asked who all got saved, and two girls raise their hands- my daughter Maggie and Charity Welch. Then Bro Mitko's daughter, who had been praying and crying said that she got saved.

There were some other children still without peace, so we prayed again and Hannah Leach said that the Lord had saved her. That's a total of seven! There's still others waiting on God to save them, so help us pray them in, too.

It's eleven o'clock and we're just now getting to bed.

Tomorrow Dave and Nathan are going to the port. Hopefully they'll be able to get the container out without having to pay anything extra.

God bless you all. Zach LeFevre
-------------------------------------------------------------------------------
-------------------------------------------------------------------------------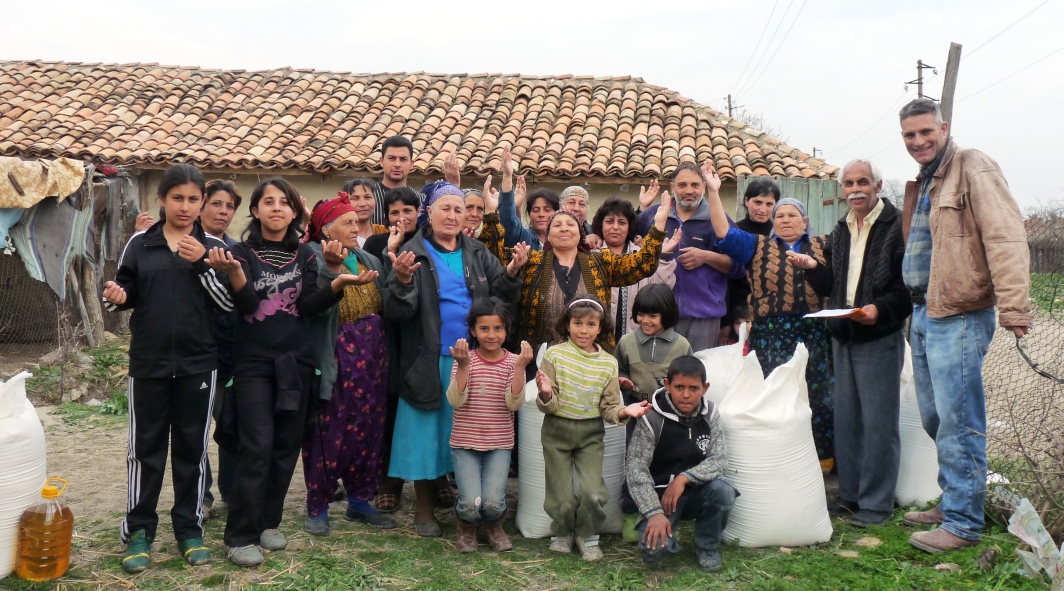 -------------------------------------------------------------------------------

From Ukraine

-------------------------------------------------------------------------------

Dear Praying Friends and Family, April – May 2015

"Wait For Me." One of our members, Vika, brought two visitors to church one Sunday morning. They sat during Sunday School and listened carefully. During the break Vika introduced me to Yulia and her daughter Nastia. She told me how she had been friends with Vika since her university days but lost contact after graduation. Sister Vika had a stormy youth and learned to follow the Lord the hard way. During her backslidden years she married a Muslim with whom she had a child, Daniel. They moved to Syria for several years during which time she "got right" with God. We prayed long and hard for her and Daniel to be allowed to leave Syria and return home. Her long lost friend, Yulia, knew that she moved to Syria and was worried about her in light of the war that has been raging. She even sent a formal application to the popular Russian/Ukrainian television program called, "Wait For Me." The show specializes in reuniting people in the former Soviet Union that were torn apart by the Soviet system and WWII. Yulia never heard from the show, but God heard in Heaven! She was at the train station in Odessa when she looked over and saw Vika standing in line to board a train! She went home with her to spend a few days to get caught up. Vika's mother, Sister Valya, spent the next day entertaining them while Vika was at work and led them both to Christ! She said they sobbed on their knees as they prayed. They both confessed Christ that morning with bright smiles on their faces and still come to church as they have opportunity. They live quite a long way away. Please pray for their growth in the Lord.

"God Sent" Years ago I often mentioned a boy named David in our newsletters. He had a long battle with lupus and eventually went home to be with the Lord at the young age of fifteen. The Lord used his sickness to reunite his mother and father and we, as a church, did all we could to save their marriage. I tried to encourage them to stay together for the Lord's sake after David was gone. It didn't work. They drifted apart and the husband, Sergei, remarried a woman from Ivana-Frankovsk named Bogdana, which means "God sent" or "God given." He came and visited us one day and brought her to church. I immediately strayed from the lesson and preached the Gospel of Jesus Christ. After the service he came up to me and asked if I would to talk to her. I again went over the Gospel message and then extended an invitation to receive Christ. I am ashamed to say that I've become somewhat jaded over the years living here in Ukraine. We meet so much rejection and opposition and slander that I just expect it. The whole time I was explaining the Gospel and sending up Nehemiah prayers, I was thinking, "She's only tolerating this." "She doesn't understand." "She won't give up Russian Orthodoxy, etc…." There were even a few times when the Holy Spirit's presence was sensed in the room and I still thought she would reject Him. I asked, "Do you understand the Gospel now?" She replied, "Tak!" ("Yes" in Ukrainian). I then asked, "Would you like to call on the Lord right now and ask Him to save you?" She said, "Bazhayu!" ("I desire to!" in Ukrainian). It was almost like the surprise you get the first time going soul-winning and getting your first "Yes." It is amazing how hard-hearted I can be in the Lord's work, and yet, He still keeps on using us here! They asked about the possibility of starting a church in their city sometime in the future. Please pray.

"I believe God arranged this meeting..." Brother Casey and I visited the home of one of our members, Sister Tanya, to call on her son Dema. He's been backslidden for years and refused to come out and see us. So, we decided to have a cup of tea with Sister Tanya and talk (loudly!) about the Lord, because we knew he was within earshot! Then her neighbor, Luba, an elderly lady came by for a visit and agreed to sit down and allow me to explain the Gospel to her. She listened intently and I had to go back over a few points, but, thank God, she finally called on the Lord to save her! We rejoiced with her and she said, "I came over here to give Tanya some scraps for her dog but now I believe God arranged this meeting." What a blessing!

First Fruits. Brother Casey Kline hit a milestone in the Lord's vineyard a few weeks ago when he led a soldier on furlough from the war to Christ. Casey took him off into a side room and led him to Christ…without a translator! He asked if he could take a shower so I brought him back to my house. He desperately needed a shower! We smelled our new brother, Sergei, clear into the next day! It was unpleasant but it didn't matter. The stench of sin was gone from his soul before God!

A Possible New Ministry. There is a family about 30 minutes away in the small farm town of Luchinsk, that has asked us to come and hold weekly services for them. One of our preachers, Brother Sasha, lives close to them and it may be an opportunity to start a church there in the near future.

Special Meetings and Ministry Opportunities. We thank God for the opportunities and blessings the Lord has given us here in Ukraine. The Bible Institute is going well. We had a "men's meeting" where we all got together and played "Airsoft" with other groups of Ukrainian men who are very serious about this game. They view it more as an opportunity to train should real war come to the region! The "war" was held in an old abandoned factory with real tar pits, broken glass everywhere, and rusty metal. It was not safe at all, but really did make the "war" feel very real. We are also thankful for the several opportunities for our church to get together with other churches for conferences and meetings. We are in the process of making preliminary plans for a building project for the church here. We meet in a renovated house but outgrew it a long time ago. It is hard to grow with no room.

Pray! Pray! Pray! Summertime here is hard because there is little to no water. The last three weeks we had water only on Sundays and then little more than a trickle. Having water brought in by truck is an option but it takes constant oversight to hounding the drivers for days to get it to you. After it is delivered it takes more oversight to pump it out of the holding tank to our house. Four years ago, the city drilled a well just four lots down from our house. They had to drill down over 700 feet to hit good water. The money for the project mysteriously disappeared, no tower was erected, and we are still without water. I've looked into several options and would just like to ask folks to pray for us. The thought of another year struggling every day to get enough water for our needs is exhausting. We also need prayer for our paperwork to be approved to extend our registrations.

Thank you all for your friendship, prayers, support, and all that you do for the Lord that gives us the privilege and opportunity to serve our Lord and Savior Jesus Christ. Until our next prayer letter or our meeting in the air!

That Ukraine May Know Him, Christopher Rue Phil. 3:10

---------------------------------------------------------------------------------------------------------------------------------------------------------------------------------------------------------------------------------------------------------------
From
B
ulgaria
---------------------------------------------------------------------------------------------------------------------------------------------------------------------------------------------------------------------------------------------------------------
Dear Churches and Praying Friends, May 2015

"Then saith he unto his disciples, The harvest truly is plenteous..." (Matthew 9:37)

We've had a good time this spring visiting the different churches here in Bulgaria. I've been able to go to the village churches of pastors Nasuf, Alish, Mitko and Ismail. The people are all very glad to have us come and preach; they're encouraged just to see someone come visit them.

In one church there was a sixteen year old girl that came for the first time. She told about her problems with fear and with seeing strange visions. The local Islamic religious leader told her she had a demon in her (and he was probably right). To protect her from it, he made a type of a spell, and gave her a little charm to wear around her neck to keep evil spirits away. Of course, this just made the matters worse. She couldn't keep from crying while telling us about what all she's suffered. Thanks be to God, that I was able to tell her that her suffering could all end that day. I preached to her that faith in the name of Jesus would run every devil away, and she could live a life of peace. We prayed for her and gave her a New Testament to take home. The next week she came back and said she hadn't suffered any more since that day at the church. Now, she attends the meetings every week and loves it. What a blessing it is to preach to someone so hungry to hear the word of God!

In another church there was a middle-aged man that came in while I was preaching. He sat down and listened intently while I preached from Matthew 16:27, "For what is a man profited, if he shall gain the whole world, and lose his own soul? or what shall a man give in exchange for his soul? " Well, this man had recently returned to Bulgaria from Germany where he works to see his mother. She is seventy-five years old and in the hospital with heart trouble. She has been saved and faithful to the church for years. This man said that his mother always prayed for him and told him he needed to quit drinking, but he never did. Now that she is perhaps on her death bed, he came to church and said that from now on he is going to be a believer. That day he prayed for the first time in his life. What a blessing it was to be able to preach the first gospel sermon that man had ever heard!

In one of Mitko's villages we went to pray for an older lady after church. She had suffered a stroke and couldn't get out of bed. We sang her a song and prayed for her. Pastor Mitko told me her testimony. He said that when they were younger both she and her husband used to drink a lot. When her husband died, her children tried to convince her not to get drunk at the funeral, but she couldn't even stay sober one day. Later, she said that one day somebody told her about Jesus and she asked him in her heart. After that she said she never had a desire to drink any more. Her life changed completely. What a blessing it was to pray for her!

Continue to pray for us as we keep preaching the gospel six days a week in the Bulgarian villages. We always need help. The harvest truly is plenteous.

In Christ, Zachary LeFevre
---------------------------------------------------------------------------------------------------------------------------------------------------------------------------------------------------------------------------------------------------------------
From Romania
---------------------------------------------------------------------------------------------------------------------------------------------------------------------------------------------------------------------------------------------------------------

Dear Brethren, Friends, and Family members, May 11, 2015

Praying this finds you well and wanted to let everyone know I made it back to the U.S. on 28th of April. I will be here until 2nd of June getting together the container of construction materials for the extension of Casa Julia in Constanta, Romania. We can purchase better materials here for a cheaper price and ship them to Romania without having to pay any custom taxes. The container well be sent directly to the supplier and the materials will be loaded there. They have the equipment to help us load and this is a big help because the shipping company only allows two hours to load a container before they start charging by the hour. We have a list of the materials we wish to purchase and we truly need to do so quickly. We hope to load the container on the 29th of May. Please pray for us!

I praise the Lord for his goodness in this ministry. We have been with Charity Baptist Missions for 23 years and God has done so much. What a blessing it has been to see hundreds of former Muslims come to understand the truth in the Gospel and be baptized. Now to see my son follow the call of God in his heart and to watch the Lord work with him in spite of the devil and all his deceit, I can do nothing else, but praise our mighty God, "who is able to do exceeding abundantly above all that we ask or think, according to the power that worketh in us."

To have been able to be a part of these feeding centers and watch the Lord raise a generation of children and see many of them now following in the faith and praying, preaching and teaching their children the truths. In one of the meetings a Turkish Believer testified and praised God of how the missionaries left America to come all the way to Romania to help them. They left a rich country, family, language, and all they knew to come to this poor place so we would know how to get out of deep darkness and find the way to God. We knew about God, but we didn't know the love he had for us until we saw how he gave his Son to save us. These people must be from God because Nathan is to go back to America for a short time and he is leaving his son to take care of us!

I've been blessed to see the Children of Casa Julia grow over the past twelve years. Dave and Dara have done a wonderful job and now as these children grow into young adults we can plainly see the hand of God in their lives. There are 7 girls and 4 boys taken from the worst places and raised in our homes, dedicated in our church and truly blessed for a higher purpose. Even they do not fully understand how good God has been to them, but I'm sure in time they will. I drove by the houses where some of them would have grown up and I just praised God in my heart for how he has taken them out of the dung hills and placed them in the Father's house with us. Just last month they took their instruments with them to school for show and tell. They played and sang some of the church songs for their class and the Holy Spirit began to move on one of the teachers and she began to cry. She arranged for them to go to other classes and sing and later arranged for them to be able to go to another school as well. Out of this many of their classmates wanted to come to our church and it was arranged for them to come to our English service we have at the children's home every Sunday morning. Praise God for the way he is able to move and for these orphans who are not ashamed to sing about the Lord. We truly thank all of you who have given and helped with the purchase of the container and materials, but we still need a little more. This is a real children's home and I wouldn't ask if it wasn't truly necessary.

Nathan Reed and Family
-------------------------------------------------------------------------------
click above for pdf attachment
-------------------------------------------------------------------------------
September 27, 2014
Missionaries:
Eight (8) American Families, three (3) in Romania and five (5) in Bulgaria: Dave Turner, Nathan Reed, Jacob Reed, Ralph Cheatwood, Matthew Welch, Zachary LeFevre, Larry Leach, William LeFevre. We work as a group, with each missionary having their individual work.
National Pastors:
Four (4) pastors in Romania and eight (8) in Bulgaria. Besides these pastors there are several young men in Romania that preach but do not pastor churches at this time. All these pastors and preachers work under the authority of the missionaries.
Churches:
Mostly Turkish house meetings, with seven (7) self-standing buildings, twenty (20) churches in Romania and eighty (80) in Bulgaria. We minister in English, Turkish, Romanian and Bulgarian.
Our simple definition of a local church is a group of baptized believers, meeting regularly as a church, having a national pastor.
Charity East Association Romania:
Casa Julia: Home where we are raising eleven (11) children. This home is also lovingly called 'The Father's House'. We have had most of these children since birth.
Our ministry in Romania is done from this complex.
* for full update on Casa Julia, see Attachment 1
Feeding Centers:
National believers' homes where we feed children a hot meal every day. Twelve (12) in Romania and nine (9) in Bulgaria. In these homes the children learn to sing hymns and pray, thanking God for His many blessings and for their daily bread. As these children have grown up, many have been saved and are now established in one of our local churches.
Coats for Kids:
This ministry was started by Larry and Carrie Leach in 2008 with just a few coats in the back of a van. It has grown and now over one thousand (1,000) coats with a pair of socks are given out each winter.
Flour and Oil:
Each winter, over two thousand (2,000) families in Bulgaria receive a fifty (50) kilogram sack of flour and a five (5) liter bottle of cooking oil. This helps them get through the winter.
Bulgarian and Turkish Bibles:
These Bibles have been newly translated from the English King James 1611 Authorized Version. Along with Turkish hymnbooks, the New Testaments of these Bibles are being freely distributed to our believers and others that are interested.
Daily Bread:
Over 4,500 loaves of bread are freely distributed monthly to needy families in Romania through the daily prayer meetings.
Three Seas Missionary Journeys:
Our purpose for these journeys is to raise interest and support for the work in Romania and Bulgaria, and also to expand into Turkey. Since Romania and Bulgaria are a part of the European Union, many of our believers have travelled into Europe, seeking work. They carry their hymnbooks and New Testaments with them, finding each other and meeting together wherever they go, so we have a witness in many parts of Europe. Several of the missionaries have already made trips into Turkey this past year, giving out New Testaments and hymnbooks in Turkish to contacts they have made.
In order to achieve our purpose, we want pastors, mission directors and church members with a heart for missions to have the opportunity to see our work in Romania and Bulgaria, take part in church services and evangelization and visit sites of the seven churches mentioned in the book of Revelation which are in Turkey. We want you to have a 'hands on' part in this work. To use a military term, we want 'Boots on the Ground'.
The cost of these missionary journeys would be your roundtrip airfare to Bucharest, Romania, where you would be met at the airport and brought to our Children's Home complex in Constanta, Romania. The price after arriving in Bucharest would be one hundred dollars ($100) a day per person all inclusive. This price would cover all your expenses while with us; travel, hotels, meals, snacks, etc. and would leave us with enough money to produce DVD's, hymnbooks and New Testaments to give out on the way.
*
For itinerary of missionary journeys, see Attachment 2
*