Robert Shrader



Missionary to Eastern Europe

Centering in Bulgaria


Sending Church:
Brookside Baptist Church
1558 Vance Tank Toad
Bristol, TN 37620

Please Send Support To:
Charity Baptist Mission Inc.
P.O. Box 692
Bristol, TN 37621-0692


ďI am the good shepherd, and know my sheep, and am known of mine.Ē ďAnd other sheep I have, which are not of this fold: them also I must bring,..Ē John 10:14, 16
Dear Churches and Fellow Believers, August 2013
Greetings from Bulgaria, we have had several big meetings this summer. Our first special meeting was in Romania back in May. Each of the missionaries brought two car loads of believers from the different churches in Bulgaria. Others were brought in from Romania. We gathered together for three days to sing, testify, worship and hear the Word of God. We are blessed to have good facilities in Romania where we can host many believers. They all get full of joy and encouraged for the journey ahead. We also had a big meeting in Dabravino in June. The women that travel with me always tell me of the joy they receive from these meetings. We had two baptisms this summer. Around 270 people came to the one in July and 30 people took part in believerís baptism. We just had another baptism where 19 were baptized and around 120 attended the all night services.
I was able to get another one year visa back in May. Itís always a blessing to get that pressure off for another year. I think I have three more visas to apply for before I can get a five year visa.
We still hand out DVDs to people. Also, they are putting some of the services on YouTube to reach people with internet. Thankfully, there are many ways to reach people with the Gospel. There are many people we couldnít reach otherwise.
Weíve had several people die of cancer in the last few years. In one of the villages I go to one woman wrote a hymn before she passed away praising God. It was put in the hymn book we use and many of the people get blessed through her song. Other songs have been written from people who have suffered and they are a great blessing to people to see how the Lord takes care of his children through tribulation.
Again, thank you for all of your prayers and support. It is a great blessing to be able to serve the Lord in any way. We couldnít be here without you helping us. I hope you rejoice greatly in the Lord.
Love Robert
----------------------------------------------------------------------------------------------------------------------------
Dear Churches and Fellow Believers, April 2013
Greetings from Bulgaria, We would like to thank everyone for their help with the flour and oil. The Churches really appreciate how believers in America have them in their hearts and continuously care for their needs. Much of the flour and oil has already been distributed. So far, 70 tons of flour and 1,500 Gals of oil have been handed out. Many of the believers look toward your generosity to help get them through the winter months. It also gives greater opportunity to reach the poor with the gospel.
<![if !vml]>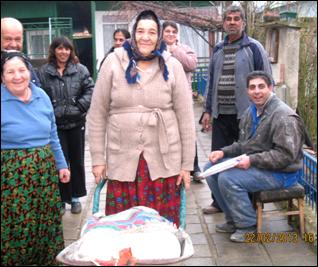 <![endif]><![if !vml]>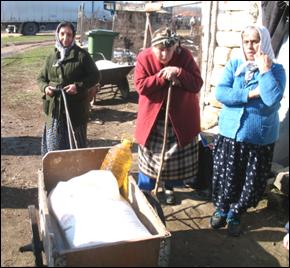 <![endif]>
Two of the churches I attend have significantly increased in size since learning we would help them. One meeting only had an elder couple who have been believers for many years. Now between 15 and 20 come every week. During one church service Brother Alish (He is the national pastor of the churches I go to) said he rejoiced that more people are coming, and that they continue to come even though they have already received their help. The Lord allows us to get them to come through their poverty but keep them through the gospel and the love they witness in the churches.
Back in January I was able to purchase fire wood for some of the widow women that come to the meetings. We tried to buy several cubic meters for each. One of the women said she had just finished asking God how she was going to make it through the winter with no fire wood. She rejoiced much when she saw how the Lord would take care of her needs. Alish also, suggested we buy some for each of the churches. This would help encourage all of the believers since each church would be warm during the meetings.
We continue to produce DVDís. It remains one of the best ways of getting to people we are not able to reach through the meetings. Also, I am able to make them for the newer people. It gives them an opportunity to hear Brother Ralphís preaching, and they can learn the hymns.
I have another Visa process coming. Itís nice to be able to see another one go by while waiting to apply for my five year one.
Thank you all for your prayers and support in this ministry. May the Lord bless each of you.
Love Robert Click here for a printable PDF version
----------------------------------------------------------------------------------------------------------------------------
Dear Churches and fellow believers, December 2012
Greetings from Bulgaria,
Recently I have been dwelling on a verse of scripture that came to mind: And David said, ďis there yet any that is left of the house of Saul, that I may shew him kindness for Jonathanís sake?Ē I am thankful for the day the Lord came by my way and showed me kindness. In the days we live in it is good to know that I am part of the Household of God and have a better place to look forward to. I thank the Lord for all of the prayers and support you all give to us over here.
I am not sure of the official number of people baptized in Bulgaria throughout the summer, but I estimate during the four baptisms around 130 were baptized. We also had another big meeting in Dabravino. People from the villages I go to are still rejoicing from the joy and love they received from this meeting. Believers from Romania were able to come down and enjoy the fellowship that is available in these meetings. Lately, Brother Alish (He is the national pastor I work with) has been having me carry people from the various churches with to the meetings. Normally, I just pick people up from two different villages. This has given others the opportunity to enjoy the other churches. They live a pretty simple life, and this helps to encourage each of them.
Brother Ralph had some recent Turkish church services put onto DVDís. I have been able to make numerous copies using one of the duplicators sent over here. We hand them out to the different churches, and they are still one of the best ways for us to reach people we donít normally deal with. Recently, I went and saw a woman who adjusted my neck and gave her several DVDs. People are always glad to receive them.
Winter is upon us now and I have already been snowed in. Also, please tell others about the feeding we do each winter for our church members. Last year we were able to feed over 1,700 families, with each family receiving a 110 lb sack of flour and 5 liters of cooking oil. This along with some firewood should get them through the coldest part of the winter.
Thanks again for all of your prayers and support. Love Brother Robert
----------------------------------------------------------------------------------------------------------------------------
Dear Churches and Fellow Believers, July 2012
It was a blessing to finally return to Bulgaria. We had a good Campmeeting in March up in Romania, and I enjoyed seeing everyone again. I was able to return to the churches, and receive a joyous welcome. The women I take with me to the meetings were also glad that they would be able to travel and see the various churches. Also, it was a blessing to see the support which came once again to feed the believers at the end of winter. We are always thankful that the Lord touches the hearts of those that hear about the different needs that support this work.
Back in May I put in for another one year Visa and they approved my application for which I am thankful. But, I did receive some bad news. I was hoping to be able to put in for a five year Visa shortly after this one was approved. The lawyer had told me how my medical leave back in America should not count against me. However, after talking with the Chief of Police in Varna, she said there was no provision for medical wavers. I am only allowed to be out of the country for a period of 10 months during a five year consecutive period and will have to start over again. I was looking forward to receiving a five year Visa and not having to worry about the paperwork and cost. In spite of the setback Iím thankful to return and continue in the Lordís work.
During the last couple of months we had a few big Turkish meetings. The first was held in Romania, and we were able to take a number of Turks with us. This meeting lasted a few days and everyone enjoyed all of the singing, preaching and testifying. At these meetings the believers are able to spend some time fellowshipping with one another. Also, we had a couple of one day meetings in Dabravino. We used several vans to gather people from the different villages, and Brother Ralph was able to preach to everyone. During the last meeting we saw 68 people baptized. Itís a blessing to see that the Lord is still adding to his church.
The facial pain that I experienced last year is staying under control for which I am grateful and I appreciate all of your prayers on this issue. May the Lord continue to richly bless all of you.
Love, Robert Shrader
----------------------------------------------------------------------------------------------------------------------------
Dear Pastor Mike and Brookside Church: March, 2011
Everyone greatly appreciates the continued help and faithfulness of American Christians. As the Apostle Paul wrote it is ďan odour of a sweet smell, a sacrifice acceptable, well pleasing to GodĒ. Also written, ďWhiles by the experiment of this ministration they glorify God for your professed subjection unto the gospel of Christ, and for your liberal distribution unto them, and unto all menĒ. Again we thank God that the money for the flour and oil arrived to help the poor believers get through the winter months. Brother Zach told me how some believers were out of food and wondered from where more would come. Just like the meal barrel that never emptied, your support came at the right moment. This past week the flour and oil was being distributed to the villages that I attend. They were very excited and thankful to receive your gift.
In one of my meetings a believer passed away. She had been battling cancer for a number of years. She had several surgeries and about a year ago suffered a stroke. Through all that was suffered, she always said glory to God and was excited when we came. Itís good to be able to minister to such precious believers knowing that our labor is not in vain. Her daughter stood up a week ago and said she also became a believer. Itís also comforting that she will never have to suffer any more.
The laws toward permanent visas changed over here at the beginning of February. The law now states that during a continuous five year period, we are not able to be out of the country for more than 10 months. That changes things for me since Iíve been out about 10 months and a couple of weeks. Unfortunately, for now I will not be able to attend the camp meetings that are held in Romania. If they are real strict about this, I will probably have to do an extra year of one year visas. It doesnít threaten my ability to get a permanent visa; however, it drags things out an extra year. Please remember to pray for those at the camp meeting at the end of March. May the Lord continue to richly bless all of you.
Love, Robert Shrader
----------------------------------------------------------------------------------------------------------------------------

Dear churches and fellow believers; August, 2009
I am happy to report that I got another year long Visa. I tend to worry about whether everything will go smoothly, but thank God, it all worked out. I also continue to spend time learning the language. I've been able to preach longer in the meetings. This has encouraged me, and the people are rejoicing at the preaching and my improvement with the language; although I have just started and have much more to learn.
We had a Baptism in Dabravino at the end of June. A lot of people were brought in from the Varbitza area where a number of new churches have been established. Also, Brother Nathan from up in Romania was able to bring two vehicles full of people. I drove around 25 people to the meeting from the churches I attend. A few of them were also baptized. I heard that 65 people were baptized which is the most I've seen at one meeting. We're happy that the Lord is still saving people and continues to do a work in Bulgaria. Brother Ralph was able to preach at the first two meetings, and the believers remained throughout the night to sing and testify. They receive great joy in being able to see one another and tell of what the Lord has done for them. Most of them don't tend to be shy about getting up in front of everyone. I don't know if there is an official count of how many people were there, but I estimated around 250 people were there at the first meeting. It was completely packed. The next week the churches I go to had the women testifying of the good time they had at Dabravino. Brother Ralph scheduled another baptism for July the 18th and another one for sometime in August. It's a lot of work for us arranging everything, but we're glad to see everyone so blessed.
I've waited awhile to mention this, but in the beginning of April I was robbed at knife point. I usually try to give hitch hikers a ride when I am able. One day I was heading to my meetings and was alone. I picked a fellow up, and when I stopped to let him out he pulled a military or hunting knife out and demanded my money. At first I was in disbelief at what was happening, and then I tried to resist a little. He started to get violent, and I realized the best thing for me to do was give up. I thank God for his help and protection during that time. I later considered how God told Abraham "fear not, Abram: I am thy shield, and thy exceeding great reward." After he got out, I contacted the police. They made a quick search, but found no one. Later they had me use a computer program to give a description of the man. They gave me computer sketches, and the fifth one was him. They had the man in custody by morning, and I identified him in a line up. Two months later the police contacted me and returned the money he had stolen. The Lord taught me several things during that time. I'm just thankful he watches over us. I also don't pick up strangers any more.
I am in America until December and look forward to seeing everyone.
Love Robert Shrader