Missions Updates
------------------------------------------------------------------------------------
Dear Praying Friends and Family, April – June 2020
I hope this prayer letter finds you all well in the Lord and rejoicing in His salvation and service! Summer is finally here and the fruits and vegetables are beginning to come in. The black soil of the Black Sea region is truly amazing. It reminds me of the fruit tree of Psalm 1:3 that, "…bringeth forth his fruit in his season." One of the keys to being fruitful in the ministry is to stay rooted and grounded where God put you!
The Quarantine: Due to a new spike in Covid-19 cases Ukraine has put the country back on lockdown until July 31st. We resumed holding services after seeing that there were no cases of the virus in our area, but with caution. We began with just Sunday morning services and then added the others slowly. We are currently back up to full speed with the Bible Institute and usual church services. However, we are still not sure how our summer plans are going to turn out. Please pray for wisdom about holding evangelistic services in nearby towns and our annual Children's Bible Club.
Rue Crew Milestones and Future Challenges: My son, Christopher, became a teenager in April. Benjamin turned 19 in May. Samuel graduated High School and Miriam finished her degree. We are all ready for a break. In just a few weeks we will begin our 7th year since our last furlough. In the meantime, our eldest children are continuing their schooling so they can work online from home until we return to the US for furlough. The month of May also marked our 27th wedding anniversary. The Lord sure has been good to us.
I am asking the Lord to make His will plain to me about the timing of our return to the States for furlough. It is a huge undertaking with a family the size of ours. Miriam, Benjamin, and Samuel have some very serious decisions ahead about their future and God's perfect will for their lives. So, in addition to getting reacquainted with our dear supporting churches we have to help our children learn what it means to be an American. Naomi and I don't even know anymore ourselves. Please pray for our children for God to make His will clear to them. And please pray about all the logistics involved. Housing, vehicles, and airline tickets are our most pressing need. We have a furlough fund but it is far from being what it needs to be for us to return.
We are asking the Lord to allow us to finish up several projects before leaving. The most important is the transition of the church and all ministries to national leaders. Secondly, there are various projects in the literature department that need to be finished. We aim to provide, in the Russian language, all we can to root and ground Bible believing pastors and their congregations. This includes the finishing touches on the Bible Institute materials and a children's Sunday School program. We also have all the materials in Russian for any church planter/evangelist to disciple new converts and organize a local church. There is still some work to do on the new Russian Hymnal before it is ready for printing. All that is left are translation issues. Of course, the Bible Institute graduation will be a highlight in the ministry for us all! We have also been looking forward to the summer months for village evangelism. Please pray for wisdom in the current climate that we will be able to do what we can to win the lost.
Building Project/Fund Raising: We are happy to report that we are now at 30% of our goal to begin the building project. We have prayerfully counted the cost (Lk. 14:28) and believe that doing the work ourselves will add up to a lot of savings. We have some first-class welders, plumbers, and brick masons. We were hoping to start by now to take advantage of my son's young backs before we return to the US for furlough.
Prayer Letters, Prayer, and Spiritual Battles: The power of prayer in the ministry and spiritual warfare cannot be overemphasized, thus the importance of our prayer letters. I've seen the prayers of God's people move the hand of God to lift hindrances, bring conviction of sin and salvation, stop attacks from the "powers that be", supply needs, bring healing, comfort, reconciliation, and many other things. For this reason, I try to include both the blessings and the heartbreaks; the victories and defeats. The problems are mentioned so you will pray, the blessings are included to encourage you to rejoice and praise God; knowing that your prayers are being answered.
When writing a prayer letter and rejoicing in what God has done there is always a hesitation in the back of my mind. I've noticed that, when I mention someone in our prayer letters as a source of encouragement to our supporters back home, they almost always come under attack. A couple of times I actually paused to highlight a brother or sister who were doing very well in the Lord for fear of impending backlash. You may say, "That isn't right, Brother Rue, to think that way…. You should trust God, etc…" But, you haven't been here and seen it on the scale that I have. Sadly, I know too well what the Apostle Paul said in Phil. 3:18 and 2 Tim. 4:10. Praise God that we also know very well what he meant in 3 Jn. 1:3, 1 Thess. 2:19, etc…
In our January prayer letter we rejoiced over a man, Maxim, who had then recently been released from prison. He started attending church, received Christ, then brought a friend to church named Zhenya who also received Christ. We mentioned him in our last prayer letter. They both attended church services before the quarantine and even came to church during broadcasts. It was a great blessing to watch them grow. Then, sadly, Maxim seriously injured his eye on a job and started taking pain medication. The quarantine hit, and he was without work and almost lost his eye. Injury, pain, fear, no job, quarantine, and little fellowship led him to start drinking again. I am told that he had a seizure, during which he almost bit off his tongue and hit his head in the fall. He went to the local hospital and they told him to go to the Odessa hospital but he didn't go. The transportation wasn't working because of the shut-down. That night he strangled on his own swollen tongue. His friend, Zhenya, is devastated and it so shook his faith that he went back to drinking too. I had the sad task of calling his mother in Zhitomir to tell her the news. Her wails and crying were so sad. I tried to comfort her with the Scriptures giving her assurance that she would see him again. She was saved and attends a Baptist church there in Zhitomir, but his death was unexpected. She had hoped that he was finally getting his life back together again after getting saved and going to church. Please pray for these families.
On the other hand, our church is thriving, witnessing, meeting together in spite of rumors and threats for disobeying the quarantine, and there is still a shout in the camp during worship services! We are very glad to see the continued growth of the new converts and their children!
I had the added blessing to take part in the ordination service in Limonski where Brother Maher has labored for years. He left the church in the hands of several men, and it took a number of years before one of them stepped up to the plate to take the pastorate. We laid hands on Slavic and Brother Kolya Veselkov who have faithfully served in planting a church in a small town about two hours away. I had the privilege of teaching these men in our combined Bible Institute 17 years ago. There was a lot of prayer, time and money invested in these men; and it is a blessing to see that it was not in vain (Gal. 4:11; Phil. 2:16; 1 Thess. 2:1).
Thank you for taking the time to read our latest prayer letter. We pray for you all, especially you pastors. We want to thank you for all that you do for the Lord, giving us the privilege to serve Him in Ukraine. Until our next prayer letter or our meeting in the air!
That Ukraine May Know Him,
Christopher Rue Phil. 3:10
------------------------------------------------------------------
Dear Pastors, Churches, and Fellow Saints, March / April 2020
"...thou shalt be missed, because thy seat will be empty." 1 Samuel 20:18
Greetings in the name that is above every name- the Lord Jesus Christ!
On April 4, 2020, my dear dad went gloriously Home to be with the Lord. In 1979 I got saved and immediately began to witness to my family. We were raised by loving parents. They always had time for us, even when we had no time for them. We attended church but had never received the Lord Jesus Christ as our personal Lord and Savior. After I got saved by the Savior from the penalty of my sins, which was going to hell, I was so happy and at peace with God. It was all that mattered and still is the only thing that really matters. I began telling everyone about my salvation experience how that I had been saved and born again. I didn't know much about it all, but, I knew that everything between me and God was well. I had been forgiven and possessed the peace of God.
After my salvation, I began attending church services at Temple Baptist Church in Detroit, MI. Following the Lord's command, I was baptized by immersion. Life was wonderfully new, and I was under the impression that everyone would want to also receive this gift called "eternal life through Jesus Christ" (Rom. 6:23). But with salvation also comes repentance: turning from your sins and turning to God.
One day I was in a store with my dad and I was handing out gospel tracts. My dad told me not to hand them out anymore when I was with him. He also told me that he didn't want me talking to him about God. But I was quite rich in faith, and believed there was nothing God couldn't do. Even if I couldn't talk to my dad about his soul's need of salvation, God could. My dad could tell me not to talk to him about the Bible, but I knew that God could speak to him.
Every day I prayed for my dad and my whole family. I had heard that it is best to witness to someone two or three times and then to just be their friend. Jesus was the friend of publicans and sinners, so I knew I couldn't go wrong doing what Jesus did. Praise the Lord! After some years my oldest brother, Kevin, got saved. Then in 1994 my mother got saved and shortly after passed away with cancer. My dad was left all alone, and the Lord began speaking to his heart.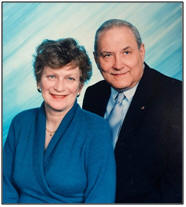 Some years later, during the end of our missionary furlough in America, my dad came and visited us in Tennessee before we returned to Bulgaria. That Sunday morning my dad and I got up early to go out for breakfast at the local diner. Afterwards I told my Dad that the children would be singing in church that morning and that they would love to have him be there. So my dad attended church with us that day, and we had a wonderful service. The preacher preached from the Word of God and the good Holy Spirit was dealing with my dad about his need of salvation. My dad got up during the invitation and went to the altar to pray. With simple child-like faith he believed on the Lord Jesus Christ (Acts 16:31). Praise to the Lamb of God!
I will greatly miss my dad and although his seat is empty here, his place in heaven is not empty. I thank the Lord for giving me such a wonderful mom and dad. I look forward to the day when I'll be reunited with them in Heaven.
All Because of Calvary, Matthew Welch and Family
-----------------------------------------------------
Dear Friends in Christ, May/June 2020
In 1859 Charles Dickens wrote "It was the best of times, it was the worst of times, it was the age of wisdom, it was the age of foolishness, it was the epoch of belief, it was the epoch of incredulity, it was the season of light, it was the season of darkness, it was the spring of hope, it was the winter of despair." This seems more appropriate these days than ever. Our country, even our world, is in turmoil such as I haven't seen in my lifetime. Many souls are in darkness and despair.
In the midst of this gloom there is still a spring of hope, an eternal light for those who seek the truth. Jesus Christ is still working to gather in souls unto salvation. He is still comforting the hurt and the heartbroken. He is still spreading His wings to protect and provide for His children.
Romania declared a state of emergency that has kept everyone largely confined for more than two months now. Because we answer to the state regarding our Children's Home, it has been even more strictly applied to us. Dara, Sandy and all the kids didn't leave the confines of the Children Home property during all this time. I was only able to go out occasionally to stock up on essentials for the Home. As of June 1st, the restrictions are easing somewhat, but not entirely.
Thank the Lord, since we are all here together at the Home, we have been able to have our church services on Sundays and Wednesdays. We have had some really good services and have prayed much for you who maybe have not been able to meet regularly and for our national believers here who also have not been allowed.
We have kept in touch with our national pastors and many believers. Bread has been delivered daily to the poor families we normally help. Even though we have not been able to hold regular meetings among the nationals, some of the missionaries have held "virtual" meetings joined by believers who were able to gather their families around a telephone to worship. I know many of the believers have continued to meet in their homes to sing and pray, waiting for the time when we can all worship together again. Please pray for these folks.
As I said, in the middle of all this, the Lord has continued to bless. After the shock wore off of not going to school, not seeing their friends and not even going to the little village store down the road, the kids adjusted well. A few of the kids are older and only the Lord knows where they will be in the near future. We have spent a lot of time "reconnecting" in the family and in the church. We have had wonderful fellowship, prayer and worship that I believe they sorely needed at this time in their lives. In many ways, this quarantine has been a great blessing.
I know many of you continue to pray for us. We thank you and are trying to do the same for you. We give God all the glory for what He is doing.
In Christ, Dave, Dara, Sandy and the kids