And who knoweth whether thou art come to the kingdom for such a time as this? Esther 4:14
Dear Pastors, Churches and Fellow Saints, July-August 2020
Grace unto you and peace from God our Father and the Lord Jesus Christ. (2 Thessalonians 1:2) Now is definitely a time when this world needs a clear witness. May God give us boldness to be witnesses of what God has done for us and to us: to preach the gospel and to open their eyes and to turn them from darkness to light and from the power of Satan unto God; and that they may receive forgiveness of sins and inheritance among them which are sanctified by faith that is in the Lord Jesus Christ.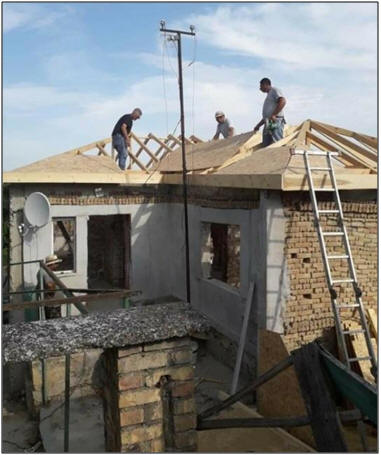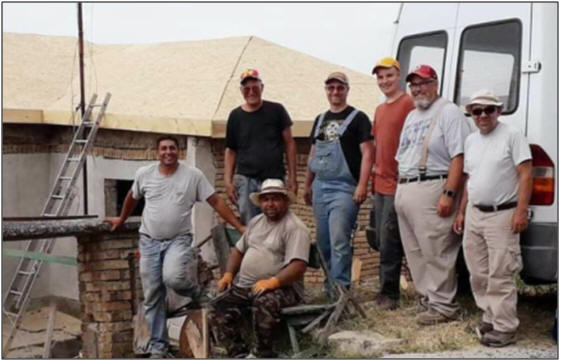 It has been very different for many months now because of all the restrictions from this sickness. We have not been able to meet with the churches, but God has still met with all of us. These measures have put a real longing and appreciation for the freedom to come together. Hopefully this will pass soon.
We were able to put a roof on the home one of our believers, that burned down in February. Brother Malcho was so thankful. Many of the missionaries and national pastors came together to help, which was a real blessing to be together and to see God work.
We covet your prayers for the work here. We were surprised by this sickness and the measures that have been taken to slow it down. Thankfully we have not contracted the virus. Many of our dear friends have it, and our hearts and prayers are for the ones that have been affected by it. May God bring them through this and restore their strength.
Even though there are many restrictions we are thankful God is bringing us through this time. We believe that God has brought us here for "such a time as this" to be a witness for Him.
All because of Calvary, Matthew Welch and family
-------------------------------------------------------------------
October 2020

"And let the peace of God rule in your hearts, to the which also ye are called in one body; and be ye thankful. Let the word of Christ dwell in you richly in all wisdom; teaching and admonishing one another in psalms and hymns and spiritual songs, singing with grace in your hearts to the Lord." Colossians 3:15-16

Our praying friends and family in the Lord,

Colossians chapter three is one of those passages where, if you're not careful, you'll extract the "dos and don'ts" and miss the "who and why." How anyone can overlook the resurrected and reigning Christ and His redemptive work is a mystery, but there are those who manage. In chapter three we're commanded, as resurrected beings, to look and to long for heavenly things. Only those souls who've passed from death unto life, by virtue of the second birth, are free to rise unfettered, victorious over the world and its pull. The resurrection not only frees us from things, but frees us to things as well. Being freed from the service of external and internal sin, we're at liberty to love and serve one another. Looking to and loving the living Christ benefits the whole world, beginning at home.

Tucked right in the middle of this passage are the means for mastering our mess (if you like alliteration): the peace of God and the word of Christ. They are contingent upon one another: Peace can't rule where the word doesn't dwell, and the word only dwells in those who dwell in it. To put it another way, get your head in the heavens and make the word your foundation, and you'll find out that come what may, it'll be alright. You can face a frowning world with the smile of God's favor. One more thing on a tangential note - if 2020 hasn't yet incentivized you to get a hold of Heaven and find some comfort, just wait 'til 2021.

What an introduction to a prayer letter! Hello from Bulgaria. It's been quite a while since I've sent out an update, though we try and post regularly on our Facebook page "The LeFevres in Bulgaria." We've been back just shy of two months, returning on the sixteenth of August. Our return trip, though uneventful, was nevertheless surreal. Having traveled extensively prior to the global pandemic, we were taken aback by the "new normal": a sea of highly regulated masked faces, herded onto half-filled planes, providing minimal service. The flights passed quickly, and we were in Bulgaria in record time. Upon arrival, seeing as how America is listed as a hotbed for COVID activity, we were given the option of quarantining or testing. We opted to take the test. Thank the Lord all of us tested negative for the virus, though some of us tested positive for meanness.

Bulgaria, like most everywhere else, has mandatory mask laws, social distancing requirements, and crowd limitations. And like most everywhere else, the general population doesn't seem to bother: Masks are worn as chin straps; distance is ignored as someone might cut in line, and very few places have ever been filled to capacity. And yet, what is the one type of gathering that draws the most scrutiny? Evangelical meetings. Bulgaria has had almost ninety straight days of mass protests against government corruption. Yet who makes the news for perpetuating the spread of corona? A church in Plovdiv. As such, the meetings have been kept very low key. The national pastors continue to minister circumspectly, endeavoring to be "wise as serpents, and harmless as doves." The weekly American meeting has resumed, as well.

In spite of COVID, or perhaps because of it, people seem hungrier for heavenly things. Those souls that brave meeting, leave with full and grateful hearts, appreciating more what they missed. Pastor Alish testified about a particular village church he'd almost given up on a year ago. He said that when they saw him, they asked if he was coming for church. He said, "If you all want church, I'll come back next week." They responded, "What's wrong with right now?" In no time, a small crowd gathered, and they had a real meeting. In the village here, Hannah and her mother went to sing for a widow woman and her daughter. The man of the house lived and died an atheist, but his loved ones are seeking for something more. Brother Mitko said that everywhere the virus has taken its toll, not on people's health so much, but on their finances and livelihood, and has them looking for something not subject to change. Praise the Lord we have the answer in our unchanging God and His eternal word

All the family fares well, and everyone sends you their greetings. All of our existing visas are secure, so no worries there. We're working on getting Derrick his visa. Remember us in your prayers. Remember the ministry.

Love y'all

Because of a living Savior, The William LeFevre Family www.facebook.com/bulgarianlefevres
---------------------------------------------------------------------------
Dear Pastors, Friends, and Churches, June - August, 2020

Who would have dreamed that the COVID-19 virus would have lasted this long? We have had several of our national pastors and fellow laborers to contract the virus. It is with sadness that I inform you that one of our pastors in Panama died from complications caused by the virus. I preached for him last year in his church and he took me out to eat afterward. Pray for his family and also for the church family. Even on the Amazon, a pastor and his family fell ill to the virus. In Bolivia, a pastors' associate and his wife got sick due to COVID-19!

We know all this was prophesied in the Bible. In Matthew 24:7, Jesus said in the last days, "nation shall rise against nation, and kingdom against kingdom: and there shall be famines, and pestilences, and earthquakes, in divers places". The 1828 dictionary describes "pestilences" as follows: any contagious or infectious disease that is epidemic and mortal. That is a thorough description of COVID-19!

Due to current travel restrictions I have included several older Hispanic church meeting pictures we've attended while on the field. The airports were supposed to open up in the beginning of August, but that did not happen. However, we were able to get some support to them in the spring to help out until we can travel again. We will make a couple of quick trips to get their support to them as soon as the airports reopen.
In August we returned from our annual conferences in West Virginia. Obviously, we were not able to bring in men from international countries to these meetings. Brother Ron Cole, Brother Humberto Gomez and myself preached and showed videos to cover the conferences. We also closed out our conference in Hickory, NC. We had great services in all these meetings. However, several churches had to cancel their services, but the videos were made available online. What a weird year that we all have experienced! I am glad the Lord knows all about this and it did not take Him by surprise. He knows where we are!

Joyfully Yours, Farren Caeble 1 Sam. 12:24

--------------------------------------------------------------------
Dear Praying Friends and Family, July - August 2020

I hope this prayer letter finds you all well in the Lord and rejoicing in His blessings.

The Quarantine: The Ukrainian government has once again put the country on lockdown, this time till October 31st. As I sit to write this letter, our family and about half of our church is experiencing Covid-19 symptoms: loss of taste and smell, fever, chills, aches, fatigue, coughing, and difficulty breathing. But that is just what has happened in the last week. We have had sickness in our home for the last two months and it has been a bit daunting. First, my two boys, Ben and Sam, contracted streptococcus at a youth outing which turned into scarlet fever. After that ran its course, mumps hit our family. My wife has been trying to nurse us all back to health and then she finally succumbed to the virus. She is now showing signs of pneumonia and asked me to ask you all to pray for her. This is a little strange for us, because the Lord has been so good giving us good health for years. We hardly ever get sick.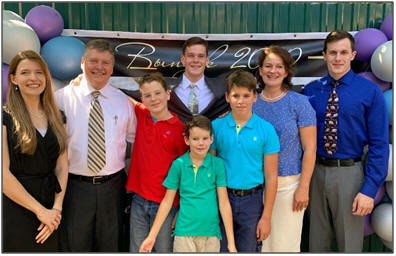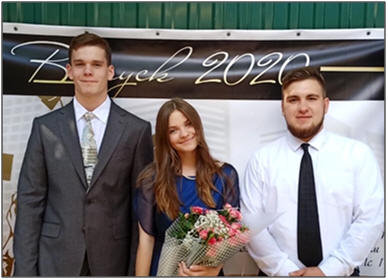 Graduation Service: After battling sickness for over six weeks we thought we were in the clear and decided to finally hold a special service for the graduates in our church. My son Samuel, was one of them. He has worked very hard. There were a few unsaved family members in attendance who listened closely to the preaching of the word of God. It was a big step for them to come to church. Please pray for their salvation.
Bible Institute: The Bible Institute is now finished and preparing for a graduation service, which will have to wait a while. I planned to invite a special speaker for the milestone event in our ministry, but the shutdown has changed all of that. Now that it is behind us, we are concentrating on strengthening the church and preparing to transition to national leadership.
Church Building: We are very grateful to report that we now have over 40% of the funds needed to begin the new church building. Thank you for praying and to those who have given to this need.

Prayer Requests:
• Our family's health.
• The salvation of souls and especially of our neighbors.
• Our various literature projects.
• God's direction for furlough.

Thank you for all that you do for the Lord, giving us the privilege to serve Him in Ukraine. Until our next prayer letter or our meeting in the air!

That Ukraine May Know Him,

Christopher Rue Phil. 3:10
-----------------------------------------------------------------