"If any man serve me, let him follow me; and where I am, there shall also my servant be..." John 12:26
Mission and Support Address: Charity Baptist Mission Inc. P.O. Box 692 Bristol, TN 37621-0692 USA
-----------------------------------------------
From Romania
-----------------------------------------------
Dear Friends in Christ, December 2022
Greetings in the Name of our Lord and Savior Jesus Christ. As we come to the end of another year, I want to thank the Lord for letting us continue to serve Him. He has been more than faithful. This year has not been without its trials but we have seen the Lord do great things in spite of the storms…maybe even because of the storms.
I was talking to the kids in church last Sunday about the foundation on which we build our lives. I said that if we build our lives on the foundation of Jesus Christ, we may face storms but our foundation cannot be shaken. I told them that the storms we have been through in these 30 years on the field, rather than discourage us or cause us to doubt, have revealed to us the worth of our foundation.
One of the first Turkish meetings Brother Ralph started after we moved to Romania was in the home of a dear, Godly woman named Cadrie. She has been faithful over the years to open her home to anyone who wanted to come to the meetings. Many have come to Christ through the prayers and faithfulness of this precious lady who has always been willing to share her faith, her testimony, her love and her home to anyone who would come.
Over the last few years, the landlord where she was staying became more and more opposed to the church. She would argue about all the coming and going and the noise of the singing and praying. The crowd fell considerably due to her constant harassment. Praise the Lord, we were able to find a larger, nicer home in a better part of town for Cadrie to move into. Since the word got out, every week has seen more and more people coming. Some new folks…some folks we haven't seen in years. Yesterday a little widow woman who cares for her handicapped daughter and grandchildren showed up after no one had seen her for years. There was much crying and rejoicing as she rejoined the fold. God is so good! Sister Cadrie feels like she is in Heaven! I thank the Lord for blessing her faithfulness.
I want to thank everyone who has been so gracious to give extra so that we may have a bountiful Christmas with our kids and those to whom we minister. I know it is not always easy. We truly appreciate it. This afternoon, Dara, Sandy, the kids and I are putting together packets of food to take out to the poorest families in and around our churches here in town. I am glad our kids get a blessing from sharing what the Lord has given them.
A little while back, our 13-year-old son, Creed, started asking from time to time if he could walk by himself to the neighborhood store about a quarter mile from our house. He said he just likes to go for walks. We said, "Sure, be careful". When he would come back, I'd ask if he got anything from the store. He'd say, "No, Sir". We found out recently he has been using his own money to buy things at the store for a homeless man and his son who shelter beside the store. Can you imagine what a blessing that is for us?
I am putting together another shipment of food, clothes, Gospel tracts and other necessities that I plan to take into Ukraine in the coming days. The Ukrainian pastor who distributes these to his churches in the war torn areas says these things continue to be desperately needed. Thank you to those who have sent funds to make this possible.
Thanks to Larry and Carrie Leach's "Coats for Kids" ministry, we were able to fit 35 children with very nice coats and socks. These are children whose families live beside the municipal garbage dump in a nearby town. They are, as the saying goes, 'poor as Job's turkey'. (I'm not sure where the saying comes from…I can't find one mention of a turkey in the entire King James Bible, much less in the Book of Job) Anyway, we have been able to hold church meetings and minister to these families for some years now. Putting coats on those precious kids has become a highlight of our Christmas season each year.
One last testimony before I close…. We have two boys in the Children's Home, Billy and Gabriel, who are "special needs" kids. I say kids, but they are now 20 and 19 years old. They are both precious, sweet boys who, even though they have always been way behind mentally, have always been just part of the family like everyone else. Brother Ralph used to say that, even though they maybe would never understand all there is to know about salvation, he believed they were "safe" in God's love like any other little child. We were so blessed a few weeks ago as we were sitting around talking about how thankful we are for our kids that are saved, when Billy chimed in "I know I am saved! I know Jesus saved me!" I believe he is. Billy and Gabriel have never missed a church service in their lives. They sing the hymns the best they can. They sit quietly and listen to the preaching. You never know what God is doing.
I am so thankful for what the Lord has let us be a part of all of these years. We are blessed much more than I have words to express. This holiday season, I pray you can truly see how blessed we all are by our Saviour, the Lamb of God, Emmanuel, Christ the Lord! Our best wishes, sincere prayers and heartfelt thanks go out to you all.
In Christ, Dave, Dara, Sandy and the Kids (A two page printable PDF version is available here)
---------------------------------------------------------------------------
Dear Friends in Christ, September 2022
Greetings in the Name of our Lord and Savior Jesus Christ. First of all, I want to thank God for how good He has been to us here. The 3rd of September marked 30 years since Dara and I arrived in Bulgaria to work with her parents, Ralph and Sandy Cheatwood. We arrived eager and willing to serve the Lord, having no idea what that would mean. The Lord allowed us to grow and learn and be a part of a wonderful ministry where we have seen thousands saved and churches planted all over Eastern Bulgaria and Romania.
More than 20 years ago, the Lord let us build Casa Julia Children's Home in Romania… not only to run, but to be the parents of a wonderful group of children. Praise God, almost all of the children we have had the privilege to raise have been saved. Last week we had a baptism service for two of our own children, our son-in-law and the girlfriend of one of our boys. The Lord gave us beautiful weather and we had a wonderful service and then baptized them in the Black Sea.
The war in nearby Ukraine continues. Even though this tragedy has been replaced in the news, and probably in many people's minds, with more exciting stories; there are so many still displaced and suffering from the continued fighting…homes destroyed; loved ones lost, injured or killed; jobs lost; lack of food, electricity and basic supplies. Regardless of how you feel about the war, there are many thousands of lost people who need to know that there is a loving heavenly Father who wants to help and heal them. A Father who loves them so much He spared not His own Son to save them.
In the last month I was blessed to be able to make two trips across the border to take supplies into Ukraine. We have been working with a Ukrainian pastor, Brother Alex, who is travelling to the war torn areas to take these supplies to the families and Ukrainian soldiers who are suffering the most. He is also preaching as he goes from town to town to distribute food, clothing and other much needed supplies. Brother Alex is declaring and showing the love of Christ as He shares the Gospel.
Together with another missionary brother here in Romania, we were able to buy Brother Alex a van to distribute these supplies. On my last trip, I took clothes and socks because, Brother Alex said that many of the soldiers in the hospitals do not have even a change of clothes when they are brought in bloody and injured.
I thank the Lord for opening the doors and protecting me as I travelled inside Ukraine. If you have never crossed the border in one of these Eastern European countries, you can't imagine how tense it can be and how many things can go wrong, especially carrying a ton of valuable supplies. So many times the Lord opened doors and cleared the way for me. Several times I had to cross through military checkpoints, show my documents and have the contents of my vehicle searched. One of these times, I was able to witness to the soldier who was inspecting my vehicle. I gave him and his fellow soldiers some camouflage winter hats, some Gospel tracts, and pointed them to the church I was going to in the nearby town. They were thankful and seemed to appreciate that others were praying for them and their country. They are fighting a war of flesh and blood, but are unaware of the battle for men's souls that is raging all around them. I thank the Lord for protecting His soldiers as we endeavor to fight the good fight.
School is back in session. One of our girls started high school and we have three in middle school (one homeschooling with Dara) and our youngest in 3rd grade. Our two "special needs" boys got into a very nice vocational high school.
Thank you all for your continued prayers and your support. If the Lord lays it on your heart to help the folks in Ukraine, I will be sure it gets into the hands of those who truly need it.
In Christ,
Dave, Dara, Sandy and the Kids (a printable PDF version of this letter is available here)
"If any man serve me, let him follow me; and where I am, there shall also my servant be..." John 12:26
----------------------------------------------------------
Dear Friends in Christ, May 2022
Greetings in the Name of our Lord and Savior Jesus Christ. Praise the Lord we are all safe and healthy here in Romania. It is hard to believe that a couple of hours away in the Ukraine, lives and homes are being destroyed by war. Shortly after the war began, American missionary Casey Kline and his family fled the bombing that had begun in their town in Eastern Ukraine. After three days in the van with their six kids, they arrived here at the Children's Home, literally shell-shocked and exhausted from their treacherous escape.
They stayed and recovered with us for about 10 days during which Casey and I found ways to transfer money to Ukrainian national pastors to help the families who were not able to flee. Since then, we have hosted other missionaries and Ukrainian families who have been working tirelessly to get Bibles, Gospel literature, food, water, medical supplies, etc. to the families who have been stranded in the areas where fighting has taken place. Many of these families have been without electricity for weeks and these necessities have been increasingly difficult, if not impossible, to obtain.
While missionary brothers Richard Maher and Paul Gray stayed with us, we had 50,000 Gospel tracts printed in both the Ukrainian and Russian languages. They drove a part of these into Bulgaria to help the efforts of the missionaries working there. Another part, these men took to distribute to preachers and pastors along the many Romanian and Polish border crossings into Ukraine.
We have learned from these missionaries to Ukraine that one of the biggest obstacles they face is having someone, a Ukrainian, who can cross the border into Ukraine and take literature and aid directly into the areas where it is needed. Alex Kamnev is a Ukrainian pastor who escaped the bombing in Mikolayiv. He and his family are staying with another American missionary family near us. He has been making trips into the heart of the war torn areas to take supplies to his churches and families who have not been able to get out. We were able to help him fill a van with medical supplies and he left yesterday on the perilous journey back across the border.
We are grateful to have someone who is willing and able to get supplies, money, and Gospel literature directly into the hands of those who so desperately need it. Please pray for this pastor and the many others who are literally risking their lives to try and help their people. If you are able to supply funds to help in these efforts, I will ensure they get to these brave men who love their brothers and sisters more than their own selves.
As soon as the weather warms up a bit more, we are going to have a baptism service at the Black Sea for the new believers, including some of our Home kids. Thank the Lord for that!
We appreciate all the prayers and support. We love you.
In Christ, Dave, Dara, Sandy and the Kids
--------------------------------------------------------------
Dear Friends in Christ, May 2021

Greetings in the Name of our Lord and Savior Jesus Christ. I hope this finds all of you doing well, healthy and enjoying God's many blessings. I do not know how things have been where you are, but here in Romania and Bulgaria, this past year has been a difficult time for us.

The virus infection rates are beginning to fall but most of our Home kids have been forced to do school on-line for about a year now. Just this week they are returning to in-person schooling. Please pray for our children. It seems to me that Romania's on-line schooling did not work very well and the kid's learning has suffered terribly.

For us, the biggest hardships have been the ban on gatherings and the restrictions on travel for Americans between Bulgaria and Romania. Until the virus hit last year, the missionaries in our group living in Bulgaria were meeting weekly for an English church service. I was driving down from Romania as often as I could to be there. For the better part of a year, the missionaries have not been able to openly meet and, even if they could, I would have had to quarantine 2 weeks had I crossed the border.

Because of the restrictions, most of our Turkish work has been meeting with the believers and their families in their homes. A few weeks ago, we felt led to gather the Turkish believers in this area at the Children's Home for a meeting. We had been doing this weekly before the pandemic hit last year. Even though we were not supposed to be meeting in this way, Bro. Nathan Reed, his son Jacob, and I gathered around 50 believers and had a meal and then a three-hour service. The Turks were thrilled to get together and many testified how much strength there was in getting together again to worship. A couple of weeks later we did it again and plan to continue, Lord willing, every couple of weeks or so. Pray that we will not have trouble with the authorities.

Praise the Lord, we have been able to continue to have English church services here at the Children's Home on Sundays and Wednesdays. Some of our teenagers have been inviting their friends to church and several have been coming regularly. I just preached recently about how it seems, with each passing generation, fewer and fewer people are choosing to follow and serve the Lord. It is encouraging seeing these kids showing a desire to share their faith and getting a burden for their lost friends.

With vacation coming soon, the older kids are hoping things open up enough that they can get summer jobs. I am already teaching the younger ones to use the lawnmower so they can take over yardwork.

We thank all of you for your continued prayers and support. May the Lord protect you and bless you and your families.

UPDATE: Before I had a chance to send this letter out, two of the girls in the Home got saved! Melek (14) and Blue (8) got saved at a very good Mother's Day service on May 9th. They have both been coming to the altar and praying a lot over the last couple of months and we knew the Lord was dealing with them. During the song service, the Lord moved in and they hit the altar with tears flowing. Praise God, they said afterward, each in a different way, how the Lord touched them and they knew they were now saved. Can you imagine what a Mother's Day blessing that was for Sandy and Dara! Thank you again, Lord, and Bless Your Holy Name!

In Christ,
Dave, Dara, Sandy and the kids

----------------------------------------------------------------
Dear Friends in Christ, May/June 2020
In 1859 Charles Dickens wrote "It was the best of times, it was the worst of times, it was the age of wisdom, it was the age of foolishness, it was the epoch of belief, it was the epoch of incredulity, it was the season of light, it was the season of darkness, it was the spring of hope, it was the winter of despair." This seems more appropriate these days than ever. Our country, even our world, is in turmoil such as I haven't seen in my lifetime. Many souls are in darkness and despair.
In the midst of this gloom there is still a spring of hope, an eternal light for those who seek the truth. Jesus Christ is still working to gather in souls unto salvation. He is still comforting the hurt and the heartbroken. He is still spreading His wings to protect and provide for His children.
Romania declared a state of emergency that has kept everyone largely confined for more than two months now. Because we answer to the state regarding our Children's Home, it has been even more strictly applied to us. Dara, Sandy and all the kids didn't leave the confines of the Children Home property during all this time. I was only able to go out occasionally to stock up on essentials for the Home. As of June 1st, the restrictions are easing somewhat, but not entirely.
Thank the Lord, since we are all here together at the Home, we have been able to have our church services on Sundays and Wednesdays. We have had some really good services and have prayed much for you who maybe have not been able to meet regularly and for our national believers here who also have not been allowed.
We have kept in touch with our national pastors and many believers. Bread has been delivered daily to the poor families we normally help. Even though we have not been able to hold regular meetings among the nationals, some of the missionaries have held "virtual" meetings joined by believers who were able to gather their families around a telephone to worship. I know many of the believers have continued to meet in their homes to sing and pray, waiting for the time when we can all worship together again. Please pray for these folks.
As I said, in the middle of all this, the Lord has continued to bless. After the shock wore off of not going to school, not seeing their friends and not even going to the little village store down the road, the kids adjusted well. A few of the kids are older and only the Lord knows where they will be in the near future. We have spent a lot of time "reconnecting" in the family and in the church. We have had wonderful fellowship, prayer and worship that I believe they sorely needed at this time in their lives. In many ways, this quarantine has been a great blessing.
I know many of you continue to pray for us. We thank you and are trying to do the same for you. We give God all the glory for what He is doing.

In Christ, Dave, Dara, Sandy and the kids
------------------------------------------------------------------------
Dear Friends in Christ, January 2020

I pray that you have had a good year in the Lord and, as the Romanians say, that the next year will be at least as good as the last.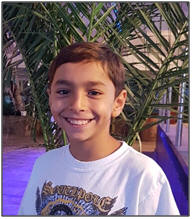 This is Johnny. He grew up homeless with his mother and little sister. Almost 3 years ago now, when his grandmother died while his mother was away in Germany looking for work, he and his sister, Blue, became a part of our family. He was 7 years old and had never been to kindergarten or school. He told us stories of how he and Blue and his mother would go around with an old shopping cart to gather plastic bottles and pieces of metal to sell so they could buy some food. At night, Blue, who was still a baby, would sleep in the shopping cart in the park or wherever else they could find a little shelter. I was able to get Johnny enrolled in school. He is now in second grade and has been at the top of his class since day one. Most kids who have grown up on the street, by the age of 7 or 8 years old, have already had to turn to stealing to get by. Many have already done drugs, even if it is inhaling a narcotic, toxic stove pipe paint. For so many, this cruel, uncaring world has already crushed their innocent spirit. Somehow, the Lord protected Johnny. He is the kindest, sweetest and most tenderhearted child you will ever meet. He has brought so much joy into our lives. He is almost the same age as our biological son, Creed. They are inseparable. Earlier this past year, in one of our church services at the Children's Home, Johnny asked God to save him and accepted Jesus Christ as his Savior. This past summer, I had the privilege to baptize Johnny, Creed and two other of our kids, Sully and Kelebek, who were all saved around the same time.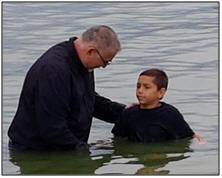 If you were to ask what kind of year we had in 2019, I would have to say, like most years, we had our ups and downs. But to see God save the children He has given us to raise makes everything worthwhile. I say we had a wonderful year, Praise His Holy Name!

Our thanks to all of you who have been faithful in your support of our ministry and our family. I hope that seeing the fruit of your prayers and financial sacrifices is a blessing to you.
In Christ,

Dave, Dara, Sandy and the kids
---------------------------------------------------------
Dear Friends in Christ, April 2019

Greetings in the name of our Lord and Savior Jesus Christ. The Lord has been so good to us and blessed us so much lately that I don't know where to begin to tell you and surely cannot even scratch the surface. But I have to tell you what I can….."Oh that men would praise the Lord for His goodness, and for His wonderful works to the children of men!" Psalms 107:21.

Sunday night we had a wedding in the Children's Home church. I had the privilege of both giving away and marrying our daughter Sevgi. She married a fine young man, Clay Croll, whom we have known for years and spent a lot of time over the last few years here with us. Dara has known his parents, Jeremi and Angel Hayes, since she was a teenager playing piano for the Brookside Children's Home choir. We thank the Lord He let us take Sevgi as a newborn baby and raise her up in our Home and in our church. Pray for Clay and Sevgi as they begin their new life together.

The wedding was on the last night of a 5-day campmeeting here at the Children's Home. Our missionary families living in Bulgaria had come up to worship with us. In every service, there were also personnel from the nearby American military base. We started on Wednesday and our missionary men, Nathan Reed, Zachary LeFevre, Larry Leach, William LeFevre and Mitko Stefanov preached some of the best messages I ever heard. The Holy Spirit could be felt moving in every one of the services. Saturday morning we didn't even have any preaching as many started testifying and crying. The altar filled. No one wanted Jesus to pass by without them having a chance to touch His garment. Praise the Lord, our 17 year-old son, Sully, who for more than a year had been wrestling with salvation, said he wanted to proclaim that the Lord saved him! Dara's mom Sandy gave Sully a note from a dear saint that has been praying for Sully for many years. Sandy said "Miss Lavinia gave me this note three years ago to give you when you got saved. I've been bringing this with me to every church service for three years". After the "Praise the Lords" and "Halleluiahs" died down, we spent another half an hour with one after another telling about how they got saved. Clay, then Sevgi's fiancée, stood up toward the end of the service and said that a few weeks before, alone in the garden at the back of our property; he asked the Lord into his heart and was saved. Talk about a wonderful service!

We give all the glory to the Lord Jesus Christ! Over the five days of this meeting, there were many prayers answered. Many were encouraged and helped. Everyone left with a rekindled desire to draw closer to the Lord and a renewed assurance of God's desire to hear and answer our prayers.

In June, it will be one year since the Lord took Brother Ralph home. We continue on with the work here the way he taught us. Before the end of last summer, we completed the church in Avren, Bulgaria, that he had started building. We have been having Turkish meetings there and all of us missionaries who are able meet with our families for English church every Friday night. As I mentioned in earlier letters, by God's grace, we will take care of what Bro. Ralph founded…preaching and starting churches, printing the Bible in Turkish that he translated, and feeding, clothing and helping those in need through the churches.

I feel compelled to mention a couple of needs that we have. Praise God, the Avren church is completed; but we still need to complete the Bible printing/binding shop and the storage area for coats donated for distribution. We lack the necessary funds for this work. Also, the Turkish pastor, Alish, who for years drove Brother Ralph to meetings and then cared for him through most of his final months, is in need of a vehicle. His current vehicle is beginning to have problems due to the countless miles going to village meetings. A nice, used vehicle that would get him to the villages for many years to come can be found for about $5,000. Please pray about these needs. We thank all of you for your prayers and continued support.

In Christ, The Turners
-------------------------------------------------------------
Dear Friends in Christ, February 2019
Greetings in the name of our Lord and Savior Jesus Christ. First and foremost, I want to thank the Lord for being so good to us and taking such good care of us. He is merciful, kind, faithful and many, many other things. He is worthy of all our praise and thanks.
The Lord just brought us through a trial that could have shattered all we have built here in the Children's Home. Our Children's Home building is wood-framed with lots of interior wood as well. The laws here changed recently and we had to do major fire-proofing or risk not being able to use this building. This would have meant having to move out of the only place our children have known as home and the church where they have always worshipped and many were saved. Without the Home, the children could have been taken by authorities and scattered among other placement centers, tearing apart their family and their world. It would have been awful! The work required involved weeks and weeks of our labor as well as having several specialists come in to do their part, not to mention a great expense which was unexpected. Praise God we had many of the saints praying, some donating money to cover the expense. The kids helped tremendously and even the Chaplain at the nearby American military base sent teams on several occasions to help with the incredible amount of work involved. To add insult to injury, the inspectors called one morning and said they would be here in an hour – weeks earlier than we expected. We didn't quite have the house "back together" after all the work….there were smoke alarms not remounted, fire extinguishers not back in their places and so forth.
The whole time, we could only think, "This is God's work. These are His children. He called us to do this. Surely He won't let us lose it all." I have to admit there were times when my faith was shaken. But Praise God, Jesus Christ is the Rock on which we have anchored our hearts and our Home and He would not be moved. When the inspector came, he was very nice (very unusual) and did not appear to be 'trying' to find something wrong (almost unheard of). He only cited us for a couple of minor infractions which it seems they must do to justify their visit. In the end, I can only believe that God worked everything out, even down to softening the heart of the inspector. I know He heard and answered all of the prayers that were sent up on our behalf. Our prayers do matter and we thank all of you who prayed.
We are about halfway through the winter now. Thank the Lord it has been quite a mild winter thus far. Many people in the villages we minister to though struggle without adequate heat and clothing. We were blessed to be able to provide hundreds of winter coats and socks to children in our part of Romania. Brother Larry Leach and his wife Carrie, through their ministry "Coats for Kids", gave us hundreds of like-new coats to distribute to some of the most destitute families in villages where we have churches. Our kids and I gave out over 40 in a terribly needy community about 45 minutes outside of Constanta. Brother Nathan Reed, his wife Teresa and their son Jacob gave out hundreds more in a number of villages where they hold weekly church meetings.
God has been so good to us. We continue to have great church meetings in our little church here at the Children's Home. Today we had five Army and five Air Force personnel from the American base in church with us. We thank our Heavenly Father that He has let us have a part in His work and is always watching over and taking care of us.
In a recent service, one of the other missionaries said that God doesn't call us to do something for Him, but He calls us to follow Him and see what He does. That is so true. We give Him all the glory!
In Christ, The Turners
----------------------------------------------------------------------------
Dear Friends in Christ, November 2018
Greetings in the name of our Lord and Savior Jesus Christ. We hope you are all doing well. We thank the Lord for the prayers that go up on our behalf of which I am sure there are many.

When I last wrote, I told you about the dedication service that we held in Avren, Bulgaria, which was the realization of Brother Ralph's dream to have a church and a printing facility in that village. All the missionary families gathered to honor Brother Ralph and to dedicate the new building to the Lord by having a service to praise and worship Him. It was a very good service – some tears, some laughs – as we remembered Brother Ralph's many years following God and then leading us in the way we should go. Again, we want to thank everyone who either prayed or sent in the support that was needed to complete the church.

On the 2nd of October, we held the first Turkish meeting in the new facility. One of Brother Ralph's oldest friends, Brother Gary Armstrong, a pastor from Massachusetts with his wife, came to celebrate with us the birth of this new church. Brother Gary told the Turks about working with Brother Ralph more than 40 years ago and reminded us all of how our faithfulness is rewarded with much fruit. God has surely been faithful to us and has blessed us beyond measure. One of our Turkish national pastors, Brother Alish, who was saved under Brother Ralph's preaching many years ago, also preached. We had a great meeting and are excited about what the Lord will do in Avren.

Several weeks ago, a young mother who comes occasionally to the Romanian church I lead, came to the meeting and asked us to pray for her child. I had known this woman as a beggar who only came to the church when she wanted to ask me for money. I rarely gave her anything, not believing the stories she would tell about why she needed money. This time something was different. She didn't ask for money, she asked for prayer. Seems her 1 year-old son, David, had been born with a place in his spine that leaked spinal fluid. There was an open place on his back where this fluid seeped out constantly and never healed. She had been told by a doctor that if the child did not have an operation to close up the place on his spine, he would likely soon be paralyzed from that point down. We prayed for her child in the service. She told me after the service she had been getting money together to have the operation done but was afraid it would be too late. I had a little money with me and I gave her what would be about enough for the train trip to Bucharest where there operation would be done.

Last week at the Romanian meeting she was there again…this time testifying about how the Lord had saved her child. Apparently, when she got to the hospital in Bucharest and checked in, she was told that the operation would cost her twice what she had understood. She said she broke down crying in the room knowing she must return to Constanta with her child not having the operation. She said a woman staying with her own child in the same room had overheard her conversation with the doctor and told her that they needed to pray. She said this woman prayed with her in the hospital room. As she was on her way out of the hospital a nurse stopped her and told her the doctor would do the operation for the amount of money she had. The operation was very successful and her little boy was with her at our meeting. She was beaming as she testified about how the Lord had helped her. I was reminded how the lame beggar went into the temple leaping and praising God. I am glad this woman saw the Lord has something much better than silver and gold! I thank Him for answering our prayers, strengthening the church and putting faith in the heart of this woman. As always, we thank you for remembering us in your prayers.

In Christ, The Turners
--------------------------------------------------
Dear Friends in Christ, September 2018
Greetings in the name of our Lord and Savior Jesus Christ. So much has happened since I last wrote that I hardly know where to begin. We have had everything from wonderful experiences seeing the Lord work miracles in the lives of those around us to heartbreaking loss that shook us to our foundations.
We have a 'campmeeting' here at the Children's Home three times a year. All the missionaries in our group, both in Romania and Bulgaria, meet for five days of preaching, praying and fellowship. We always hope to see the Lord really move in and do great things. In our meeting in March, He certainly did! Three of our children (two in the Home and one biological) got saved! Johnny 9, Kelebek 10 and Creed 8. Sometimes, when young children get saved, you might wonder "Did they really get it? Did they really understand?" In the months since the campmeeting, it has been evident that they REALLY got it. They pray every night and almost always ask the Lord to save the other kids that are still lost. We recently had a mission group from Texas visit. After they had been here only a little while, one of the men said "I really like this place. I wasn't here five minutes and your boy (Johnny) asked me if I was saved!" The salvation of our children is something that we have certainly prayed much about and we want to thank and glorify our Savior, Jesus Christ that He would do that for us.
In June, we had the bittersweet home going of Dara's dad, Ralph Cheatwood. He served as a foreign missionary for over 40 years before going to take up residence in his eternal home. Brother Ralph was the driving force behind the great work that we are part of here in Romania and Bulgaria. We learned so much from watching him seek the Lord and not being afraid to follow wherever that might lead. He blazed the trail that we and the other families involved with us are following and, by God's grace, will continue on. About reaching the Turks he said, "Love them and learn their language". He preached to them in Turkish and translated the Bible for them into the Turkish language. We certainly miss him now. There were, however, already many believers, whom he called his 'crowns', who had gone ahead and were waiting for him as he entered that Eternal City. Even our own little Noah Cross was waiting for his Granddad. We thank the Lord for Brother Ralph's leadership and example for us to follow as we continue on in this work.
Before Brother Ralph became ill, he bought an old house with a small cheese factory attached. He had begun working on converting it into a church and facility to print and bind Bibles and hymnbooks. In his last weeks, Brother Ralph asked us to finish this project for him after his passing. We, along with the other missionaries, raised the money and the work was done this summer on the building. On Sept. 23rd, we had a wonderful dedication service in the new building with all the missionary families attending. The church is finished and we have made much progress on the other parts of the building. This is a fitting monument for a remembrance of Brother Ralph. He was all about the local church and getting God's Word out to the people. We praise the Lord we were able to see this done and thank all of you who offered prayers and financial support that this vision could be realized.
Thanks to all of you for your continued support of our family and this work. May the Lord bless you richly.
In Christ, The Turners
----------------------------------------------
Dear Friends in Christ, January 2018
Greetings in the name of our Lord and Savior Jesus Christ. I hope all of you enjoyed the holiday season. Dara and I have been saying that it seems like this has been one of the best holidays ever for us. After our Sunday service on New Year's Eve, I think we can say for sure it is the best. I'll tell you more about that in a minute.
First of all, I want to thank everyone who sent money and gifts for all of our kids for Christmas. It could not have worked out more perfectly. We were able to get the children all we had hoped for and even more. More importantly, we had several family prayer meetings during the time the kids have been out of school and it felt like we really drew together around Christ. It's hard to explain-- you want your children to enjoy the presents and yet you want there to be a spirit of thankfulness and worship toward Jesus Christ and the salvation we have through Him – the most important gift! This year, more than any I can remember, we have had that spirit here in our Home. I want to thank the Lord for that…it really has been wonderful!
Our fellow missionaries working in Bulgaria, Larry and Carrie Leach, once again raised money and bought winter coats for the children in one of our poorest villages. Not long before Christmas they brought the coats; and we took most of our kids with us out to this village to fit every child (over 30 in total) with a beautiful warm coat, each with a pair of socks in the pocket. Our kids took turns fitting a coat to a village child, many of whom came with no coat at all, even though the weather was quite cold. The village children were beaming proudly when we left and our kids were warmed with that feeling that comes from being able to show Christ's love to someone else.
We were able to pray for two families we know who each lost a newborn child right around Christmas. Of course, learning of these terrible losses brought back many of the emotions we felt losing our own Noah Cross. We missed having him here with us for Christmas. But, thank the Lord, we were also reminded of that wonderful flood of grace that God poured out on us during that time, now 5 ½ years ago. All of our children here at the Home went through that loss with us and we were all able to pray together for these families in a way that many will never know. Paul said to the Romans "For I reckon that the sufferings of this present time are not worthy to be compared with the glory which shall be revealed in us." I think our short separation from Noah Cross will not compare to the glory we will share together with him for an eternity in Heaven.
Over the last several weeks we have had some really good church services, and it seemed the Lord had been stirring our hearts. On several occasions over these weeks we had young military men and women visit for the first time. We heard that 6 or 7 would be coming to church on Sunday the 31st, the last day of the year. Everyone was feeling the Lord might do something great. My mother-in-law, Sandy, said she prayed the night before that someone would be saved. One of the military men who is a Christian and has been coming regularly told me when he got here on Sunday morning that he believed someone would be saved. We had a very good service. The Lord really blessed as Dara and the kids sang during the service and then afterward when Dara gave a beautiful testimony of God's goodness to all of us.
After the service, a few of us were able to sit down with two of the young men who came and discuss salvation. One of the men, who had been saved years before, was afraid he had drifted so far that he had lost his salvation. We were able to show him from the Bible that it is God, not he himself, who is the keeper of his soul. He now has the Lord's full assurance of his salvation and he made a commitment to get back to that walk with the Lord that had been missing in his life for so long.
The other young man had not been saved; but as we talked with him and prayed with him, he asked the Lord to save him and to come into his heart and life. Praise the Lord!! This was the answer for which we had been praying. Afterward, we sat around singing hymns and testifying until late in the evening. Someone said to this young soldier, "Aren't you excited the Lord did this for you today?", it being New Year's Eve. He said "I am more excited for every day in the next year!" We thank the Lord for saving this young man and for everything He let us have a part in – not just on that day but every day. We are certainly going into the New Year with a renewed excitement for serving our wonderful Savior Jesus Christ.
We pray a blessed new year for each of you. Thank you again for all your prayers and support.
In Christ, The Turners
"If any man serve me, let him follow me; and where I am, there shall also my servant be..." John 12:26
----------------------------------------------------------------------------------------------------------------------------

Dear Friends in Christ, August/September 2017
Greetings in the name of our Lord and Savior Jesus Christ. We are coming to the end of a very busy summer and (at least most of the kids) are dreading the start of a new school year. Six of our Home kids are starting high school this year and our oldest, Meli, is in her last year of vocational school. It doesn't seem that long ago when we were feeding them all in a row of high chairs. When we stop to think about where they came from and the odds that all of them, maybe any of them, would make it to high school, we have to thank the Lord. More importantly, they have grown up in a home where Jesus Christ is at the center of all we do. They know God and have seen His hand on their lives and on our family and work. Many of them have already been saved and baptized. They are all becoming young men and women that reflect Jesus Christ's presence in their lives and we could not be more proud.
Today we were visited by some of the chaplain team serving at the nearby American military base. Dara served them lunch and then we spent some time making plans for groups of the incoming soldiers to come out and be involved at the Home. Before they left, we took them up to the church and Dara and the kids sang several songs. It is always a blessing when the Lord opens the door for us to share His love with others. Several of the soldiers are coming out to be in church with us tomorrow.
We hosted a couple of big Turkish meetings here this summer. The missionaries in Bulgaria brought up carloads of Turks from their churches and we gathered believers from the Romanian Turkish meetings for three day meetings of singing, praying, testifying and preaching. The national pastors did most of the preaching and it is so good to see how, over the years, they have grown in God's Word. They are truly pastors - shepherds - that are caring for and feeding the flock that God has given them.
UPDATE - I wasn't able to finish this letter until after church on Sunday. We did have a group of military join us for church, five men and one young lady. Brother Matt Welch was also here with his family and he preached a beautiful message about Jesus' meeting with the Samaritan woman at the well. It was one of those good services where you could feel the Lord moving and even though you may not have known what it was, you felt like the Lord was doing something. After the service, we found out that the young lady visiting accepted Jesus Christ as her Savior. She was beaming with joy and couldn't stop smiling. We all rejoiced with her and gave thanks to our Lord who, praise His Name, is still seeking and saving lost souls.
Again, we appreciate you who keep us in your prayers and who faithfully support the work here in Romania and Bulgaria. Our prayers are with you as well.
In Christ,The Turners
----------------------------------------------------------------------------------------------------------------------------

Dear Friends in Christ,
January 2016

Greetings in the name of our Lord and Savior Jesus Christ. It is hard to believe we are already starting a new year. It seems 2015 really flew by! We did, however, have plenty of occasions to see the Lord work to take care of us, all of the children, and the work He has let us have a part in for over 20 years.

Bro. Ralph Cheatwood started the Children's Home over 14 years ago. He felt the Lord would have us do this as an outreach of the church work we had been doing for some years already. Several of the Home kids have been saved in the last few years and we praise the Lord for entrusting these souls into our hands to raise. Although we only had one more of the Home kids saved during the past year, we have seen the Lord begin to use these children to share the Gospel in ways we never expected.

Those of you who follow my wife's Facebook page (Dara Shae Turner) have seen how the Lord has blessed our children with incredible musical and singing talent. They play and sing every Sunday in our English service and also any other chance they get. They love the hymns, good gospel music and even some bluegrass and Irish music. Last year, a teacher invited them to bring their instruments and play and sing for their class. Everyone was so impressed that they were asked to perform in each of the classes in the school and also for the director of their school. One of their songs is 'The Value of One' which sings about the rejoicing in Heaven for one sinner saved. The school English teacher was crying when they finished and asked them for a copy of the words so she could translate it into Romanian and give it to all the students and teachers. They have since played and sung many times in the school and were even asked to represent the 7th grade in the Christmas show put on for the administrators and teachers of their school district. Several of their schoolmates and even the English teacher have attended our church. We are so thankful the Lord has given them these talents and that they are so willing, even eager, to use them for His glory.

We have also had the opportunity to share the Gospel with many American military personnel stationed at the nearby base. Groups of 4 or 5 to as many as 16 or 18 have come out to spend time with the kids. We had a crowd for both Thanksgiving and Christmas dinners. We are very happy to be a blessing to these fine men and women who are away from their homes and families to protect our country and our liberties. The base commander, Colonel Ellis, who has been out to the Home, invited Bro. Ralph to preach and the kids and Dara to sing at the Veteran's Day program put on at the base for the soldiers. I was so proud to watch our kids up there singing about how good God has been to them and how blessed they are. They will probably never really know just how blessed they have been. It was wonderful to be able so share this with so many of these servicemen and women, many of whom rarely, if ever, attend church.

The regular church meetings are going very well. Bro. Nathan Reed and his son Jacob work tirelessly with the national pastors to take care of the believers the Lord has given us here in Romania. Along with our three English campmeetings each year with all of the missionary families, we hosted several 'Turkish campmeetings' here at the Home with as many as 100 Turks attending. The missionaries and the Bulgarian national pastors brought believers from Bulgaria and we had great times of worship and fellowship.

The Lord truly blessed us this past year. By God's grace, we will remain faithful to our calling and see what this New Year has in store for us. Thank you for your continued prayer and support.

In Christ, The Turners

----------------------------------------------------------------------------------------------------------------------------

Dear Friends in Christ, August 2015

Greetings in the name of our Lord and Savior Jesus Christ. It seems the summer is flying by and I don't want to miss the opportunity to share with you all the things the Lord has been doing over here. Here in Romania, the summer is so short that you really have to work hard not to miss it. Maybe it just seems that way since we are from Florida.

In July we hosted a 10-day campmeeting with all of the missionary families in our group from both Romania and Bulgaria attending. In the evening service of the 5th day, the Holy Spirit really moved and there were many folks crying and praising the Lord. The altar was full as several of the missionary children sought the Lord for salvation and the rest of us praying for their eternal souls. By the end of the night, 7 of the missionary children had received Jesus Christ as their Savior – one of these, our own precious Missy. It was such a blessing to feel and see the Lord working right in our midst and to have the children testify afterward about the Lord speaking to them and wrapping His loving arms around them.

On the Sunday at the end of the campmeeting we had a baptism service with four being baptized, including our son in the Children's Home, Aslan, who got saved in November last year.

It seems we have had visitors almost non-stop since school got out in June. Several visitors from our supporting churches spent anywhere from one day to one week with us. Many of the American servicemen and women stationed at the nearby base have visited. We even had an Army major who was here last year return with his family to be with us for their vacation this summer. We are so proud of the children and it is a blessing for us to share them with others. The children love to sing and play the hymns and spiritual songs. It is amazing the talent the Lord has given them and wonderful to see them using it for His glory.

After months of prayer and work, we finally received the container of building materials we need to work toward the completion of the unfinished house here at the Children's Home. The Lord overcame so many obstacles in our path to make it a reality. We appreciate all of the prayers and all of the donations that made this possible. Up until the day we actually cleared customs and brought the container out to the Home, we were told we may have to pay a huge amount of customs and sales taxes. Even the lady at the Romanian shipping company who was helping us said "you had better pray" when we were told by the officials at the port that we would, in fact, have to pay it. However, at the last minute, the Lord intervened as the regional customs officials overruled and said we would be exempt from these taxes. This had to have been the Lord's intercession to make these officials go against their colleagues and even the letter of their own law to help us. We are glad we can declare our God's goodness and testify that He is indeed in control.

We praise the Lord and thank Him for all He is doing, especially the saving of our children. Thanks to all of you for your continued prayer....we truly appreciate it.

In Christ, The Turners
----------------------------------------------------------------------------------------------------------------------------

Dear Friends in Christ, December 2014/January 2015

Greetings in the name of our Lord and Savior Jesus Christ. I started out trying to write this letter right after Christmas. I can't believe it is now the end of January and I am just getting it out. We have been so busy, but I do want to let you folks know what has been going on.
We had a wonderful couple of days celebrating the birth of our Lord Jesus Christ. It is our tradition to open presents with the Home kids on Christmas Eve morning and then have our big Christmas meal at the Home in the afternoon. The kids were thrilled with their gifts. We are so blessed to have brothers and sisters in Christ who are faithful to send toys and clothes to our kids and give them a day as special as any child could hope for. These are children who, but for God's grace, would be lucky to have any meal, much less the feast we all enjoyed. They would have had no hope of getting new clothes and toys. But most importantly, they know the true meaning of Christmas because we have been able to teach them and preach to them their whole lives. Our children know we are celebrating the birth of Jesus Christ and what that means. We are surely most blessed.

We were able to share our Christmas dinner with 10 soldiers from the US military base as well as another missionary family from a nearby village. The soldiers were grateful to have somewhere to go on Christmas. Several told how much they appreciated having a 'family' dinner after having been away so long. After dinner, the children sang some hymns and were able to testify about what the Lord has been doing and how good He has been to us. It was a special time for all of us.

In the middle of January, we had a 2-day Turkish meeting here on the Children's Home property in Romania. We brought people in from our churches in surrounding towns and villages. We even had some believers come up from Bulgaria to worship with us. Bro. Ralph was here and preached through the whole book of Colossians over the course of the meeting. Everyone left on Sunday afternoon refreshed and filled from the good services. Bro. Ralph left without his voice after so much preaching!

The village meetings are going well. Please pray for one of our national pastors, Ali. His health has been poor and he has lost a couple of the workers that normally go with him to the village meetings. Praise the Lord, he remains faithful. When I asked him whether he thought he would be able to continue to go to the meetings, he said "There are still people going to hell. I have to go." Please pray the Lord will give him health and strength and the words to speak to lift up Jesus Christ in these villages.

The Home kids are at the end of their first semester of school. It has been hard on all of us! But they are doing well and the Lord has given us grace to get all the homework done, get them back and forth to school and everything else involved.

Once again, I can't say enough how thankful we are to those who helped make Christmas so wonderful for the children. Thanks also to those who continue to faithfully support us, the Children's Home and the work we are trying to do here. God bless you all.

In Christ, The Turners
-------------------------------------------------------------------------------
Dear Friends in Christ, August 2014

Greetings in the name of our Lord and Savior Jesus Christ. We thank the Lord for the wonderful summer we have had thus far. Two weeks ago, we held a baptism in the river near one of our churches in Dobraveno, Bulgaria. The baptism was part of a weekend of meetings. Two carloads of the believers from here in Constanta made the trip down to share in the joy of the 32 new believers who were baptised. Aslan, one of the boys in the Children's Home, got saved recently and is waiting to be baptized with the new believers here in Romania. Lord willing, we will be having more baptisms over the next few weeks.

Three times a year we have a campmeeting here at the Children's Home in Romania. All our missionary families from both Romania and Bulgaria bring their families and spend five days of meetings and fellowship. Our most recent meeting in July was different this time. We had services twice a day from Saturday the 12th until Sunday the 20th – nine days! In many of the services, we were joined by American military personnel from the nearby base who often attend our regular Sunday morning service. Since this was our first ever 9-day meeting, we expected to be exhausted by the end, but the Lord really helped us. It seemed we were more refreshed, both physically and spiritually, at the end than we are after our normal five-day meeting.

Thanks to all of you who prayed for our little church in the village of Eforie. A few weeks ago, the mayor's office gave the family who held the meeting in their house a "container" to live in. This is a converted 8 ft. x 20 ft. shipping container which has 1 door, 1 window, 1 light fixture, 1 electrical outlet and an electric heating unit. Several of the other families who either came to the church or sent their children to eat at the feeding center were also able to move into the little 'container village' on the outskirts of town. Praise the Lord, we should be able to continue to meet with them weekly and, hopefully, continue to feed these poor families as well.

All of our kids will soon start school. We really dread the 3 hours of homework every day! Dara helps the Home kids with their work in addition to homeschooling our boys. Pray the Lord will help all of us.

We know that many of you, both churches and individuals, have felt the pressure of the difficult economic times we are living in today. For us on the field in Romania, it has been felt even more so. Even with the faithful supporters who have sustained us over these 22 years, as the work has grown; it has been increasingly harder to keep up with the rising costs each month. We understand that many may be stretched to their limit trying to take care of their own obligations as well as helping others like us. We do, however, want to make a plea to anyone who might be able to begin supporting the work monthly or increase their support. Please read the enclosed update of the Home here in Romania and pray about helping us meet the needs of the children in the Home as well as the churches and feeding centers we are involved in here in Romania.

In Christ, The Turners
----------------------------------------------------------------------------------------------------------------------------
Dear Friends in Christ, June 2014
Greetings in the name of our Lord and Savior Jesus Christ. We are all well here and the work continues on. We appreciate all of your prayers and support. The Lord has truly blessed us and we do not want to miss the opportunity to thank Him and praise Him for being so good to us.
The Home kids finally got out of school for the summer. They usually go until June 15th, but this year they had to make up for a week they took off for snow in January. We ended up going to the 19th. The kids did very well. I could not begin to guess the number of hours Dara and I worked on homework with them over the year. It did pay off, however. All of the kids 'passed' and two actually got awards for having grade averages over 9.0 (out of 10). We are proud of all of them.
We are expecting a group of soldiers from the American military base this afternoon. They want to come out to the Home and put a fresh coat of stain on our wood fence, but we have had so much rain lately that it would not soak it up. So they will come out and play with the kids today. We have been blessed to have them visit so often. The kids really enjoy their visits and we have had many opportunities to share the Gospel with these servicemen and women.
Please pray for our church meeting in Eforie, a small town about 30 minutes south of here. This is the place where, back in the fall, the city bulldozed the neighborhood of shacks where we were having a meeting and feeding the poor children. The city did allow these families to stay the winter in a condemned building and we were able to help with coats, shoes and food for the children. In spite of the hardships, the Lord held the meeting together. I understand that now the city wants these families out of the building and soon they will be forced to leave. I am told that some will be moved to some converted shipping containers on the edge of town. These containers are about 8 feet by 20 feet with a door, a window, one light fixture and one electrical outlet. I'm sure the ones fortunate enough to be given a container will have to share the space between 5 or 6 members of their extended family. Pray the families in our church will not be scattered and will have a place where they can be comfortable and safe and where we can continue to gather them together and preach the Gospel.
There has been more rain this spring in Southeast Romania and Northeast Bulgaria than most can remember. The end of last week was filled with particularly heavy rain storms. In Varna, Bulgaria, over the weekend, there was a devastating flash flood in a Turkish Gypsy neighborhood where we have had a church for around 20 years. One of our national pastors who was there to help said the water was 15 or 20 feet deep as it came through taking houses, cars, and anything else in its path. He said 12 Turkish people lost their lives and as many as 50 altogether including Bulgarians. Our church is up the hill a little from the worst hit area and, Praise the Lord, as far as we know now, there are no church members among the dead. Many in the neighborhood lost their homes and all their possessions.
Please pray for the families of this neighborhood as they cope with the loss of loved ones, homes and everything they own. Pray our church and its people can be a lighthouse in this storm offering hope though Jesus Christ and a shelter of grace and peace in the aftermath of this tragedy.
----------------------------------------------------------------------------------------------------------------------------
Dear Friends in Christ, April 2014
Greetings in the name of our Lord and Savior Jesus Christ. We want to thank Him and give Him the praise, honor, and glory for all He has done and continues to do for us.
The preaching of the Gospel in the village meetings continues to be the bedrock of all the work over here. These churches are lighthouses of hope in this cold, dark day we live in. Praise the Lord, we are still seeing lost souls finding salvation through Jesus Christ, the light of the world. They come to these meetings praising Him who has called them out of darkness into His marvelous light.
The second week of April, we had a 3-day Turkish meeting here at the Children's Home in Romania. Over 100 former Moslem Turks, now believers in Jesus Christ, worshipped all day and long into the night. The majority came up from the churches in Bulgaria along with our American missionaries and national pastors who take care of them. There were times in the meeting when, for hours at a time, one after another would stand and testify. No one wanted the meeting to end without having a chance to tell about how the Lord had saved them, or how He had blessed them, or how He had answered one prayer or another. As this was just a week before Easter, many who preached spoke about the glorious resurrection of our Savior and many testified of the Lamb who had risen in their own hearts. It was a wonderful time of worship and fellowship, and the churches are strengthened as these folks go back to their villages, filled with rekindled joy and a renewed desire to see their brothers, sisters, and neighbors saved.
There is an American military base about 25 minutes from us outside of Constanta. Over the last several years, between the downsizing of some other European bases and with the increased tensions in the region, it has grown considerably. In recent weeks, we have had several servicemen and women visiting the Home and some attending our church service on Sunday at the Children's Home. After church, we serve everyone who attends a home-cooked meal and then they usually spend hours playing with all the kids. I met with the Protestant chaplain last week and he wants to try and get regular groups of soldiers coming each week to our church. He said he really felt love here and cannot imagine a place he would rather his men and women attend. Many of those who were here expressed that they were truly blessed by our service. One soldier from a large church in Texas, said our 16 kids singing together sounds better than the 50-strong youth choir back at his home church.
The Lord seems to have opened the door to another ministry that we can share in. When we started the Children's Home more than 12 years ago, we saw it as just an outreach of our mission here to preach the Gospel. We have been faithful to raise these children in our little church and to try with our whole hearts to lift up Christ when we get together. Now we are seeing God use our children and our church to reach these men and women, some of whom, we understand, have never been to church. For this we are thankful beyond words. Please pray with us that the Lord will send in the servicemen and women that need to be here and that we will be able to share Christ's love with them and preach His gospel with boldness.
In Christ, The Turners
----------------------------------------------------------------------------------------------------------------------------
Dear Friends in Christ, January 2014

Greetings in the name of our Lord and Savior Jesus Christ. As we enter into the new year, we can be encouraged looking back at how the Lord continually cares for us, provides for us, and even, unworthy as we are, blesses us daily. If the coming year will be anything like the last, we have much to be excited about.

As I mentioned in our last letter, in addition to the many new Turkish believers who accepted Jesus Christ and professed their faith through baptism, we saw several children in the Children's Home saved and baptized, including our oldest son, Grayson. For us, to see God reach down and rescue people whom we love and pray for makes it all worthwhile.

Grayson, who is 16, has been studying the Turkish language and shows a genuine interest in the work. We couldn't be happier and pray the Lord will direct him as he decides the course for his life. Please help us pray for him.

In the fall, Bro. Ralph got on his heart for us to look at ways to more involve pastors and their churches in the work here in Romania and Bulgaria. He believes many pastors and/or missions directors would be interested to visit us and see the work here in conjunction with a trip to Turkey to visit the seven churches of Revelation and other Biblical sites. Bro Ralph, Grayson and I, along with several of our other missionaries, made survey trips driving from Bulgaria into Turkey to visit these sites and to learn more about putting together a 'missionary journey'.

We really enjoyed these trips. Some of these places are spectacular - Ephesus, Sardis, Pergamos – and are rich in both Biblical and ancient world history. We also visited sites like Troy and Assos which are mentioned as places that Paul visited in his travels. Having our own vehicles, speaking the Turkish language, and not being on someone else's timetable, we were able to make the trips uniquely personal. We spent time where we wanted, sometimes preferring to foray into the Turkish countryside rather than visit a popular tourist spot. We found many hotels and restaurants with true Turkish flavor and hospitality that is found no where else. On our way home, we stopped off in Istanbul where Biblical, Islamic, and world histories have been made for thousands of years. Overall, it was a great blessing to see and be in the places where Paul and many of the apostles actually walked and stayed.

We are putting together information in hope that we may host several trips a year to see these sites in Turkey. At the same time, we would like visitors to see our work here in Bulgaria and Romania -- surely the largest movement among Islamic Turks in the world. We are also proud of our Children's Home in Romania. The Children's Home church has become the hub of all the work over here and the other missionaries in our group come many times a year and have their place in the church.

I will write more soon regarding these trips. Please pray with us about these 'missionary journeys'…we don't want to miss this if the Lord is opening a door for all of us.

Please pray for our daughter Shalyn and our granddaughter Aria. They are back in the States and it weighs heavy on us. We miss them and ask the Lord to protect, direct and care for them.

This month we had 2 vehicles break down (not worth the cost of repairing) and didn't know how we were going to make due. In the course of a weekend we were able to sell the broken cars and with the help of some dear saints of God, we have been able to order a new 7-seat vehicle to replace these others. God delivers again! We thank Him and those precious friends He used to fulfill our great need.

Thank you for your prayers and continuing support. We love and appreciate you all. In Christ, The Turners

----------------------------------------------------------------------------------------------------------------------------
Dear Friends in Christ, March 2013
Greetings in the name of our Lord and Savior Jesus Christ. As always, we want to thank God for allowing us to be here in Romania to share the Gospel of His Son Jesus Christ and to show His goodness by loving and helping His children.
We thought we had escaped with quite a mild winter this year. It was starting to warm up and even some of the trees were budding out. We were mistaken. Yesterday the wind blew all day at about 30 miles per hour and the temperature dropped down to 17 degrees. We are expecting snow over the next few days. After that (fingers crossed), it is supposed to warm up again and maybe we can enjoy the beginning of spring.
In spite of the gloomy weather, our spirits are high and we are rejoicing. Last week, we held the campmeeting we host at the Children's Home in Romania three times a year. The missionary families from Bulgaria join us for 5 days of preaching, fellowship and, of course, eating. During the Thursday evening service, the Lord really moved in and our oldest son, Grayson, was saved along with Niki and Sheker, two of the girls in the Children's Home. We could not be more blessed and happy to have the Lord do this for us. We are fortunate to be in a work where we see many coming to know the Lord; but, when it happens in our own house it is especially sweet.
Lord willing, these three will join our other new believers in baptism this summer. Last summer, Shalyn, our oldest daughter, and Meli, the oldest girl in the Home, were baptized along with about 170 other new believers.
All of the meetings are going well. We are happy that door is still open for us to preach the Gospel among the Turks in Romania and Bulgaria and they continue to believe. It still amazes us that Moslems are hearing about Jesus Christ, the Son of God, and are opening their hearts, through faith, to receive His salvation. The Gospel of Christ is truly "the power of God unto salvation to every one that believeth…".
We thank all of you who continue to faithfully support and pray for the work. It is increasingly difficult to take care of everything with the rising costs here. I have to remind myself that this is God's work, these are His children and He will provide, as He always has, everything we need. All I have to do is look at how He is saving our children and I realize he knows exactly what He is doing.
We thank the Lord so much for saving our children and we give Him all the glory!
In Christ, The Turners
----------------------------------------------------------------------------------------------------------------------------
The Turners (one of our missionaries in Romania) recently had their newborn infant called home to be with the Lord - Please click on the link to read about the journey with Noah Cross Turner
----------------------------------------------------------------------------------------------------------------------------
Dear Friends in Christ, December 2012
Greetings in the name of our Lord and Savior Jesus Christ. As we come to the end of another year, we want to thank the Lord, once again, for His goodness and grace which have sustained us without fail. We can hardly believe we have now been on the field over 20 years. It has gone by so fast and we realize how little time we really have to do all the things we want.
Of all our years on the field, this year we have surely seen more "ups and downs" than in any other. On May 29th, the Lord took home our little boy, Noah Cross Turner, only 8 days after his birth. Although this was certainly the low point in our lives, we were able to draw closer to the Lord than we had ever been and had the privilege of knowing His comfort and grace in ways we never imagined. We cherish our short time with Noah Cross and the testimony we now have of God's touch on our lives and those around us.
Our daughter, Shalyn, gave us our first grandchild in June. Aria Rhay Turner is so sweet and beautiful and has brought so much joy to our lives in the months since her arrival.
Shortly after Aria's birth, Shalyn got saved and added to our joy. Our whole family went down to Bulgaria where Bro. Ralph was holding a baptism for the new believers in the Turkish churches. Bro. Ralph and I, grandfather and father, baptized Shalyn at a beautiful spot in the little river just below the Turkish church. A few weeks before, I took Meli, our oldest girl in the Children's Home, down to be baptized at another of the several baptisms held this year. In all, I believe there were over 150 new believers from our churches who followed the Lord in baptism this year. We are so blessed to have a part in the work where souls are being saved and our own children are hearing the Gospel preached and coming to know Jesus Christ as their Savior.
Although we had a very nice fall, the winter is upon us in full force now. There is snow on the ground and the temperatures have been well below freezing. Yesterday, I went to a village where we have a church in a very poor Turkish section. I took candy and stuffed animals to about 25 children who normally come to the meeting and who we feed through the feeding center there. Many of them came to the church without coats, hats or gloves. Last week, the lady of the house where we meet told us her young daughter said, "Mommy, I heard from some of the other children that Santa Claus is coming to bring us candy and presents". The woman had no money for presents, not even for piece of candy or two. She told her daughter, "No, honey, Santa Claus only comes to the rich kids. He doesn't come to us because we are too poor". Before I gave the candy and gifts out to the kids, I was able to tell them that even though they are poor, Jesus loves them just as much as the other kids and He wanted me to bring them these things. I told them they have been given an even better gift - God loves them so much, even the poor kids, that He gave His own Son so they could go to Heaven and have eternal life. I can not express how wonderful the feeling is to be able to show God's love to these poor children who feel so unloved and neglected.
The meetings continue to go well. More and more are coming to know the Lord and the meetings are filled with testimonies of God's blessings and goodness, even in these hard times.
This year has been a little tough financially for us as prices continue to rise. I am sure many of you have also felt the strain of the economic conditions. Dara and I want to thank all of you who have been faithful to support the work, even though it surely has been a sacrifice. We greatly appreciate it and the opportunity to continue to serve and share the Gospel.
Thank your for your prayers. In Christ, The Turners
----------------------------------------------------------------------------------------------------------------------------
Dear Friends in Christ, August/September 2012
Greetings in the name of our Lord and Savior Jesus Christ. With Fall quickly approaching, we are truly thankful for all the Lord has done for us this Summer.
Last month, our daughter Shalyn got saved. She wants to be baptized, so we will go down next week to the baptism being held in Bulgaria for several of the Turkish churches there. When I went down for a baptism at the beginning of July, there were almost 70 new believers who followed the Lord in baptism that day. We were also able get a passport for Meli, the oldest girl in the Children's Home, so that she can go with us to Bulgaria and be baptized as well. We are truly thankful we are seeing the Lord continue to touch hearts and save sinners, especially when they are our own children!
Again, Dara and I want to thank you for your prayers for our family since our baby, Noah Cross, went to be with the Lord on May 29th. We have seen the grace and comfort of the Lord multiplied many times over for us and we are truly thankful and give Him the glory for all He has done.
Having seen the Lord work in so many ways during Noah's short life and the time since, Dara and I do not want to let the remembrance of the things God did for us fade into a distant memory. We would like to keep alive the memory of Noah Cross as a tribute to the faithfulness of God's promise that we would not be left alone, but that He would send the Comforter to abide with us.
Bro. Ralph suggested we create a fund for feeding poor children through one of our village churches. We already have many places in both Bulgaria and Romania where we do this, but this one would be established in Noah's name that we could thank and glorify God from now on. Each week we buy groceries and take them to a family in the church who is willing, each day, to prepare a hot meal for the poor children in the area. The children sing hymns and pray before having, for many, the only meal they will have that day. We have seen so many children from these church feeding centers grow up to be believers understanding that God loves them and cares for them. Showing these children the love of Christ, as we preach the Gospel in their village, has consequences that are eternal.
The "Noah Cross Fund" is being established through Central Missionary Clearinghouse and we will use all of the funds to feed poor children. I know there are many churches and individuals who already support the feeding centers in Bulgaria and Romania. We ask that you please not "move" any support you many already be sending to this fund. The feeding centers we already have are equally as important and need all the support you are sending. We thought that those who learned about Noah Cross' struggle through Facebook and our other communications, and who do not currently support the feeding centers, might want to help us remember. The Lord did so much – not only for us, but for so many who followed and prayed for Noah and our family – that it would be a shame for us not to use this opportunity to honor our Heavenly Father and His Son Jesus Christ.
If you would like to support the Noah Cross Fund, please make the donation to "C.M.C." for "Noah Cross Fund" and send to:
Central Missionary Clearinghouse
P.O. Box 219228
Houston, TX 77218
Thank you and may the Lord bless you. In His Service, The Turners
----------------------------------------------------------------------------------------------------------------------------
Dear Friends in Christ, July 2012
Greetings in the name of our Lord and Savior Jesus Christ. We hope you are well and enjoying all the good things made available through His finished work.

Thank the Lord, we have been having an amazing summer so far. A little over a week ago, I went down to a baptism service held for several of our Turkish villages in Bulgaria. I was accompanied by five of the Turkish pastors who work with us in Romania and several believers from the churches here. We arrived early at the church for the late afternoon baptism. National pastors began arriving with believers from their villages and when it was time to go down to the nearby river, we were stunned at the number of people who had shown up. A couple of people counted and we came up with somewhere between 200 and 250 people.

The river was very high and the current was strong. It looked almost like whitewater rapids. I wasn't sure we would even be able to attempt the baptism. None of the new believers, however, were to be denied. They began to enter the river one after another following the Lord in believer's baptism. I had no idea how many were planning to be baptized and was astounded as eventually 68 souls left the safety of the shore to brave the raging water. Many of these Turks had never even been swimming and it was obvious they were terrified. God gave them grace and I think many of them felt when they came back up out of the water that they had "really" been risen to new life. Many could only stand there waving their hands and praising the Lord as the men who were in the water helping were trying to pull them back to the shore. I think we could have let them float down the river and they wouldn't have cared. They were getting a glimpse of the other shore!

This past week, the missionary families from Bulgaria came up to the Children's Home in Romania to have campmeeting with us. Altogether there were about 50 of us including children. We had great services from Wednesday until Sunday. On Friday afternoon, our daughter Shalyn got saved. This is of course an answer to prayer that began before she was even born. Shalyn gave birth to our first grandchild, Aria, a little over a month ago. As she was sitting in the service, praying the Lord would one day save her little baby, the Holy Spirit spoke to her heart and Shay asked Him to save her. We can't thank the Lord enough for saving our 'baby' girl and we give Him all the glory and praise!

Lately, time and time again, we have been left speechless seeing the Lord's hand in our lives and in the lives of those around us. We are truly blessed to have churches, our English church at the Home and the national churches, where God is worshipped in spirit and in truth and His presence can be felt as we gather together.

Thank you again to those of you who have kept us in your prayers since our son, Noah Cross, went to be with the Lord. The Comforter has truly been close and His grace and comfort have been abundant. God has been so good to us throughout this time and we thank Him for caring for Noah Cross until we are reunited.

In His Service, The Turners
----------------------------------------------------------------------------------------------------------------------------
Dear Friends in Christ, May 2012
Greetings to all of you in the name of our Lord and Savior Jesus Christ. We have been having a very busy spring so far. The Lord has blessed and we have really seen His hand in so many things.
Before this month is over, praise the Lord, Dara should give birth to our 6th child. After one girl and 4 boys in a row, we thought maybe this time we would have another girl. Seems it is not to be….the ultrasound confirmed boy number 5! We are thankful and happy and Dara is doing well, although getting a little uncomfortable. We haven't been able to decide on a name. Hopefully we can come up with a good one before he gets here.
The meetings continue to go well. We had a Turkish "campmeeting" here at the Children's Home last month. The missionaries living in Bulgaria brought up Turkish believers from their churches and we had a good crowd of maybe 65 or 70. They stayed three days and we had meetings on and off the whole time.
During the same week, we had visitors from a church in New York. Three men and three women came and stayed here for 6 days during which the men worked on the unfinished part of the Children's Home. We are hoping to get some rooms ready to use by the fall. The visitors were a great blessing and got a lot of work done. They also went to some of the Turkish meetings while they were here. They were so impressed with how thankful the Turks seemed to be in spite of the hard life they have here on this earth. Many of the Turkish believers testified how by coming to know Christ as their Savior, they are now rich in joy and love and will one day have homes in Heaven.
Last month we also had a campmeeting with all the American missionary families coming up from Bulgaria. It is always a great time for all of us, especially for the children who get to spend the week with all their friends.
Our children have finished their homeschooling for the year. The Home kids have to go until June 22nd. Shalyn, our oldest, graduates from high school this month. We are so proud of her! Between teaching our younger kids and helping the Home kids with their homework every day, Dara had to let Shalyn work mostly on her own. Shalyn worked hard and did a great job. We are happy she has chosen to stay here on the field with us. She is a great help and a wonderful 'big sister' to the children in the Home.
Thank you all for your prayers and continued support of the work here. May the Lord bless you all.
In His Service, The Turners
----------------------------------------------------------------------------------------------------------------------------
Dear Friends in Christ, August/September 2011

Greetings in the name of our Lord and Savior Jesus Christ. I am glad to be able to write and tell you about the great things the Lord continues to do here in the work.

The last week of August we had our first baptisms of the year. First, Bro. Ralph had a meeting in Bulgaria to baptize new believers from several villages. He invited the national pastors from Romania to come and share in the joy of seeing these converted Moslems follow the Lord. There were 28 baptized at the river near the church. After the baptism, the meeting started again and went until after 1:00 in the morning. A few days later, we had a baptism here in Romania for the new believers in the Romanian village churches. We met at a beautiful spot on the Danube River. Bro. Ralph, who had come up from Bulgaria with some of the American missionaries and Bulgarian national pastors, preached the service before 20 souls gave testimony of their faith through baptism. We rejoice in the Lord to see these folks who have risen to new life with Him. If the good weather holds out, we hope to have services to baptize the many new believers in other villages.

A couple of months ago, Dara and I met some American servicemen in the Navy Construction Battalion who were stationed at the military base a few miles outside of town. We invited them to come to our English service on Sunday morning. Usually it is just our family, the Reed family, and the Home kids. Four men and two women came that Sunday and worshipped with us and stayed for lunch. They then went outside and played with the kids until almost dark. They came back every Sunday until they shipped out a few weeks ago. Before the next Sunday, we met three Marines who came to church with 4 or 5 others. They have been back every week since for church. Each week, one of the missionary families has come up from Bulgaria to be in the service with us, as well.

Pray with us as this new ministry opens up to us. We have been told that in October, over 300 men from the US Army will be here for two months. The U.S. is using this base for training with other Eastern European militaries and will rotate different units through here regularly. We would love to be a blessing to these men who are away from their families and their churches in service of our country. They seem to really enjoy being in church and also the fellowship afterward.

Last weekend, eight of the guys brought materials out to the Home and spent 2 days building a two-story wooden play fort for the kids. They did it with their own money using their "liberty" time off. The last two weeks, the base Chaplain has come to the service as well. He said he would like to bring the base commander to meet us. This could continue to grow and we really need your prayers for our little Children's Home church. The soldiers say they love the home-cooked meals Dara prepares for them each week. Our desire is that the Lord will bless in the services and their spiritual hunger can be quenched as well.

Thanks to all who sent money to buy a new vehicle for the Children's Home. I ordered it in May and they say it will be delivered in the next week or two. I have been frustrated with the long wait, but it is getting here just in time for the kids to start the new school year. The Lord's timing is always right!

Brookside Baptist Church in Bristol, Tennessee, is getting together a container to send us soon. We have an unfinished house attached to the Children's Home and Bro. Ralph believes now is the time for us to get it completed. The outside is completely finished, including windows and roof. Only the inside remains to be done. As the kids are getting older, we will soon need the additional space. I sent a list of construction materials needed to the church and they are going to fill the container and ship it. If you or your church would like to help in this effort, please contact: Charity Baptist Mission at (423) 878-8131 or Pastor Mike Nixon at (423) 646-1352 for items still needed.
Thank you for your support and prayers. In His Service, The Turners
----------------------------------------------------------------------------------------------------------------------------
Dear Friends in Christ, January 2010
Greetings in the precious name of our Lord and Savior Jesus Christ. The Lord has been so good to us. We see His hand every day as He works in our lives and in the lives of those around us. Many are hearing the Gospel preached and are receiving Jesus Christ as their Savior. Many prayers are being answered and many are getting help that is much needed. 2009 was a great year for us and we look forward to what the Lord will do in the coming year.
The work continues to grow and, as the doors are opened, new meetings are being birthed. We have 4 new meetings here in the Constanta (Romania) area alone. During August and September, we had several special meetings where we also held baptisms. Between the churches in Bulgaria and Romania, we had a total of 155 new believers baptized. There would have been over 200 had all those in the farther villages been able to come in to the meetings. It is such a blessing to us to be able to witness these people, mostly former Moslems, emerging from the water with their hands raised thanking and praising their newfound Savior, Jesus Christ.
The children in the Children's Home here in Romania are doing great in their new school. Six have started 1st grade and Meli, the ten-year old, is in third. The three smallest kids will not start this year. During the summer, most of the kids started going in groups of two or three with our 'team' to the village meetings. They have learned the Turkish hymns and enjoy going. Every day there was a 'discussion' about who gets to go to the meeting. We are so thankful we are able to raise these children where they can see the Lord moving and working. We know God gave each of them to us for a reason and we cannot wait to see what He has in store for their lives.
Our family is doing very well. On October 30th, we welcomed our new son, Tristan Michael Creed Turner, into our family. Dara gave birth at home (third time now). She and Tristan came through great and continue to do well. The Lord answered so many of our prayers regarding the birth that I cannot even retell them all now. We just want to thank Him and give Him the glory for working things out so miraculously and giving us the desires of our hearts.
Our other kids, Shalyn, Grayson, Ransom and Race, are doing home school dvds and this works great. In addition to running the Children's Home, Dara is kept busy overseeing our kids work and grading their papers, as well as supervising the Home kids' homework every afternoon. It is a busy time for everyone but we are enjoying it greatly. We are thankful the Lord has given us a spirit and closeness of one large family with our kids and the Home kids. It is a blessing for all of us.
The past year was somewhat difficult for us financially. The dollar is very weak against the Romanian currency which translates to very high prices for us. Although our support has thankfully remained stable, our costs have risen greatly. Once again, I thank the Lord for always providing what we need when we need it.
Thanks also to all of you for your prayers, gifts and financial support. May the Lord bless you richly in the New Year.
In His Service, The Turners
------------------------------------------------------------------------------------------------------------------------------------------------------------
Dear Friends in Christ, February 2006
Greetings in the name of our Lord and Savior Jesus Christ. First of all, I want to thank God for his ever-present, ever-sufficient grace. For the last 6 months or so, it seems we have been plagued with one trial after another. Right before Christmas, Dara's sister died of cancer. Since the first of the year, we have had epidemics of both measles and chicken pox that affected almost all of our 16 children (including our own and those in the Children's Home). Two of our own boys had complications with the measles and ended up with pneumonia. In the midst of all of this, Dara had to be rushed to the hospital for emergency surgery due to an acute abdominal infection. This happened on the coldest night of the year (13 below zero) and none of our vehicles would start. We had to call a taxi driver friend from in town to come to the village where we live so we could take Dara to the hospital. Through all of this, the Lord was nearby to offer the comfort and peace we needed. Several times it seemed more than we could bear, especially in the Romanian hospital where conditions were terrifying. But the Lord was faithful, answering our prayers and seeing us through.
We have made it through the storms. Now we can only thank and praise God for His goodness throughout these last few months. There are certainly valleys ahead for us but we have seen God's hand and He has given us the faith to trust Him for the trials to come.
Throughout all of this, the Lord has continued to bless in the meetings. We have seen believers in the village meetings praying for us with tears in their eyes. The Lord had given them faith for us when ours was almost exhausted. We recently had a campmeeting in Bulgaria in the village where Bro. Ralph lives. Bro. Nathan Reed took a van-load of believers from here to attend the meeting. Turkish believers had come from villages all around and there were over 400 who met from late-afternoon until daylight the next morning. Bro. Nathan said the singing, testifying, praying and preaching was about the best he had ever been around. These were at one time Moslem Turks who knew nothing of Jesus or the true and living God. Now they are standing up and testifying of how Jesus died for their sins and saved their souls from hell. We have done nothing but preach the Gospel of Jesus Christ to them and God has performed a miracle in the hearts of these people who most believed could not be reached.
I do have one request for prayer. We have two vans here in Romania. One is used for bringing the workers to and from the Children's Home and for going to the village meetings. The other is used for taking the food around to the feeding centers and for going to meetings. Both have over 150,000 miles on them and we have trouble keeping them running. If we miss just one day, there may be over 100 people who will not get to hear the Gospel preached that day. The children are also depending on us to bring the food so they can eat every day. It is not a small responsibility we have to fulfill. We need your help to get these two new vans. I know God can provide what we need. This is His work. I just ask you to pray with us regarding these vans and to follow the Lord if He lays it on your hearts to help.
Thanks to all of you who have been faithful to pray for us.
In His Service, The Turners
Dear Friends in Christ, July/August 2003

With great joy and thanksgiving we announce the birth of our son, Race Yancy Turner. He is perfect and Dara is doing wonderfully since the birth. We were blessed again to have the birth in our home. This was an answer to prayer. Ransom's birth was such a marvelous experience for us, we asked the Lord to allow the same with Race. It could not have been better. From start to finish was less than an hour and a half. Race weighed 8 pounds, which is our largest so far. We thank the Lord for blessing us with four beautiful children.

We are planning to baptize our new believers this month both in Bulgaria and Romania. It is difficult to estimate how many there will be this year because there will be new believers coming from most of the 93 churches. We usually gather the believers, both old and new, from several villages at a time and have the baptism at a lake or river in the area. The fellowship is always sweet as we rejoice with the new believers who have received Christ and been made part of His eternal family.

Everything is going well at our Children's Home here in Constanta. Several of the babies have recently had their first birthdays and Mellie, our oldest, just turned four. The Children's Home has become a place where the missionaries gather to hold the babies, fellowship and sing hymns together. It is a blessing to be able to raise these children in a home where the Spirit of the Lord is so real and so sweet. After Race was born, hardly two days passed before Dara was back at the Home. Pray with us that we will hold on to this spirit the Lord has put in the Home so these babies will grow up knowing who He is and the sweetness of His presence.

Any day now we should be receiving a container sent over by Brookside Baptist Church in Bristol, TN. They have gathered clothes, shoes, blankets, and other items for us to distribute to the needy for the upcoming winter. I understand there are thousands of blankets, shirts, socks and over one thousand pair of shoes. We thank the Lord for showing these people, for whom it seems that none else cares, that He loves them and wants to help them. Our thanks to all of you who sent in items to be included on the container or who have sent in money to help.

It has been over four and a half years since our family has been back to the States on furlough. The work has been growing so much we have not felt liberty to leave. Although the work support is as great as it has ever been, however probably because we haven't been back, our personal support is lower than ever. With a baby just born, our responsibility to the Children's Home, the growing number of church meetings, and our daily feeding of the poor children, it will probably be a while before we can return. I just felt that I should make all of those who pray for the work and our family aware of our need. The Lord has been so good to us these 11 years on the field. We came with two suitcases and no money but the He has never left us lacking. On the contrary, He has blessed us beyond all we could imagine. Please pray about this need and I'm sure the Lord will provide as He always has.
In His Service, The Turners
"If any man serve me, let him follow me; and where I am, there shall also my servant be..." John 12:26