"God be merciful unto us and bless us; and cause his face to shine upon us; Selah. That thy way may be known upon earth, thy saving health among all nations." Psalm. 67:1-2
January 1, 2019 - Dear Brothers and Sisters in Christ,
Happy New Year from Romania! We trust you have made peace with God for the past year and are thankful for another chance to start a fresh. God is so good, Amen!
We had a wonderful Thanksgiving dinner at the Children's home this year. As you know we have some American military stationed about 30 minutes away. Many have come and do every Sunday for our English church service. Dave and Dara were able to invite some to come for Thanksgiving meal. Well to their surprise, over 40 came. I was so blessed to watch these brave men and women eat a home cooked meal, but the biggest blessing was to see the children's home kids serve and talk and laugh with them. Some I know are already on the battle field and we can only pray that they were touched somehow by something we gave or did.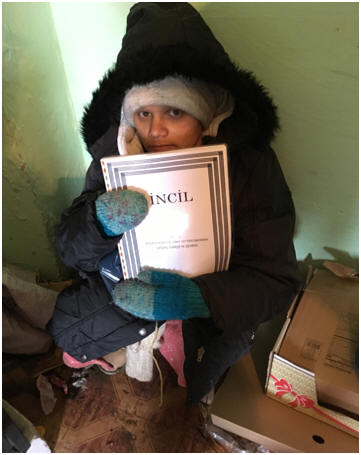 We were blessed to give out over 400 Christmas packets this year. We had an overabundance of candy, toys, socks, and hats. Just to see the smiles on the little children's faces as they received the only thing most will get the whole year. But this year was extra special because, "Coats for Kids" gave us over 450 coats of all sizes to give out. What a wonderful blessing it is, and the smiles really beamed this year as we gave a packet, coat and Turkish Bible. Because the Turkish people are generally small, we were able to supply our teams of pastors and workers with coats as well. We want to give a special thanks to Larry and Carry Leach for their ministry and all of you who gave special gifts at Christmas. What a comforting thought, to realize, they will be warm and dry as they carry the Gospel to their fellow countrymen.
The meetings are going strong. We are continually blessed, as Jacob tells us of the two new meetings that are going solid and we have just learned the Lord is opening two new meetings this month. It is difficult to keep three cars going all the time, with the price of gas at $5.20 a gallon, but by your prayers and help we will be able to go to 11 meetings a week. We have one prayer house in Calarasi and one in Constanta where we have prayer meetings every morning. We have no doubt from where our strength and health arise. Without prayer we have neither! It encourages me to hear Jacob tell of how the national pastors are growing in the Lord and in fellowship with one another and the churches. We have four national pastors, Jacob, and myself. These pastors live very humble lives and constantly depend on God to heal their bodies and spirits to be able to continue faithful every day. They truly know the meaning of Matthew 6:11 "Give us this day our daily bread." They know the importance of the local church and spiritual healing. Most would already be dead if they had not believed and called on Jesus. May our faithful God bless us and cause his face to shine on us through another year, to watch over and feed His sheep. May God richly bless you, the faithful, is my prayer!
From Constanta and Calarasi, Romania - Nathan, Teresa, Nate, Jacob, Elmas, Rebecca, and Uriah
---------------------------------------------------------------------
January 1, 2019 - Greetings in the name of our Lord and Saviour Jesus Christ.

We hope this letter finds you well in the new year! In this past year we've had much in which to be thankful. We were able to give out over 400 hundred Christmas packets and around 450 coats graciously given by Larry and Carrie Leach for the poor children of Romania.

This past year the Lord has opened a new Turkish meeting in the town of Mangalia close to the Bulgarian border. In this meeting there are two sisters ages 35 and 37 who both have cerebral palsy. Both have trouble walking but have been spiritually strengthened by the Turkish hymns and testimonies given by the believers.

We also have a meeting in a town called Medgidia where around 10 to 15 children gather every Saturday morning for a hot meal and a prayer meeting. The man of the house has recently become a believer and can neither read nor write. This past week he testified that he is having his 13-year-old daughter teach him to read because he wants to read the Bible. He has become such a blessing! His name is Cerkez.

In my last letter I mentioned one of our national pastors named Bayhan. He has type one diabetes and was struggling with his medical insurance. It is a blessing to say that he is doing much better and has the right medication he was needing. Recently he got word that his birth mother was sick. She gave him up and had nothing to do with him all his life. It wasn't until he went to a meeting in one of our villages that he saw her. All his life he had no reason to talk to her, but now he is a believer and talked to her. When he heard she was sick, he went to her village and brought her to his home. She was able to be a part of his weekly meeting he has in his house. The Lord touched her, and she now wants a meeting in her home and village. She lives in an all Muslim village. We had a meeting in this village for years but were forced to leave and now the Lord has opened it back up. Please help us pray for these men and new meetings!

It has been such a blessing to serve with these men and to watch them grow in the Lord. I am reminded of Paul's words in the book of Ephesians 2:19-22 "Now therefore ye are no more strangers and foreigners, but fellow citizens with the saints, and of the household of God; And are built upon the foundation of the apostles and prophets, Jesus Christ himself being the chief corner stone; In whom all the building fitly framed together groweth unto an holy temple in the Lord: In whom ye also are builded together for an habitation of God through the Spirit."

Thank you all so much for your support and prayers. God bless!
"Finally, brethren, pray for us, that the word of the Lord may have free course and be glorified, even as it is with you." 2 Thessalonians 3:1

From Constanta, Romania Jacob, Elmas, Rebecca and Uriah Reed
----------------------------------------------
Finally my brethren, rejoice in the Lord. Philippians 3:1