Dear Brethren, September 2019

The month of August was a blur, but full of blessings upon blessings. We were able to go to America as a family and get Esther Mae set up to live there. Carrie got that hug from her Mom that she had been craving for months. We took a quick road trip and saw Hannah in Tennessee, along with many friends. Then Joshua flew up from Florida and spent a few days with us. We also got to see Jonathan and meet his fiancée, Jana. We got to as many supporting churches as we could in that short time and were refreshed by the fellowship. It was a quick trip, but we are so thankful for everything God did for us, and through us, while we were there. We bless His Name.

We landed in Sofia, Bulgaria on August 28th. Oddly, we were awake and full of energy the next day. That however, was just fool's gold, and jetlag hit hard. We also contracted a virus. Needless to say, we were pretty much useless for about ten days. But after rest and recuperation we jumped back into the ministry schedule, and are very happy to be home.

Fall is here - winter quickly approaching. Now that we have Esther Mae settled, my focus has switched to preparing for winter. Working in the Coat Closet, winterizing our house, and buying firewood. To get a good start on the winter firewood, I'm needing $700, which would buy wood for Pastor Ismail, the church in Novi Pazar and my house (this is the early bird price - it goes up the colder it gets). Please pray with us about all these winter preparations.

The churches continue to do well and send their greetings. Though it still seems as if we are in a time of transition after the passing of Brother Ralph, the ministry continues. We ask that you remember to pray for us. Pray for the missionaries, national pastors, and churches. Pray for our children. And pray for souls. Thank you all for your faithfulness.

Because He First Loved Me, Brother Larry Leach, Jr.
----------------------------------------------------------------------
Dear Pastors, Friends, and Churches, August, 2019

Each one of our trips this year has had their distinct and special blessings. I mentioned (the trip to the Amazon River) in the last newsletter. Our project for the mayor that I talked about is going well: the house has been deeded to the Pastor and is well under construction. They are having services in the church building and several have been saved. We now have a gospel witness in the second largest city on the Colombian side of the Amazon!

Additionally, through the ministry of another national in Brazil on the Amazon River, we have a new work in Tabitinga. We have also been helping this Brother with a building. He has had 56 to make professions of faith in Jesus Christ since December, 2018. It really is amazing what God is doing in some of these "fields"; for they are white already to harvest."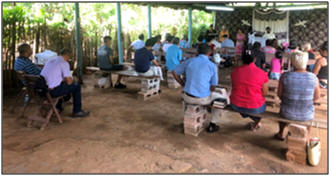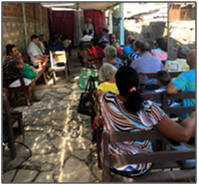 We traveled to a Hispanic country in May and participated in the dedication service of a new church building that we had been working on for two years. We saw strong conviction with women weeping as they trusted Christ. I prayed with a young mother in a small church with tears literally running down her cheeks. There were eight women saved on this trip. I remembered preaching there when it was only 10ft. x 12ft. and it was packed with 43 people! Now 17 years later I am preaching for the same Cuban preacher and his two daughters that were infants then, but they are 18 and 20 years old today. How the years go by!

I also made a trip to Panama in July. I will tell about that trip in the next prayer letter. Thanks for what you do for the gospel's sake in the world.

Forever Yours, Dale Cable 1 Sam. 12:24
-----------------------------------------------------------------------------
August 2019

"Continue in prayer, and watch in the same with thanksgiving; Withal praying also for us, that God would open unto us a door of utterance, to speak the mystery of Christ,…" Col 4:2,3a

God has greatly blessed us over these last five months here in the States: we have seen many blessings in our family and look forward to what God is going to do in the future. The greatest thing we were anticipating was the completion of our Visas to return to Bulgaria. We received these in the second week of August and immediately went to work on getting tickets. We will be leaving on September 17th and arriving on the 18th. We so look forward to returning to our home in Shumen, Bulgaria. Please continue to pray that God would provide for the expenses that come with travel and settling back into our life there.

We were able to see God move in many ways these past five months. We saw his hand in the life of our family and the ministry. It was a blessing to see Zack and Haylie begin their life together in marriage; and it was great to see Riley graduate and then start college. We had several churches take us on financially and we saw many lives touched during our time on the road. We are thankful for each church we visited and for the love and support shown to our family.

We have several prayer requests as we prepare to return to Bulgaria. First and foremost is for safe and trouble-free travel as we go back to Bulgaria. Pray that all the paperwork required to get our residence Visa will go smoothly.

In closing, we look forward to what the years to come may hold and are excited to be partnered with you in reaching the Turks of Bulgaria and Romania with the gospel. Please remember that we will soon be preparing for all the needs of winter. We will have the Flour and Oil distribution along with the Coats for Kids, and these are two big yearly undertakings. Last year over 60 tons of flour were distributed, and over 1,200 coats provided for needy children. We ask that you pray about what part you can take in these vital ministries. God has already done so much, but we feel that he is far from finished and believe the greatest days may be yet to come. Please keep us in your prayers, and don't forget to mention the needs of Turkish believers in the lands of Bulgaria and Romania.

By His grace, The Blalocks www.blalockstobulgaria.com blalockstobulgaria@gmail.com
-----------------------------------------------------------
Matthew Welch update (9-3-19)
Missionary Matthew Welch has returned from Bulgaria for a short medical furlough. He arrived in Destin, FL on September 1st, and will have shoulder replacement surgery on Wednesday, September 4th.
Brother Matt doesn't have insurance stateside. However, a doctor in Gulf Breeze, Florida, after hearing of Brother Matt and his condition, agreed to help facilitate the surgery and related medical procedures at a much discounted rate. The entire procedure and all its related expenses have been charitably discounted to thirty-thousand dollars ($30,000). A "Go Fund Me" account was set up by his children in an effort to relieve their father of the burden of payment. At the writing of this letter, close to forty percent of the necessary funds have been raised.
Brother Matt Welch has been a missionary in Bulgaria and Romania since 1993. He and his wife, Jane, have raised ten children on the mission field. Brother Matt learned Bulgarian, Romanian, and Turkish that he might be a ready witness to all he met. Brother Matt is a carpenter by trade, and used his skills as a carpenter to plan and build all the buildings we utilize today, in addition to numerous projects, big and small, readying the many house-churches we worship in. It was in that capacity, as a builder, he injured his shoulder. In spite of injury, he worked through the pain, considering only the needs of his people. Brother Matt has truly spent himself that others might know Jesus Christ.
I'm biased, being his son-in-law, but I can say without fear of contradiction, that Matt Welch loves his Savior, and the love of that Savior overflows him. I've seen him give everything he's had to give, and give what he couldn't afford to give, all because God's Son gave everything for him. Ask Brother Matt how he's doing, and no matter what condition you find him in, even wracked with pain from Parkinson's and a deteriorated shoulder, he'll say, "I'm doing a whole lot better than I deserve!" I don't think I've ever heard him preach without a full and broken heart; or where he hasn't shed tears of gratitude for God's great salvation. He's a missionary hero. He loves his Lord, and he loves the people he's called to. How do I encapsulate a missionary love and zeal like Brother Matt's and present it to you here for consideration? The short answer is, I can't. But I might give one illustration, and pray he doesn't rebuke me for it: Brother Matt witnesses in his sleep. On numerous occasions Miss Jane has told us, "Matt was talking to someone about the Lord last night." Even in his dreams he wants people to meet the one who loved him and changed his life.
If the Lord lays it on your heart to be a help and a blessing to one who has given himself to the work of the Lord, it sure would be appreciated, by him I know, as well as his family, but also by a bunch of Gypsy Turks who are part of the household of faith because Brother Matt answered God's call.
May the Lord bless you all, and bless Missionary Matt Welch.
William LeFevre
If you'd like to help financially, send your contributions designated "Matt Welch Surgery" to:
Charity Baptist Mission, Inc.
PO Box 692
Bristol, TN, 37621
If you'd like to give online, via the "Go Fund Me" page, and read more about Brother Matt and his need,
you can do so here: https://tinyurl.com/y5najm4z
----------------------------------------------