Dear Churches, family and friends, July 2019

Greetings from Romania. We have just come out of our summer English camp meeting. We always enjoy the week we have to rest in the Lord and fellowship with our American brothers and sisters from Bulgaria. God really moved in our services and I am always amazed at how thirsty I am for the Word and for the fellowship with the other American missionaries. We are taking care of others all the time, but it is nice to sit down and be fed from the table of God in your native language. As the Spirit would move, there was a lot of response from the children and adults. Sunday afternoon, we were able to baptize 5 young people who had been saved in the spring camp meeting. Even though no one was saved this camp meeting, we thank God for the Spiritual family he has blessed us with and for every song, prayer and message.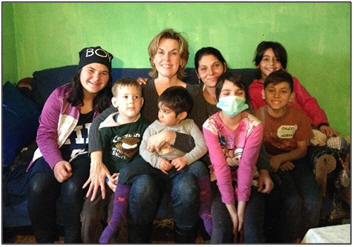 The weekly meetings are going well. We have 10 that keep us on the road every day. We sing hymns, testify, and preach, but the main focus is the praying. We try and provide what we call prayer houses. Everything we do is to bring everyone to the last prayer. We encourage all to pray about everything in their lives. In one of the meetings here in Constanta, we have a group of young people who have grown up and have married and some have as many as five children. It is very difficult to find jobs right now in Constanta, so many bring their children to the feeding centers to eat, as they were raised. It is a blessing to see another generation singing the hymns and learning the power of prayer. One woman was testifying of a message I had preached some time back. I had encouraged them to find a place alone to pray every day. She hardly has anytime alone with three small children to take care of. Because they are very poor, she is forced to go around to the garbage containers around the city to collect anything they can to recycle for money. She testified of how her time alone was beside the first set of containers she came to in the day. It truly put me under conviction and blessed me at the same time. Her sister is in the same situation with five children, but her husband died a couple years back. She was fortunate enough to find a job in a local Turkish restaurant. She was let go because of the busy life she has with no one to help. She said she had had enough and prayed to Jesus about it. She said she dreamed a dream and Jesus told her to go back and ask for her job again. That morning, she went to the boss and told him that Jesus had told her to come and ask for her job again. Because the boss is hard Muslim, he asks her if she is talking about the prophet Jesus and she said yes. Well, he gave her job back and she is working even today. Praise God and please pray for the boss and coworkers as she testifies of the true Jesus!

Just want to say how much we appreciate your prayers and faithful support also. May God richly bless you!

From Constanta and Calarasi, Romania, Nathan, Teresa, Nate, Jacob, Elmas, Rebecca, and Uriah
---------------------------------------------------------------
Greetings from Romania, July 2019

I pray this letter finds you all in the nurturing grace of our Lord and Saviour Jesus Christ.

I thank the Lord that He is continuing to bless in our weekly meetings, especially in Mangalia where the woman of the house, where we meet, is now recovering from a stroke she had some months back. She is bedridden but is so happy every time we come for a meeting and cries when we sing and pray. We can't understand her when she tries to speak, but it is obvious that she wants us to come again every week. This is such a blessing and ask you to pray for her recovery!

The Lord is also blessing our meeting in Medgidia where we meet with around fifteen children and five or six adults. The children have begun to learn the hymns and what a blessing it is to hear these little ones singing praises to God! Cerkez is the pastor there and his love for these children is amazing. They come to his house every day and to most it would be a bother, but even though he has to go to work very early he returns home to care for these unwanted children. He testifies of his boss not being a believer and Cerkez will sing the Turkish hymns as he works and it opens a door for him to testify to him and all around. I believe this is where his strength comes from. "But Jesus said, Suffer, little children, and forbid them not, to come unto me: for of such is the kingdom of heaven." Matthew 19:14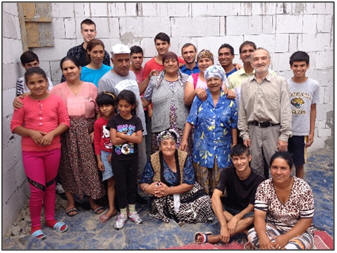 One of our beloved national pastor's Kadir has been in and out of the hospital for a few months. The doctors are not telling specifically what's wrong with him. The treatment of the Turks in Romanian hospitals is downright appalling. Our Brother Kadir called us to his home a couple weeks ago so we could pray with him. We ask you to help us pray for him and his family.
The believers are praying for a van or car so we can be able to carry more of them to the weekly meetings with us. Our cars are getting old with high mileage. This is a real need.
Thank you all for your faithful prayers and support to us for these poor believers.
From Constanta, Romania Jacob and Elmas Reed
-------------------------------------------------------------
Dear Praying Friends and Family, June - July 2019

I hope this letter finds you all well in the Lord Jesus and rejoicing in His service! The list of items jotted down to include in this letter is long and leaves me somewhat apprehensive about what to cut and what to include. I know that people are busy with little time for wordy prayer letters. However, I've always strived to not make the ministry about stats and bullet points alone. I pray you get a blessing from this letter even if it is a little long.

New Names in Glory: A sister from our church has been ministering to a neighbor family, hoping for their salvation. Galya lives in a two room house with her five children and one grandchild. Her husband is a convict, and when he was released from jail she was forced to flee because he began beating them. Galya, after attending church for weeks, responded to the invitation and received Christ as her Savior. Her oldest daughter is coming to church but has still not responded to the invitations. She is under conviction, please pray for her salvation.

My assistant, Alexei, and his wife, Victoria, have been praying for her mother for years to be saved. She was a very mean woman, and a drunk, living a life of degradation for years. Her liver is shutting down do to all the drinking. The doctors also discovered that she has tuberculosis in her bones and AIDS! Her liver cannot handle the drugs needed for treatment and there is no way knowing how much longer she has to live. I visited her in a special hospital in Odessa and was very to the point about her soon-to-be eternity if she did not get saved. After about an hour of explaining the Gospel to her she bowed her head and prayed to receive Christ. Victoria said she has already noticed a difference in her – she no longer cusses up a storm!

Graduation Service: The public school system in our town celebrates graduation much like the United States, but the celebrations and parties are notorious for all kinds of wickedness. Instead our church puts on our own celebration for our young people and we try to do it up. It is a great testimony to the unsaved that we do things first class and can have a good time without lewd dancing and alcohol! We had people come and hear the Gospel who would never have come otherwise! We even had a Christian family cross the border from Moldova to offer their daughter an alternative to their local school's party.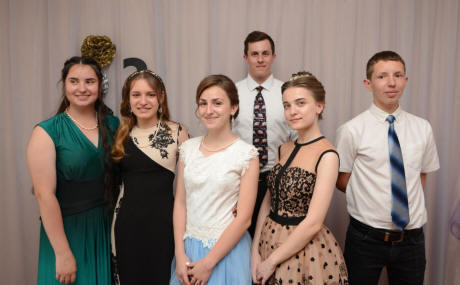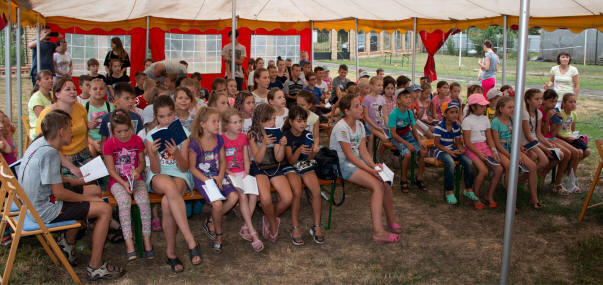 Children's Bible Club: This year's Children's Bible Club was one of the biggest yet with a high day of 98 kids present! The Lord blessed the week with 17, mostly older kids, receiving Christ after being dealt with individually by our church workers. We have decided to add more such Bible Clubs during the school year when the local schools are out for their various breaks.

Visitors and Offerings: Over the years we have strived to be examples of giving to the Lord's work and stressed that our people should do the same. In May, we witnessed something akin to the sacrificial giving mentioned in 2 Corinthians 8 when we took up three offerings for three different men and their ministries. Two of them were missionaries and the other was for Brother Sasha who has agreed to take over the work that missionary Ed Keough had started in Kiev. Our people do not have much money and do not have much economic hope for the future, yet, they gave sacrificially for the Lord's men and His work. I was amazed and am truly thankful that the Lord has allowed me to be a part of it all.

Exodus and Migrant Workers: Our church seems to be in the middle of an exodus at the moment. This is nothing new. No need to panic. We've been through this before. In fact, after looking over the past, I've pastored four different churches with the exception of a few core members. I'm glad to say that there are many who left who are still serving the Lord in their new locations. There is one difference this time - many are leaving in search of work in different countries like Poland, Germany, Israel, and the USA. A few spend long hours on public transportation back and forth to work in Odessa, but it leaves very little time for life. The economic situation here is getting worse and our present town offers little hope of bettering one's station in life or even the ability to make ends meet. More and more people are left with no choice but to move. It is a blessing to know that some will be returning after their work visas expire but others have left for good. Please pray for the economic situation here.

Rue Crew Review: We were very blessed to be able to have our entire family home under our roof for a couple weeks. Both Joshua and Miriam were able to visit and it was so nice to all be together again.
I somewhat prematurely mentioned that Ben's document issues were over. They weren't. We had to spend a few more full days completing the process. Now all is done and he possesses a temporary living permit for one year. Now we get to begin the whole process for Sam, who turned 16. Hallelujah!

Mailing List Mix-ups and Prayer Letter Delays: After spending many hours going over our mailing list, all we can figure is that at some point within the last year an older list was mistaken for our newest one resulting in many of our supporters not receiving our letters. We apologize for the mix-up. The disconnect with many of you was felt both financially and in the area of prayer support. We have had many attacks from the enemy in many ways over the past several months. In addition we had a noticeable decrease in support for the month of June, the lowest month in years. We are still working on updating our mailing list and we plan to begin including pictures in future letters. We have also decided to use Mail Chimp to send our letters to those who prefer them digitally. Thanks again for your patience and desire to help us in the Lord's vineyard of Ukraine

We want to thank you all for your friendship, prayers, support, and all that you do for the Lord that gives us the privilege and opportunity to serve our Lord and Savior Jesus Christ. May the Lord bless you as you serve Him! Until our next prayer letter or our meeting in the air!

That Ukraine May Know Him,

Christopher Rue Phil. 3:10