-------------------------------------------------------------------------------
From
B
ulgaria

-------------------------------------------------------------------------------
March-April Prayer Letter

"And let fall also some of the handfuls of purpose for her, and leave them, that she may glean them, and rebuke her not." Ruth 2:16
Dear Pastors, Churches, and Saints,

In March and April, we were very busy distributing 110lb sack of flour and a gallon of cooking oil to each family in our churches. The Lord has shown compassion on many of the poor believers by supplying handfuls of purpose and blessing his people. Most of these believers live hand to mouth, that is from God's hand to their mouth. While most of them are poor, I have come to learn they are rich in faith (James 2:5).

If there was a group of Christians you would want to pray for you, this would be a good one. They just believe God will hear us when we ask, seek, and knock. I guess we call that the faith of a little child (Luke 18:17) or of a submissive centurion (Matthew 8).

Although they believe God has provided this food for them, they all express a thankfulness for the Christian believers in America compassionately and faithfully supporting God's work.
As a missionary sent out to preach the gospel in the regions beyond, it has been my privilege to preach how the Lord Jesus Christ is the Bread of Life and can satisfy our spiritual hunger (John 6:35). I have also seen how God can provide a table in the wilderness by supplying all our need in Christ Jesus.

God has blessed the distribution of flour and oil for many years. We have seen and heard many testimonies of how believers were hungry and God provided. A woman in one of our churches had only a little flour left. Her husband told her to go borrow money to buy more, but she told him that she believed God would provide for them. That same day we delivered flour and oil to her door. Her husband couldn't believe it, but she told him "I knew God would take care of us" (Psalm 37:25).

We thank God for you all and may God fill your sack full of blessings that we all may testify "O give thanks unto the LORD for He is good: for his mercy endureth for ever." Psalm 107:1

All because of Calvary, Matthew Welch and family
p
lease click on the link above for a printable pdf
Bulgarian update June, 2015
We want to thank all those who contributed to the flour and oil distribution in Bulgaria. It was a great blessing to everyone involved. This year the US dollar was very strong against the Euro and we were able to feed over 2,000 needy church families. Each family received one hundred pounds of flour and over a gallon of oil. These are saved, baptized church members who attend our church meeting in Bulgaria. They thank God for the brethren in America who gave toward helping them in their time of need. Your generosity has redounded to the glory of God.
In Christ, Rev. Mike Nixon - Director of Charity Baptist Mission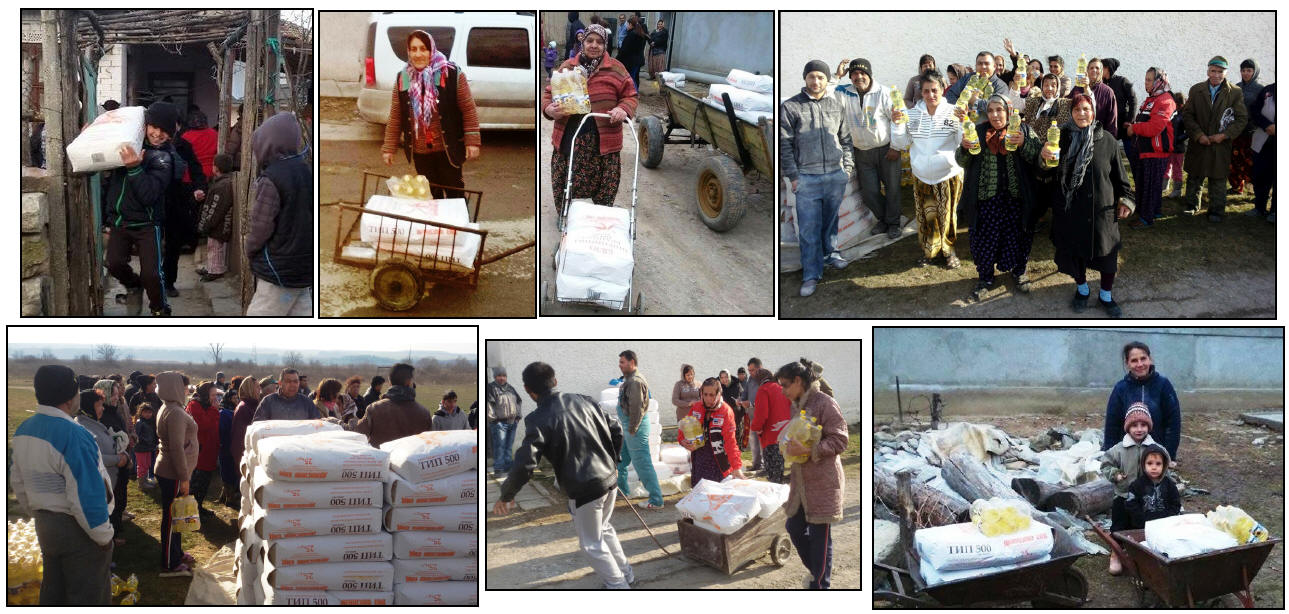 -------------------------------------------------------------------------------
From Romania
-------------------------------------------------------------------------------
American Meeting July 15, 2015

Hey, we just want to let you all know what's going on over here. As you know we are in camp meeting and we've been having a good time. Today was the fifth day, and it seems like every day and every meeting has been getting better. We are having really good preaching, some of the best I've ever heard. There is some power around here.

This evening we had a great service. William preached and God really moved. After church no one wanted to leave. We stayed in the church for a good while just crying and worshiping. Then before we had a chance to eat supper they told us that Esther Leach wanted to get saved. So we went back up to the church and prayed for her. We prayed and prayed and prayed, but she had a hard time getting in. But just like always the Lord gave the victory. After that we went downstairs and started eating. Then Missy, one of the girls in the home, came downstairs and told us that she had just got saved in her bedroom. We rejoiced with her, and then after supper started singing some songs.

My son, Isaac, left the singing to come upstairs and pray in his room. When he came out he told us that he had got saved. By the time we made it back downstairs, the singing had turned to praying. After that prayer, Bro Ralph asked who all got saved, and two girls raise their hands- my daughter Maggie and Charity Welch. Then Bro Mitko's daughter, who had been praying and crying said that she got saved.

There were some other children still without peace, so we prayed again and Hannah Leach said that the Lord had saved her. That's a total of seven! There's still others waiting on God to save them, so help us pray them in, too.

It's eleven o'clock and we're just now getting to bed.

Tomorrow Dave and Nathan are going to the port. Hopefully they'll be able to get the container out without having to pay anything extra.

God bless you all. Zach LeFevre
-------------------------------------------------------------------------------
-------------------------------------------------------------------------------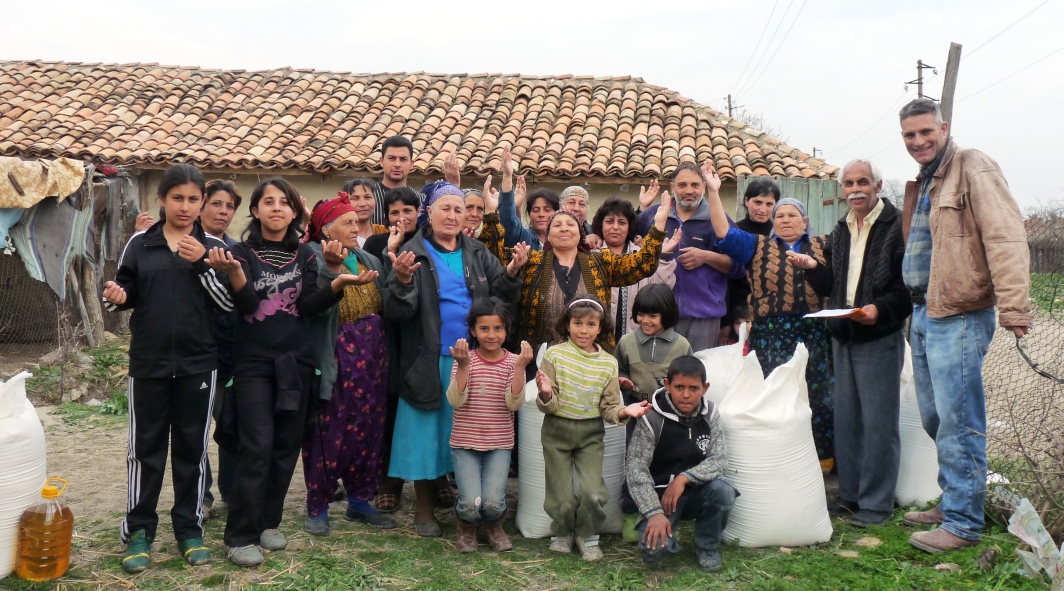 -------------------------------------------------------------------------------

From Ukraine

-------------------------------------------------------------------------------

Dear Praying Friends and Family, April – May 2015

"Wait For Me." One of our members, Vika, brought two visitors to church one Sunday morning. They sat during Sunday School and listened carefully. During the break Vika introduced me to Yulia and her daughter Nastia. She told me how she had been friends with Vika since her university days but lost contact after graduation. Sister Vika had a stormy youth and learned to follow the Lord the hard way. During her backslidden years she married a Muslim with whom she had a child, Daniel. They moved to Syria for several years during which time she "got right" with God. We prayed long and hard for her and Daniel to be allowed to leave Syria and return home. Her long lost friend, Yulia, knew that she moved to Syria and was worried about her in light of the war that has been raging. She even sent a formal application to the popular Russian/Ukrainian television program called, "Wait For Me." The show specializes in reuniting people in the former Soviet Union that were torn apart by the Soviet system and WWII. Yulia never heard from the show, but God heard in Heaven! She was at the train station in Odessa when she looked over and saw Vika standing in line to board a train! She went home with her to spend a few days to get caught up. Vika's mother, Sister Valya, spent the next day entertaining them while Vika was at work and led them both to Christ! She said they sobbed on their knees as they prayed. They both confessed Christ that morning with bright smiles on their faces and still come to church as they have opportunity. They live quite a long way away. Please pray for their growth in the Lord.

"God Sent" Years ago I often mentioned a boy named David in our newsletters. He had a long battle with lupus and eventually went home to be with the Lord at the young age of fifteen. The Lord used his sickness to reunite his mother and father and we, as a church, did all we could to save their marriage. I tried to encourage them to stay together for the Lord's sake after David was gone. It didn't work. They drifted apart and the husband, Sergei, remarried a woman from Ivana-Frankovsk named Bogdana, which means "God sent" or "God given." He came and visited us one day and brought her to church. I immediately strayed from the lesson and preached the Gospel of Jesus Christ. After the service he came up to me and asked if I would to talk to her. I again went over the Gospel message and then extended an invitation to receive Christ. I am ashamed to say that I've become somewhat jaded over the years living here in Ukraine. We meet so much rejection and opposition and slander that I just expect it. The whole time I was explaining the Gospel and sending up Nehemiah prayers, I was thinking, "She's only tolerating this." "She doesn't understand." "She won't give up Russian Orthodoxy, etc…." There were even a few times when the Holy Spirit's presence was sensed in the room and I still thought she would reject Him. I asked, "Do you understand the Gospel now?" She replied, "Tak!" ("Yes" in Ukrainian). I then asked, "Would you like to call on the Lord right now and ask Him to save you?" She said, "Bazhayu!" ("I desire to!" in Ukrainian). It was almost like the surprise you get the first time going soul-winning and getting your first "Yes." It is amazing how hard-hearted I can be in the Lord's work, and yet, He still keeps on using us here! They asked about the possibility of starting a church in their city sometime in the future. Please pray.

"I believe God arranged this meeting..." Brother Casey and I visited the home of one of our members, Sister Tanya, to call on her son Dema. He's been backslidden for years and refused to come out and see us. So, we decided to have a cup of tea with Sister Tanya and talk (loudly!) about the Lord, because we knew he was within earshot! Then her neighbor, Luba, an elderly lady came by for a visit and agreed to sit down and allow me to explain the Gospel to her. She listened intently and I had to go back over a few points, but, thank God, she finally called on the Lord to save her! We rejoiced with her and she said, "I came over here to give Tanya some scraps for her dog but now I believe God arranged this meeting." What a blessing!

First Fruits. Brother Casey Kline hit a milestone in the Lord's vineyard a few weeks ago when he led a soldier on furlough from the war to Christ. Casey took him off into a side room and led him to Christ…without a translator! He asked if he could take a shower so I brought him back to my house. He desperately needed a shower! We smelled our new brother, Sergei, clear into the next day! It was unpleasant but it didn't matter. The stench of sin was gone from his soul before God!

A Possible New Ministry. There is a family about 30 minutes away in the small farm town of Luchinsk, that has asked us to come and hold weekly services for them. One of our preachers, Brother Sasha, lives close to them and it may be an opportunity to start a church there in the near future.

Special Meetings and Ministry Opportunities. We thank God for the opportunities and blessings the Lord has given us here in Ukraine. The Bible Institute is going well. We had a "men's meeting" where we all got together and played "Airsoft" with other groups of Ukrainian men who are very serious about this game. They view it more as an opportunity to train should real war come to the region! The "war" was held in an old abandoned factory with real tar pits, broken glass everywhere, and rusty metal. It was not safe at all, but really did make the "war" feel very real. We are also thankful for the several opportunities for our church to get together with other churches for conferences and meetings. We are in the process of making preliminary plans for a building project for the church here. We meet in a renovated house but outgrew it a long time ago. It is hard to grow with no room.

Pray! Pray! Pray! Summertime here is hard because there is little to no water. The last three weeks we had water only on Sundays and then little more than a trickle. Having water brought in by truck is an option but it takes constant oversight to hounding the drivers for days to get it to you. After it is delivered it takes more oversight to pump it out of the holding tank to our house. Four years ago, the city drilled a well just four lots down from our house. They had to drill down over 700 feet to hit good water. The money for the project mysteriously disappeared, no tower was erected, and we are still without water. I've looked into several options and would just like to ask folks to pray for us. The thought of another year struggling every day to get enough water for our needs is exhausting. We also need prayer for our paperwork to be approved to extend our registrations.

Thank you all for your friendship, prayers, support, and all that you do for the Lord that gives us the privilege and opportunity to serve our Lord and Savior Jesus Christ. Until our next prayer letter or our meeting in the air!

That Ukraine May Know Him, Christopher Rue Phil. 3:10

---------------------------------------------------------------------------------------------------------------------------------------------------------------------------------------------------------------------------------------------------------------
From
B
ulgaria
---------------------------------------------------------------------------------------------------------------------------------------------------------------------------------------------------------------------------------------------------------------
Dear Churches and Praying Friends, May 2015

"Then saith he unto his disciples, The harvest truly is plenteous..." (Matthew 9:37)

We've had a good time this spring visiting the different churches here in Bulgaria. I've been able to go to the village churches of pastors Nasuf, Alish, Mitko and Ismail. The people are all very glad to have us come and preach; they're encouraged just to see someone come visit them.

In one church there was a sixteen year old girl that came for the first time. She told about her problems with fear and with seeing strange visions. The local Islamic religious leader told her she had a demon in her (and he was probably right). To protect her from it, he made a type of a spell, and gave her a little charm to wear around her neck to keep evil spirits away. Of course, this just made the matters worse. She couldn't keep from crying while telling us about what all she's suffered. Thanks be to God, that I was able to tell her that her suffering could all end that day. I preached to her that faith in the name of Jesus would run every devil away, and she could live a life of peace. We prayed for her and gave her a New Testament to take home. The next week she came back and said she hadn't suffered any more since that day at the church. Now, she attends the meetings every week and loves it. What a blessing it is to preach to someone so hungry to hear the word of God!

In another church there was a middle-aged man that came in while I was preaching. He sat down and listened intently while I preached from Matthew 16:27, "For what is a man profited, if he shall gain the whole world, and lose his own soul? or what shall a man give in exchange for his soul? " Well, this man had recently returned to Bulgaria from Germany where he works to see his mother. She is seventy-five years old and in the hospital with heart trouble. She has been saved and faithful to the church for years. This man said that his mother always prayed for him and told him he needed to quit drinking, but he never did. Now that she is perhaps on her death bed, he came to church and said that from now on he is going to be a believer. That day he prayed for the first time in his life. What a blessing it was to be able to preach the first gospel sermon that man had ever heard!

In one of Mitko's villages we went to pray for an older lady after church. She had suffered a stroke and couldn't get out of bed. We sang her a song and prayed for her. Pastor Mitko told me her testimony. He said that when they were younger both she and her husband used to drink a lot. When her husband died, her children tried to convince her not to get drunk at the funeral, but she couldn't even stay sober one day. Later, she said that one day somebody told her about Jesus and she asked him in her heart. After that she said she never had a desire to drink any more. Her life changed completely. What a blessing it was to pray for her!

Continue to pray for us as we keep preaching the gospel six days a week in the Bulgarian villages. We always need help. The harvest truly is plenteous.

In Christ, Zachary LeFevre
---------------------------------------------------------------------------------------------------------------------------------------------------------------------------------------------------------------------------------------------------------------
From Romania
---------------------------------------------------------------------------------------------------------------------------------------------------------------------------------------------------------------------------------------------------------------

Dear Brethren, Friends, and Family members, May 11, 2015

Praying this finds you well and wanted to let everyone know I made it back to the U.S. on 28th of April. I will be here until 2nd of June getting together the container of construction materials for the extension of Casa Julia in Constanta, Romania. We can purchase better materials here for a cheaper price and ship them to Romania without having to pay any custom taxes. The container well be sent directly to the supplier and the materials will be loaded there. They have the equipment to help us load and this is a big help because the shipping company only allows two hours to load a container before they start charging by the hour. We have a list of the materials we wish to purchase and we truly need to do so quickly. We hope to load the container on the 29th of May. Please pray for us!

I praise the Lord for his goodness in this ministry. We have been with Charity Baptist Missions for 23 years and God has done so much. What a blessing it has been to see hundreds of former Muslims come to understand the truth in the Gospel and be baptized. Now to see my son follow the call of God in his heart and to watch the Lord work with him in spite of the devil and all his deceit, I can do nothing else, but praise our mighty God, "who is able to do exceeding abundantly above all that we ask or think, according to the power that worketh in us."

To have been able to be a part of these feeding centers and watch the Lord raise a generation of children and see many of them now following in the faith and praying, preaching and teaching their children the truths. In one of the meetings a Turkish Believer testified and praised God of how the missionaries left America to come all the way to Romania to help them. They left a rich country, family, language, and all they knew to come to this poor place so we would know how to get out of deep darkness and find the way to God. We knew about God, but we didn't know the love he had for us until we saw how he gave his Son to save us. These people must be from God because Nathan is to go back to America for a short time and he is leaving his son to take care of us!

I've been blessed to see the Children of Casa Julia grow over the past twelve years. Dave and Dara have done a wonderful job and now as these children grow into young adults we can plainly see the hand of God in their lives. There are 7 girls and 4 boys taken from the worst places and raised in our homes, dedicated in our church and truly blessed for a higher purpose. Even they do not fully understand how good God has been to them, but I'm sure in time they will. I drove by the houses where some of them would have grown up and I just praised God in my heart for how he has taken them out of the dung hills and placed them in the Father's house with us. Just last month they took their instruments with them to school for show and tell. They played and sang some of the church songs for their class and the Holy Spirit began to move on one of the teachers and she began to cry. She arranged for them to go to other classes and sing and later arranged for them to be able to go to another school as well. Out of this many of their classmates wanted to come to our church and it was arranged for them to come to our English service we have at the children's home every Sunday morning. Praise God for the way he is able to move and for these orphans who are not ashamed to sing about the Lord. We truly thank all of you who have given and helped with the purchase of the container and materials, but we still need a little more. This is a real children's home and I wouldn't ask if it wasn't truly necessary.

Nathan Reed and Family
-------------------------------------------------------------------------------
click above for pdf attachment
-------------------------------------------------------------------------------
September 27, 2014
Missionaries:
Eight (8) American Families, three (3) in Romania and five (5) in Bulgaria: Dave Turner, Nathan Reed, Jacob Reed, Ralph Cheatwood, Matthew Welch, Zachary LeFevre, Larry Leach, William LeFevre. We work as a group, with each missionary having their individual work.
National Pastors:
Four (4) pastors in Romania and eight (8) in Bulgaria. Besides these pastors there are several young men in Romania that preach but do not pastor churches at this time. All these pastors and preachers work under the authority of the missionaries.
Churches:
Mostly Turkish house meetings, with seven (7) self-standing buildings, twenty (20) churches in Romania and eighty (80) in Bulgaria. We minister in English, Turkish, Romanian and Bulgarian.
Our simple definition of a local church is a group of baptized believers, meeting regularly as a church, having a national pastor.
Charity East Association Romania:
Casa Julia: Home where we are raising eleven (11) children. This home is also lovingly called 'The Father's House'. We have had most of these children since birth.
Our ministry in Romania is done from this complex.
* for full update on Casa Julia, see Attachment 1
Feeding Centers:
National believers' homes where we feed children a hot meal every day. Twelve (12) in Romania and nine (9) in Bulgaria. In these homes the children learn to sing hymns and pray, thanking God for His many blessings and for their daily bread. As these children have grown up, many have been saved and are now established in one of our local churches.
Coats for Kids:
This ministry was started by Larry and Carrie Leach in 2008 with just a few coats in the back of a van. It has grown and now over one thousand (1,000) coats with a pair of socks are given out each winter.
Flour and Oil:
Each winter, over two thousand (2,000) families in Bulgaria receive a fifty (50) kilogram sack of flour and a five (5) liter bottle of cooking oil. This helps them get through the winter.
Bulgarian and Turkish Bibles:
These Bibles have been newly translated from the English King James 1611 Authorized Version. Along with Turkish hymnbooks, the New Testaments of these Bibles are being freely distributed to our believers and others that are interested.
Daily Bread:
Over 4,500 loaves of bread are freely distributed monthly to needy families in Romania through the daily prayer meetings.
Three Seas Missionary Journeys:
Our purpose for these journeys is to raise interest and support for the work in Romania and Bulgaria, and also to expand into Turkey. Since Romania and Bulgaria are a part of the European Union, many of our believers have travelled into Europe, seeking work. They carry their hymnbooks and New Testaments with them, finding each other and meeting together wherever they go, so we have a witness in many parts of Europe. Several of the missionaries have already made trips into Turkey this past year, giving out New Testaments and hymnbooks in Turkish to contacts they have made.
In order to achieve our purpose, we want pastors, mission directors and church members with a heart for missions to have the opportunity to see our work in Romania and Bulgaria, take part in church services and evangelization and visit sites of the seven churches mentioned in the book of Revelation which are in Turkey. We want you to have a 'hands on' part in this work. To use a military term, we want 'Boots on the Ground'.
The cost of these missionary journeys would be your roundtrip airfare to Bucharest, Romania, where you would be met at the airport and brought to our Children's Home complex in Constanta, Romania. The price after arriving in Bucharest would be one hundred dollars ($100) a day per person all inclusive. This price would cover all your expenses while with us- travel, hotels, meals, snacks, etc.- and would leave us with enough money to produce DVD's, hymnbooks and New Testaments to give out on the way.
*
For itinerary of missionary journeys, see Attachment 2
*
For more information on journeys, see Attachment 3
DVD's and Website:
Twenty years ago we began giving out cassette tapes of our church services that included preaching, testifying, singing and praying. We now give out DVD's with videos of Turkish church services and have a website where hundreds of meeting videos are posted.
This is our work that the Lord has given us. We are thankful to be able to share it with you.
Brother Ralph Cheatwood
-------------------------------------------------------------------------------
-------------------------------------------------------------------------------
Sep 23, 2014

As summer draws to a close we pause to reflect on what the Lord has done for us this season. The work in Bulgaria continues to flourish. We recently finished our summer baptisms. This year the Lord added over fifty souls to the church through the ordinance of baptism. Others have been saved, but could not make it to the meetings to be baptized. Lord willing, next summer they'll be baptized as well. Our baptizings are the highlight of our year, because the older believers get to meet the new ones and they fellowship together. Normally the church service afterwards goes long into the night. This year was no exception. Even after the closing prayer, the believers broke out into another song, and then another.

This year the Lord has provided new vehicles for each of the national pastors in Bulgaria. We want to thank those who gave towards this work. Most of these men preach in about ten villages per week, some of them, even more. They have addicted themselves to this ministry. With pastors so dedicated to the churches, it's no wonder that the churches are thriving.

Another special blessing is the large meeting at our church up in Romania. Earlier in the year we took about sixty believers from Bulgaria who met about that many in Romania for a weekend of meetings. Now our plan is to have weekend meetings every fifth Sunday up in Romania. (Thank the Lord for the new cars!) The believers are thrilled to see one another. The preachers are tickled to see so many people gathered in one place that they preach extra good.

Please continue to pray for the work here, the new believers, the churches, the national pastors, and the missionaries. Without your continued prayer and support, the work would not be what it is today.
God bless each one of you. Zach LeFevre
-------------------------------------------------------------------------------
2014 Bulgarian flour & oil
-------------------------------------------------------------------------------
We've just finished the flour distribution in Bulgaria this year. Through your generous giving, we were able to provide each family of believers with over one hundred pounds of flour and over a gallon of oil. Everyone is happy and thankful for this display of your care for them.
Please click on the following links: 2014 flour thank you letter and from one of our national pastors Brother Mitko.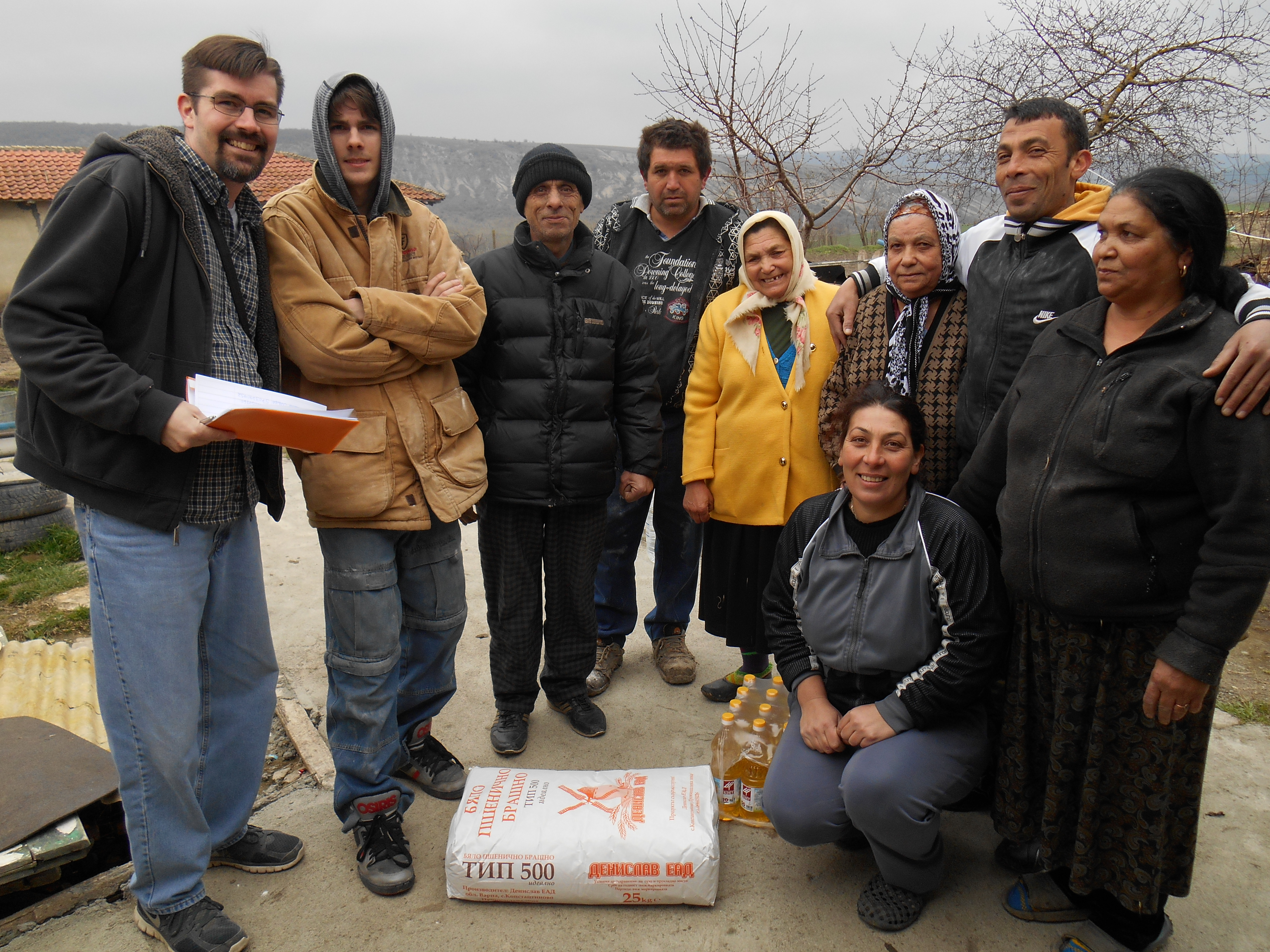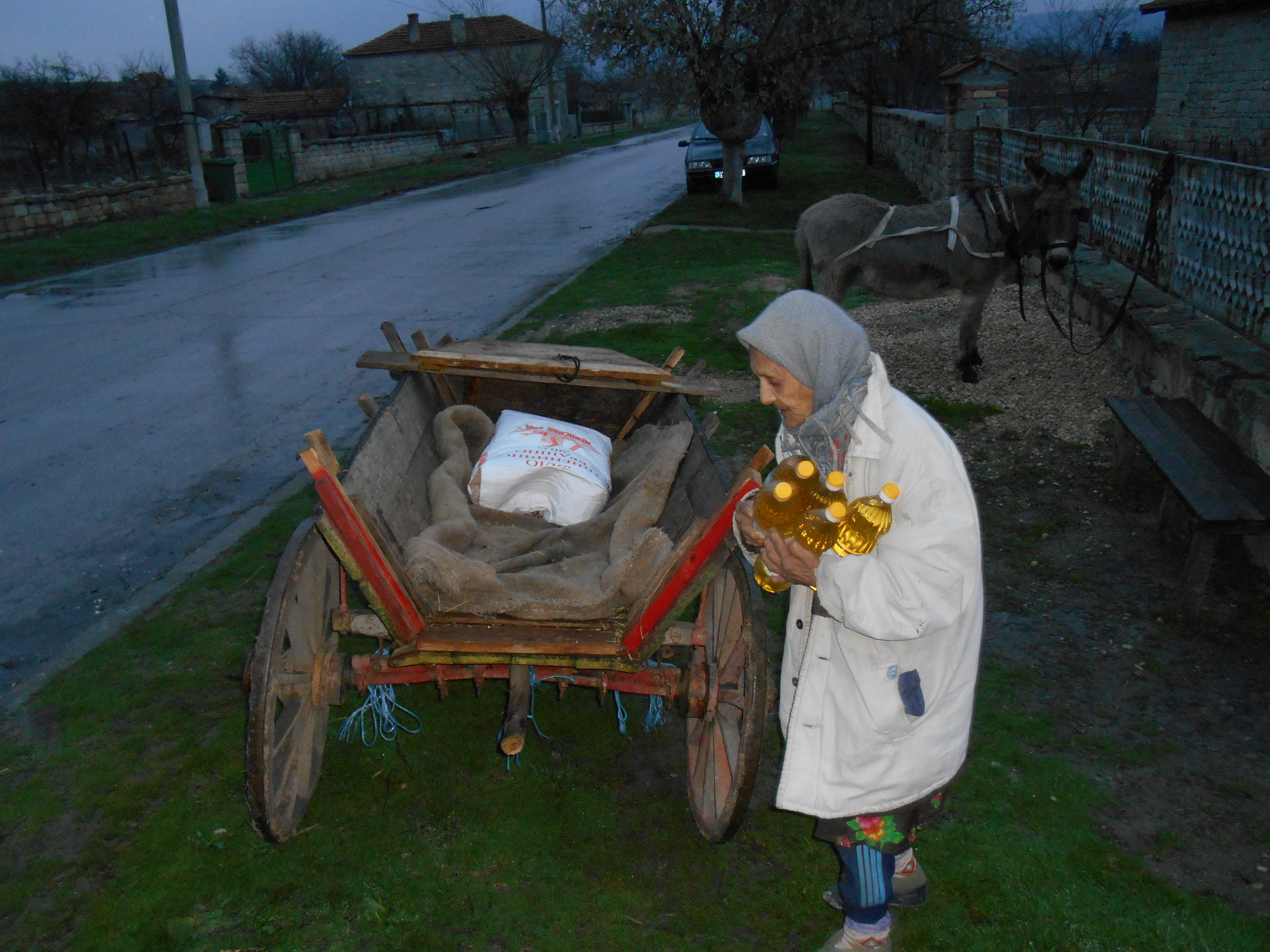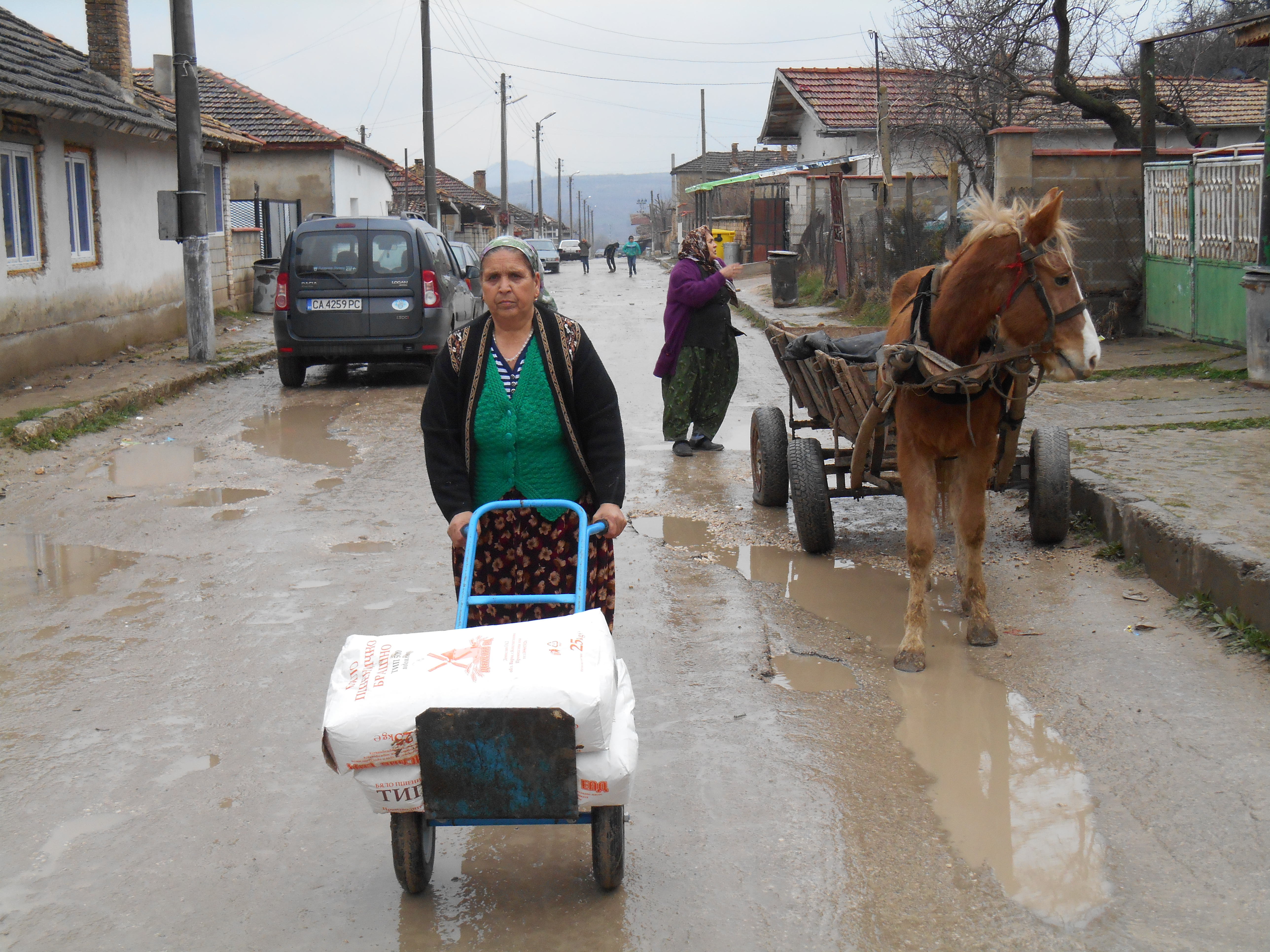 This year the mill produced a very good quality of flour. One woman from the church in Trastikovo said that she had not seen such good flour in her whole life. She said that she will be baking bread every single day until it runs out.
In the village of Grozdevo one of the believers said that her family was out of flour. Her husband would be working, but they might only be able to afford to buy a small bag of flour with his pay. Then, our flour truck came the next day and she received one hundred pounds of flour. So, they are rejoicing at how the Lord has provided for them.
Another believer, in Vezenkovo, told us that she was down to the bottom of the barrel. She made her last bread in the evening, and prayed, "Lord, what are we going to do tomorrow"? Well, the next day when the flour truck arrived at the church, she was amazed at how the Lord answered her prayer and provided for them.
Zachary LeFevre
--------------------------------------------------------------------------------------------------------------------------------------------------------------
Greetings in the name of our Lord and Saviour Jesus Christ.
As always we are bound to give God thanks through our Lord and Saviour Jesus Christ for what He has done through Brookside Baptist Church in the mission field in Bulgaria and everywhere else where the Lord let you have a part in His work. We thank you all for caring for the poor and feeding the children over here. It has been a great help for the churches over here to see someone like you all each winter provide 5 liters of oil and 50 kg of flour.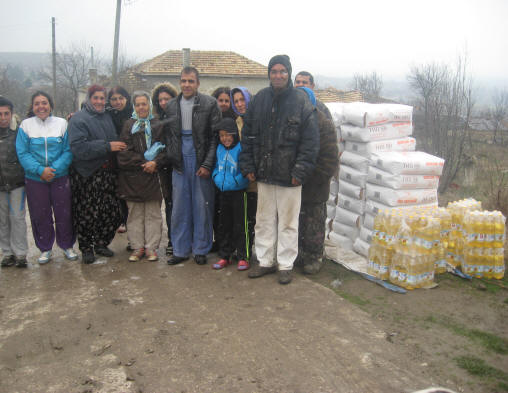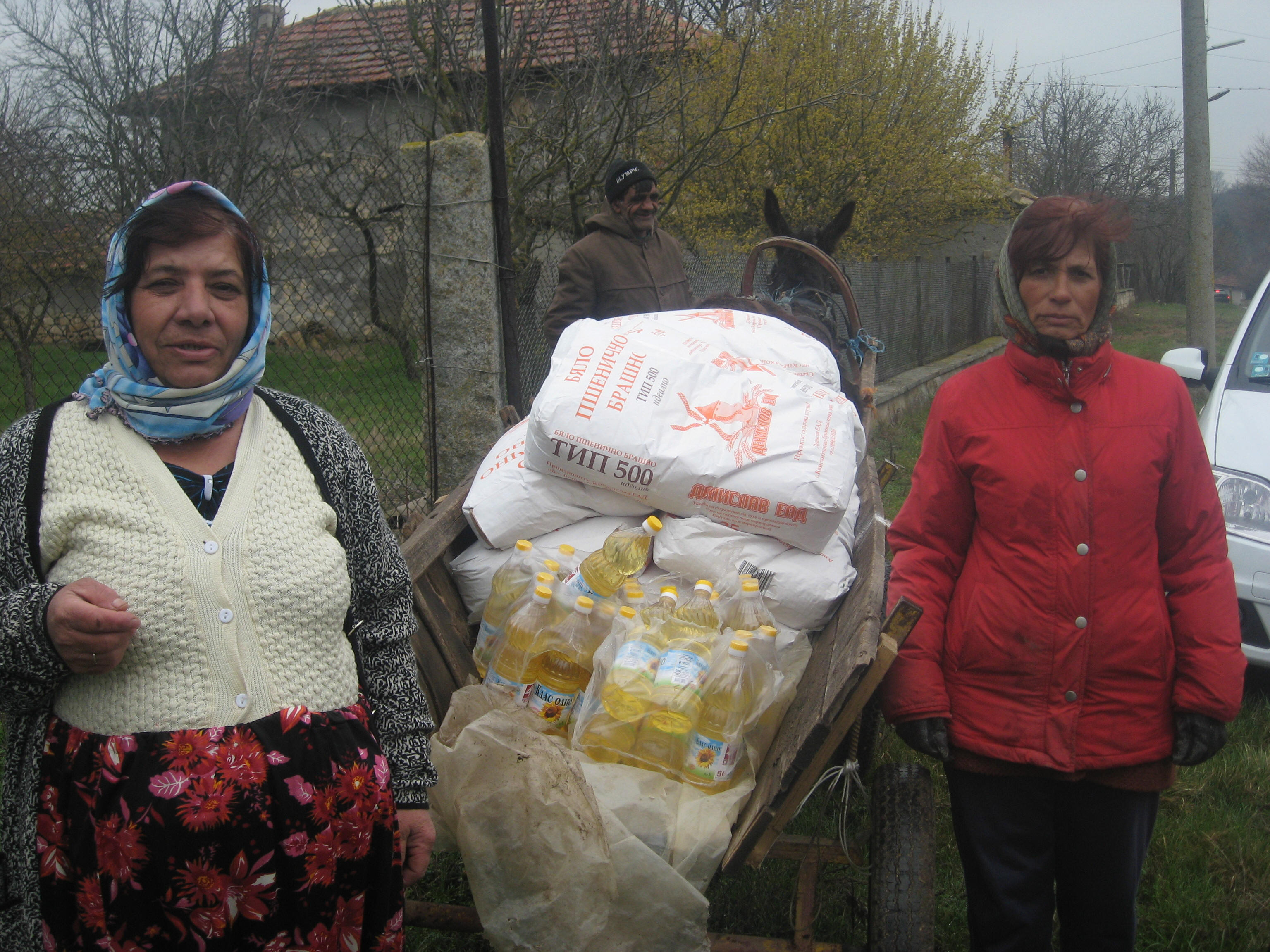 This food has fed a lot of people that are destitute of their daily food. A lot of the believers have fed a lot of the hungry neighbours around and it turns to be a good testimony. Also some of the believers testified that the oil fails not and the flour is not diminished.
Some testified that when they saw people more destitute than them they gave away their own oil and flour.
May the Lord bless you all in everything that you are doing.
In Christ, Bro. Mitko.
| | | |
| --- | --- | --- |
| This is a picture of the church in the village of Brestak, getting blessed with flour and oil. All these believers are extremely poor in this world but rich with God and thank you all for blessing them with their daily bread and oil. | | This is a picture of two of our sisters that got blessed by the Lord and what Brookside provided for them. They have large families and are more than happy and thankful that the Lord and Brookside care for them. |
--------------------------------------------------------------------------------------------------------------------------------------------------------------------------------------------------------------------------------------------
Greetings in the name of our Lord and Saviour Jesus Christ.
As always we are bound to give God thanks through our Lord and Saviour Jesus Christ for what He has done through Brookside Baptist Church in the mission field in Bulgaria and everywhere else where the Lord let you have a part in His work. We thank you all for caring for the poor and feeding the children over here. It has been a great help for the churches over here to see someone like you all each winter provide 5 liters of oil and 50 kg of flour. This food has fed a lot of people that are destitute of their daily food. A lot of the believers have fed a lot of the hungry neighbours around and it turns to be a good testimony. Also some of the believers testified that the oil fails not and the flour is not diminished. Some testified that when they saw people more destitute than them they gave away their own oil and flour. May the Lord bless you all in everything that you are doing.
In Christ, Bro. Mitko.
-------------------------------------------------------------------------------

Coats for kids

-------------------------------------------------------------------------------
Coats for Kids 2014-15 Dear Friends,

It's that time of year again, we are excited to announce… Coats for Kids. Every year, with the help of churches and individuals all across America, we have been able to distribute coats, socks, and the gospel on DVD to needy children and widows in our area here in Eastern Bulgaria, as well as in Romania. The needs are still great, as Bulgaria and Romania are the poorest nations in the European Union and work is scarce.

Though prices of most other items have really inflated, the cost of new socks and gently used coats remains nearly the same. For $6, we can outfit a needy child with a coat and socks for the winter. Please pray about what, if anything, the Lord would have you do to help with this ministry.

It is our hope to have all gathered funds in by November 1st, so we have time for our mission to send it over at the beginning of the buying season when coats are in abundance.

You can send to:

Charity Baptist Mission
Coats for Kids
P.O. Box 692
Bristol, TN 37621

In closing, here are a few pictures of kids we were able to help last year:

Please click on the following link to see the full story of the first Coats for Kids 2013-14 (12-21-13) distribution. (a printable pdf is available here)

The weather was absolutely perfect for a coat distribution, with temperatures around forty, clear roads, sunny skies, and a cool breeze. A little after nine this morning, Larry and I loaded up the car and headed up the road to the LeFevre house, where the elder daughters, Katy and Polly, were waiting for us. ...Together we headed to Novi Pazar where we were to begin this year's coat season. We barely had time to greet the Pastor and his wife before the first group of kids arrived. They were a lively, rowdy bunch. I was thrilled to see them again—and they were thrilled to see us. ...that distribution went smoothly.... We gave coats, socks, and DVDs to around 70 kids there.

We brought more bags of coats and socks down from upstairs and filled the cars. Then we drove on to Kaspichan....Kaspichan is wild. I could describe it for you, but really, in order to fully understand it, you'd have to experience it for yourself. It's just wild. ...We ended up giving out around sixty coats and socks there. The demand for DVDs was so great today, we ran out.

And

one

final

p

i

c

t

u

re, a

few of t

h

e

48

ki

d

s who

got

c

oats,

socks,

a

n

d

p

a

n

ts

in

Ef

o

rie:
<![if !vml]>
<![endif]> <![if !vml]>
<![endif]> <![if !vml]>
<![endif]>
The fella at front left came in without a pair of pants, but he left with pants, socks, and a coat. This one makes me cry buckets. With a pair of pants, he can have a chance to go to school.
Thank you all for your prayers! Stay tuned for the next update. On Behalf of the Leach Family, Carrie Leach - Bulgaria
-------------------------------------------------------------------------------
From Romania
-------------------------------------------------------------------------------
Please click on the link below to see some pictures from the village of Eforie.
Mugur Varzariu, is a Romanian documentary photographer who created a web page depicting the living conditions of the Roma in the village of Eforie.
Follow the link below to get more information from the authors website.
http://www.mugurvarzariu.com/the-forced-evictions-of-around-one-hundred-roma-people-in-eforie-sud/
"rain of tears"
www.mugurvarzariu.com