-------------------------------------------------------------------------------------------------------------------------------------------------------------
- Missions Updates -
Dear Praying Friends and Family, September 2016
Amazing Answered Prayer! The Lord has so graciously answered our prayers! There is a great sense of inadequacy when I think of how to properly, with words, give God the praise He deserves and express my own thoughts and emotions. Perhaps a little background would be the best place to begin to explain what a huge blessing we recently received. During our last furlough our two largest fund raising projects were plane tickets and a vehicle. We saved for our plane tickets and were planning to return during the down season for the cheaper rates. After the funds for tickets were raised two pastors graciously asked us if we needed anything. I told them that we needed a vehicle for my family and ministry. We almost had all the money needed when several unexpected things derailed our plans. First, the war in Ukraine along with new document requirements postponed our departure, resulting in us paying almost twice as much as planned for tickets. Upon arrival in Ukraine the rest of the fund was quickly depleted by having to replace our stove, washer, water pump, and heating and A/C unit. There was also a lot of expense trying to fix our water problem. By the time it was all said and done the vehicle fund was gone.
For over two years we have been here on the field with no vehicle. We are very thankful that we were able to use Brother Casey Kline's van when we needed to travel to Odessa for supplies and run errands but we tried to keep our use to a minimum. (Having to borrow another's property does wonders for your pride of independence.) The rest of the time we used taxis to get to church and for long trips. The lack of transportation was tense at times, especially while Naomi was miscarrying. There was always a little fear of "what if?" when thinking of emergencies and if war ever did come to our region. Would we have to flee and perhaps couldn't?
There were other questions. "Was I following the Lord or was I putting my family in harm's way unnecessarily?" I believe we were following the Lord and I would never foolishly put my family at risk. Of course there were times when we wondered why it was taking so long to raise the funds. We had several generous love offerings but there were always other needs that seemed to be more important. A good chunk of our support goes to the overhead of the work and I never felt comfortable about the thought of decreasing it. The question, "Is the Lord chastising us for having such nice vehicles in the States during furlough?" was there too. We had been criticized during our time in the States and such words always seem to be close at hand during periods of doubt. Perhaps we deserved it. Of course we prayed about it individually and as a family. Bedtime prayers with little Christopher were sweet and humbling. One night he asked, "Dad, why does everyone have a car and we don't?" These types of questions and doubts led me to question whether the Lord wanted us here anymore. We didn't mention this in any of our prayer letters because it was personal. We needed to see God provide in such a way that there is no doubt that it was Him!
I have a Scripture promise from the Lord about starting a new work in Odessa and the last thing I wanted to do was to start something without the Lord's blessing and presence. It was clear, however, that we couldn't begin that work until we had dependable transportation. So, I prayed for God to provide us a vehicle in such a way that it would be confirmation about His will in the new church plant in Odessa. The answer came when a pastor of a church who wishes to remain anonymous contacted me and said that they had heard that we were in need of a vehicle. Still to this day it is a mystery to me how they found out. Only a few close friends and family knew that we didn't have a vehicle. What is important is that the Lord knew and got the news to them! One of the most amazing parts is that I've always low-balled the price by $5,000 when asked how much we needed and just hoped we could make due. Vehicles are so expensive here due to heavy import taxes that I feel somewhat ashamed to tell people what it really costs. However, when this God-sent pastor asked me I told him the entire amount and was shocked that they said they could cover it! The Lord is so good and we are so grateful that He did this the way He did. We really needed a "Red Sea Crossing" type of experience and the Lord provided. Thank you all for praying for us and our ministry. Every time I sit in our vehicle I know that the Lord gave it to us!
A Cultural Moment. The economic crisis in Ukraine has caused crime to increase again. There was a wave of break-ins and thefts that came to our neighborhood. Someone broke into my storage shed and got some tools and our ladder. They tried breaking into our house through the garage but were unsuccessful. A police officer showed up at our house one day and asked if we had been robbed. He said he had our tools and that we would have to fill our paperwork to get them back. It resulted in a criminal case and I had to go to court and face the thief. It turned out to be one of the workers that helped us with some concrete work. He showed up at court "three sheets to the wind" as they say. What a spectacle! The judge was getting very irate and I ended up being his defense of a sort! She, the judge, was getting ready to throw the book at him for being drunk and unruly. I asked for clemency knowing he had children. In a way it was funny in that the whole spectacle was so absurd but really it was just plain sad. Please pray for Sergei for salvation.
Bible Institute. Classes for our Bible Institute have resumed for another year and it is encouraging to see the interest in our own people here locally as well as in other cities. We currently have eleven students; some full time, others just come for the Bible classes or the course Preparation and Delivery of Sermons. One of our fulltime students is a young man named Daniel who is still in high school in Odessa. He takes our classes by watching the videos after school. It is humbling and encouraging to have Misha from Limansky travel over awful roads to attend classes. A couple students receive a stipend that helps them attend and they are required to pay for their education by labor around the church. It is a win – win situation. They benefit by being able to have work and attend classes and the church benefits by the constant attention and upgrades that help the ministry. The kitchen help is all done voluntarily by several ladies in the church.
Odessa Church Plant Update. We are glad to announce that we now have ALL of the documents in hand and now can legally rent a building for use in the work. Now that we have a vehicle we can begin to look for a good location to rent. We probably will not begin regular services till spring and will pray and prepare as we decide on the right location and building to rent. Please pray about this important step in the work there.
Church Building Project. We are coming very close to finishing the veranda to handle overflow and help us with more seating on special occasions. We are also busy insulating the building in preparation for what looks like an early and hard winter. We hope to soon begin drawing up the building plans for a more functional church building that will be able to service our current members and give us room to grow and host larger conferences. We have been maxed out for quite a long time and it is obvious that we need to build. Please pray for the Lord's wisdom, guidance, and provision.
Thank you all for your friendship, prayers, support, and all that you do for the Lord that gives us the privilege and opportunity to serve our Lord and Savior Jesus Christ. Until our next prayer letter or our meeting in the air!
That Ukraine May Know Him, Christopher Rue Phil. 3:10
-------------------------------------------------------------------------------
Dear Pastors, Friends, and Churches, September 2016
We have had a most interesting year thus far. We have had some decisions to make concerning a Hispanic island country and the leadership, and we have made several trips to objectively make plans for the future.
Our last trip to this country in late September went great and we traveled quite a bit. On Friday we landed in Santiago, the 2nd largest city, then went to Manzanillo. While there we preached in a couple of churches on Sunday, then continued up to Holguin on Monday. There we met with several men before traveling on to Camaguey where we spent a couple of days. Also, during this trip we saw some preachers we have not seen for a long time. We had several meetings with our preachers and missionaries in these cities.
As we pray this year with anticipation over the elections for America, we are also praying for the upcoming changes in this country. Now we can freely travel into this Hispanic country with religious visas! This has helped us tremendously. We can only hope that with these changes this nation will not be affected in a negative way.
I know it will take many years to bring this Hispanic country to a "normal" society as they have had to survive such harsh conditions.
Pray for us also, as these preachers and people are facing an unknown future in this country.
Joyfully Yours, Farren Caeble, 1Sam. 12:24
-------------------------------------------------------------------------------
Dear Churches and Praying Friends, November 2016
"And Hezekiah appointed the courses of the priests and the Levites after their courses, every man according to his service, the priests and Levites for burnt offerings and for peace offerings, to minister, and to give thanks, and to praise in the gates of the tents of the Lord." (2 Chr. 31:2)
It is once again our privilege to report of the Lord's work. This month many Americans take time to be thankful, and Christians especially. We have many things to be thankful for: our eternal salvation, our Christian heritage, our families and churches, just to name a few. One particular blessing for which I thank the Lord is that he has appointed me to be a New Testament priest, to give the sacrifice of praise, to minister and give thanks in the gates of the Lord's house. This ministry is not difficult; it is easy. Count your many blessings, it will surprise what the Lord hath done.
We are now completing our 2016 furlough, and what a blessed time it has been. Every church we visited was like a family reunion – God's family. Old friends and new friends both have been a blessing to us. Several churches and individuals have given us clothes, or things we'll need on the field, or just snacks for when we travel. On one recent trip, our car was full to capacity, and little Levi said, "I don't think we should be blessed any more – we don't have room." Truly, God and his children have been good to us. We've traveled over twenty thousand miles visiting churches and by faith giving good reports of the mission work. Some new churches have pledged to support the work on a monthly basis, and that is a special blessing, not only for us and for them, but for the many souls in spiritual darkness who still wait for the gospel light to shine on them.
On the twenty-ninth of this month we will be traveling back to Bulgaria. We still need some money for the vehicle which we plan to buy, and a few other household items, so please pray with us about that. I spoke with pastor Alish from our village a few days ago. He and his family are all anxious for us to return, as are we.
Thank you all so much for your prayers and continued financial support. We will try our best to carry on the work evangelizing the Turks in Bulgaria and establishing churches.
In Christ,
Zachary LeFevre
-------------------------------------------------------------------------------
Greetings from Boston, September 2016
I want to thank you all for your Love, Prayers, and Support to this ministry. Back in April I went to my mission board Charity Baptist Mission during their spring Campmeeting at Brookside Baptist Church in Bristol Tn. The Lord took such good care of me while I was there, because of the love of God in the hearts of the preacher and church members. I have greatly missed this due my poor health.
I waited until the summer was over to write this letter, because it's some of the busiest months of the year. During the Campmeeting the Lord provided funds for me to go to Washington D.C. on Memorial Day weekend. It took an eight hour train ride just to get there and met my friend Dave Shenfield and his son Matthew. They drove from Harrisburg PA. and we shared the room to go about our Father's business. We drove around that evening in Georgetown using the speaker system in Dave's car for preaching. The next morning was spent at the Vietnam Veteran Memorial. At least 1,000 tracts were passed out titled "Saved in a war zone". This is about a Vietnam vet. caught in a gun battle and later trusted Jesus as his savior. Later that afternoon we went to a motor cycle rally they call "Rolling Thunder" in memory of Vietnam veterans. Around 200,000 bikers attended not counting all the spectators on the sidewalks and another 800 tracts went out. The following day before the next parade I put at least 300 tracts on cars. When the regular Memorial Day Parade started around 1,000 tracts went out to Homeland security, police, firemen, military marching band etc. When I tried to get a cab the secret service were there and helped me. They told me I was in front of Vice President Joe Biden's office. I gave them tracts and ask if they could give him one. I had mostly military/patriotic and my own testimony tract to hand out as I spent so much time talking to people one on one. Lots of teenagers in bands got tracts and as I testified to them they told me they appreciated it. What a blessing! After getting back home on Tuesday, I sat at my front porch and Thanked God for the blessing and honor to serve him in D.C. and then listened to the beautiful sound of birds singing. Wow what an end.
Last Christmas my mission board took up an offering to buy me 14,000 chick tracts. The Lord gave me a good idea to put them in baggies along with a testimony and another tract. These were placed at every house I could get to. While doing this I got to speak to so many people walking the dog, mowing the lawn or just out for a walk and at bus stops and train station etc. Wherever the Lord sends me people would remember who I was and what I gave them. Some would even ask if I had any other tracts. For example: the girl at the coffee shop, the bus drivers, the nurses and doctors and hospital workers (I'm in and out of them quite often). I tracked about six other parades this spring and summer in Boston and its surrounding towns. During one parade I gave out 1,000 tracts and 800 in my own town parade, then about 300 at another and 400 at sodomite parade. I don't always count the tracts I give out but I have a general idea. As soon as I get a box of tracts they go out. Don't leave the seed in the barn sew it in the field.
Now that school is back in session I will be going out on their sidewalks and get to the teens at the train stations. There is still a lot that can be done in the fields of America. I've got tracts for every situation and occasion. The other day I gave the policeman a track. He asked me if I was going to the school down the street to give them out. I ask him what time they dismissed and he told me around three and that was the exact time it was so I went. The kids and some of the parents took them. A teacher took one and stood to the side to read it, then went back up the stairs and got another teacher to read it. She told me "you can't give them out here on school property". I told her respectfully "I was on a public sidewalk not on the schools property". I asked her "what if it was something like pro transgender or homosexual pamphlet?" No answer of course, but a remark "You will be hearing from us".
A few minutes later I shook off the dust from my feet and left. I was not being rude, but how else are these young people going to get the gospel unless we go to them. I believe the constitution won't protect us much longer in this country in getting the gospel out. In Nigeria you can get a $2,000 fine or one year in prison for giving out tracts or preaching anything in church against Islam. In London the new Muslim mayor passed a hate crime bill, stating you cannot preach, talk, or say anything against Muslims. In Belgium people are afraid to come out on the streets.
One day I got on a bus going to one of the drug infested areas and at the next bus stop about 20 Jr. High school students got on board. As they walked down the aisle I handed them all a tract and they started reading and talking about them. An older lady came up to me and asked if she could have one of my Bible pamphlets and the bus driver wanted one as well! While in the drug area I went house to house with my packets in the baggies and I talked to a lady and to give her one. She saw the drug tract and told me she just lost her youngest brother to a drug overdose. She was so glad I was giving them out there. About four days later I heard someone honking their horn and waving at me. When I went over to that car I saw it was that same lady. She was so happy to see me and reminded me of where we had met earlier. I gave her a couple of different tracts. She was from the other side of the city and was shopping in my part of town. See how great things the lord does! I left riding up my street waving and giving glory to the Lord.

On the day of the Presidential debates I was putting out a tract called "Who America Needs?" 500 tracts went out that day. As I went down putting them on cars I could see a young guy sitting in his car while eating lunch. As I gave one to him I showed the tract and he grabbed something from his passenger seat. It was that tract. He was smiling showing me that tract. Around the corner a Catholic High School was letting out and the teenagers came pouring out. I switched to the tract called "they gambled and they lost". It's all about people who died from drug over doses. I was telling them that God loved them. They took almost all of them and put them in their pockets. Out of about 75 kids only one tract ended up on the ground. The Lord used tracts to get my sister, my brother in law and my brother Peter saved. I read that George Whitfield, Hudson Taylor were both saved from reading a tract. I know a guy that when he was a little boy going trick or treating someone put a tract in his bag. He grew up doing drugs, drinking and went to jail a few times; he lost all his friends to that life. One day he ended up in a little Baptist church and heard the gospel then got saved. Latter on he started a tract rack in the church with that same tract in it. That little boy was me. Do you think the seed was sewn? Yes it was. To God be the Glory! Isa. 55:11-12
If anyone can help me out I can use some more chick tracts. I'll write soon again. Eph. 6:10-20
In his Love,
Jim and Jo Ann Costigan
-------------------------------------------------------------------------------
Dear Friends in Christ, October 2016
Greetings in the name of our Lord and Savior Jesus Christ. I had planned to write at the end of summer / start of school, but is seems we are always so busy that I never get around to writing. When I think of all the things the Lord has done for us - in the last month, the last year and even the whole 24 years we have been on the field - I really do not know where to begin. I just know He continually amazes us with His goodness and grace every day.
We had a very busy summer. Almost every week we had soldiers from the American base out helping us with work projects, coming to church, or just spending time with the kids. The base chaplain invited Dara and the kids to sing at the Labor Day prayer breakfast on the base. On another occasion we were invited to sing at a service on an American Navy destroyer that was in port on patrol of the Black Sea. The Lord continues to give us opportunities to be a witness for Him and to be a blessing to these young men and women who are away from home serving our country. Many have told us how touched they have been when they walked in and felt the love that is in our home. We are proud to be able to tell them that it is not us, but God's love in us, that they feel.
One thing that sticks out in my mind about this summer is an opportunity we had right before school started. Last year, for the first time ever, we took a 3-day vacation in a nearby tourist beach town with all sixteen kids. The kids loved it so much that we did it again this year. One evening we went for a walk along the boardwalk to look at the crafts and other merchandise sold by the locals. In the middle of this crowded pedestrian thoroughfare, we saw a young man playing violin for tips. Since several of the girls play violin, we stopped to listen. Between songs, we started talking to this young musician and told him that most of our kids play one or more instruments. He asked if anyone wanted to play and Sevgi volunteered. She hardly knows any songs besides hymns and spiritual songs, so she began to play what she knows. The river of people passing by slowed and a crowd gathered to listen to her play. I heard people in the crowd saying they recognized "Amazing Grace", which I guess has been translated into most languages. The young man asked the kids if they wanted to sing and, of course, we didn't want to miss this opportunity. Dara and the kids sang some songs including "God is Still Good" and "I'm Blessed" which talk about what Jesus did for us on Calvary and what He continues to do for us now and throughout eternity. I was so thankful the Lord gave us this opportunity to be a witness to how good a Savior we have and for people to see someone singing with joy in their hearts that comes from knowing Him. Equally as wonderful for us as the parents of these children was the opportunity for the kids to see that you never know when you may have a chance to share the Gospel and the importance - maybe eternally important for someone - of having something from God ready to offer.
Our churches continue to be lighthouses of hope for the lost in eastern Romania and Bulgaria. Throughout the summer we had big Turkish meetings both here at the Children's Home and at our big church in Dobraveno, Bulgaria.
Brother Ralph worked all summer on the church building / printing shop in Avren, Bulgaria. He continues to print and bind Bibles, New Testaments, and hymnbooks out of his bedroom while trying to finish the new building. Please pray with us to ask the Lord to provide the funds needed to get this building completed.
A couple of months ago Brother Ralph taught me, Dara and the kids how to hand stitch the New Testaments and hymnbooks and is letting us help him with the binding of these. We are blessed to have even a small part in this tremendous undertaking. We are seeing the culmination of 35 years of work dedicated to getting a good Bible into the hands of the Turks and a wonderful Savior into their hearts. Thank you for your faithful support and prayers.
The Turners
-------------------------------------------------------------------------------
September 2016
"Not because I desire a gift: but I desire fruit that may abound to your account. But I have all, and abound: I am full, having received of Epaphroditus the things which were sent from you, an odour of a sweet smell, a sacrifice acceptable, well pleasing to God. But my God shall supply all your need according to his riches in glory by Christ Jesus". Philippians 4:17-19
Brethren in Christ, we hope this letter finds you well and happy in the Lord. For many, many years the churches, saints, and missionaries have been made full by your love and generosity. I would like to thank each and every one for supporting the work of God and furthering the gospel. Multitudes of souls have been saved by the grace of God because of your continual prayers and support of this ministry.
I have been sitting here thinking about all the opportunities/needs that we have in Romania and Bulgaria, and wondering how all these needs can be met, then this verse came to me. "Ah Lord God! behold, thou hast made the heaven and the earth by thy great power and stretched out arm, and there is nothing too hard for thee". Jeremiah 32:17
So I am sending this letter by faith believing God for Jesus' name sake that He will meet all these needs.
The first I would like to mention is such a great blessing; Back in 1991 Brother Ralph Cheatwood came by Brookside Baptist Church with a burden to translate the word of God for the Turkish speaking people. Brother Cheatwood along with the other missionaries has now completed three translations in two different languages of the KJV Bible, Bulgarian, Latin Turkish and Cyrillic Turkish. They are now able to print 100,000 pages per month. These are given to the people free of charge and all the labor is free. This costs just under $1,000 a month for printing supplies and for around $12,000 they can print Bibles for a full year!
Second, I would like to mention the feeding of the churches in this same area. These people are very poor and many have no means of supplying for their families, especially during the winter. As many of you know, over the last several years by the grace of God we have been buying 110 lbs. of flour and five liters of oil and giving it to each church family. The cost varies yearly due to fluctuations in the exchange rate and of flour and oil prices. Usually it cost between $70,000 to $80,000 dollars to feed around 2,200 families each year.
Third, I would like to mention the Coats for Kids ministry that the Lord laid on Brother Larry and Sister Carrie Leach's hearts. One day as they were driving down a road in Bulgaria they saw a woman holding a little child upside down in a dumpster as the child was trying to find some food. When the woman pulled the child up out of the dumpster it was naked. This broke their hearts. As they thought of what they had seen, they began to ask the Lord for the means to keep extra clothes with them to help these poor people. They began to search and soon found a place where they could buy a coat and a pair of socks for about six dollars. So over the last several years they have been clothing some 300 to 500 kids each winter as the funds allow.
And then last of all, I want to mention a building that Brother Ralph has a burden to buy for a church in one of the villages. It is a really good buy at $5,900 and they are think it would cost another $2,400 to make all the repairs needed.
This work continues to grow and so do the expenses, but I am believe God will meet the needs. Many of you have been so faithful to support this work through your prayers and financial support. I want to thank you and say I believe when we get to heaven God will show you the fruits of your labor. Once again, thank you for all you have done and for being sensitive to all these needs as the Holy Spirit leads you.
To God Be the Glory - Mike Nixon -- Director
-------------------------------------------------------------------------------
From Bulgaria
-------------------------------------------------------------------------------
-

Bible printing update

-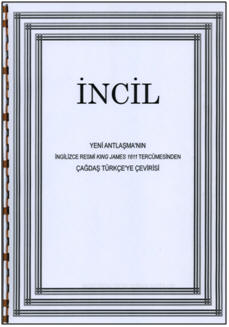 Dear Friends in Christ, Aug 2016
Current prices of Bibles, New Testaments and hymnbooks in the Bulgarian Cyrillic alphabet, the Turkish Cyrillic alphabet and the Turkish Latin based alphabet.
- A4 Bible - Turkish and Bulgarian with cross references $12 - A5 Bible - Turkish and Bulgarian with cross references $6
- A4 New Testament - Turkish and Bulgarian no cross references $3 - A5 New Testament - Turkish and Bulgarian no cross references $1.50
- A4 Hymnbook - Turkish with the Gospel of John and 14 Psalms $1.30 - A5 Hymnbook - Turkish with the Gospel of John and 14 Psalms $.65
We are currently distributing free of charge New testaments and hymnbooks to all the believers in our churches and others that are interested. We provide whole Bibles to the national pastors and preachers. These Bibles and hymnbooks are produced on a printer/copier and the holes are then hand punched or drilled and then hand sewn with a laminated cover. The labor is provided freely by the national pastors and American missionaries. From July 2015 to June 2016, 12 months, we printed 1,220,000 (One million two hundred and twenty thousand) copies, an average of 100 thousand a month.
In August 2016 we bought two used Minolta machines ($2,000 each) which are guaranteed for five million copies each. We start printing again in September 2016. The amount needed each month is just under $1,000 for 100,000 copies. The equivalent of 300 A4 or 600 A5 New Testaments or 750 A4 or 1500 A5 hymnbooks or combinations thereof.
The balance in our printing fund is zero. We need your help to start printing again in September of 2016.
Brother Ralph Cheatwood.
-------------------------------------------------------------------------------
May/June 2016
Dear Pastors, Churches, and Fellow Saints,
"Go out into the highways and hedges, and compel them to come in, that my house may be filled." Luke 14:23
Periodically, we hold special revival services and bring many of the different village churches together. We help transport the people with our vehicles and all of them are very happy and thankful to have the blessed opportunity of attending the meetings. Sometimes the meetings last for just one day and other times they continue for three days. During this time everyone is served meals and even given a place to sleep when necessary. The fellowship is so precious to behold and reminds us of the fellowship that we have enjoyed while at the churches in America.
<![if !vml]>

<![endif]> <![if !vml]>

<![endif]>
Brother Matt preaching in the village church of Dabravino that he helped build 15 years ago.
The last time we held a special meeting I had driven my van to a certain town and was waiting for everyone to show up before we headed out. A man named, Rozdi, came by and asked where we were going. When we told him that we were going to church he jokingly asked if any girls were going to be there. The believers in my van didn't think it was funny at all and started correcting Rozdi for his joke. However, I told him that there were going to be girls but that these girls loved the Lord and were walking in His way. Then I invited him to come along and before I knew it we were headed down the road to church with this man. Later that night, after six hours of preaching, singing, testifying, food, and fellowship, we headed back home with our hearts overflowing. I haven't seen Rozdi since that day but I know the Lord touched his heart. I look forward to inviting him to come to church again that he might hear the glorious gospel of salvation and believe on the Lord Jesus Christ.
Oh Lord, give us courage to go out into the highways and hedges, and to compel the careless, comfortless, and the forsaken to come into Your House that it may be filled!
All Because of Calvary,
Matthew Welch
-------------------------------------------------------------------------------
Dear Churches and Praying Friends, August 2016
"Therefore say, Thus saith the Lord God; Although I have cast them far off among the heathen,
and although I have scattered them among the countries, yet will I be to them as a little sanctuary in the countries where they shall come." (Ezekiel 11:16)
Greetings in the name of the Lord Jesus Christ, once again it is our joy and privilege to report to you all of the good work of God among the Turks in Bulgaria. The above verse is, of course, in reference to God's dealings with Israel in their captivity and shows the mercy of God in the midst of judgment. But also in the verse I see the Lord's mercy shown to his people among the many nations living in a wicked world. The Lord has given us a little sanctuary and that is the church. Although my family is back in the states right now, the work of God continues, as new believers are baptized and added to the church.
<![if !vml]>

<![endif]> <![if !vml]>
<![endif]>
During our time on furlough here we have seen the Lord give several new churches the burden to help in this work. This is a wonderful picture of charity: believers helping believers and churches helping churches though separated by thousands of miles, all because the love of Christ constraineth us. We praise the Lord for all that he does both in America and Bulgaria. Please continue to pray about our vehicle situation; about a third of the necessary money has come in.
Our family is happy and healthy, but the children say that they are ready to go back to Bulgaria. Thank you all for your continued prayers and support.
In Christ, Zachary LeFevre
-------------------------------------------------------------------------------
Dear Pastors, Churches, and Fellow Saints, March / April 2016 Prayer Letter

God is faithful, by whom ye were called unto the fellowship of his Son Jesus Christ our Lord. 1 Cor. 1:9

Greetings and thanks from the churches here in Bulgaria and in Romania.

We have been very busy working hard on a church building in Avren, Bulgaria. This lovely village is located about 15 minutes away from Dabravino where we reside. The other fellow missionaries and even my two 15-year-old sons, James and John, are helping with the work on this building. Some churches and individuals in America have given to this project and we are sincerely grateful for their generosity and kindness. We still have a lot of work that remains to be done until the building is finished but we are trusting in the Lord's grace and help to complete it. Please keep this matter in your prayers. We look forward to the day when we can meet together and worship the Lord in this building.

We have been enjoying good meetings, down the road from us, in the little village of Yunak. It's a blessing to see the folks coming out faithfully to church. The village has only a little Orthodox church and it is hardly ever open. We are thankful to be able to meet together with believers there who desire to worship the Lord and fellowship with the saints. We hold weekly services in Yunak, at the home of a 74-year-old man named, Malcho. For many years now Malcho has had a church meeting in his home. He has been faithful to the Lord even through the hard times and loves to testify about God's saving grace. I thank the Lord for this man who not only opened his heart to the Lord but also the door of his home, nearly 20 years ago, so that we might have a place where we could worship together.

<![if !vml]>
<![endif]> <![if !vml]>
<![endif]> <![if !vml]>
<![endif]>
Above, Matt gave Charity a rooftop tour of the church in Avren that she'll never forget. An inside view of the second story of the church. And, James and John are helping out with the work on the church building.
All Because of Calvary, Matthew Welch
-------------------------------------------------------------------------------
From Ukraine
-------------------------------------------------------------------------------
Dear Praying Friends and Family, March – May 2016

Correspondence with our supporters in this work is very important which is why I try to put out timely by-monthly prayer letters. From time to time, however, things hinder and I have to put out a letter covering three months. The need to write this letter has been hovering and I am thankful to finally sit down, say a prayer of thanks for you all, and ask the Lord to use it to encourage you in what you do for Him.

A New Name Written Down in Glory! After months of prayer, witnessing, and direct preaching Sergei finally received Christ as his personal Savior. He has been attending church off and on for quite a long time. It was obvious at the beginning that Sergei was coming because of a young lady who has had a very stormy history with our church. I dealt with him after church one morning but he said he wasn't ready to get saved. I told him to start reading the Gospel of John and that we would pray for him. He came the next week and I let him have it! Both barrels! The look on his face after the service told me that he would either get saved or never come back. I was excited to see him the following Sunday. He did not respond to the invitation so I determined to let him have it again. Our eyes met and I prayed, "God, please save this young man." His gaze did not turn away like usual. This time he came up to me and said that he was ready to receive Christ! He said, "After reading the New Testament I've come to the conclusion that only God could write a Book like that!

Emergency Trip to Kiev. We had another set back from our usual schedule when I realized that three of our children's passports were about to expire causing us to make an emergency trip to Kiev to get them renewed. The law requires both parents to be present so the entire family had to make the 7 hour trip. I hired a taxi driver named Sasha to take us in his van and I witnessed to him for a good part of the trip. He didn't budge. I will probably need to hire him again in the future and hope for another opportunity to witness to him. Please pray for his salvation. We were thankful to receive the new passports safe and sound.

Good byes. It has been said that the life of a missionary is a life of "goodbyes." You never have enough time to spend with the saints and family. Just as you begin to get to know people and enjoy their fellowship it is time to pull up stakes and move on. Saying goodbye to loved ones is the hardest. Every time we leave to return to the field I go through the emotional turmoil of saying goodbye to my grandfather, Conrad Rue, whom I love and respect very much. The call that I've been dreading for years finally came. He suffered a severe stroke. Friends and family kept me up to date on his condition and with the reports being pretty optimistic I continued with the daily work load of teaching the Bible Institute. He took a turn for the worse and Hospice was called in so I went back to the States for two weeks to see him again, be with family, and help however I could.

The Lord was good to allow me one last moment with him. I took him by the hand, told him it was me, and asked him to squeeze if he could hear me. He started squeezing my hand over and over! I joked that he was going to break my hand and he managed a smile. What a precious memory. He passed on to be with the Lord on Sunday March 27, 2016. I can't wait to see him again. The trip to the USA was unexpected and short so I did not have time to contact any churches. Upon hearing that I would be in the Cincinnati area Pastor Joel Greer of Branch Hill Baptist Church and Pastor Mike Elliot of Anchor Baptist Church were kind enough to ask me to preach for them one Sunday. They were a huge blessing and answer to prayer because, between the two of them, they covered the expenses of the entire trip. I also want to thank Pastor Dan Ferrell and the folks at Morning Star Baptist Church for officiating the funeral service and being such a help and support to my Grandmother Rue during her time of bereavement.

Bible Institute. The setbacks in our schedule have caused the school year to be pushed back but all is going well. We started off the school year with about twelve applicants. Two never showed for first class, and one dropped after the first day. We are now down to six solid students with one more preacher coming on Fridays from Limonski for the class "The Preacher and His Preaching." The trip to the States along with the trip to Kiev have left me scrambling to catch up. I'm currently preaching and teaching from the pulpit 18 to 19 hours each week, not counting preparation time. All of it, of course, is in Russian. It has been great but I'm getting tired! Please pray that we all do not wear out before the year is up!

Odessa Church Plant Update. One of the most challenging parts of registering a new work in Odessa was orchestrating the paperwork. In order to submit the documents, ten people who are residents within the city limits had to appear before a notary at the same time during office hours! I planned to have a short meeting with the new charter members after our visit with the notary to pray and discuss plans but I was literally boarding a plane to go see my Grandpa Rue at the time. We are thankful to announce that all the required paperwork has been successfully submitted to the Department of Religious Affairs and is now on the governor's desk awaiting his signature. We should hear something about the status within the next few weeks. Please continue to pray that the Lord will guide every detail of this new work.

I want to thank all of you who prayed for Dr. Ruckman as requested in our last letter. On April 21 he went home to be with the Lord. Every time we were in the States it was always a highlight of the trip for me to be able to spend at least a few minutes with him. There was always a feeling of support knowing that he was there at the Bible Baptist Church. He will be missed by our family and we thank the Lord Jesus that we have the hope of Heaven to see him and our loved ones again.

Thank you all for your friendship, prayers, support, and all that you do for the Lord that gives us the privilege and opportunity to serve our Lord and Savior Jesus Christ. Until our next prayer letter or our meeting in the air!

That Ukraine May Know Him,

Christopher Rue Phil. 3:10
-------------------------------------------------------------------------------
From Bulgaria
-------------------------------------------------------------------------------

"And we have sent with him the brother, whose praise is in the gospel throughout all the churches; And not that only, but who was also chosen of the churches to travel with us with this grace, which is administered by us to the glory of the same Lord, and declaration of your ready mind:" (II Cor. 8:18)

Dear Churches and Praying Friends,

June 2016

We trust this letter reaches you rejoicing in the Lord and the victory he has promised us upon his return. It is our joy and privilege to serve him and each day is a gift.

This summer we are in the states traveling to our supporting churches, reporting of the good work of God in Bulgaria. What a blessing it has been to see old friends, and of course, to make new ones. The Lord has also allowed us to present the work in some new churches which have promised to support it. (We need more of these.)

While we are in the states my brother, William, is overseeing our part of the work in Bulgaria. Recently he told me about a visitor to our village church. This Turkish lady was passing through our village, and was invited by one of the believers to come to the meeting. She came, and the Lord touched her heart. All during the singing, she sat and wept. After church, she stayed behind to talk to Pastor Alish and his family. She told them that she had never before heard about Jesus or his wondrous love.

We ask that you would pray for our ministry. Specifically, we are asking the Lord for a new vehicle when we return to Bulgaria in November. Some money has been given already. We lack about twelve thousand dollars yet, but believe that the Lord will provide, right on time.

Thank you for your continued prayer and support.

In Christ, Zachary LeFevre
-------------------------------------------------------------------------------
From Ukraine
-------------------------------------------------------------------------------
Dear Praying Brothers and Sisters in Christ, Spring of 2016

The War is beginning to heat up again. Authorities report that now more troops are amassed on the Russian/Ukrainian border than there were last year. Please Pray for this war to end soon!

-----------------------------------------------------------------------------------------------------------------------------

Praise the Lord for a lost Gypsy family who have been attending from a town 15 miles away.

Please Pray for the 8,150 lost souls in 15 different villages who received Evangelistic Calendars that they would read the Calendars so the seed can be sown through the daily messages about Christ.

In early July, the VBS Team will be holding its first Romanian Speaking VBS for a Church in Western Ukraine. Bro. Slavic also traveled to North Romania to set things up for the July 25-29 VBS in a Romanian town in conjuncture with a local Church. They also hope to hold a seminar to train the local church people how they can more effectively teach Sunday School lessons and how to carry on a VBS themselves. Over the summer they will also travel to four different villages to hold VBSes with Russian speaking Children.

Brother Oleg has seen the Lord continue working on hearts in the Soccer Club as they study the Bible before each training session. Pray for these 2 age groups of players- that the Lord would save their young souls. Over Summer Vacation, they are planning a 4-team tournament with a weeklong Evangelistic thrust on the Bible.

Bro. Michael and Bro. Vasille are presently studying the Bible in preparation for what doors the Lord will open up for them to go through 2 Tim. 2:21. Pray the Lord will teach them and Guide them into His will.
-----------------------------------------------------------------------------------------------------------------------------
Furlough Blessings: It has been a great blessing & privilege to encourage 13 supporting Churches & 24 new ones to Pray for lost Souls on the Mission Field through what He's done in Ukraine. Acts 14:26, 27. We Praise Him for His goodness: supplying every need, 6 new supporters & many new interceding Prayer partners.

We still have many more Churches to visit; Pray for God's unction and moving on hearts! Pray also that He would raise up the rest of our needed support. *(This Fall when we move to the capitol city of Kiev with over 4 Million lost souls to Evangelize, we'll need to print many more tracts and buy Bibles. Also renting a facility will be a large expense - unless the Lord opens up other doors or people's homes to meet in.)

The Lord gave me a great opportunity to preach and witness to my relatives at my oldest brother's funeral where 500 lost friends and 50 of our relatives heard the Gospel. Pray for open doors to water the Gospel Seed again.

We have been meeting with a group of Russian Speaking people – most of them are Muslims from Uzbekistan.

Our Plans: Praise the Lord! Everything looks on schedule for our return to Ukraine by the end of July. Oksana passed her test to receive US Citizenship- the Next step is taking the oath, then a US Passport! (We applied for her US Citizenship to guarantee that our family can always travel & stay together as we serve.) Please Pray with us about God's Direction in the most important question of where and with whom He wants us to labor. We truly want His direction and peace in this matter. (Proverbs 3:5,6)

To God be the Glory, Richard, Oksana, Elisabeth and David Maher

Your Missionaries to Ukraine *Thank you for Praying for His Work there in Ukraine!

***PLEASE CONTINUE to Pray for my Pastor Charles Davis's family on the loss of their granddaughter and especially for his son Jim & Vanessa Davis –this was their oldest daughter who died in a tragic car wreck!!! The Funeral will be held on Wednesday May 18th at 1:00 pm with many lost in attendance.
-------------------------------------------------------------------------------
From Bulgaria
-------------------------------------------------------------------------------
Dear Brethren,
May 2016

Since my last prayer letter, there is one very big praise to report: We were informed by Bulgaria's Department of Migration that we have permanent residency, instead of the five year residency visa we thought we had. The gravity of this is enormous, and though it has been a while since we found out, we still rejoice.

Because of this news, along with plans of taking a furlough in the spring of 2017 for Hannah and Joshua to graduate, I felt peace about this being the time to finish our village house here in Bulgaria. I planned a nearly three week trip back to America to bring attention to the various financial needs of the work here among the Turks and to encourage Jonathan, but primarily to raise the necessary funds to finish the house.

I took eight planes, was in three countries and five states, and went to 25 church meetings in just a little over two weeks. It was exhausting, but everywhere I went, everyone was such a blessing. Everyone was so receptive to the updates from oversees and even after telling so much, they wanted to hear more. This blesses a missionary's heart more than I can express. With the Lord's help I was able to bring encouragement in the churches, all while being encouraged myself. And, many, many thanks to the Lord, I was able to come home with 80% of the money needed to finish our house here in the village.

While I was in America, Carrie and the kids put the pedal to the metal and got their home school year done early. They also stacked wood, cleaned up the yard and gardens, and did a spring cleaning of the house. Everything was so nice to come home to, but more than the nice yard and house, I was so happy to be back home with my family.

After a short time of settling in, we were preparing to leave for English camp meeting in Romania when Carrie fell ill suddenly. After a trip to the ER to rule out heart attack, she has been in bed for the better part of a week and a half. The doctor said it was a bad virus, but we are still unsure of the cause of these episodes. Even though she is beginning to regain strength, she often has to go rest to calm the racing and thudding of her heart. We ask that you pray for her very much as she tries to recover. And pray for our family as we try to finish the work on our house, even as the summer ministry schedule of special meetings and baptisms is on the horizon and the work on the printing house in Avren continues.

Thank you for your faithful prayers!

Because He First Loved Me, Brother Larry Leach, Jr.
----------------------------------------------------------------------------------------------------------------------------
Part 1a

We set out this morning with Hannah and Esther and a car so full of bags of coats and socks, they each had bags on their laps. Our plan was to distribute as many coats as we could, and we did, but God had even bigger plans for us. As we sit down near the close of the day to reflect on everything the Lord has allowed us to be a part of, we feel honored.

But let me back up… first things first… the purchasing of the coats and socks. A week and a half ago Larry and I went into the city and bought new socks. We got a good deal on them, so we really stocked up. It's always a shock for the cashier to see us coming with an overflowing cart of socks, but we've been doing this so long now, we knew how to have them already organized in sections to make her job easier. Then this past Monday we went back into the city to the second hand store to stock up on coats. It was pretty slim pickins, but we did our best. Unfortunately we only filled one of the vehicles. Two more empty vehicles were with us, so we took off in search of another location. It was much better than the first place and a new contact was made there. We filled the remaining vehicles and headed back to our house where Hannah had brownies and refreshments waiting. Here are two pictures—one of the cart of socks and one of our entryway so full of bags of coats, we could hardly get up the stairs. At last count there were well over 40 bags in the entry and halls.

We then organized coats and socks each afternoon for the past week, as our schedule permitted, and felt we were ready to begin distribution in nearby villages.

First stop this morning: Novi Pazar. Pastor Ismael was already gathering the local children and organizing them in lines. We carried the bags inside and Esther and I organized them to make distribution easier, while Hannah got set up to take pictures and Larry controlled the crowd. Working together, we were able to give out around 50 coats in under an hour. In between influxes of children, we were able to encourage Sister Naziye, who is having a hard time with her blood sugar. Here are a few pictures from that distribution: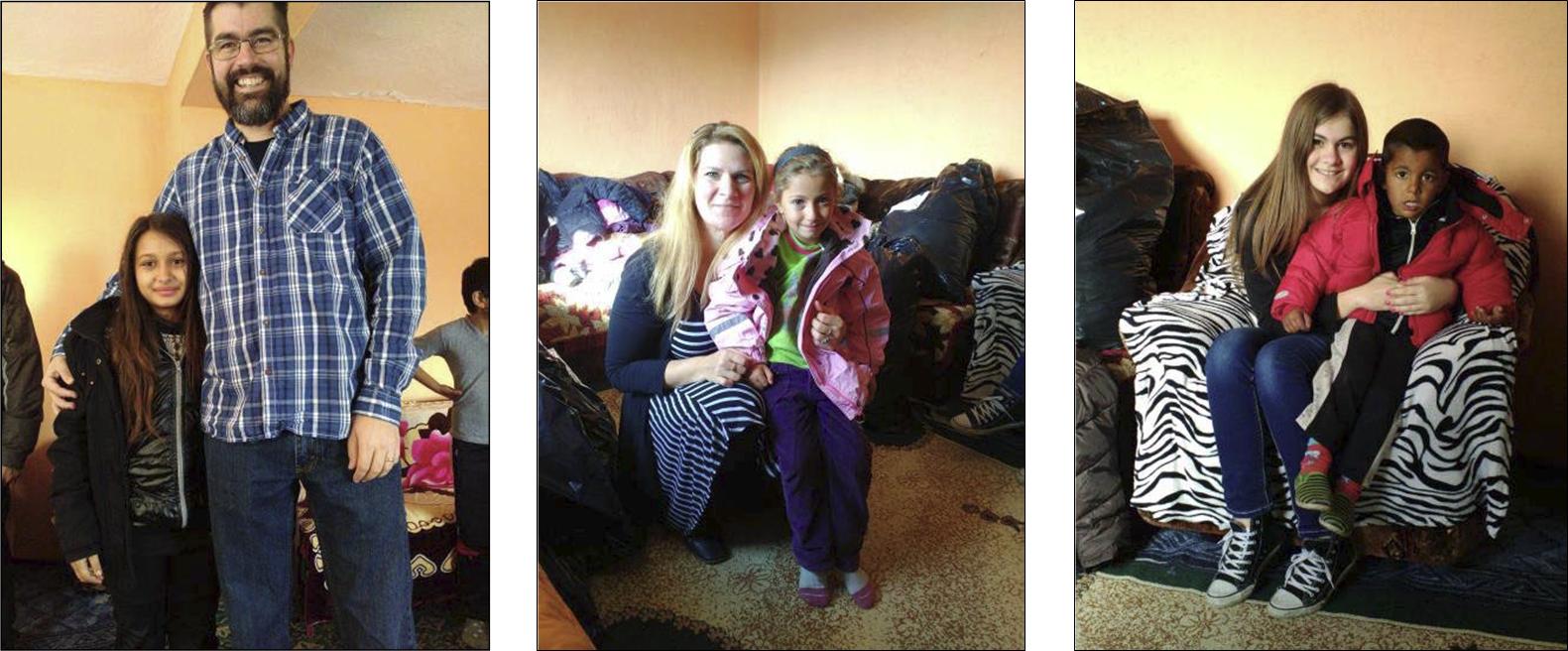 The girl standing next to Larry above is Sinem, Pastor Ismael's granddaughter. Every time I see her, I am reminded of God's hand in her young life. When she was four, she was diagnosed with a tumor in her lung and required surgery, which cost a lot of money and the family simply did not have it to pay. We asked you all to pray and one friend forwarded the email on to other friends and shortly a man we had never met wrote and told us he wanted to help. He paid for her surgery and the trip to the capital for the family to be with her. The surgery was a success and today she is in good health. We praise the Lord for His faithful lovingkindness.

lease click on this link to view the four part story.
-----------------------------------------------------------------------------------------------------------------------------------------------------------------------------------------------------------------------------------------------------------
-----------------------------------------------------------------------------------------------------------------------------------------------------------------------------------------------------------------------------------------------------------
From the Streets of Boston Massachusetts
Greetings from Boston
December 2015
Thank you for your patience; love, prayers, and support for us. It has been quite a while since my last letter, but it's worth waiting to tell you of the great things the Lord hath done and we are so thankful to be part of it.
I want to let you know, I'm still on the streets with the word of God. Where else would I rather be unless it's in heaven! One of my favorite places to go hand out tracts is the train station where so many people pass through every day.
One day while passing out some tracts a Muslim woman was in a line of people flying by me to catch the bus. I gave her a tract and she took it. Two days later I saw her again. I gave her another tract called "Second Coming". I stopped her knowing that I had a tract called "True Christianity vs. Islam". After looking at it with a smile she took that tract as well. Then I met two guys which I knew from my youth. As we talked I witnessed to them. They took some tracts and I told them I would pray for them. Latter, I met a guy that grew up with my son Brian. As we talked he let me know "your Brian's dad". I said yes and gave him a tract he said "I knew by your hat and pamphlet who you were". I then met another guy and he said the same thing. He remembered the tract that I gave him years ago. I met another guy who did the electrical work on our old apartment and of course we talked. I gave him one of every tract that I had on me. I told him I still have his father's bible that he entrusted to me. One day I was going to get on the bus and it passed me because I was too far away from the stop. Then I heard a horn beep. And another bus pulled up, opened the door and put down the ramp for me. So you see there are many things (to the Glory of the Lord) that he does. I can see how the scripture says "And there are also many other things which Jesus did, the which, if they should be written every one, I suppose that even the world itself could not contain the books that should be written. Amen. John 21:25
Please pray for my sister in law. She got saved through a tract that I've gave to her quite some time ago and now she has a burden to give them out. There are some tracts that I can't afford to buy, but maybe someone can help me out. I would like to get 10,000 Chick tracts called "The Only Hope" or "This was your Life" and some books explaining the facts about Islam, I meet these people all the time.
These can be bought through www.chick.com and you can send them to my house. I will be so grateful.
Please keep this matter in Prayer. This is a special need and for free they will print my contact number on the back. This will help people realize I am not a Mormon, J. W., Catholic or any other cult.
My new address is: Jim Costigan 52 Harvard St. Dedham, Ma. 02026 Baptist Street Preachers of Boston 1-508-212-4625 I've changed the name of this ministry to the information above.
Thank You again in the name of Jesus our Lord Jim and Jo Ann Costigan Luke 1:37 For with God nothing shall be impossible.
--------------------------------------------------------------------------------------------------------------------------------------------------------------------------------------------------------------------------------------------------------------